The age-old proverb "all work and no play makes Jack a dull boy" holds good since playing is an important learning component. These days most children's games are immersed in technology. Our list contains the best VTech toys that would find a way to your child's heart.
Playing games builds their self-confidence and improves their cognitive and social skills. In addition, when you introduce them to tech-centric toys, they learn about the latest technologies. Vtech toys offer interactive fun, such as automatic motions, music, flashing lights, and voices. These toys also include skill-building activities, including puzzles and minute tasks.
Read on to find out our picks of these interactive toys. As a result, your children can start their learning process much earlier without stress on their minds.
13 Best Vtech Toys To Buy in 2021
As your little one starts taking the first steps, the Learning Walker will provide walking support along with fun and entertainment. The walker features an activity panel full of exciting games and interactive elements that help develop fine and gross motor skills.
The buttons familiarize the children with shapes and numbers, while the piano keys introduce them to music, sing-along songs, and recognize colors and animals. The toy phone can be made to ring by pressing the sun button, and kids will have great fun hearing animal noises when they pick up the phone.
When it's time for a stroll, affix the panel to the walker and get walking. The smart wheels have speed control switches, with one speed level for kids learning to walk while the second lets the walker move more freely. The Learning Walker is best suited for children between 9 and 36 months of age.
The KidiBeats electronic toy drum introduces your child to the joy of percussion. The drum set comes with four drum pads and a pair of drumsticks and features four different play modes. The freestyle mode lets your child play their own music, while the AlphaBeats mode teaches the letters of the Alphabet when the pads are hit.
Number Jam mode counts the numbers one to 30 with beats. The fourth mode is the follow-the-pattern, where blinking lights will guide your child to hit the different pads to learn advanced rhythms.
Other features include an animal sound button with barking and meowing sounds and a music button that plays a collection of melodies and songs. The cool interactive toy is best for kids aged two and above.
Brighten up your child's playtime with splashing colors and glowing lights with a Vtech color flashlight. Press the ladybug button on the top to switch on the flashlight and spin the cover ring to toggle between colors or show animal shapes along with the light. The lights are of low intensity and easy on the eyes.
This flashlight toy comes with over 50 sing-along songs, sounds, and phrases that teach about colors, animal sounds, and numbers. Large, easy-to-press buttons activate various sounds and music. After 45 minutes of inactivity, the toy shuts off automatically, thereby conserving the battery life. The interactive toy is perfect for infants and toddlers aged one to three years.
The Little Apps tablet familiarizes your child with digital tablets. It introduces learning skills like counting, numbers, basic math, Alphabet, words, and more with four fun games and eight interactive activities. Kids can interact with Cody, the smart cub, on the colorful screen and learn by completing tasks and solving puzzles.
Make fun music by selecting the piano mode or learn words using the A-Z keyboard. Parent-friendly features include volume control and auto shut-off when idle. Little Apps Tablet is best for children aged two and above.
Fit for children aged 12 to 36 months, the Sit-to-Stand Alphabet Train includes fun elements like learning blocks, glowing buttons, storytelling through music, and other activities to help build motor skills.
With over 200 melodies, phrases, and songs, your child will have a lot to learn with this toy. The engine can be used as a walker while the coach can be used as a sit-on or pull-cart. The toy coach section can be used to collect and store all the blocks when playtime is over.
The exciting toy will pique your child's interest in trains while introducing them to the Alphabet, colors, numbers, shape, and pattern recognition. 
The interactive, motorized self-rolling Crawl Ball wiggles, wobbles, and rolls around, encouraging your child to crawl and chase it. The ball helps children to be active and contributes to sensory development and motor skills.
Press the buttons in animal shapes to play sounds and phrases that teach about animals and their calls. There is an extensive collection of melodies, songs, and phrases that children can learn from. The ball will help your children between 6 to 36 months improve their vocabulary, learn about animals, and discover songs and melodies.
The Rhyme and Discover Book brings popular nursery rhymes in an interactive book format for children between 6 and 36 months. Made of BPA-free high-quality plastic, each page is thick enough for easy flipping. The book offers seven popular nursery rhymes along with 20 songs, melodies, and sounds.
The Rhyme and Discover Book also includes three light-up character buttons as bookmarks and four interactive movable pieces to play with. Sing-along songs with twinkling lights and colorful graphics will familiarize your child with familiar tunes and contribute to gross motor development.
The soft, colorful teddy bear plays over 45 songs and phrases to help your baby fall asleep. A press button in the shape of a big star in the cuddly bear's tummy glows a soft light. The songs include classics like Canon in D, Minuet in G, and Moonlight Sonata.
Press the star button to hear approximately ten minutes of soothing music with the star glowing on and off alongside. There are two settings for volume control, automatic shut off, and the electronic box can be removed for easy wash. The bear is made with quality stitching and premium soft fabric and is recommended for children aged 12 to 36 months.
VTech Alphabet Activity Cube is a unique interactive learning toy for children nine to 36 months old. Each of the five sides of the cube features elements that promote fine motor skills through the teaching of numbers, the Alphabet, pattern, letter and shape recognition, and color identification.
On top of the panel is a bead bar that allows children to push the three colored beads. Below it is double-sided letter blocks for stacking. The blocks can be inserted in the center slot, and it will read out the letter and play songs related to that letter. The number buttons have cute animations and can make phone calls to the characters on those buttons.
On the second side is the hole-face that can be used as storage to put the letter blocks. The third side has sliding toys like birds, and the last side is a peg maze. Children can drop the blocks through the peg maze to enhance hand-eye coordination.
Span the Spinosaurus is one of the characters of the Switch and Go Dinos team. The toy transforms between a fighter jet and a Spinosaurus in simple steps. The dynamic LCD screen displays a dinosaur face or several pilot character animations depending on the transformation.
Squeeze the dinosaur's tail to activate growling and roaring sounds and load discs that can be used for shooting. Buttons at various locations trigger over 70 sounds, including engine whizzes, shooting missiles, dinosaur roars, and educational content about dinosaurs and the prehistoric environment. The toy is recommended for kids aged three to eight years old.
The Sing and Discovery Story Piano is an interactive musical teaching toy for babies and toddlers. The tech toy features more than 90 sing-along songs with animal sounds, music lessons, nursery rhymes, and much more. The five colorful piano keys play sounds, and the twinkling music notes with glowing beats are a visual treat for children between 12 and 36 months.
The toy encourages role-play by including a sing-along microphone, a puppy joystick, a drum pad, and a music sheet book. Overall, it's a fun toy to get your child interested in music early on.
The Switch and Go Dinos combine two popular toys that kids love: cars and dinosaurs in a fun convertible package. In four to five easy steps, the vehicle transforms into a dinosaur. The sound button features realistic dinosaur roars, while the talk button can be used to learn dinosaur trivia like names, classification, and prehistoric facts.
The toy named Akuna, a velociraptor, can be a great companion for children aged three to eight years. The toy has two volume settings and automatically shuts down when idle, saving the battery. 
Introduce your child to the world of computers with the Bear's Baby Laptop. The cute bear on the lid is the character that would interact with your baby in a peek-a-boo style. The toy has five shape buttons, three with numbers, and two for sing-along songs. The Bear's Baby Laptop features a movable mouse.
With over 40 sing-along songs, phrases, and sounds, the toy can keep your baby entertained while bringing familiarity to the use of buttons and mouse. Pressing the buttons on the laptop and moving the mouse can help to develop fine motor skills.
The automatic shut-off feature ensures battery preservation, and volume level control enables quieter play. The toy is designed for babies and toddlers aged 6 to 36 months.
VTech offers fun educational toys at affordable rates without compromising on quality. The toys can help in developing your child's fine motor skills and nurture their creativity and imagination. There are many options covering several age groups and interests so that you can be sure to find one to your liking. So, go ahead and pick the best one and give your little one an exciting surprise.

Recommended Articles
The following two tabs change content below.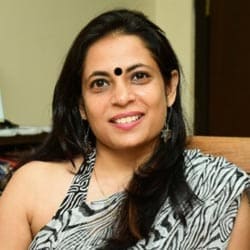 Priti Bose
Priti Bose is a poet, songwriter and blog writer. She did her masters in English, Public Relations and Advertising. Her creative skills and hunger for details make her do in-depth research on the topics she covers. For MomJunction, she writes on product analysis and reviews, especially for kids' products, toys and gifts. Before her association with MomJunction, Priti worked in the...
more