Waffles are a popular breakfast choice, but you can have them anytime to satiate your sweet tooth. Traditional waffles are served with maple syrup or honey, but modern-day toppings for waffles include a wide range of foods from fruits to chocolate and ice creams!
You can enjoy thick waffles with caramel and banana, or you can relish them as cones with ice cream. Whatever be the case, you can treat yourself to good waffles at home with a waffle maker. Designed to make delicious waffles with ease, these appliances are becoming increasingly popular in households across the world.
If you too want to treat your family to great waffles at home, read on for a list of the best waffle makers to buy online. Select from these handpicked products to prepare delicious, classic waffles at home.
11 Best Waffle Makers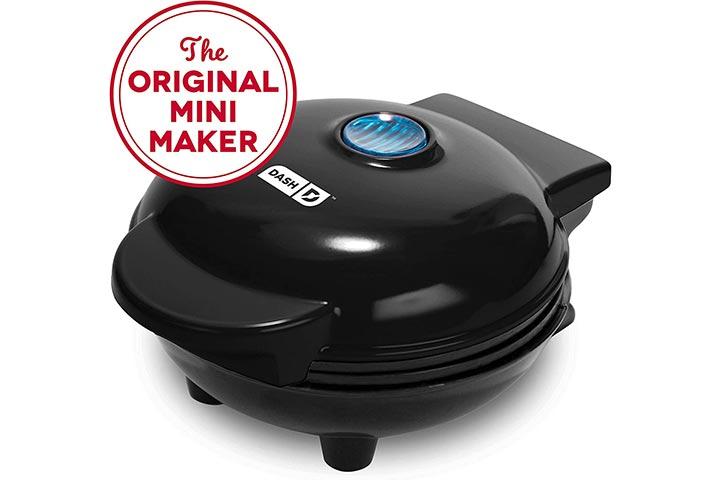 Make not just waffles, but also hash browns, paninis, and biscuit pizzas with this mini waffle maker machine that serves restaurant-style round waffles. It comes with a recipe book and access to the recipe database. If you love to experiment in the kitchen, this waffle maker is for you!
Pros:
Dual non-stick surfaces for even cooking
Small size makes it convenient for smaller spaces
Trendy color matches any kitchen décor
Heats up in minutes
Comes with a preheating indicator
Cons:
Waffles are a bit small
The edges may not cook well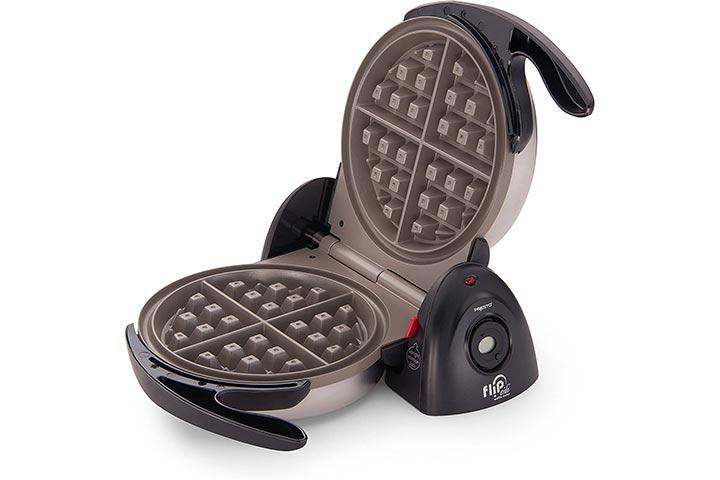 Make your Sunday mornings perfect with this round classic waffle maker that bakes 7-inch waffles cut into four sections. The dual-function base promises easy rotation for baking with a flip mechanism and makes it easy to store in a vertical position.
Pros:
Ceramic, safe waffle plates that are easy to clean
Requires less storage space
Digital display time indicator
Cooks thick and crisp waffles
Fine stainless steel finish on the outside
Cons:
May take around six minutes to bake a waffle for one person
No temperature control
If you love to experiment with your cooking, try out this waffle bowl that lets you fill your waffle up with any topping you like. These homemade waffles are shaped like bowls and can be used to make a dessert with fruit toppings or a savory dish with a filling of chicken tacos, or vegetables, and cream.
Pros:
No special batter is required
Bakes fluffy and tender waffles
Bakes decently sized bowls to fill with different toppings
Comes with light indicator
Cons:
Appliance heats up fast and needs careful handling
 Waffle may stick on the walls
Lacks temperature control
Make two palm-sized waffles under 30 seconds with this Chef's Choice Waffle Maker. It is designed with instant temperature recovery, which keeps it ready to bake all the time. You can even make cannoli with this wonderful gadget.
Pros:
Bakes really fast
Easy release, non-stick coating
Consistent heating for perfect baking
Can be stored in a vertical position in small spaces
Has a baking indicator light
Cons:
Lacks temperature adjustment
Body may become too hot to hold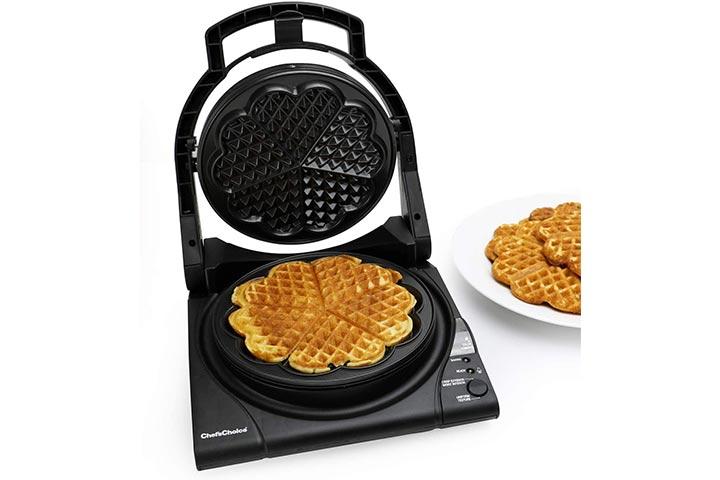 Make heart-shaped homemade waffles with this appliance, which features several cooking options. Prepare waffles of the desired texture, flavor, and color to add some awesomeness to your breakfast every day.
Pros:
Instant temperature recovery
Waffle ready light and beeper for easy baking
Floating top baking plate promises uniform waffle thickness
Unique quad baking allows customization
Built-in cord storage compartment for efficient storing
Cons:
Has a very thin non-stick layer
Plastic clip may prevent waffle from becoming fluffy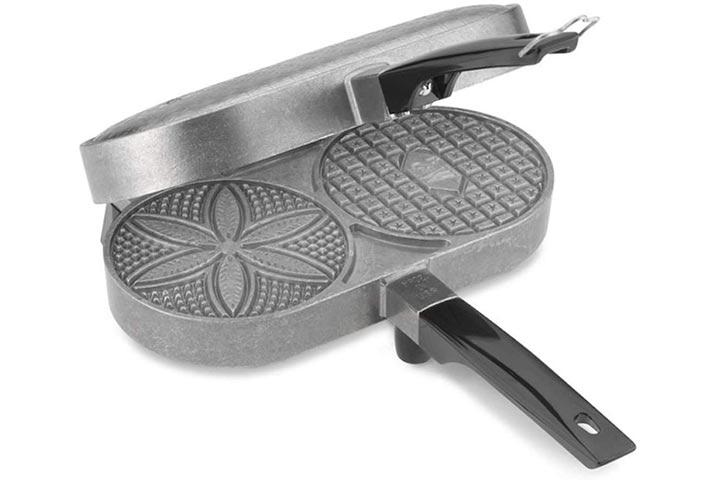 This is one of the best waffle makers for those who like thin and crispy waffles. Bake two waffles at a time with this appliance made of cast aluminum plates and equipped with an ultimate convenience feature. It makes a great gift for those who love to cook.
Pros:
Good to cook thin and crispy waffles
Convenient to clean
Bakes two waffles under one minute
Has a five-year manufacturer warranty
Cons:
Lacks a light indicator
Waffles may stick if the surface is not oiled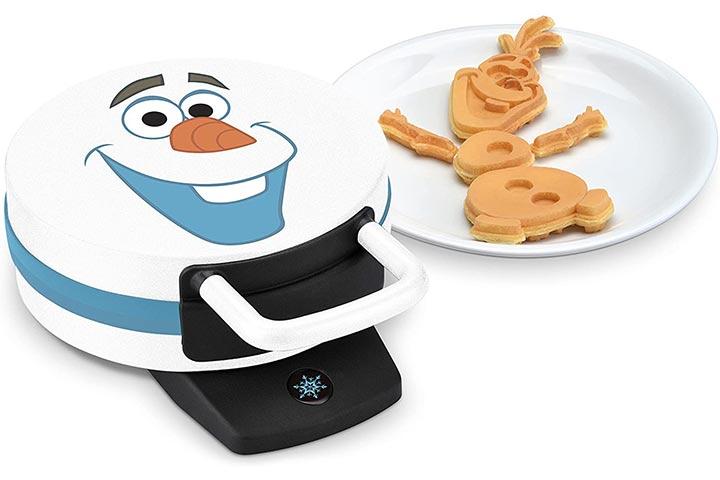 This unique waffle roller bakes the cute "Olaf" waffles. It bakes five different pieces, comprising Olaf's head, body, and arms, making it a fun waffle maker for all Frozen fans.
Pros:
Comes with non-stick cooking plates
Sturdy stainless steel construction
Has non-skid rubber feet
Comes with illuminated snowflake power light
Easy to clean
Comes with a fork tool
Cons:
May bake unevenly
Mold may not give out the finer details of the character
This professional Belgian waffle maker delivers crispy, golden-brown waffles whenever you want. Instead of one large waffle, you get two square waffles with this appliance. It is compact, space-saving, and has built-in cord storage.
Pros:
Uniform heating to bake evenly
Removable, dishwasher-safe grids
Requires less space for storage
Non-stick coating
Anti-scalding design to keep your hands safe
Cons:
No light indicator or alarm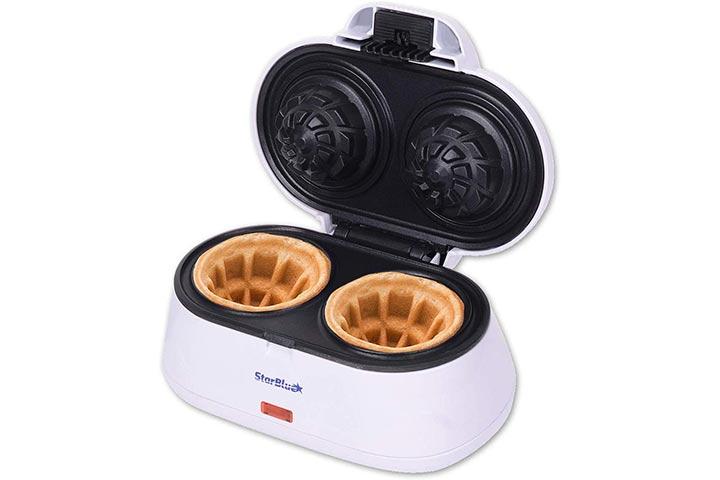 Making yummy waffle bowls of the perfect texture has never been this easy. With this waffle bowl maker, you can create flavorful and delicious waffles for your loved ones every day.
Pros:
Comprises original non-stick plates
Can be cleaned with a damp cloth
Compact and sturdy
Cons:
Bowls may not be hard enough to hold the dressing
Size of the bowl seems small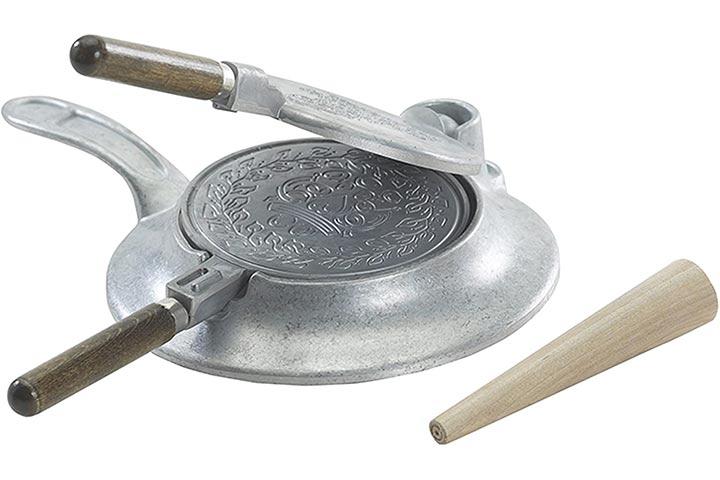 The resulting waffles made using this easy-to-use waffle maker are imprinted with a beautiful pattern of flowers and leaves. Just put the batter and place it on the stove to let it cook the way you like it.
Pros:
Temperature and time can be set
Compatible with stove or induction plate
Made of iron
Makes thin and crispy waffles
Cons:
May not leave a proper imprint
Size of the cone is tiny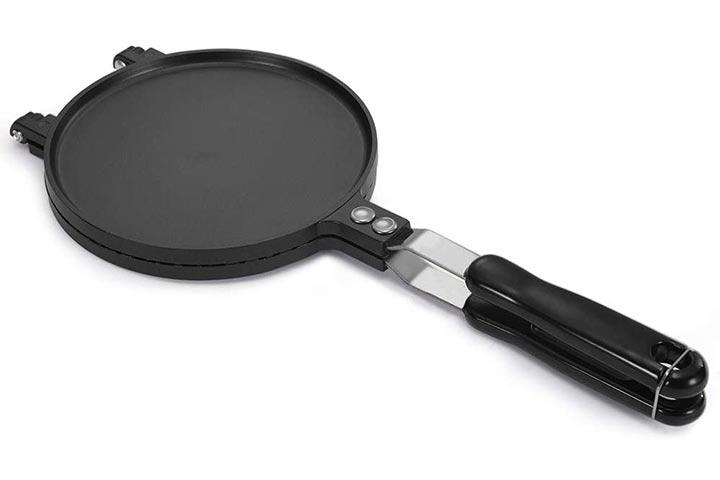 This waffle maker is in the form of a baking pan, which can also be used to make delicious crepes, egg rolls, etc. Designed for a fuel gas stove, this is made of aluminum alloy, which makes it strong and durable.
Pros:
Long handle promises great grip
Heats fast and evenly
Has a non-stick surface
Easy to clean and store
Cons:
Can only be used on gas stoves
How to Choose the Best Waffle Makers?
Here are some important points to remember when you shop for waffle makers.
Durability: Always invest in a waffle maker that promises durability, as it is a one-time purchase.
Usability: Look for a waffle maker that is easy to use and easy to clean to save your time and efforts.
Temperature control: Having the choice of controlling the temperature in a waffle maker is always a plus, as you can tune the temperature according to the ingredients you are using.
Indicator light: An indicator light will let you know when your waffles are done so that you do not undercook or overcook the waffles.
If you always wanted to bake waffles at home, all you need is a waffle maker. So, pick one from the list or shop a little more to find the best one online. Why risk going out for a plate of waffles when you can make warm, mouth-watering waffles every day for breakfast.
Recommended Articles: