Want to keep your money and your phone close at hand and safe when you are jogging? It is time to consider getting a waist pack. Often referred to as a fanny pack, it makes a perfect companion when traveling. Some versions are suitable for hiking and hunting, and these are usually made of water-resistant materials and can be worn for an extended  period of time.
With the best waist pack, you can keep your essentials within easy reach and cut down the number of times you have to handle and unzip a large backpack. To ensure you get the best waist packs for your needs, we have reviewed the top 13 options.
13 Best Waist Pack in 2020
With this running waist pack that has a slim profile, you can take your phone along and listen to music when jogging. This hiking waist pack comes in handy while trekking and when you want quick access to your phone or energy bar. The pack can fit a mobile device with a length of up to 6.5in. Items can be stacked within the pack, with the largest at the bottom, and over which, keys, a glucose gel pouch, and a wallet can be placed and enclosed with a zipper.
Pros
Fits waist sizes of 24-47in
Ideal for indoor/outdoor use
Does not bounce when running
Made of long-lasting spandex material
Available in 25 different colors and patterns
Cons
Pull for the zipper may not be durable
Pack is not water-resistant
If you want a fanny pack that can withstand a few splashes of water when traveling, this is a perfect pick. The slim shape makes it ideal for everyday carry. It is made of long-lasting nylon fabric and features a sturdy polyweb waist belt. The nylon fabric is breathable and allows air to pass freely. It has one large compartment, two pockets in the front, and one hidden pocket at the back.
Pros
Main compartment fits a 7.2-inch mobile device
Accommodates travel documents, wallets, and other items easily
Fits people with a 24-43-inch waist size
Can hold a lot of stuff
Cons
Spring to release buckle needs to be pressed very hard
Zipper may get stuck
If you need a large-sized waist pack that can fit a 160z bottle, this is a good option. It comes with multiple smaller pockets within to keep your keys and wallet organized. The waist pack has space to keep your iPhone 6 or any mobile device of similar size. It comes with five pockets, including a hidden pocket with zippers. The pack can be carried over the shoulder, hip, or underarm.
Pros
Waterproof
Durable 1,000D polyester build
Zipper pulls are electroplated and long-lasting
Zips operate smoothly
Adjustable belt with buckle can fit a waist measuring up to 45.3in
Cons
Bottle only fits when placed at an angle
Belt may be a tad small
With this running waist pack, you can carry your credit card and even the latest iPhone 11 Pro or Samsung Galaxy Note 20. The ultra-slim design with four compartments makes it an ideal waist pack for running.  It allows for items such as keys and more to be organized with ease and yet retains its slim profile. The adjustable, elastic belt can fit people with waists measuring between 24 and 43in.
Pros
Water-resistant, breathable, and quick-drying spandex-lycra surface
Reflective line around the pack
Durable zippers made of metal
Quick-release buckle
Features a 360-degree 3M reflective strip for safety at night
Cons
Does not fit many items
Seams might unravel
Whether you are going on hikes or just walking your dog, this waist pack can come in handy. It is designed to be worn along the waist comfortably for long periods, and the adjustable belt with buckle closure doubles as a shoulder strap to position the bag across the back. It is made of durable 600D polyester and comes with a zippered closure on the main compartment. The interior has enough space to hold a cell phone, keys, lip balm, and other personal items, such as a wallet.
Pros
Resistant to wear and tear
Styled to be a fashion accessory
Conforms to your body shape
Large capacity of l
Includes a spacious front pocket
Cons
Not waterproof
Clip-on buckle may not be durable
Zipper may get stuck
This running waist pack is extremely slim and does not bounce or cause any hindrance when you are on the move. It is made of skin-friendly lycra material that is durable, breathable, and sweat-resistant. The waist pack has space to fit a cell phone, such as the iPhone 11 or the Galaxy S20. There is also a dedicated pocket with a zipper to store a credit card and ample space for keys. It also comes with a port for threading the wire of your headphones through.
Pros
Suits people with waist sizes of 24-41in
Reinforced and durable elastic belt with Velcro closure
Designed to provide the wearer with a comfortable fit
Machine-washable
Cons
Doesn't have sufficient depth within
Not waterproof
This ultra-light and slim waist pack for running has two small pockets within that allow for cash and a credit card to be organized easily. Its main compartment can hold a smartphone that is up to six inches in size. It also has a hole through which the headphone wire can be threaded, allowing hands-free playing of music when running or walking.
Pros
Elastic belt fits waist sizes between 25.9 and42in
Made of water-resistant, moisture-wicking, and quick-drying Lycra
Light-reflecting 3M stripe for safety at night
Cons
Zipper may not be durable
Size could be a tad small for some
This low profile waist pack for travel will not hamper your movements when carrying luggage. Within it, your money, travel documents, credit cards, and cell phone can be kept secure, and it has two pockets with zippers, allowing for easy organization of these items. The belt has an adjustable strap, and the waist pack is made of durable nylon ripstop with a breathable mesh back panel.
Pros
Resistant to wear and tear
Mesh on the back allows for sweat to evaporate quickly
RFID-blocking material protects against scans
Cons
Not water-resistant
Buckle may open easily
When looking for a waist pack for hiking, many want one which can be slung on the back and chest, and this fanny pack is built to support these carrying styles. It is made of durable 100% nylon material that is water-resistant and can even fit large items like a foldable umbrella, first aid kit, backup battery pack, torch, water bottle, and a grip for your camera. It has several large-size compartments and two hidden pockets to protect any valuables, such as credit cards and a passport.
Pros
Water-resistant
Hole for headphone wire
Extension strap included
Mesh pad allows sweat to evaporate quickly
Durable zippers and pulls
Cons
May not be ideal for one with a large waist
Seams may shred
With this waist pack styled as a fashion accessory, you can carry everyday essentials when on the move. It has space for a cell phone, credit card, and can also fit an energy bar and lip balm that you need when outdoors. It has a long-lasting polyester material on its exterior, while luxurious fabric lines the interior. The strap with webbing can be adjusted easily, and the zipper has a leather pull that can be operated without any hassle.
Pros
Offers ample storage space
Ideal for storing a phone enclosed within a case
Can be worn around the waist or over the shoulder
Cons
Among waterproof waist packs, this is a good option as it is made of heavy-duty 1200D polyester. The waist pack has a main pocket, a hidden pocket, and three front pockets. It can be used to store anything from a cell phone to a foldable umbrella. With this waist pack, you can trek, travel, or go camping with ease. It can be worn over the back or hung over your shoulders as the waist belt doubles as a shoulder strap.
Pros
Ideal for organizing keys, loose change, and an energy bar
Front panel with zippered pocket
Fits a large water bottle
Easily adjustable belt
Sturdy zippers and pulls
Cons
Seams might fray soon
Not suitable for people with large waists
This is a good option if you want a hydration waist pack for running, as it has a front pocket modeled after a daisy chain in which a water bottle can be stored and accessed easily. It is also a solid hunting waist pack option as it is crafted with long-lasting nylon material that is water-resistant. The pack remains steady when you are on the move and does not bounce and interfere with your running. It has three main compartments and three zipper pockets to store small personal items.
Pros
Functions as a diaper bag if needed
Hits the sweet spot when it comes to price
Conforms to your body shape
Includes extra strap for shoulder/ cross-body carrying
Waist strap length is adjustable from 21.5 to 47in
Cons
Water bottle holder might not be deep enough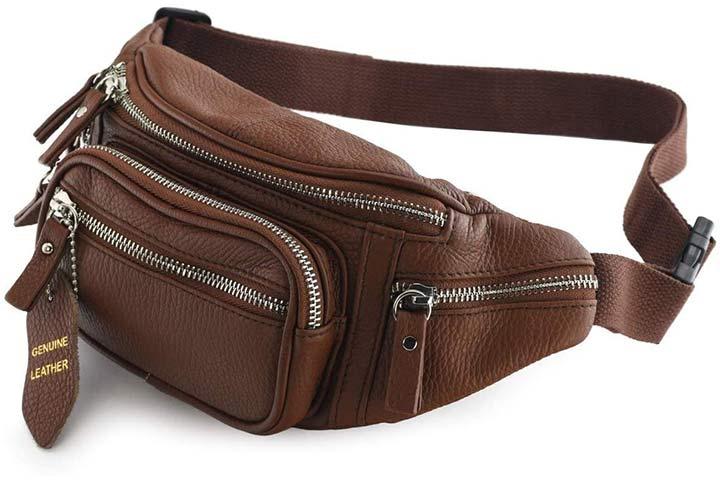 This is a high-quality fanny pack made of durable leather, and it has an elegant look and feel. With this hunting waist pack, you can store essential items when outdoors or running in the city. It has space for storing a hydration pack, while the belt adjusts to fit people who have waists measuring between  . It has several pockets, and there is space within the waist pack for a large cell phone and several small personal items that can be organized and accessed with ease.
Pros
Best camera waist pack for hiking
Rugged look appeals to men
Side pockets are easy to use
Sturdy zippers operate smoothly
Cons
Tends to emanate an odor when in use
Zippers may not be durable
Benefits Of A Waist Pack
Hiking, traveling internationally, or taking your kid to the park can be an exhausting experience if you cannot access money, diapers, or other essentials easily. In such situations, a waist pack can help you save time and energy. We examine the benefits of a waist pack in this section.
1. Practical and lightweight
The best waist packs for travel, hiking, or hunting are built to allow easy access to items such as cell phones, wallets, water bottles, and more. Created with lightweight materials, they are much more convenient to use than a backpack.
2. Easy access to small personal items
Small items such as lip balm, keys, or loose change that are hard to find in a backpack are easily located in a fanny pack.
3. Keeps important documents safe when traveling
You can keep passports, credit cards, and cash safe and prevent them from being robbed. Some waist packs even have hidden pockets which prevent pickpockets from accessing your documents.
4. Gives you easy access to water and glucose
A running waist pack or a running belt will allow you to take along and easily access water or glucose gel when exercising in the gym or jogging outdoors.
5. Can be used as a fashion accessory
With several waist packs created with elegant looks and top-notch materials, they can even be used as a fashion accessory when attending a concert, a chic party, or a runway show.
How To Choose The Right Waist Pack?
1. Consider if you want to use the waist pack for travel or activities such as running.
If you plan to go running daily over a short distance, choose a slim running waist pack that does not move much or cause inconvenience. However, when covering longer distances, hydration waist packs for hiking or running are better choices as they have space for a water bladder or bottle. Waist packs for travel are also suitable for everyday carry and can fit several items, ranging from an umbrella to snacks.
2. Check if a hidden pocket is present.
If a hidden pocket is available in a fanny pack, documents such as passports and cash can be kept secure with ease.
3. Consider if you want an RFID-blocking waist pack.
If you plan to store a CHIP enabled credit card or passport in your waist pack, it is ideal that an RFID blocking material is used in the build as it will prevent thieves from stealing your information using a scanner.
4. Check if you want a waist pack with specific features.
If you are an avid hunter, getting a hunting waist pack with specific features is a good option, while a hiking waist pack with a water bottle holder is suitable if you go on a lot of treks.
5. Check if the gear or tools can be attached to your waist pack.
Working outdoors or camping often requires quick access to tools, and if you buy a good waterproof waist pack for hiking with daisy chain webbing, you can easily suspend gear from it.
6. Consider your waist size.
Do not forget to measure your waist size, and ensure the fanny pack belt fits you comfortably.
7. Check the straps available.
If you want to carry a waist pack over your shoulder or across your chest/back, you should ensure that an extension strap or a shoulder strap is provided.
A fanny pack is a trendy fashion accessory and is not something that only tourists use. New moms, joggers, college students, and teenagers are discovering that by getting the right waist pack, they can replace a heavy backpack.