If there's anything in the house that your eyes will automatically look at (for time) is a wall clock. Don't believe us? Remove it for a day, and you'll realize what an indispensable piece of device it is. With some striking the hour out loud like a grandfather's clock to some resorting to the good ol' tick-tock, no house is complete without a perfect wall clock. Now, whether you are looking for one to fit in your décor or looking for a housewarming gift to give away, we have some of the best wall clocks in India lined up for you.
So, are you ready to have a good time with the best wall clocks? Check out our list of 10 best wall clocks in India below.
Read on to know more! 
10 Best Wall Clocks In India
If minimalism is your mantra, then this wall clock by Ajanta will fit your décor like a dream. Clutter-less and with large numbers plastered along with Arabic time markers, this analog display maintains the classic look with its high-quality and glossy finishing. Also, it is sturdy with an acrylic dial and metal-finish clock hands that ensure clean and convenient reading. And as for the movement, it uses quartz. Yep, minimalism enthusiasts, don't miss it!
Time is a gamble, and here's a wall clock proving it right! Switch your boring wall clock with this roulette-themed timepiece to add a casino feel to your space. With a clear, convenient, and clutter-less clock face, it makes a great gift for ardent roulette players too. Also, did you notice the dial with large numerals? It also ensures a noiseless movement of the hands for silent timekeeping. So, if you are a light sleeper or if the classic tick-tocks creep you out, then this roulette-themed wall clock by Solimo would be ideal for you.
Ahoy! It's time to hit the waves with this anchor-designed pendulum wall clock. With a unique and state-of-the-art clock structure, get ready to exclaim "Aye, Aye, Captain" all the time! Also, the pendulum noiselessly sways to add a classic yet modern touch to your walls. And as for the clock face, it has a clear and convenient dial with easy-to-read numbers for all ages. Travel-friendly, easy-to-use, and a great gifting option for housewarming parties as well, drop this anchor of good times in your house space soon!
Handcrafted by artisans, go classic with this stunning timepiece by RoyalsCart. Exuding Indian-ness in every piece of art on its clock body, and with roman numerals playing the vintage card, there's no better way to say "time is luxury" than this! Also, for those who have a fetish for wall art, this clock will double up as décor and attract attention for its beautiful structure instantly. The high-quality metal clock hands are uniquely-designed to maintain the authentic touch of the vintage era. Yep, more like time travel than a timekeeping device; add it to your collection today!
Are you a fan of mandala art or looking for something with a festive Indian touch, then this wall clock by eCraft India is ideal for you! Screaming good vibes all over and looking no less than an ethnic piece of Indian art, it is made of high-quality mahogany finish, thus ensuring high durability and sturdiness. And besides being all grand and colorful, it also has built-in hourly and quarter-hour chime features for you. Also, the clock has a white and clutter-less dial along with silent sweep hands and quartz movement for the best experience. Now, who's up for this colorful timekeeper?
Travel back to the British era with this double-sided wall clock, also known as the station or platform clock in India. Easy to pass off as a souvenir that has been handed down through generations in the family, get ready to be showered with compliments for this unique timepiece. Hang it in the gallery or corridor, its antique-copper finishing will make it stand out instantly. And that's not all— the numerals are roman, the dial is white, and it displays time without making the slightest noise! Still, want to give it a miss?
Take a step closer to mother nature with this golden-plated autumn leaf clock by eCraft India. Looking every bit premium and gleaming no matter where you place it, this leaf wall clock will grab anyone's attention instantly. Also, do you have off-white walls in the house, then you'll love how effortlessly this clock will fit in your space without looking out of place or bright white! And the best part— it ensures a noiseless experience. Yep, add to your home décor already!
Are you looking for a branded wall clock to add to your home space? Then this analog clock by Casio would be a great pick. Structured with Casio's trademark display and neo-brite markings, its monochrome design makes it stand out on the walls, be it day or night. Also, it ensures monthly accuracy of 20 seconds plus or minus and comes with year-long battery life. Want more? It has a quartz movement.
When it comes to blending classic and modern, Casio will never disappoint. With the brand adding a premium touch, this minimalistic wall clock with a woody structure looks no less than a modern-play on the traditional grandfather's clock. With large numerals and clock hands, it offers an easy-to-read experience, thus making it a great choice for the elderly, parents, or those who prefer Casio for timekeeping. Also, since it is made of high-quality resin construction, the brand ensures high durability too. Why miss it?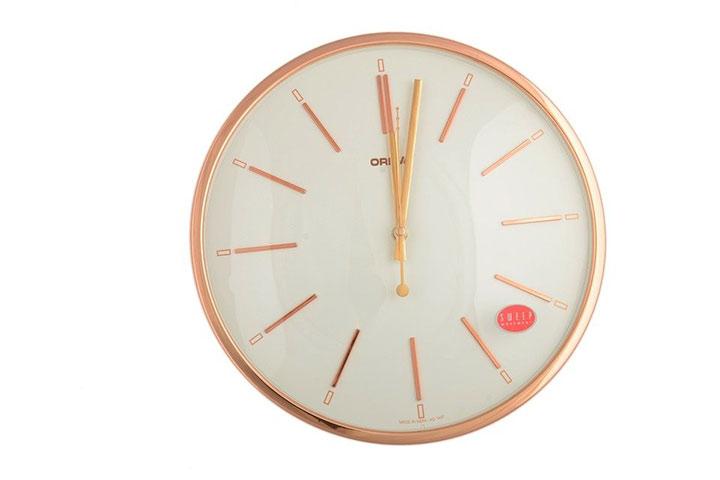 Lastly, this elegant and stunning timepiece for that beautiful wall in your house! With the golden-copper finish making it look every bit dainty and dazzling— who needs an over-the-top wall clock when this one can display time and look beautiful at the same time. Taking simplism to a whole new level, this wall clock is made of high-quality plastic, thus ensuring high sturdiness and durability too. Enhancing your space with its elegance, give this timepiece a try if you are not a fan of large numerals or bulbous wall clocks.
Wall clocks are an essential accessory in every house as they help keep track of time. Further, since they are available in numerous designs, they define the style of the house. However, while purchasing a wall clock, ensure that it is of an accommodable size, proportionate to the size of the wall, and complements the rest of your furniture. You could opt for anything from rustic-looking designs to modern, digital displays. However, ensure the clock is easy to set up and can be easily read.
Recommended Articles:
The following two tabs change content below.

Wedetso Chirhah holds a masters degree in English Literature from Mangalore University. He had written content for more than 15 B2B websites and edited school books before joining MomJunction as an editor. Wedetso ensures the articles meet the highest editorial standards. He enjoys making content understandable and relatable to readers, and he is a big fan of the versatile em...
more