Watches are not merely time indicating devices. They are smart and fashionable gadgets that reflect your persona, style, and status. Watches are designed for all purposes, genders, and occasions.
Modern watches are multi-functional and smart. They show time, vitals, location, and even connect to your phone to take calls or read texts. The best watches today come in a variety of designs and have multiple functionalities, and can cost anywhere from a few thousand to lacs.
Selecting one from the plethora of options can be exhausting. To help, we have handpicked some of the best watches in India for this list.
11 Best Watches In India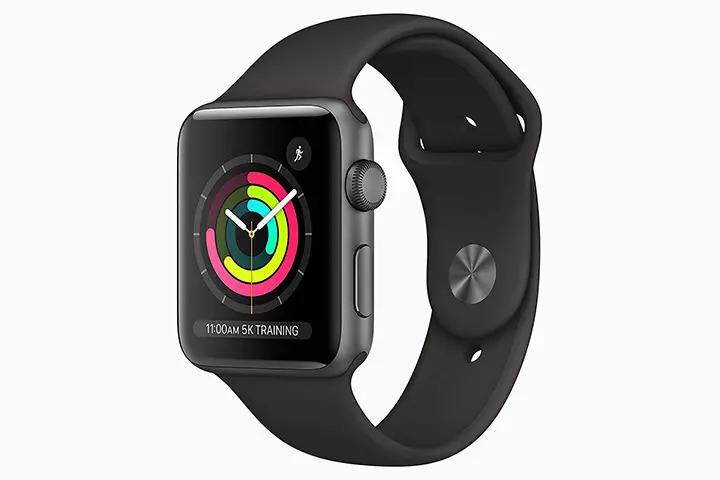 Watch Series 3 from the house of Apple is a premium smartwatch that is both functional and stylish. Boasting 18 hours of battery life, the Apple Watch has enough juice to get you through your busy day. With functions such as GPS, GLONASS, and multiple sensors, the watch displays important information and everyday movements on the go. The watch's distinctive feature is the optical heart sensor that gives a real-time heart rate and breathing rate.
Pros
Water-resistant up to 50 meters
Supports magnetic charging
Ion-X strengthened glass
Internal memory capacity of 8GB
Calling/call answering facility
Cons
Does not have a SIM slot
You may have to buy the sleep tracking app from App Store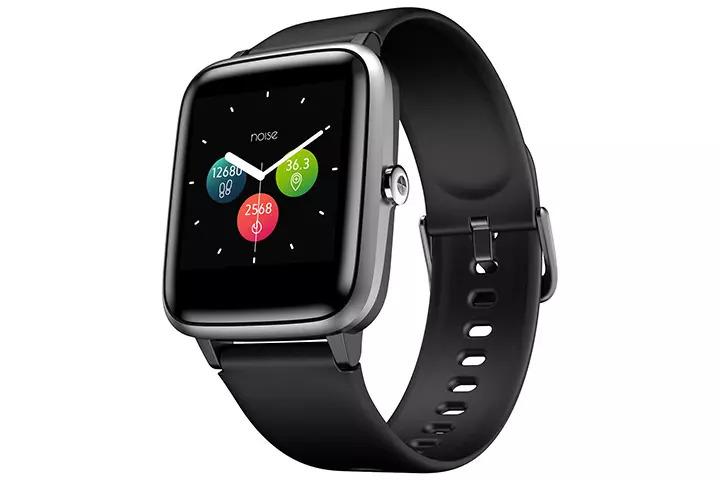 The Noise Colorfit Pro 2 has responsive, full-touch controls and 10-day battery life. The watch is IP68 waterproof, which means you can wear it while swimming. It has customizable face selection on its 1.3-inch IPS LCD and features nine sport modes ranging from walking, climbing to yoga.
Pros
Light in weight
Available in many colors
Can be integrated to Google Fit to track activities at one place
24 hours of heart rate monitoring
Menstrual cycle tracking app is available
Fitness goals and achievements can be shared on the Noise Fit app
Easy to read and operate
Music on the phone can be controlled from the watch
Cons
Sports mode could be better
Heart rate monitoring may not be accurate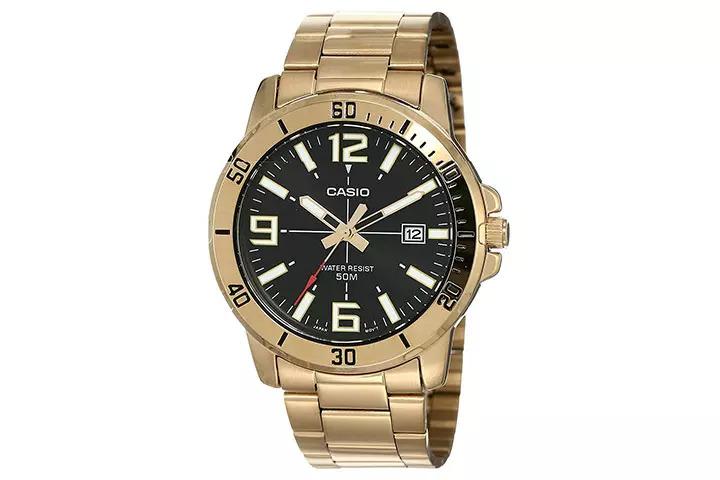 Casio Enticer is a stylish quartz movement analog watch with a style statement that is suitable for all occasions. The round watch has a date display on its 44mm dial and a water resistance depth of 50 meters. The watch weighs 118 grams and has a black dial with a gold-colored stainless steel case.
Pros
Long-lasting and durable
Neon dials glow in the dark
Appealing gold and black color combination for a rich look
Cons
Weight of chain could be heavy
The dial may seem heavy for thin wrists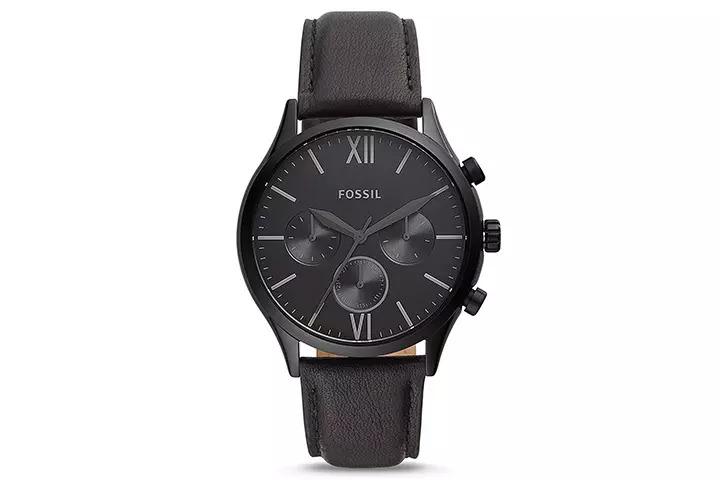 Are you fond of black-colored watches? Then, Fossil's Fenmore Chronograph could be a good choice. The watch makes a personal statement with its stylish and aesthetic looks creatively designed with easy-to-read dials and large numerals. The bandwidth is 22 millimeters, and the case shape is round. Made up of stainless steel, the gadget can last long and suit different occasions.
Pros
Elegant, minimalistic design
Leather strap is sturdy
Full black gives it a classy look
Suits women who prefer big dials
Cons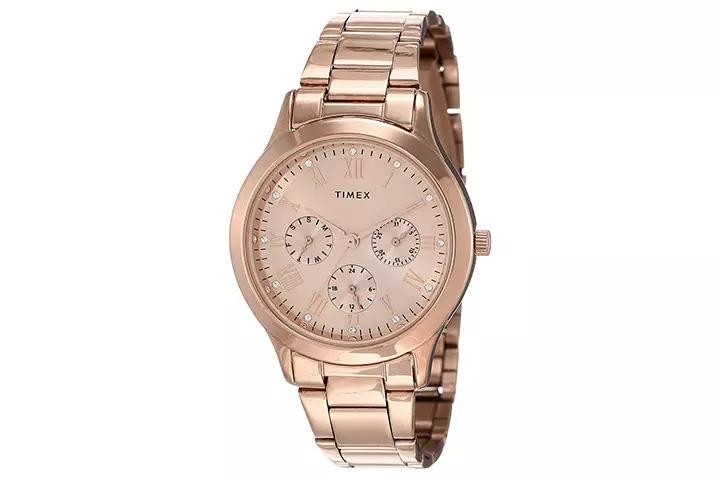 A great gift for the lovely women in your life is that this classy Timex analog watch perfectly fits the wrists for an elegant look. Made of stainless steel, the watch has neat, clean, large roman numbers to show the time. The shiny and white studs at the corners give the watch a stunning look. The three circles in the middle indicate the day, date, and AM/PM part of the day. The watch has a tang buckle as a clasp for securing around the wrist.
Pros
Trendy Rose Gold color, suitable for warm skin tones
Case diameter is 30mm, fits women's wrists well
Has water resistance depth of 30 meters
The color of the watch does not fade easily
Links of the chain are strong
Cons
Some may not prefer a single shade for the entire watch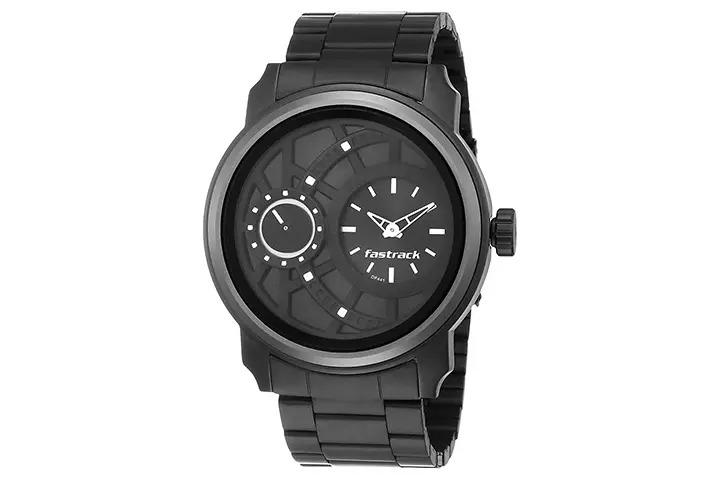 With a cool look that appeals to youngsters, this Fastrack watch has gears like the unique, internal design. The watch is a perfect combination of black and silver and utilizes Quartz for hand movement. Th black and silver watch is highly corrosion-resistant with a robust build using stainless steel, making it suitable for daily use. The watch is ideal for anyone who wants a thick dial and case, which is 46.5 millimeters in diameter for this watch.
Pros
Suits the big wristed men
Reading analog display in the watch is easy
No extra graphics to overshadow the design
Strong metallic strap
Water-resistance depth of 50 meters
Cons
The watch may be a bit heavier at 222 grams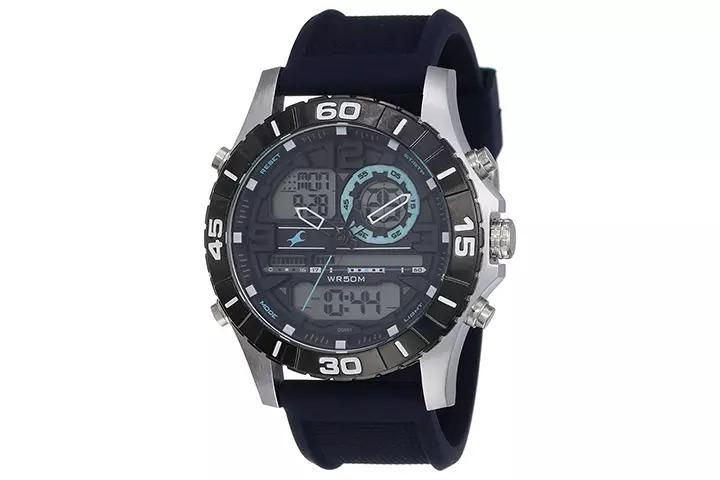 How about a blue-dialed watch to surprise the man in your life? The Fastrack's Analog Blue Dial watch has thick handles, bold displays and, different options like light, mode, and reset. There's a digital display in the analog watch for quick reading. The watch is made of Silicone, a band material which is known for its strength. It has a round case with optimum thickness and length to fit well on most wrists.
Pros
5ATM water resistance
Tang buckle is quality made
Cool style
Cons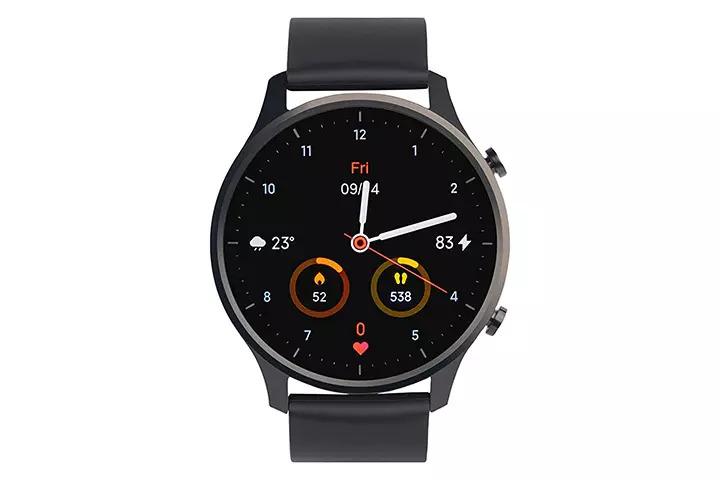 With Gorilla Glass 3 and anti-scratch coating, the premium metallic dial of the MI watch has a full touch color display. The hands and numbers on the watch are white on the dark black background, making it attractive. The watch's battery life is more than satisfactory and runs up to 14 days on a single charge. The smartwatch helps in efficient tracking of your fitness activity. The watch monitors heart rate 24×7 through an analytics engine.
Pros
110+ watch faces to keep renewing the look of the watch
Connects with a mobile app—Xiaomi Wear in Android version
Measures cardio respiratory health
Indicates the amount of sleep and energy levels in the body
Can resist 5ATM water
Consists of professional sports modes
Can control music, calls, alarms, stopwatch, and torch from the watch
Cons
GPS may not be accurate
May lose connection with the phone sometimes
Vibration of the alarm may be weaker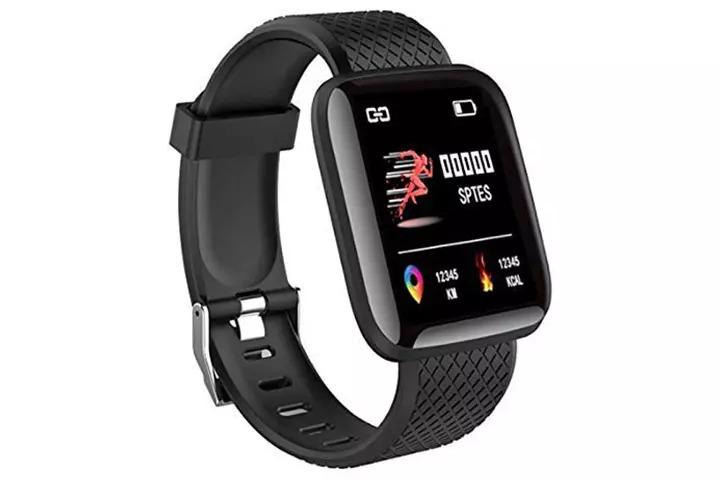 Chargeable via a USB port, the activity-cum-tracker watch weighs a mere 23 grams. The watch runs up to two days on a single charge. If the charging is low, you can easily connect it to your laptop for swift charging. The watch offers smart connectivity with all kinds of phones and apps. The personalized in-app reports come in handy for fitness enthusiasts. The multi-colored watch can appeal to men and women.
Pros
Supports Facebook, WhatsApp, and WeChat notifications
Heart rate monitor available
IP67 dustproof and waterproof
Has a sleep monitor, can count calories
Activity recorder mode and call notification feature available
Compatible Bluetooth connection with Android and iOS phones
Cons
May not come with the charger
Made of rubber
Default time format is 24 hours, which cannot be changed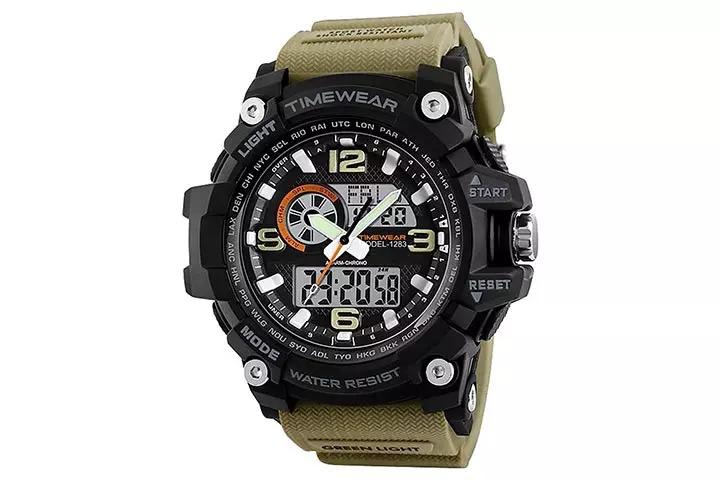 Analog-digital display watches are in trend because of their simplicity and usefulness. Timewear Commando offers a brown-colored band watch with a central multi-functional dial. The diameter of the dial is about 55mm making it attractive for men.
The black-colored dial complements the brown band, and the watch's hands are a combination of white, black, and orange. The watch shows the day, date, and 24-hour time. It is water-resistant up to 50 meters.
Pros
Impressive design
Silicone strap is durable and versatile
Hands of the watch are designed for easy reading of time
Weighs 150 grams
Soft and comfortable on the hand
Has reset, mode, and light button
Has an alarm option
Consists of EL light button
Functions as a stopwatch too
Cons
The light function of the watch may not last longer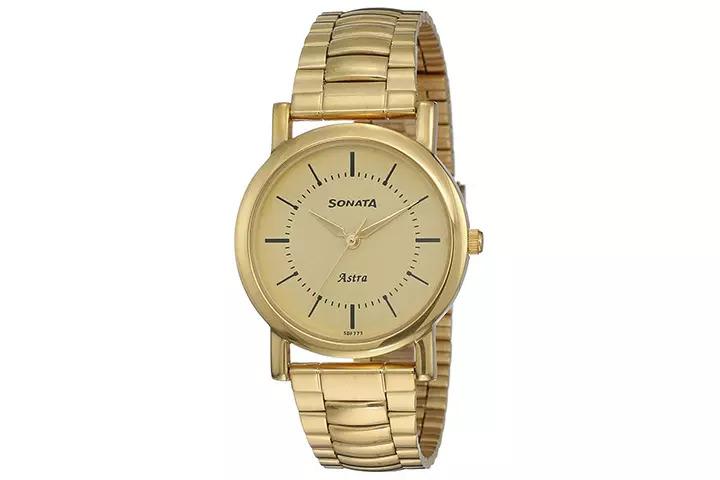 If you are fond of gold color, then Sonata's analog watch can be your choice. The watch has a gold-colored band with a champagne-colored round dial and sports an elegant design with basic time indication. Although it does not have setting modes, light, app, or Bluetooth options, the model still stands out because of its good Quartz precision, high-quality material, and long-lasting plating colors.
Pros
Water resistance up to 30 meters
Sliding clasp is stylish
Lightweight; weighs only 80 grams
Cons
May not be suitable if you want to track fitness activity
Watches are an integral part of everyone's life. A smartwatch has become a necessity for school children, teenagers, or grown-up adults in the digital world.
A traditional watch may keep track of the time for us and encourage us to finish our work as scheduled. Smartwatches go the extra mile and to track our activity level and connect to our smartphones and access them from a distance. Smartwatches are a style statement, too. So, look for a watch that suits you most in this list and don it to flaunt your style.
Recommended Articles: