When you go camping, hiking, or any other outdoor adventure, access to clean drinking water is necessary. A water bottle is the most necessary accessory to carry for people hiking long distances or camping overnight. Camping water bottles are designed to withstand harsh conditions and rough use by campers.
They are lightweight and portable as they fit easily in the limited luggage space. In addition to providing easy and convenient access to water, they serve a bigger purpose of not littering the pristine wild with single-use bottles.
Here, we list some of the best camping water bottles available in the market to keep you hydrated when you go on your next adventure.
17 Best Camping Water Bottle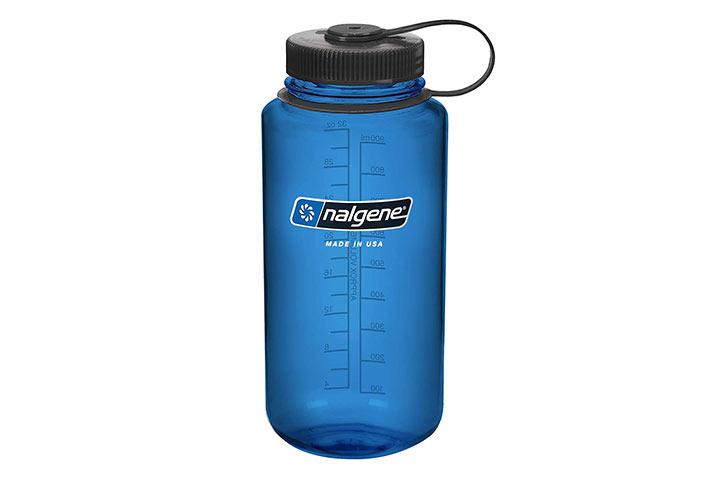 For decades, the Nalgene Wide Mouth has been a favorite among climbers and hikers. It is specially designed for off-road use, considering the extreme hot and cold temperatures outdoors. A wide-mouth will not freeze the water and lets you sip water even in sub-zero conditions.
The bottle is made of BPA-free Tritan plastic, durable and leakproof, suitable for use on the go. This 32-ounce bottle is sturdy and durable. The bottle can withstand drops, bumps, and shocks, keeping you hydrated on your hardest trails.
Pros:
The water level markers on the bottle track your consumption pattern
BPA, BPS, and phthalate-free material
Wide variety of color options available
Wide mouth makes cleaning easy
Dishwasher-safe 
Cons:
May not have heat retention insulation
May be hard to drink while moving and may spill easily
The wide diameter may be difficult to hold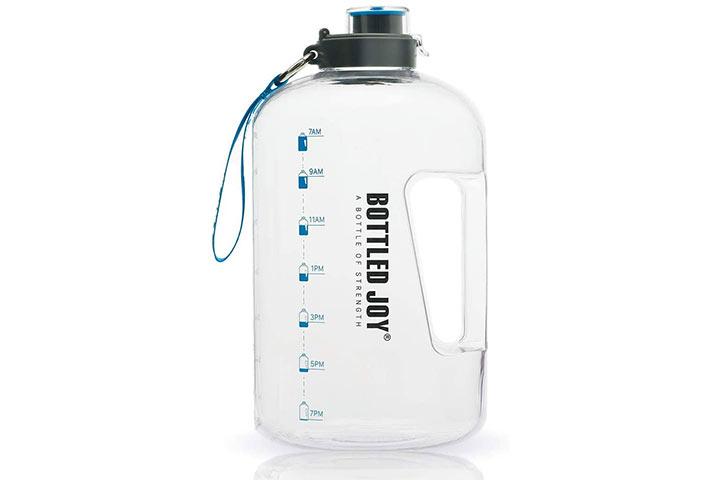 The one-gallon bottle from Bottled Joy can store enough water to keep you hydrated without worrying about multiple refills. Despite the large size of the bottle, the easy-to-hold handle makes it easy to carry. The water level marker and the timeline indicator will keep you motivated to meet the timely consumption needs.
This durable bottle is made of high-quality food-grade plastic with a leakproof cover to ensure no spills and leaks. Most importantly, the bottle's design is stylish, with a transparent body and an exquisite lid with a key ring attachment. 
Pros:
5-inch wide-mouth opening, easy to add ice cubes
Made of food-grade PETG resin, BPA-free, and odorless material
Doesn't retain residual flavors from juice or powders
Screw and gasket lid with flip-top
18 months refund/replacement guarantee
Cons:
May not be dishwasher-safe
Handle area may be small for people with bigger hands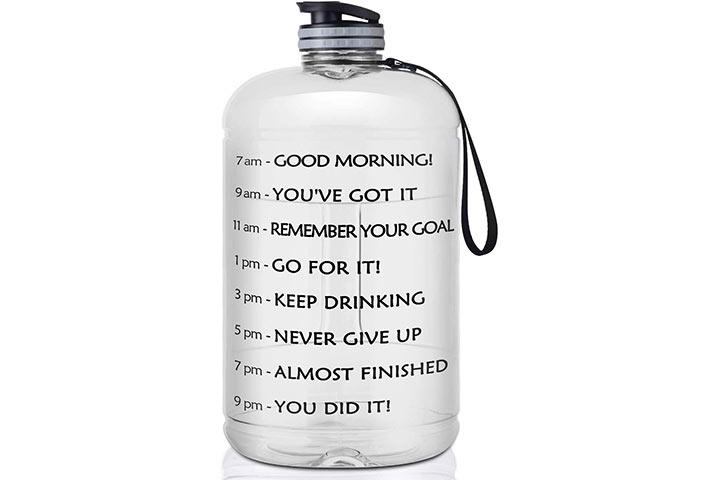 The Freetree bottle is designed to be your fitness partner and meet your hydration needs throughout the day. There are timeline markers and encouraging quotes to keep you motivated and remind you to drink in time. The large screw top allows you to quickly fill the bottle, while the flip-lid with a smaller opening makes it easier to drink.
A large hand strap fixed on the neck area and the integrated handle makes it extremely convenient to carry.
Pros:
Made of durable PETG, recyclable material
Can be used to freeze water inside without the bottle getting distorted
Fits easily in fridge doors
Easy to clean with a brush
Lifetime warranty
Cons:
May not be suitable to carry hot liquid
May not be dishwasher-friendly
Drops and bumps may cause damage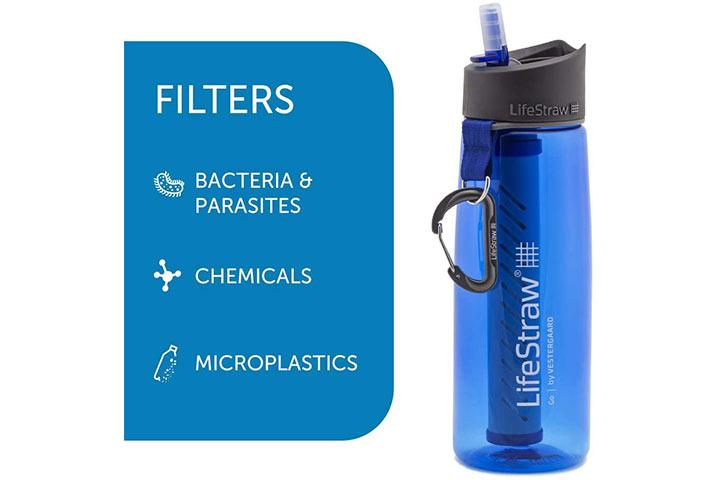 While camping, it is not always possible to find clean drinking water, so the risk of water-borne diseases is higher. The LifeStraw Go bottle is equipped with an in-built filtration system that can filter common bacteria, protozoa, chlorine, and other contaminants to provide clean and odorless water. The bottle uses a straw design and is made of BPA-free Tritan material. The bottle has a long service life and can withstand the tough camp use.
Pros:
Microfiltration pores for effective filtration
Two-stage activated carbon filter reduces chlorine and organic chemicals
Food-grade silicone sipper
Replacement filters can be bought separately
Cons:
Sipping straw may be narrow
Filters may require frequent change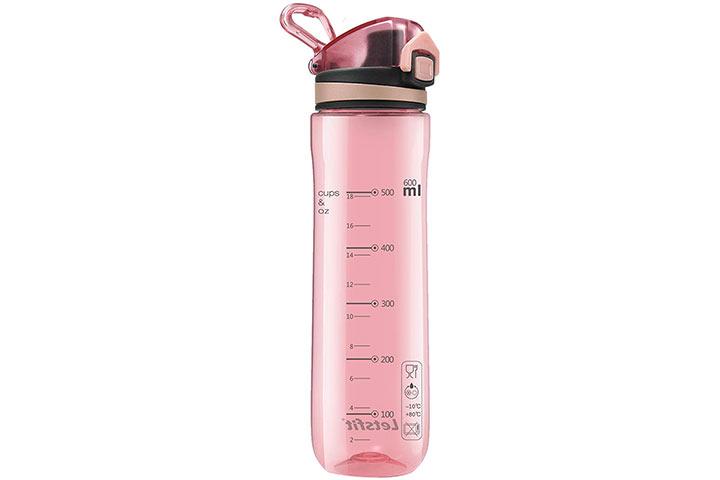 Letsfit Sports 21 ounce capacity water bottle can hold any type of beverage you like. The capacity mark helps you monitor your daily water consumption. The bottle is made of 100% BPA-free and impact-resistant Triton material and can be easily placed in your bag or cup holder. It has a belt loop for easy carrying and is ideal for staying hydrated when exercising, traveling, or camping.
Pros:
One hand press button for opening the lid cover
Ultra-slim body makes it easy to grip
Locking lid with silicone gasket, leak-free
Multiple color options
12-month warranty
Cons:
Flip lid build may not be durable
May not be dishwasher-safe
Campers and hikers are always looking for equipment that is well designed and easy to carry or put in a backpack. The Nomader collapsible bottle brings an innovative design to the water bottle. You can empty the bottle, place it tightly in a small pocket, and then roll it into a small package.
Made of reliable BPA-free silicone material, the bottle will not soften after being filled with water and provide a leak-free experience. The ultra-light roll shape allows you to carry multiple bottles with you, which helps you go on long camps.
Pros:
Space-saving collapsible design
Stands sturdy even when partially filled
Hygienic screw cap with cover
Wide mouth facilitates easy cleaning 
Cons:
Silicone exterior may pick up dirt
May not keep water hot or cold for long
May have chemical taste during initial days of use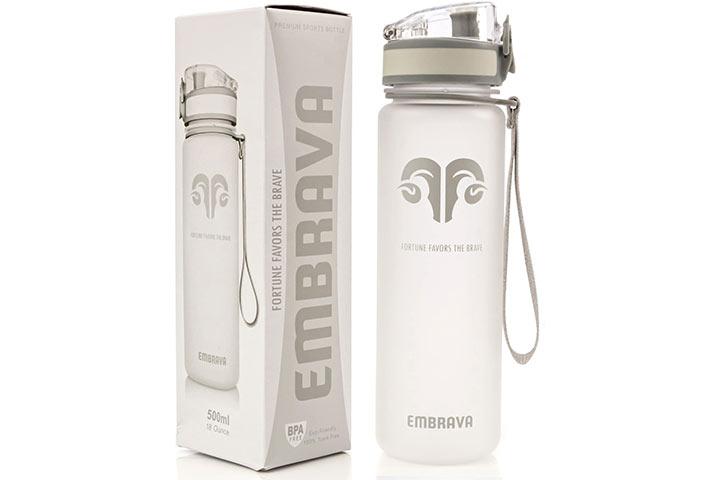 The Embrava sports bottle is designed for fitness enthusiasts and active users. The pot lid is equipped with air holes to ensure that faster water flows through the sprout. It has a one-button opening lid to let you quickly grab a sip with only one hand. This stylish 18-ounce bottle is made of durable and safe food-grade co-polyester plastic. The slim and lightweight body makes it an ideal outdoor companion.
Pros:
Designed for one-hand operation
Leakproof and dustproof lid
One-click flip-top lid cover
Three different color options
Cons:
Strap may not be removable
May not provide insulation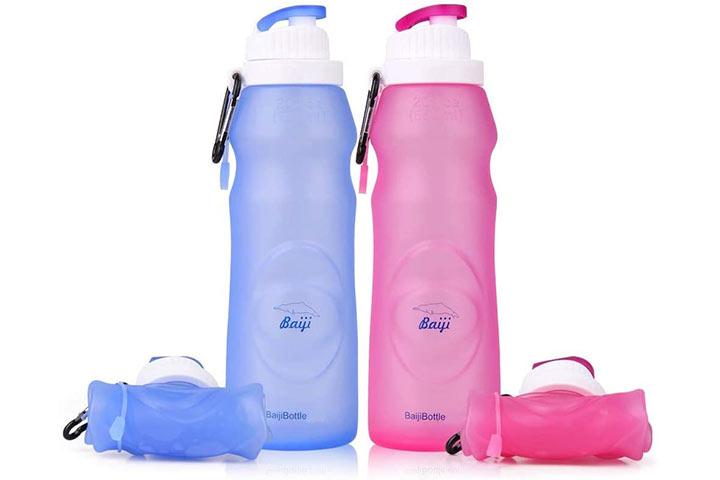 Baiji bottles are sold in packs of two – red and blue. The bottle is made of food-grade silicone and can be folded without liquid filling, so it is extremely convenient to carry more than one bottle in your bag.
Purchasing this bottle can also let you contribute to the dolphin conservation work that Baiju supports. The brand donates 10% of the total profit from selling these bottles to the Dolphin Rescue and Protection Programs.
Pros:
Resistant to strange taste and smell
Dishwasher-safe
Comes with attached carabiner 
Cons:
May not be stable when partially filled
May have rubbery taste during the first few uses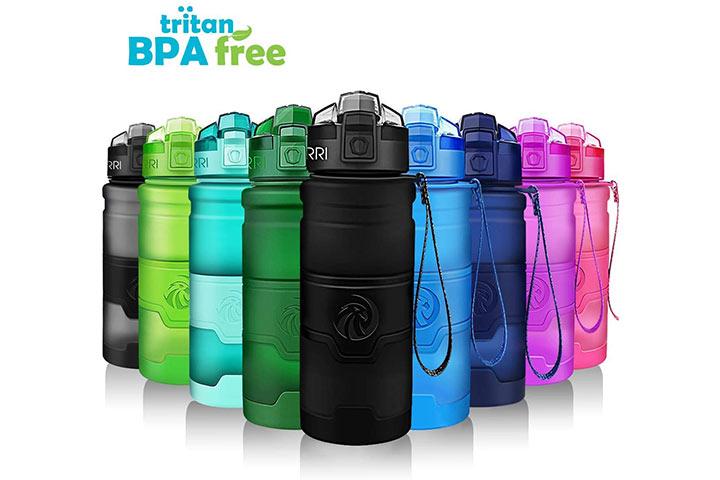 The unique concave design of the Zorri water bottle and the nylon strap make it feel comfortable. This premium sports bottle comprises 100% BPA-free Tritan plastic with a food-grade PP material cover and silicone sealant.
The bottle comes with water level markers to help you track your drinking patterns throughout the day. The lockable pop-up upper cover provides effective leakproof operation. The durable sports bottle is affordable and can be used for a long time. 
Pros:
Food grade silicone seal and plugs, dustproof design
One-click easy-to-open flip cap
Built-in fruit infusion filter
Comes with a bottle brush
Cons:
May leave plastic smell during initial use
Lid lock material may not be durable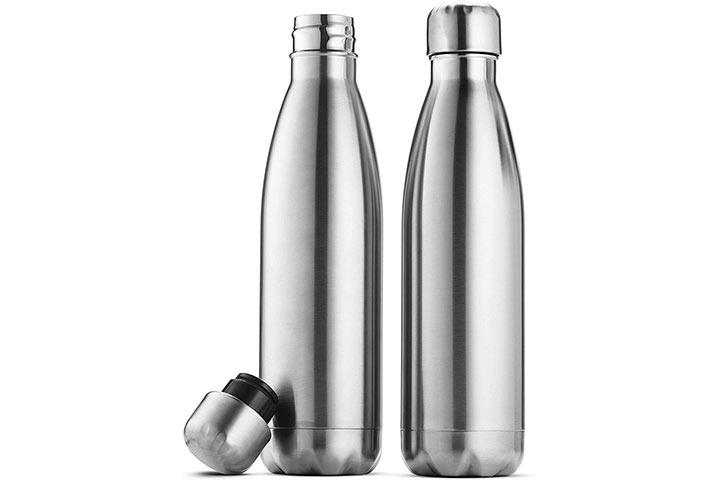 The FineDine insulated water bottle is made of double-shell stainless steel inside and outside. The insulation feature is highly effective and can keep beverages hot for 12 hours and cold 24 hours.
Made of environmentally-friendly high-quality material, FineDine product has a shatterproof body that can last you a lifetime. The product comes in a pair of two and can be an excellent choice for those who do not like to carry fragile glass bottles.
Pros:
Vacuum-sealed cap
Double-walled insulation
Odor, smudge, and rust-resistant metal
Wide diameter mouth, easy to insert ice cubes
Cons:
May topple with the slightest push due to a tall frame
Lid seal could be better
May leave scratches on impact with sharp objects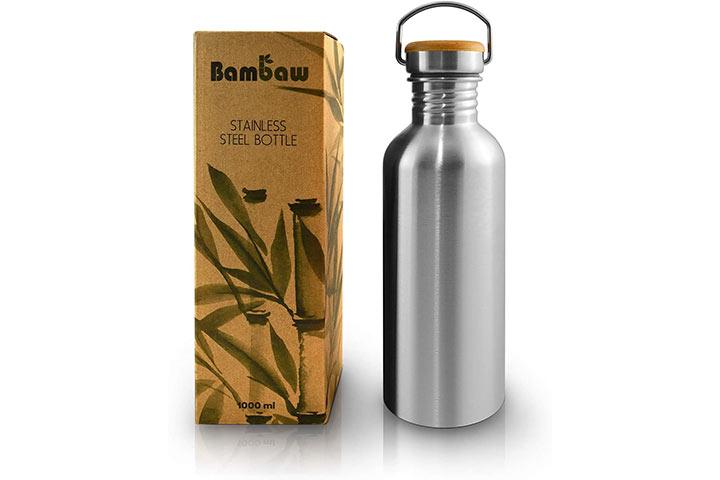 The BamBaw camping bottle is made of polished stainless steel. No logo or paint is added to the bottle, and the bamboo lid makes it look stylish and organic. It is light in weight and can be easily carried in a bag without worrying about scratches or discoloration. This bottle can be your best companion whether you go camping, hiking, or any outdoor adventure, and stay hydrated wherever you go.
Pros:
Good quality seal, leakproof
BPA-free food grade components
Wide mouth lets the bottle be easily cleaned with a brush
Can be placed near campfires and doesn't get damaged
Cons:
May not be stable
Metal surface may get a little hot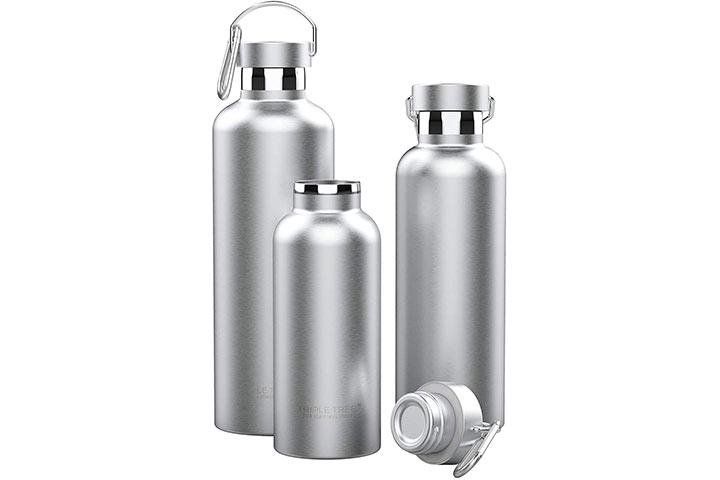 Triple Tree's single-wall stainless steel bottle is a great choice for outdoor activities such as camping and hiking. The bottle is made of 18/8 stainless steel material, which is durable and anti-rust. The bottle can keep the beverage clean and fresh. The carrying strap with the loop makes the operation easy, and the shape of the bottle is carefully designed to fit a universal cup holder on a car or a bike.
Pros:
Available in three sizes – 17oz, 26oz, and 34oz
Lifetime Warranty
Minimalistic clean design with a smooth finish
Silicone deal rings provide leakless usage
Suitable for camp side usage
Cons:
Heavy compared to plastic bottles
Doesn't provide effective insulation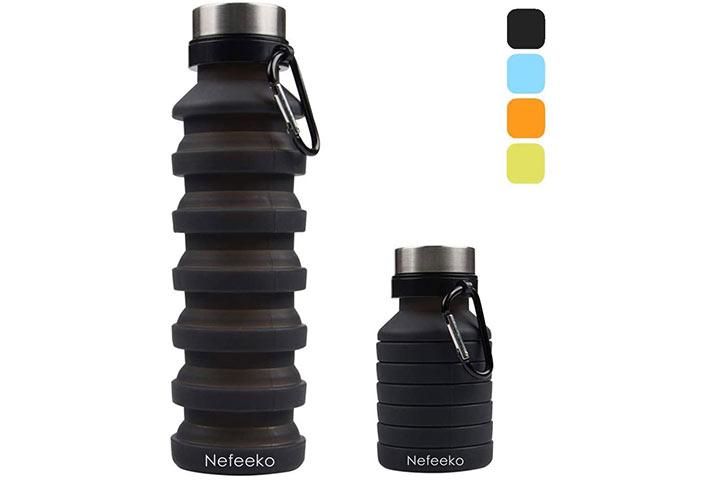 Nefeeko offers a unique foldable design that allows you to collapse the bottle vertically, making it easy to carry. More importantly, you can fold the bottle longer or shorter and set the bottle's length as desired. The Nefeeko water bottle uses food-grade BPA-free silicone, which is durable and recyclable. The bottle is ideal for holding cold and warm water.
Pros:
Wide mouth makes it convenient to insert ice, lemons, etc.
Comes with carabiner strap
Adjustable length
Leakproof lid with rubber rings
Four stylish color options
Cons:
May leave rubbery smell during initial use
May topple easily in a standing position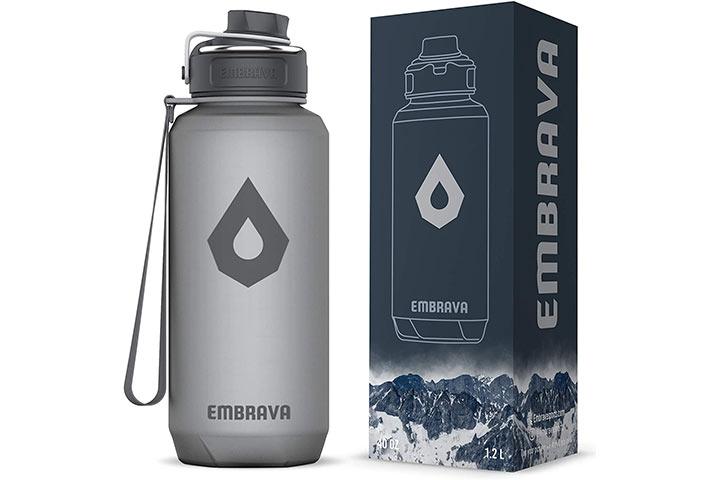 The multifunctional Embrava bottle is a stylish bottle to carry when you go to the gym, hiking, camping, or the office. The bottle design embraces the rough elements of the wild and strives to provide a body that can withstand harsh conditions. The 50oz bottle provides hydration for longer durations, and BPS, BPA-free components offer a healthy choice.
Pros:
Spill-proof covered spout
Durable bottle
Optional lanyard and filter included
Attached carry ring for straps
Water level markers on the body
Impact and drop resistant
Cons:
Bigger size, may not fit in holders
May not have insulation
Strap ring may not be removable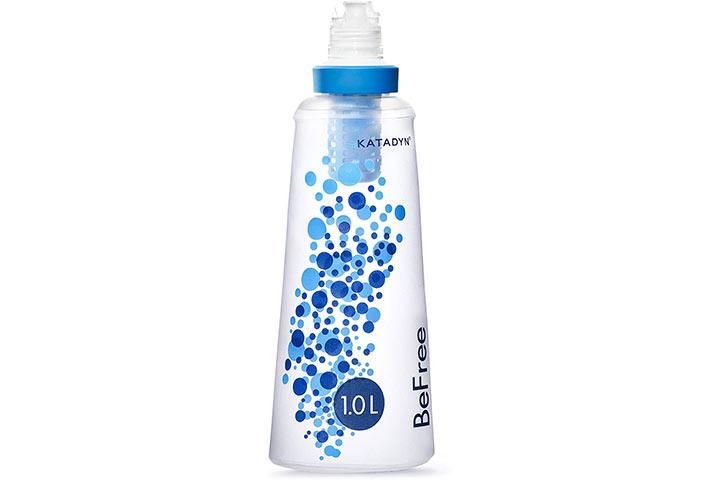 Many times, people run out of clean water when camping or hiking in the wild. With the Katadyn befree water bottle, you no longer need to worry about the source of your next drink. Just fill-up the flask and let the filter do its job. The water bottle's micron filter can remove bacteria, protozoa, and other micropollutants, providing you safe drinking water anywhere, anytime.
Pros:
Collapsible Bottle
Filters water without chemical
Fast flow rate 
Cons:
Does not filter organic chemicals like chlorine, etc.
Squishy and doesn't stand steady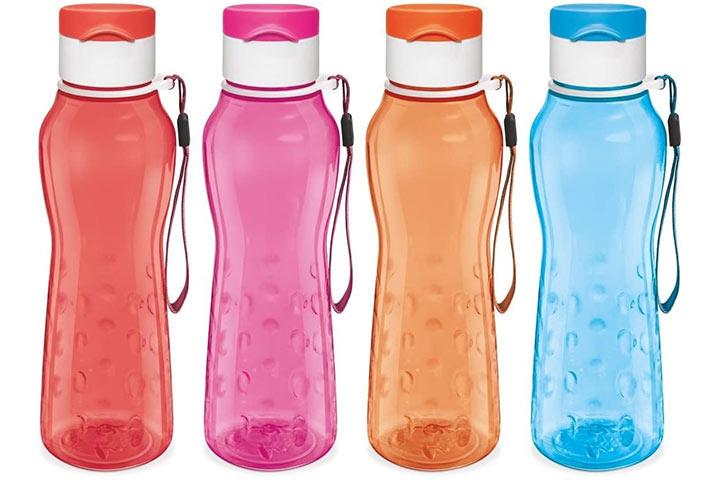 Milton offers a set of four 25oz reusable bottles for the price of one. The bottles are made of high-quality non-breakable plastic, preventing any odor. The comfortable wide mouth allows easy filling, using ice cubes, and cleaning the bottle with a brush. The affordable pack comes in different colors and leaves no room for confusion.
Pros:
Non-slip grip on body and carry strap
BPA-free and 100% reusable
Durable material that can withstand drops and bumps
Compact size that easily fits bags and cup holders in cars
Cons:
Not dishwasher-friendly
Won't withstand campfire heat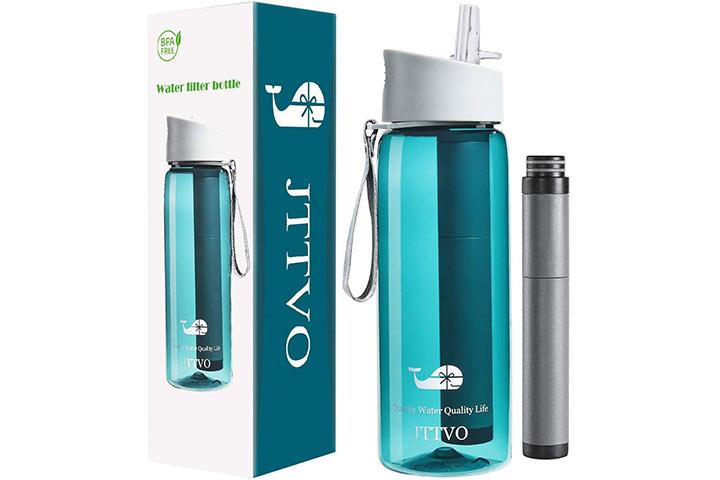 JTTVO offers a camping companion that strives to be more than just a water bottle. The bottle comes with a built-in filter that is highly effective for external use when you refill from an unfamiliar water source.
The bottle includes novel utility features like a direction-compass on the top, a carabiner strap hook, and lid-holes that speed up the water flow. This stylish and sleek bottle has a Silicon Valley feel, suitable for home or office use, and can meet outdoor needs.
Pros:
Filter with medical-grade PP cotton and activated carbon shell
Long-lasting filter that delivers odorless and colorless water
BPA-free Tritan build material
A fast flow-rate of water easy drinking
Compact size that easily fits bags and cup holders in cars
Cons:
Imparts taste during initial usage
Not as effective for filtering stream water like that for tap water
How To Choose The Right Water Bottle For Camping? 
When choosing a water bottle, consider its material, capacity, and features that best suit your requirement.
Build material: Depending on the activity you are doing, and how you use the bottle, you can choose plastic, glass, or steel bottles. Plastic bottles are either hard or soft. They are lighter and usually cheaper than metal or glass bottles. Stainless steel provides good insulation and is more durable than plastic, but it weighs more. Stainless steel has better resistance to odor, too. Glass typically offers a clean taste but tends to be fragile and gets damaged easily.
Capacity: Choose a bottle with a capacity that meets your drinking needs. The bottle's capacity is measured in ounces or liters, and usually 16 to 32 ounces (about half a liter to a liter). Smaller bottles may be lighter and better fit in smaller spaces but need to be refilled frequently. Besides, consider the dimension and form factor if you plan to keep it in a cup holder or bottle cage.
Features: Consider other features such as a wide mouth opening, lid, and lid cover, as well as an opening mechanism and accessories for straps to facilitate portability. If you plan to fill bottles from natural, unfiltered sources like streams, consider using bottles with built-in filters to reduce contaminants. 
Frequently Asked Questions
1. What does an insulated water bottle do? 
Insulated water bottles let you maintain the hotness or coldness of the liquid by using foam or vacuum. Insulated water bottles generally have two shells, one placed inside the other, with foam or vacuum between the walls.
2. Are stainless steel bottles safe? 
High-quality bottles made of food-grade stainless steel materials will not pose a threat to health,  so they can be considered safe. Stainless steel bottles are suitable for use in high-temperature environments such as around bonfires. A plastic bottle may get distorted from the excess heat, causing water to be adulterated.
A good camping water bottle is an essential part of your camping gear for you to stay hydrated. We hope this list of the best camping bottles features one that suits your requirements and budget. Do use the buying guide to pick one that is usable and durable too.