A water purifier is an excellent way to deal with adulterated water problems. It is a necessity for every home these days as unfiltered water could be harmful for health. There are endless options for water purifiers with different features piling up in the market. Therefore, finding the best water purifier for your home could be a little tricky.
We have compiled a list of the best water purifiers in India to help you find the right product. Our buying guide can also help you choose the best one to have healthy drinking water daily.
15 Best Water Purifiers In India
If you are looking for a smart water purifier, the Eureka Forbes smart plus can be the perfect solution. It has a modern and sleek design that can enhance the decor of any kitchen and features six stages water purification process that includes RO, UV, and MTDS and purifies water from various sources such as water tankers and groundwater.
It comes with 6 liters capacity and smart LED indicators to alert you about a full tank and no water supply. The purifier works with MTDS technology that lets you adjust the taste of the water manually. Its smart energy saving feature shuts down the appliance automatically once the tank gets full. 
Specifications
Model: Smart Plus
Capacity: 6l
Weight: 8kg 640g
Material: Plastic 
Pros
Easy installation
Smart cartridge life
Energy Saver
LED indicators
Compact and lightweight 
Cons
No filter change alert/indicator
The Kent grand water purifier works with a seven-stage purification system using RO, UF, UV filters to purify water from multiple sources. Its inbuilt TDS controller restores the vital natural minerals of water using patented mineral RO Technology. The purifier comes with an eight-liter storage capacity with a purification capacity of 20 liters/hour. It also features UV fail alarm and filter change indicator to help you keep track of things.
Specifications
 Model: Grand old
Capacity: 8l
Weight: 11kg 400g
Material: Plastic 
Pros
High-grade plastic material
Durable and sturdy
Three-year no service charge
Multistage purification
Cons
Could lead to more water wastage
The Livpure Glo water purifier uses a six-stage filtration process with RO and UV filters and has a seven-liter tank capacity. Its mineralizer function retains the natural minerals and taste in the water. The unit can purify 12 liters of water per hour and treat water with up to 2000ppm TDS. It is also equipped with an auto-shutoff feature and smart LED indicators. 
Specifications
 Model: Glo
Capacity: 7l
Weight: 7kg
Material: Plastic
Pros
Multistage purification
Large storage capacity
Sleek and attractive design
Made of food-grade plastic
Sturdy body
One-year warranty 
Cons
May not have filter change indicator
Tata Swach is a non-electric purifier that uses silver nanotechnology to remove harmful bacteria and viruses from the water. It has a strong build with a 15-liter storage capacity, durable cartridge life, and 1500 liters purification capacity. This gravity-based water purifier does not require running water to operate and is powered with an auto-shutoff feature and a bulb with 1500 liters running life. It is available in two color options, sapphire blue, and green. 
Specifications
 Model: Swach Smart
Capacity: 15l
Weight: 1kg 700g
Material: Plastic 
Pro
Sturdy design
Durable cartridge life
Easy to clean and assemble
Six-month warranty
Long life of cartridges 
Cons
The water purifier from Ruby is sleek and easy to install. It has a six-stage water filtration process with RO, UV, and TDS controllers to remove harmful contaminants from water and replenishes essential natural minerals. It features a 12-liter storage tank and has 12 liters per hour filtering capacity. The water purifier has a stylish design made of food-grade plastic material. 
Specifications
Model: Ruby Economical
Capacity: 12l
Weight: 9kg
Material: Plastic 
Pros
Easy installation
One-year warranty
Extra-large storage capacity
User-friendly
Cons
The Prestige water purifier filters the contaminated water through a combination of traditional and modern mechanisms. It works with a three-stage water filtration process to filter out harmful pathogens from water, making it safe to drink. The 16-liter copper-based water container enhances water's nutritional value, provides health benefits, and prevents bacteria and viruses' growth. This filter is suitable for a family of two to three members. 
Specifications
 Model: Tattva 2.0 Copper
Capacity: 16l
Weight: 4kg 500g
Material: Plastic, copper 
Pros
Extra-large storage capacity
High filtration rate
Has a FACT filter
Chemical-free process
One-year warranty 
Cons
The smart water purifier eliminates dissolved toxins and impurities from the water, making it clean and safe to drink. It is an artificial intelligence-based system that works with six filtration stages, including RO, UV, and UF technologies to purify water. The unit has branded parts like Philips UV lamp, RO membrane by LG, Bio+ Alkaline cartridge.
It uses a TDS controller to replenish the natural minerals in water and filters with high TDS of up to 3000ppm. The purifier is equipped with an auto-shutoff feature, eight-liter tank capacity, and 20 liters of filtering capacity per hour. You can also control it using the KonvioNeer Smart app. 
Specifications
Model: Alkaline Series
Capacity: 150l
Weight: 8kg
Material: Acrylonitrile Butadiene Styrene 
Pros
One-year warranty
Pre-filter and installation tool kit included
Can operate with Kenvio smart app
Multistage purification method 
Cons
Warranty may carry too many conditions
The Kent Ace Mineral purifier delivers safe drinking water using double purification technology. It works on RO, UV, and UF technology to treat contaminated water from various TDS sources up to 2500ppm. The TDS mineralizer of the purifier retains essential water minerals. It has seven liters storage capacity tanks and uses the spin welded RO membranes technology. This filter is easy to install, consumes power less than 60w, and has a 15 liters per hour purification capacity. 
Specifications
Model: Ace Mineral
Capacity: 7l
Weight: 10kg 600g
Material: Plastic 
Pros
Large storage capacity
Less power consumption
Retains water nutrients
Wall-mounted design
One-year warranty for parts
No service charge for three years
Cons
Doesn't have control over water wastage
The Faber Galaxy Plus water purifier effectively purifies water for drinking purposes. It works with an eight-stage filtration process including RO, UV, UF, MAT to remove dust particles, toxins, and harmful substances from water. The TDS regulator replenishes essential natural nutrients in the water and filters water with up to 2500ppm TDS.
Its MAT technology enhances the taste of the water to make it drinkable. The purifier consumes less energy and has an attractive design with a nine-liter storage tank. It can purify up to 13.5-liter filtering capacity per hour and features a smart energy-saving mode. The ABS food-grade plastic prevents germs from leaching into the purified water. 
Specifications
Model: Galaxy Plus
Capacity: 9l
Weight: 9kg
Material: ABS Food Plastic
Pros
Germ block technology
One-year warranty
Less power consumption
Sturdy design 
Cons
The advanced level purifier infuses many health benefits in filtered water and is powered by the latest technologies and features. It uses seven stages of RO, UV, MF filtration process to get rid of all kinds of contaminants present in the water. The filtered water gets cleaned using copper technology to make it 100% drinkable water.
It is equipped with a dual water dispenser for RO based and copper charged water. The purifier works accurately and infuses the right dose of copper in every filtered glass of water. The purifier has eight liters storage capacity to treat water with TDS up to 2000ppm and a smart sense feature that automatically cleans up the copper.
Specifications
Model: Copper+Mineral RO+UV+MF
Capacity: 10l
Weight: 9kg 500g
Material: Plastic
Pros
Seven-stage water purification
Accurate copper dossing
Double water dispenser
One-year warranty 
Cons
HUL Pureit Advanced Pro purifier filters water using the latest technologies and minimizes water wastage. It features a multistage purification process to provide RO purified water and removes pesticides and heavy metals from the water.
It also keeps the essential minerals intact during the purification process. The purifier is made of high-quality plastic material and can be used for water with TDS up to 2000ppm. It has seven-liter storage capacities and goes automatically on standby mode once the tank gets full. 
Specifications
Model: Advanced Pro
Capacity: 7l
Weight: 7kg
Material: Plastic 
Pros
Removes pesticides and hard matters
Uses 100% RO Technology
Large storage capacity
Food grade plastic
Energy-saving mode 
Cons
Installation may not be easy
The A.O Smith purifier has a five-stage purification process to offer 100% UV purified water by removing harmful substances. It ensures the delivery of healthy drinking water for your family. The purifier features 10-liter water storage capacities with advanced features such as a night assist and UV purified hot water option and is well suited for water with less than 200 TDS. 
Specifications
Model: A.O. Smith Z1
Capacity: 10l
Weight: 11kg 700g
Material: Plastic 
Pros
Five-stage purification
Hot water
UV life alert
Large storage capacity
Smart purifying solution
Cons
Ozean Alkaline water purifier eliminates water impurities and toxins from water and maintains natural minerals. It features a 12-liter water storage tank and is made of ABS food-grade material, and works with RO, UV, and UF technology to eliminate all types of water contaminants.
The TDS regulator BIO+ Alkaline water acts as an anti-oxidant and retains essential water minerals into the water. It has 15 liters per hour filtration capacity and can be used to treat water from various sources. The filter comes with a pH tester and other accessories required for installation.
Specifications
Model: Alkaline
Capacity: 12l
Weight: 8kg
Material: Acrylonitrile Butadiene Styrene
Pros
Advanced filtration method
Large water storage capacity
One-year warranty
Auto start/shut off feature
Effective filtering
ABS food-grade plastic
Wall-mount design
Cons
The Aquaultra water purifier filter maintains the right pH balance in the water and flushes out toxins. It uses 14 stages filtration method with RO, UV, UF, and copper technology to purify water from the cellular level. The filter eliminates all types of dust particles, pathogens, harmful chemicals, substances, and foul odors from the water to make it 100% drinkable.
The ABS food-grade cabinet ensures the safety of purified water. This filter is designed to filter water with high TDS (2000ppm) and works on copper alkaline technology, killing harmful bacteria to ensure safe drinking water.
Specifications
 Model: C20
Capacity: 14l
Weight: 750g
Material: Plastic 
Pros
Multistage purification
Copper technology
Auto shutoff feature
Easy installation
Cons
Could have a leakage problem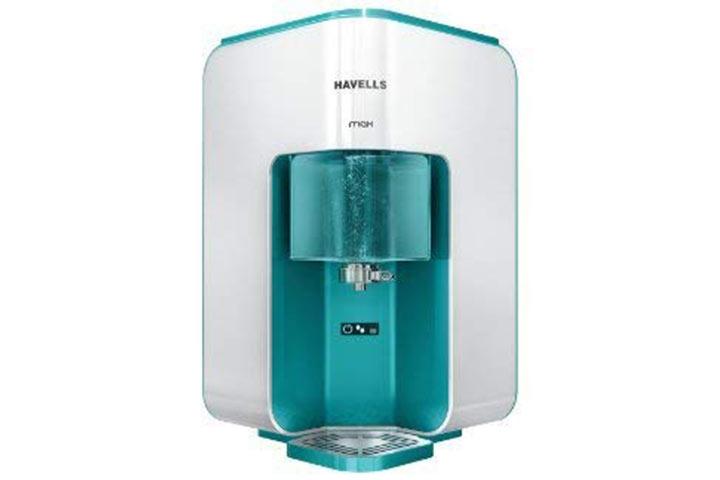 Havells' water purifier provides healthy and safe drinking water with its seven-stage filtration process using RO and UV technology. Its storage capacity is eight liters and features a mineral cartridge to balance the pH level of filtered water. The revitalized function helps alter the water molecules for better hydration and mineral absorption. It supports a dual mounting option to enhance the decor of your kitchen. The iProtect feature monitors the water purification process and ensures safe drinking water. 
Specifications
Capacity: 8l
Weight: 6kg 900g
Material: Food grade plastic 
Pros
High-grade material
Compact design
Dual mounting options
Excellent design
Double purification
Large storage capacity
Cons
Could have a high maintenance cost
Things To Consider When Choosing The Right Water Purifier 
Here are a few features to consider when choosing the best water purifier for your family.
Storage: You should estimate roughly how much water your family needs daily. A water purifier with a minimum eight-liter capacity is recommended for a small family for regular usage. However, you can even go for a bigger one based on your daily requirements.
Design and material: You should go with a water purifier made of high-quality food-grade plastic material. It ensures that your purified water will remain safe from any kind of toxicity leaching from plastic. Also, check for the water purifier's design and choose either wall-mounted or countertop based on your need.
Water purification technology: If you get water sourced from the municipality, it may not contain as many harmful substances, and you can opt for UF technology-based water purifiers. In case your water contains microbes and bacteria, you should consider a water purifier that works with multistage water purification methods. RO, UV, UF based water purifiers kill all the pathogens and make water 100% safe for drinking. 
Installation: Go for a water filter that is easy to install and requires less maintenance. Many brands offer free installation services that you can check before buying one.
After-sales service: A water purifier is just an appliance that needs regular maintenance to work effectively. Its maintenance cost can range from Rs 1500 to 5000 per year, depending upon your purifier model. You should estimate the yearly maintenance cost of the device beforehand. Also, check the after-sales service so that if there's an issue, it is resolved quickly.
Budget: Decide on a budget that you would want to spend and search for the best water purifiers falling in that range. 
The water purifier is a necessity these days. It ensures that you and your family are drinking safe and clean water. There are various benefits of bringing a water purifier home. However, you should do proper research and pay attention to the factors listed in the post before buying one. Compare the features of different products and pick the one that is most suitable for you.
Recommended Articles: