If you love camping or exploring the woods, then a waterproof tent is part of the essential gear to carry with you on adventure trips. These tents are designed to be water and wind-resistant and can be used in all seasons to protect yourself from rain and wind.
Waterproof tents can be pop-up tents or set-up tents. Pop-up tents are pre-assembled, whereas the set-up tents need some assembly. No matter what style of tent you buy, ensure that you pick one that meets all your requirements and keeps you comfortable and dry even during rains.
This post lists some of the best waterproof tents of different types and makes. Keep reading to find one you may need.

Top Products From Our List
 13 Best Waterproof Tents
This durable and waterproof tent from Bessport is an essential gear for camping and hiking. It is made of ultralight and tear-resistant fabric that keeps you dry during rains. The tent body weighs 5.2lb, the interior floor dimensions are 86.6 x 48.4in, height is 43.5in, and the canopy interior area is 31sq.ft. This tent can accommodate two people and comes with a D-shaped zipper door.
Pros 
Lightweight and breathable
Waterproof
Tear-resistant tent
Inner Micro-mesh with eight zippers
Two pre-attached poles with clips for easy disassembling
Welded Oxford floor material
5mm aluminum tent poles
Easy carry bag included
Cons 
Zippers might break easily
The outer part of the tent gets caught in the mesh zippers easily.
The Hewolf camping tent is easy to set up – it is just like opening an umbrella. The interior has a 5ft 5in height and is spacious enough for two adults and one kid or four children to move around easily. It can be a great tent for family camping trips.
Pros 
Easy and quick to set up and takedown
Spacious interiors
Waterproof
Micro-mesh covering for ventilation
Opens up on two sides for cross breeze
Extended canopies with UV protection 
Cons 
May not be stable during strong winds
The inner walls are not attached to the floor
It is said to accommodate three adults and can fit in one full air mattress. The best part is this Alpha Camp tent is easy to set up and is also lightweight and portable. It comes in four color options.
Pros 
Reflective tent rope for better visibility at night
Cable port for electrical cords
Storage pockets
Tie to hang a light or lantern
Easy to set up
Waterproof
Fiberglass poles that are wind-resistant
Comes in an easy-to-carry bag
Cons 
Only three mesh windows, so ventilation may not be enough
The rainfly might not be 100% waterproof
If you are planning a hiking trip with your squad, then this could be one of the best waterproof tents to consider. It could fit eight to nine people and comes with a 6.2ft height and weighs 23.6lb. The floor dimensions are 15 x 10ft, and the entire tent can be folded into a 31 x 12 x 12in carry bag.
Pros 
Sturdy frames made with high-quality Nano-Flex technology
Large D-shaped doors with micro mosquito mesh
Zipper port for electrical cables
UV 50+ protection and 2500mm hydrostatic waterproof coating
Quick to set up aluminum and pin-and-ring system
Antifungal polyethylene and silver-coated floor
Cons 
Low ventilation and breeze when the rainfly is on
Windows do not have curtains
The spacious interiors and a 12.5 x 8.5ft floor of this pop-up tent can accommodate four people and one internal gear. This is also one of the best waterproof tents because of the sealed seams near the pole-connecting areas. There are two color options available.
Pros 
Room for four to six people
Electrical cord access port
Storage pockets and a lantern hook
Double layered with a gap for condensation
Quick and easy to set up
Two front doors, hooded vents, and four side mesh doors
Double mesh paneled windows for privacy
Easy to fold and store away
Gear storage area
 Cons 
May not be waterproof
Quality may not be up to the mark
If you are looking for a compact tent for one or two people, then try this waterproof tent from Moon Lence. It has an unfolding size of 86.6 x 55.1 x 47.2in, and the tent body weighs 5.2lb. The best part is it can be easily folded and carried in a bag. This great tent comes in blue, green, and orange colors.
Pros 
Double-layered tent with a rainfly
Eleven lightweight alloy pegs and four guy ropes for wind resistance
Large mesh section, two D-shaped doors, and Velcro vents for proper ventilation
Easy to set up
Waterproof and UV protection fabric
Storage pockets and hook to hang a lantern
Cons 
Materials may not be thick enough
May need a tent footprint for added protection
The eight to nine-person tent capacity makes it suitable for large families or groups. It measures 168 x 108 x 72in and weighs 17.4lb and is easy to carry in a bag. It is made of 185T polyester with 1000mm polyurethane hydrostatic coating, which makes this one of the best waterproof tents. Another great feature of this tent is that with the rainfly on, you can project movies or videos on the curtain.
Pros 
Can fit three queen mattresses or eight airbags
Durable and lightweight
Easy and quick to set up
Two-way zippers and well-built poles
One large mesh door, five mesh windows, and a mesh tent top
Separate curtain inside to divide the tent into two rooms
Cons 
May not be sturdy
The zippers might be hard to operate
If you love to go backpacking and camping, then this lightweight and portable tent should be a part of the essential gear for your trip. It is spacious enough to fit two sleeping bags and one gear equipment.
Pros 
Compact and lightweight
Fiberglass poles for easy set-up and takedown
Waterproof PED fabric
Guy lines for wind resistance
One mesh door, and two mesh windows
Comes in an easy-to-carry duffle bag
Cons
Fiberglass poles may break easily
No basic structure, not many extra features
This tent comes with an umbrella structure that automatically pops up and down, making it easy to build. It is also quite easy to take this down and store it in a carry bag. The Lethmik tent comes with waterproof fabric on the exterior and a durable 21OD Oxford floor fabric. This could be one of the best waterproof camping tents for the family as it has a two to four-person tent capacity.
Pros 
Lightweight and portable
Easy to set up and takedown
Waterproof fabric
One hanging hook and a storage pocket
Mesh wall panels
12 stakes and windproof ropes
Double layered
Cons
The Bisinna waterproof tent is made of high-quality materials and is durable. The inner tent is made of 190T polyester no-see-um mesh, and the rainfly is made of 190T polyester, making the tent PU2000mm water-resistant. It has a two-person tent capacity and is ideal for backpacking, camping, or kayaking.
Pros 
Compact and lightweight
Double layered
Ventilation windows on either side
Lamp hook and a storage bag
Doors on either side
Easy to set up and takedown
Cons 
Floor may not be waterproof
This double-layered tent comes with a one to two-person tent capacity. Its floor dimension is 86.6 x 48.4in, interior height is 43.5in, and canopy internal area of 31sq.ft.
Pros 
Easy to set up
Lightweight and compact
Two-way mesh doors with zippers
Windows with mesh
Waterproof outer cover with vents
Welded floor design does not allow waterlogging
Cons 
No storage units or lantern hooks
Some may find the tent too small
This tent is large and spacious enough to accommodate four people. It is easy to set up and is waterproof and durable, which makes it ideal for camping, hiking, or fishing. This tent comes in three color options.
Pros 
Quick and easy to set up
Double layered
Mesh doors and window
Rain cover with flaps to provide sunshade
Windows with curtains
Spacious interiors
Cons 
Fiberglass poles may break easily
Some may find the quality not up to the mark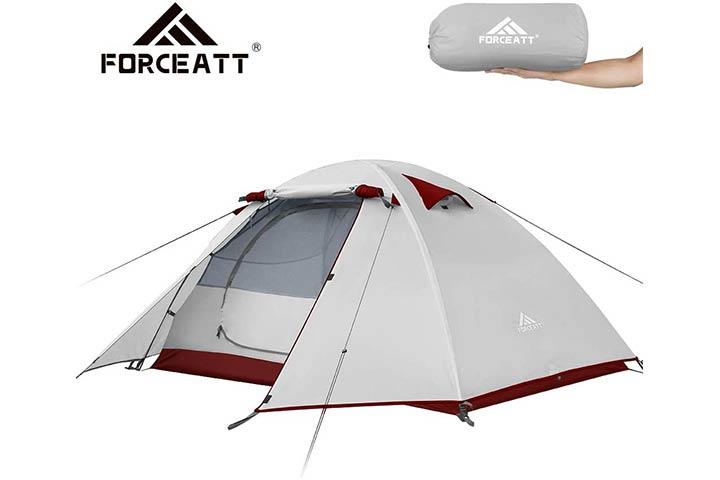 The Forceatt waterproof tent has an elegant design with light colors. It is double-layered and measures 86.6 x 51.1 x 43.3in. This tent can be folded and placed inside a portable carry bag.
Pros 
Lightweight and compact
Easy to set up and take it down
Made with high-quality material
Waterproof polyester fabric
Welded floor design
Windproof 7001 aluminum rods and wind ropes
Two D-shaped mesh doors
Outer part has two vestibules
Flaps that work as sunshades
Cons 
Some may find this tent heavy to carry
How To Choose The Right Waterproof Tent? 
While going on a trip to the woods, a waterproof tent is a must. It should have certain properties to make your stay dry and protected. Here are a few points to keep in mind while buying one.
Tent capacity: Waterproof tents come in various sizes to fit two to nine people. Choose one based on your requirement, as the cost may also depend on the capacity. When going for bigger cabin style tents, determine if you will need it often or occasionally. Also, look if the tent will have enough space to accommodate your gear along with the airbags.
Design: Look for tents that have mesh doors and vents to allow proper ventilation and air circulation. The windows should have curtains for privacy. Also, prefer tents that are designed to withstand tough weather conditions.
Pop-up set up: A pop-up tent comes assembled and can be flipped open and close. These tents are simple and easy to set up. The other type needs some amount of work to set up. Choose the one as per your camping skills and time.
Other features: Look for additional features, such as storage pockets, hooks for hanging lanterns, sunshade flaps, etc., which can make your stay in the tent a little more comfortable.
The right waterproof tent can help you in many ways during the camping trip; it can shelter you from harsh sunlight, keep you dry from rains, and protect you from strong winds. So, choose a durable and sturdy tent that can make your camping trip fun and comfortable.
Recommended Articles: