Maintaining a garden is no easy feat, there is a lot of effort that goes into having a beautiful and lush garden. But gardens can sometimes get infected by unwanted plants aka generally known as weed plants. Weed is not necessarily a "bad plant", they are just plants in the wrong place. To avoid or to control their growth, you need the best weed killers that you can get. Weeds are quite stubborn and they grow back even after we pluck them from their roots and weed killers are one of the easiest ways to get rid of these plants.
Herbicide/weed killer is a substance that is extremely toxic to plants. Some types of weed killers have the ability to kill the weed internally down till the roots.
Types Of Weed Killers
Contact Weed Killer: Just like the name suggests, these types of substances kill weeds or their parts that come in contact with it. It does not reach the roots of the weed, but it weakens them enough to stop them from growing at a normal rate. They are very effective and provide results faster than any other type of herbicide. 
Systemic Weed Killer: Unlike contact weed killer, these substances get rid of the weed from the root. When these herbicides are sprayed, they are absorbed by the leaves and stems which are then carried internally throughout the plant. This causes the weed to die completely along with its roots. The downside with this is that it takes a few days to show its effects.
Selective Weed Killer: These substances are designed specifically to kill certain types of plants which leaves the plant you want to thrive, untouched.
Non-selective Weed Killer: These substances are used when all plants, irrespective of their type are to be eliminated. They are majorly used in plantations like that of rubber, orchards, vines, and oil palm.
We have a list of the 11 best weed killers that will get rid of the weed from your garden and keep them thriving.
11 Best Weed Killers In 2021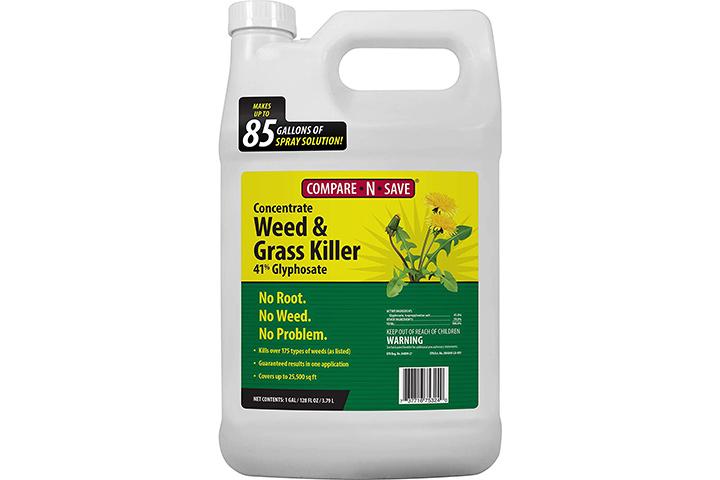 Is your driveway covered with overgrown and unwanted plants? Using this weed killer from Compare-N-Save is the perfect way to eliminate them. It has the power of 41% concentrated glyphosate which can terminate weed with just a single application. All you need is 3 tablespoons of this concentration to mix with a gallon of water. It is highly recommended to spray it during the day when the temperature is over 60°F and there is no forecast for the rain to achieve the best results.
Pros
Rainproof in two hours
It takes only 2-4 days to show results.
It can cover over 25,000 sq ft of area.
1-gallon of concentrated solution can be used to make up to 85-gallons of spray.
Cons
Since it has the power to kill all green plants which include lawn grass, it is not suitable for lawns.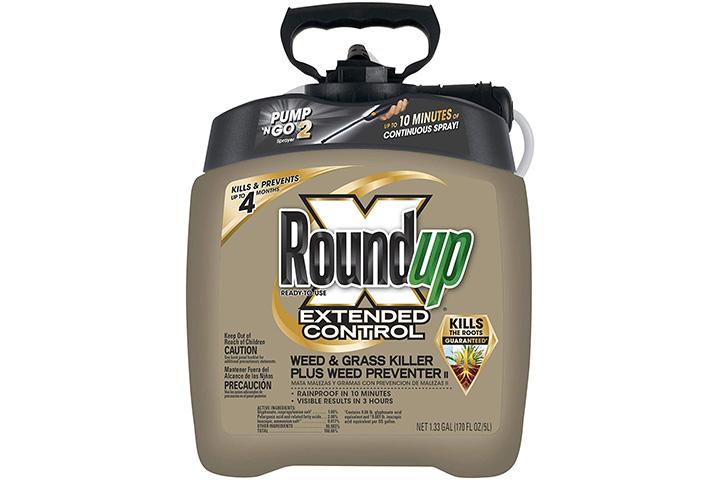 Since weeds are known to be quite stubborn that they keep coming back, you need a solution that can reach the roots of this problem (literally and figuratively). This ready-to-use Roundup weed killer is here to do just that. It has a dual-action kill formula that kills the existing weed from the root and prevents the new one from growing for up to 4 months. It can be used in places like driveways, patios, fences, retaining walls, edges of the lawn, decorative rock and so much more.
Pros
Rainproof in 10 minutes
It starts showing results in 3 hours.
It comes with a Pump 'N Go 2 Sprayer and an extendable wand that you can use to spray for up to 10 minutes.
Cons
The hose of the spray might not last for a long time.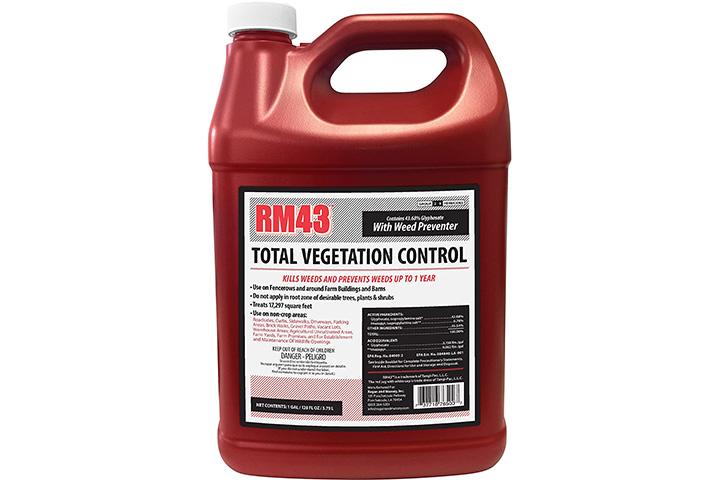 Weed takes away the healthy look and feel of a house or on whichever property it grows. Once they start growing they keep expanding if not treated on time. RM43's Weed Preventer is a combination of herbicides and surfactants which has a very strong formula to prevent weeds from growing up to 1 year. A few tablespoons of the solutions can prepare up to 5 gallons of spray and needs to be sprayed on fences and around the buildings.
Pros
Rainproof in two hours
It contains imazapyr and 43% glyphosate.
This 1-gallon of solution can be used to treat 17,297 sq ft of space.
It can be used for both vegetation control on bare ground and spot control like weed and vine.
Cons
It can kill all types of plants and shrubs, so it should be sprayed only on unwanted plants.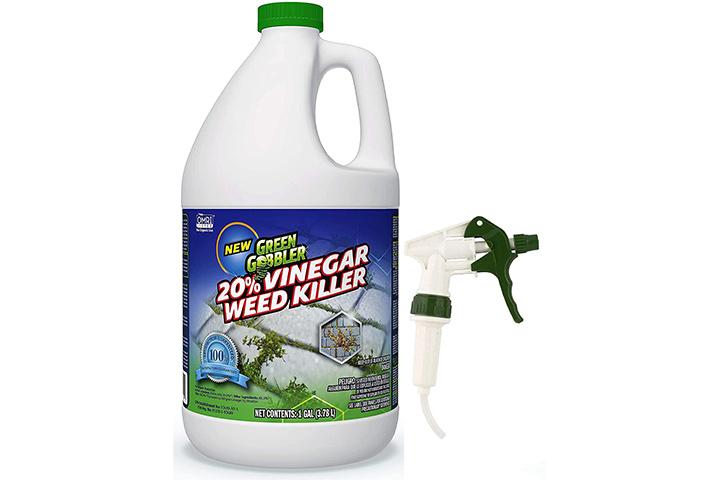 Be it residential, commercial, industrial, or agricultural property, no matter the place, weed will grow wherever possible. This organic weed killer is made from corn and does not contain any toxic material or potential cancer-causing formula, which makes it extremely safe to be used anywhere. Unlike other weed killers, this is made without glyphosate and has a formula that is 20% stronger than your table vinegar. 
Pros
It is certified for organic use by the Organic Materials Review Institute (OMRI).
It can eliminate any type of weed in just a few hours and the solution evaporates in 24 hours.
It contains 20% acetic acid that is ideal to be used on dandelions, crabgrass, moss, and clover weeds.
It comes with a sturdy trigger spray to use the solution the moment it is out of the box.
Cons
Since it is a non-selective herbicide, it needs to be used only in places where weed and grass are not needed.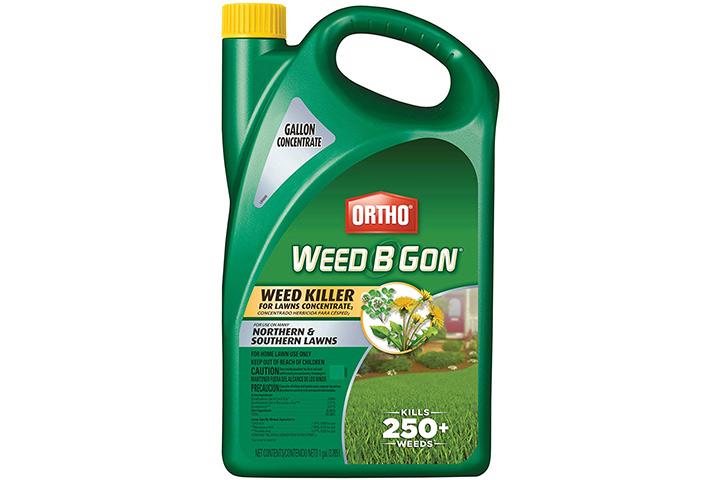 Are you tired of those broadleaf weeds that just takes away the charm of your lawn? If you are shouting yes, then you need Ortho's Weed B Gon Weed Killer for Lawns Concentrate2. It specializes in eliminating clover, dandelions, and other broadleaf weeds and will not harm your lawn in any way. Just spray it when the weeds are actively growing and you can see the results in just a few hours.
Pros
It kills the weed from the inside down till the roots.
It is effective on 250+ types of weeds (list on the back of the can).
1-gallon of the product can cover up to 64,000 sq ft.
It comes with a Comfort Wand that lets you spray only the precise amount of solution that you want.
It can be connected to a garden hose for spraying on a large area.
Cons
The provided pump might not be of high-quality.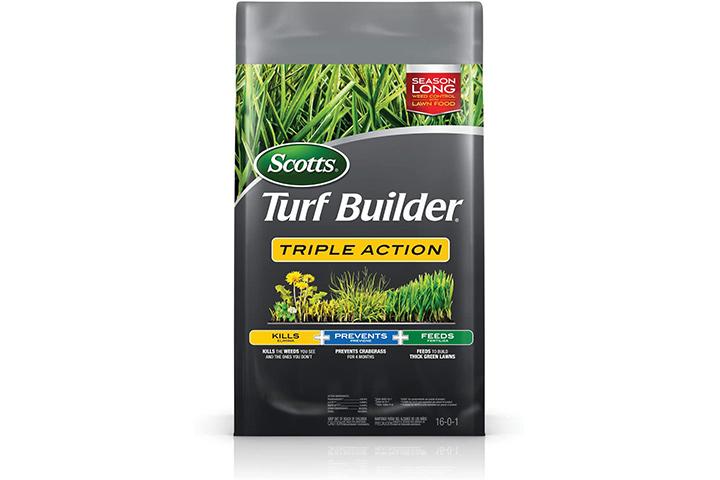 Keeping your yard landscapes healthy can be expensive, especially all the equipment and products you buy to take care of them. So what if we told you that you can kill the weed and promote new grass to grow using the same product? This Turf Builder Triple Action from Scotts does just that. It offers 3 features in one package— it kills the existing weeds, prevents crabgrass from growing for 4 months, and feeds fertilizers to grow thick and healthy plants.
Pros
It can cover up to 4,000 sq ft of lawn.
It is also effective on other weeds like fall panicum, broadleaf weeds, corn speedwell, knotweed, purslane, henbit, and so many others.
Based on your lawn size, you need to use the product; to find how much your lawn needs, you can use their mobile app— My Lawn App.
It is an ideal choice to use on northern grasses like Kentucky Bluegrass and Perennial Ryegrass.
Cons
It might take a few days to show results.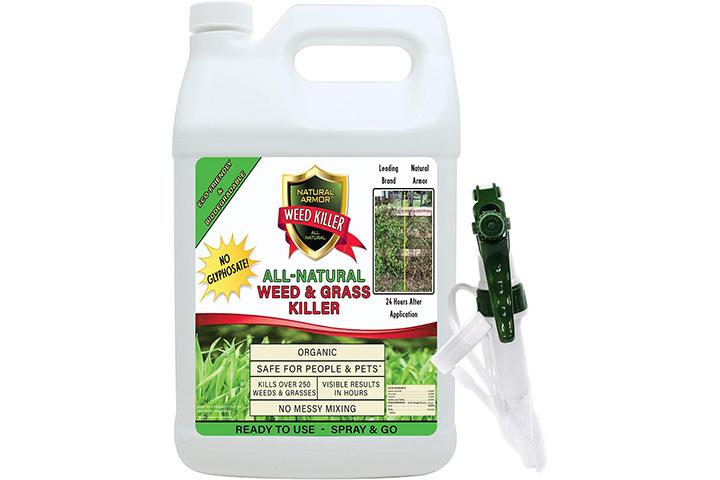 Weed killers are harmful to not only plants but also to your children and pets. The best way to get rid of the weed while keeping your family unharmed is by using this all-natural and safe weed killer from Natural Armor. This concentrated formula is made from all-natural and organic ingredients. It is one of the most effective weed killers that can kill over 250 types of weeds. The formula provides fast results; with the right amount of spray you can see results within the first 24 hours.
Pros
It does not contain glyphosate.
It comes with a spray for easy application.
It is ready-to-use out of the box and does not require any diluting.
Cons
It might take a few extra sprays of the product than suggested to work.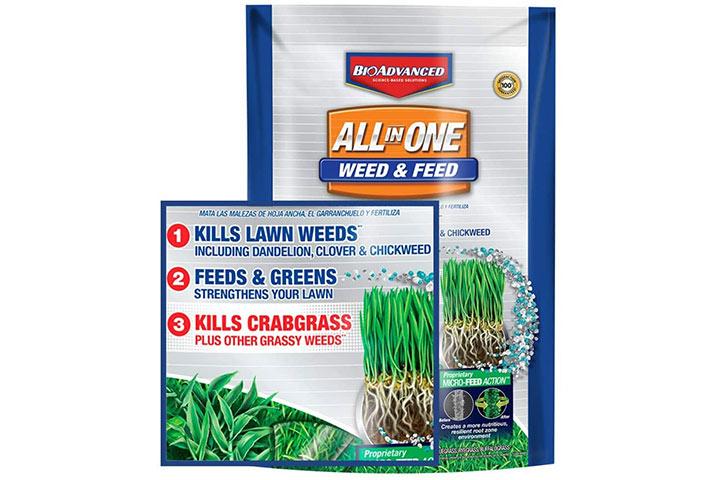 You make a lot of effort to keep the interiors of your home clean but how often do you clean your garden? It is time to get rid of those weeds and to make it a little easy, you need to use Bio Advanced Lawn Fertilizer and Weed Killer. It is an all-in-one formula that kills crabgrass and also feeds to strengthen your lawn. For the best results, apply the weed killer when the weather is between 50°F-90°F.
Pros
Along with crabgrass it also kills dandelion, clover, chickweed, and other stubborn weeds.
It provides great results on northern plants too.
It features Micro-free Action which improves the plants' ability to intake nutrients during and between the feedings.
Cons
It might not work efficiently on southern crabgrass.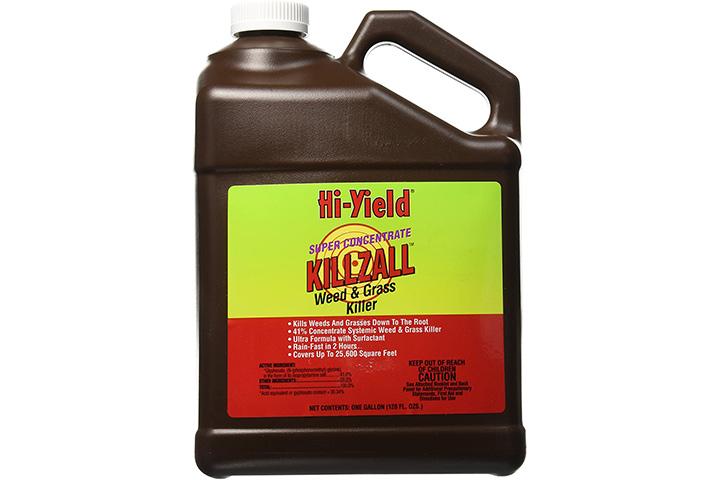 The grass might be greener on the other side but it does not necessarily mean it is free from weed. So, to make sure that your garden is green and free of weeds, you need Hi-Yield Killzall Weed and Grass Killer. This is a non-selective weed solution with a double-surfactant formula that dries plants very fast to offer the result that is expected from any well-known brand. It kills weeds and grasses down to the roots.
Pros
Rainfast in two hours
1-gallon of the product can cover up to 25,600 sq ft.
It has a concentrated formula with 41% glyphosate.
It is ideal to use around the fence, driveways, curbs, in paths, and patios.
It can be used for brush and vine control, lawn renovation, and stump treatment.
Cons
You might need to use more quantity of the product than suggested for better results.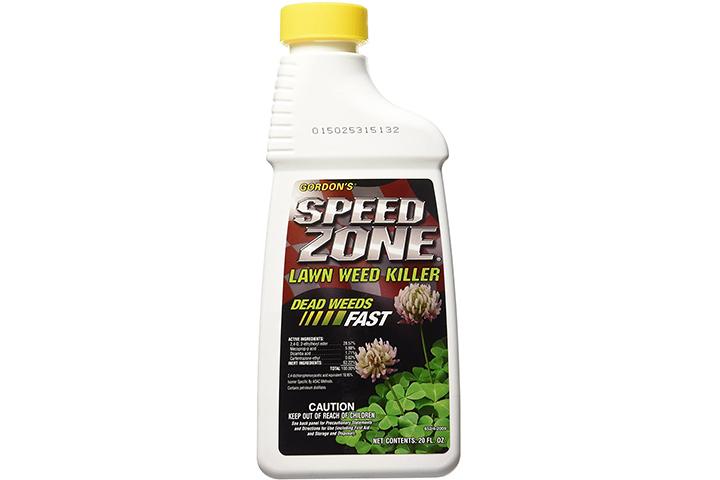 Having the ability to cover between 13,300-18,200 sq ft of lawn, PBI/Gordon 652400 Speed Zone Lawn Weed Killer is the go-to choice for most home gardening enthusiasts. It has a strong formula that provides fast and visible results in controlling all those annoying and tough lawn weeds in the turfgrass. For the best results, the recommended amount to use is 1.1-1.5 ounces of diluted formula per 1,000 sq ft.
Pros
It offers results in just a few hours.
You can start reseeding after two weeks.
This is a great weed killer for clover, creeping Charlie, dandelions, and other lawn weeds.
Cons
If used during extremely hot weather conditions, it could burn the plants surrounding it too.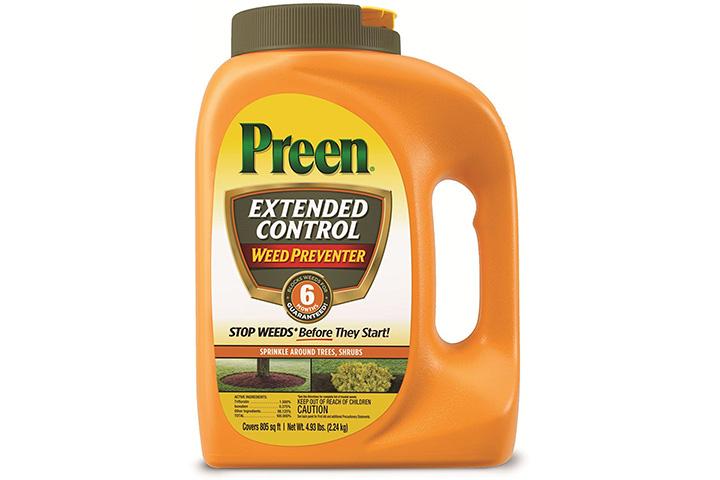 With the help of Preen 2464092 Extended Control Weed Preventer, you no longer have to bear with the weeds in your backyard. Once you spray this weed, there will not be any new weed growth for 6 months. SIX MONTHS! It is highly recommended to apply it during the spring season after you are done mulching to have the maximum effect.
Pros
You can flip the cap on top for easy application.
If it is used as per the instructions provided, it can be used for over 600 groundcovers, perennials, trees, and shrubs.
If you have missed the window to apply it during the spring, it can also be used anytime when the weed is actively growing.
Cons
It is not meant to be used on lawns, flower seeds, water gardens, vegetable gardens, or other edible or food-producing plants.
That was our list of the 11 best weed killers that will give your lawn a neat and healthy look. Are you still confused about which one to buy? Continue reading to learn about choosing the right weed killer.
A Buying Guide To Choosing The Right Weed Killer
Type of Weed Killer: At the beginning of the article we discussed the various types of weed killers. With that in mind, think which type will suit your needs more. If you know the kind of weed that is growing on your lawn, then you can choose something that is effective for that particular species. But, if you are not sure, then you should choose general weed killers for gardens and lawns.
Effectiveness: Weed killers that have strong and concentrated formulas provide fast and efficient results in less time. Some solutions take a couple of days to show its effects and some do it in just a few hours and might cost a little more. Depending on this, you can choose the one you think fits best.
Safety: Since weed killers have harmful chemicals, they can be dangerous not only to plants but for humans and animals too. If you have kids or pets at home, then safety becomes very important. The chemicals could have adverse effects on the skin and much worse if consumed. There are organic and kid-friendly weed killers that are less severe and safe to some extent to be used around kids and pets. But if you do not want to choose organic and buy something that uses chemicals, make sure that you store it out of their reach. When it is sprayed in an area, do not use that area for a few hours or days depending on the brand that you chose.
Ease of use: When you use a weed killer, you always try to reduce the amount of manual work to dilute the solution since it can be harmful or you might just not know how to do it. Some brands offer ready-to-use weed killers that do not need to be diluted and also come with a weed killer spray for ease of usability. If you know your way around these solutions and are okay with diluting them manually, then you can choose the other ones.
Just like the wise Ian Malcolm once said— life finds a way. Plucking the weeds from the roots is not enough, they come back. To stop these weeds from growing back, any one of the weed killers from the above list will help you get rid of them. Now, that you know what are and how to choose the best ones, it is over to you as to which one you buy. So, go ahead, click on the product that you think suits best for your needs, and buy away!