Jumping ropes are a great addition to your workout. The best weighted jump rope can help you burn more calories and make your workout session effective. You will find this regime effective and easy to integrate if you have skipped roped in childhood. The best part is that you not only end up losing calories with this workout method, you also do not need any heavy equipment or a designated place. Further, after the workout regime, you can store the rope easily, making things more convenient for you. So before you begin your search for a weighted jumping rope that meets your requirement, have a look at our list of the most trending jump ropes compiled for you.
13 Best Weighted Jump Ropes For Workouts In 2021
This weighted jump rope is made from silicone and comes with an anti-slip grip to make skipping more effortless. It has 360° ball bearings that help reduce friction and facilitate motion in all directions without interrupting your workout. The material also adds more speed to the rotations that make for the perfect calorie-burning exercise. It is also equipped with self-locks so that you can try all kinds of skipping styles without worrying about the screws falling out. You get 2 jump ropes that are 10-ft long and are polymer-coated. They're adjustable, which means you can change the length as per your needs.
Pros
Stainless steel handles
Sturdy cables
Convenient carrying case
Anti-slip grip
Tangle-free
Cons
It may take a little time to get used to as the ropes are thick.
You might need an exercise mat for longer jumping sessions to avoid body aches.
If you're looking for the best weighted jump rope for beginners, Crossrope's weight jump rope might be the best pick for you. They're quite versatile and also useful for advanced level workouts and skipping styles. The handles are sleek and offer a tight grip. You get both light and heavy ropes, with the light rope weighing at ¼ lb and the heavy rope at ½ lb.
Pros
Ergonomic grip
Set of light and heavy ropes
Patented fast clip system
Comes with an app that can be great for beginners
Available in different sizes
Cons
It may start to fray after extended periods of use.
It is not available in other colors.
If you're looking for heavy-duty wire ropes for advanced level strength training, Pulse Athletics Premium CrossFit Jump Rope is the preferred choice. It comes with handles that are coated with memory foam. The ball bearings offer a greater range of motion, and the 6 mm ropes ensure a smooth skipping experience, literally sweeping you off your feet.
Pros
Handles coated with memory foam
Sturdy grip
Size-adjustable jump rope
It is suitable for intense workouts like cardio, MMA, boxing, and endurance training.
Cons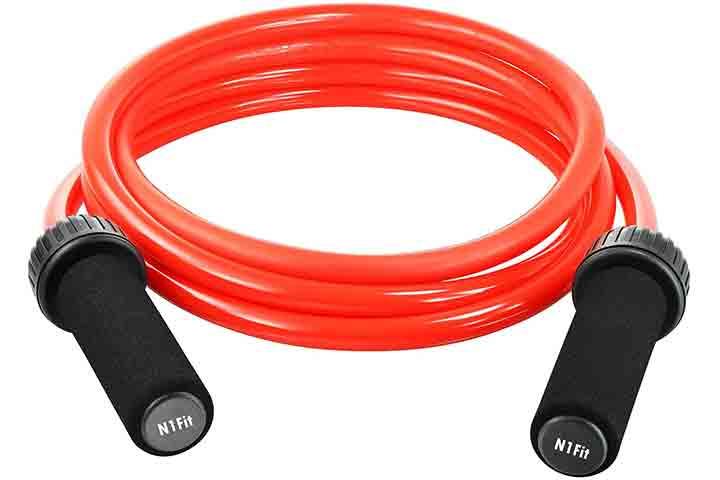 If you're looking for the ultimate heavy-weighted jump rope for some serious workouts, N1Fit jump ropes are the best. These jump ropes weigh 1.5 lbs and are ideal for intense workouts. It features handles coated with memory foam, and the 12 mm ropes are adjustable.
Pros
Sweat-proof handles
Best for advanced-level fitness training
Slow spins due to the heavy weight of the ropes
Its sturdiness offers impressive control of movement.
Cons
Beginners may find it heavier than expected.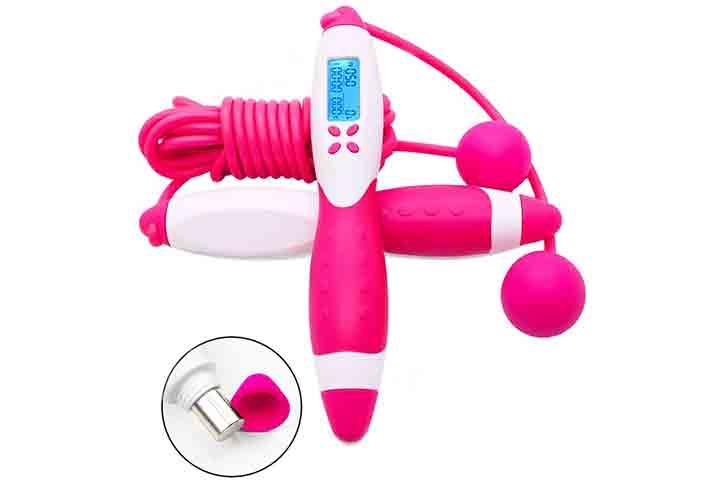 After a few hundred skips, we tend to lose track of our skipping count, don't we? If that's something you struggle with, Sinrida's adjustable weighted jump ropes are the right choice. The digital counting machine can help you track your skips, eliminating your worries of having to keep up with the math while working your muscles. The package includes a regular jump rope, a ball jump rope, and an additional battery for the digital counter.
Pros
Digital counter with HD LED display that shows timer, calorie, weight, and circles
Dual rope configuration
Detachable iron bars
Comes in many color variants
Ideal for beginners
Cons
The rope may be too lightweight for some.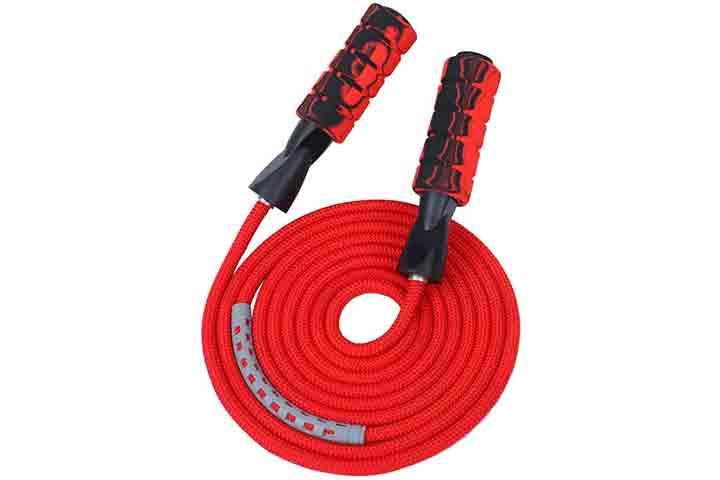 If you're not a big fan of vinyl, PVC, or other such materials and are looking for a weighted jump rope crafted with high-quality cotton, you should consider this one. Remember those colorful cotton ropes that were a part of your childhood? These are pretty much the same, and the only difference is that they're meant for some intense physical fitness training. Other specs include 8 mm thickness, a 0.5-pound rope, foam handles, and double ball bearing that sets this rope apart from regular skipping ropes.
Pros
Tangle-resistant cord
Wear-resistant protective silicone case
Anti-slip foam handles
Size-adjustable
Cons
The rope may not be an ideal fit for people over 5'9''.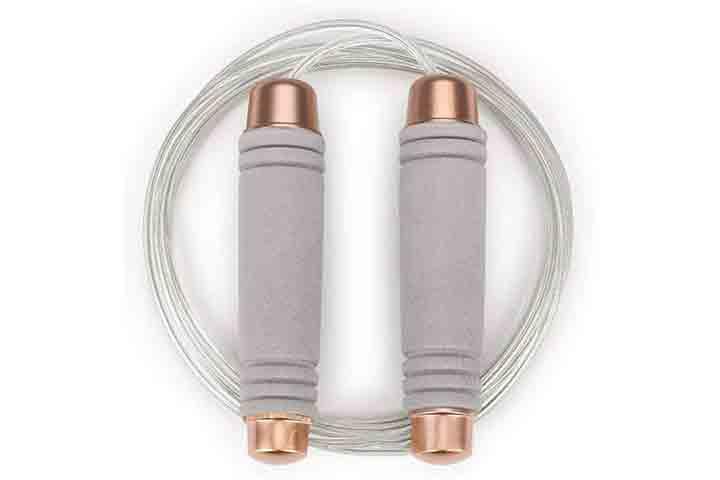 If you're looking for the best weighted jump rope for your kids that also helps you integrate skipping into your workout sessions, this versatile rope can do the job. It comes with 2 iron blocks that are 85 grams, both of which can be removed when your kid uses the skipping rope. It can double up as a speed rope since it is neither too heavy nor very lightweight. The rope is made of steel and has a PU covering. The handles are made of foam, making it easy for you to have a firm grip when you're sweating it out.
Pros
Steel adds to the durability of the ropes
Comes in 3 color variants
The weighted iron is easy to insert and remove.
Apt for interval training as it is optimally weighted.
Cons
It may take time to adjust to skipping with these ropes.
You may need a tool to adjust the length of the rope.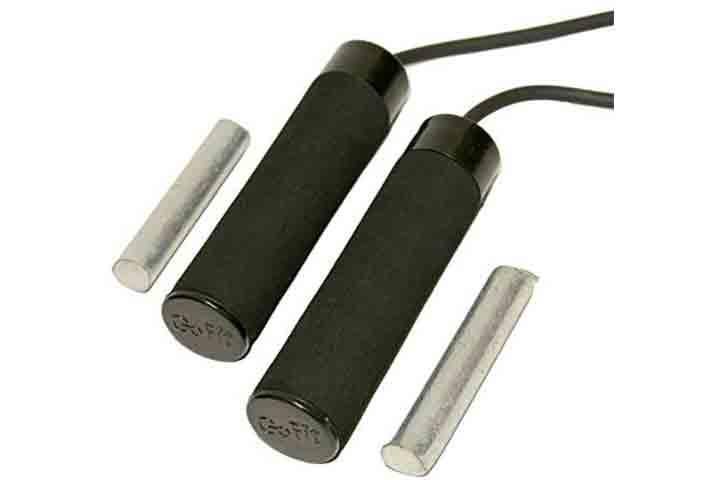 GoFit Fitness weighted jump ropes are yet another option if you're looking for versatile ropes suited for both you and your child. The removable weights are half a pound each and can be inserted into the handles if you wish to add extra weight to them. The handles are foamy and sleek, and the ropes are excellent for cardio.
Pros
Suitable for beginners
9-feet
Foam-padded handles
Available in other colors
Cons
It may not be beneficial for advanced level fitness training.
It may not be suitable for fast skipping.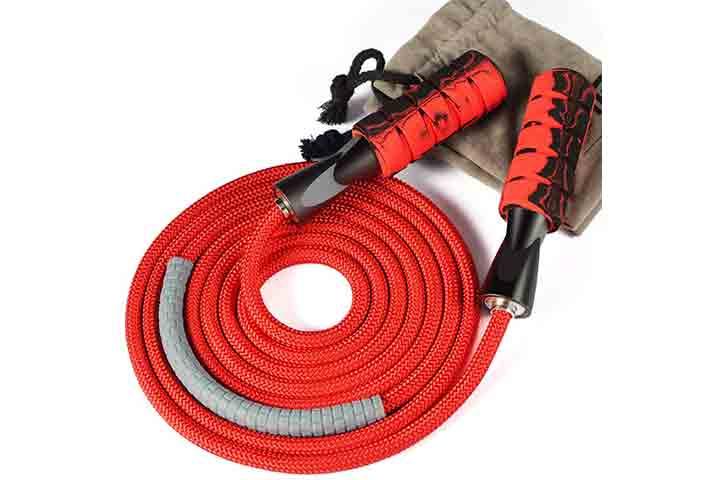 These jump ropes are on the lighter side and are apt for beginners who are still skeptical about using weighted jump ropes. If you begin training with these ropes, they can make transitioning into an intense workout with heavy jump ropes smoother. You can either choose the 7 mm or 9 mm ropes for your workouts. The handles are coated with foam, and the wires come with a silicone protective case that helps delay wear and tear.
Pros
Tangle-resistant
Sleek handles
Helps improve muscle tension of the body
Ideal for all ages
Cons
Some may find it difficult to adjust the length of the rope.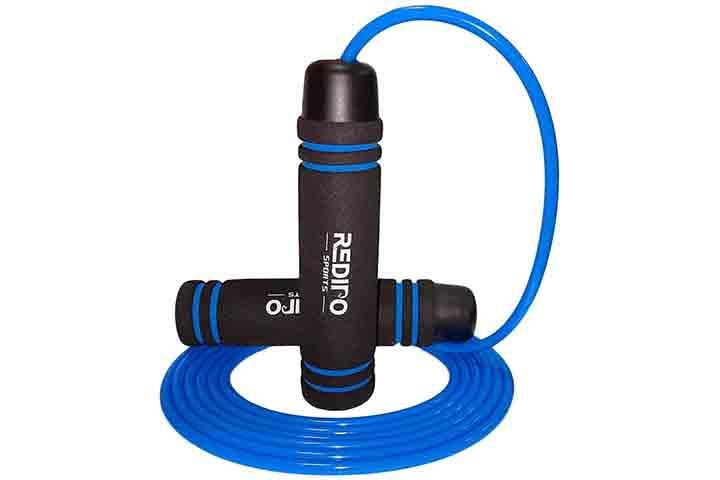 Redipo weighted jump ropes have all the features that a high-quality weighted jump rope ought to have. This is a 1 lb weighted jump rope that's well-suited to work different muscles of the body, including the shoulders, glutes, hamstrings, and forearms. You can use these for both cardio and HIIT. The handles are ergonomic, and the rope is made of steel and covered with PVC material.
Pros
Suitable for all ages
Available in blue and orange
Length adjustable
Lightweight
Non-slip handle
Cons
Might tangle in the beginning. Soaking in hot water can eliminate the problem.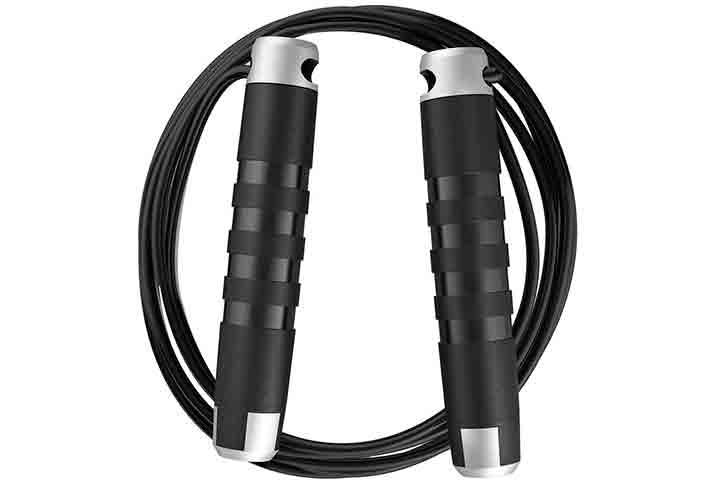 If you want to test how weighted jump ropes work and are not quite sure as to what's too heavy for you, MTIME Weighted Jump Rope can be useful to begin with. They come with removable 0.35 lb iron rods and the handles are sleek, and offer a firm grip with a combination of smooth and matt material for enhanced friction. The 360° ball bearings ensure effortless rotation and noise reduction when you're skipping.
Pros
Wear-resistant handles
Sweat-proof handles
Easy to clean
Ideal for beginners
Cons
May not be heavy enough for intense training.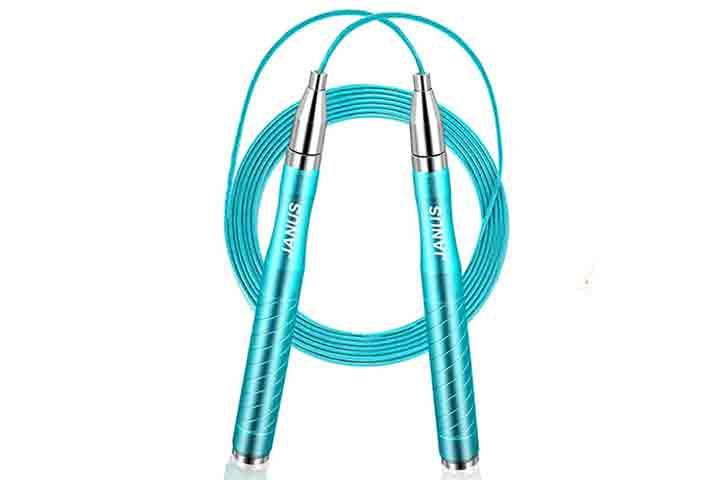 Janus Weighted Jump Rope offers smooth and fast skipping and is sweat-proof. If you're tall and are unable to find the kind of skipping ropes that suit your height, these ropes will not disappoint you. They come with ball bearings, great handles, and good quality ropes that can help you replace your trainer.
Pros
Superior grip
Long and sleek handles
Self-locking design
Set of 2 ropes and a pouch
10 feet
Cons
It may not be a great option for heavy workouts.
If you're sure that you need a weighted jump rope with lighter ropes but relatively heavier handles, you should give the 4pmla Jump Rope a shot. The rope is made of cotton and is 9 mm thick, thus being on the lighter side. But the handles are heavy, making them an excellent option for people who plan to purchase a heavy weighted handle jump rope.
Pros
Good quality and durable
The foam can be removed if you prefer hard handles
Perfect weight distribution
Easy to get familiar
Cons
Some may find the rope too light.
Now that you have a list of the best weighted ropes on the market right in front of you, a brief buying guide can help you zero in on the right ropes. Read on to know how to choose the right weighted jump ropes.
How To Choose The Best Weighted Jump Rope?
When purchasing weighted jump ropes for working out, you have to take a few factors into consideration:
The weight of the ropes and the kind of rope you purchase should cater to your specific needs. Moderately weighted jump ropes are an excellent choice for cardio, basic skipping, and burning calories. However, if you want to work specific muscles, train for HIIT, or sign up for endurance training, you should choose heavy ropes, preferably made of steel.
While most ropes are designed for the average height of 5 ft to 5 ft 6 inches, you may need to do additional research if you're too short or too tall. If you're short, you can still cut the rope or adjust it, so look for adjustable ropes. If you're taller than average, make sure the rope is a long one because there's no other fix.
The most popular weight for a weighted jump rope is 1 lb. You can burn calories, warm up, and perform intense skipping exercises with ropes of this weight. However, as a rule of thumb, understand your specific needs to see if you need lighter or heavier weighted jump ropes.
There are 2 patterns of skipping — slow and fast. The material that goes into making the ropes can impact the speed and the weight of the rope. Ropes made from steel that are PVC-coated or those made from vinyl offer higher speed and are heavier. However, if that's not what you need, you can go for cotton-made weighted jump ropes.
You can also check for the shape and size of the handles to see how comfortable they'd feel in your hands. Product images give a good idea as to how the handles may look and feel. Ball bearings make the rope smoother and effortless, so look for them in the ropes.
Benefits Of Using Weighted Jump Ropes
Weighted jump ropes benefit the body in several incredible ways and are a great choice of exercise tool for many reasons. Here are some of the benefits of using weighted jump ropes:
Building a workout routine takes a personal trainer to step in and assist. However, you can easily explore different skipping styles, learn them, and quickly adapt to them without seeking expert help. It is a fun activity, and when you start doing it, the only thing you skip will be your ropes, not your workout routine.
It is one of the easiest ways of burning calories without suffering ultimate exhaustion. One of the reasons is that it is such an exciting activity that you'd even fail to notice how it puts your entire body to work. Additionally, it is also a more effective exercise compared to walking, jogging, cycling, and jumping regular ropes.
There aren't many exercises that focus on all the significant muscles of the body. Jumping weighted ropes is one of the rarer activities that can help you tone your thighs, calves, forearms, wrists, shoulders, back, and core.
If you're skipping weighted jump ropes, you can stick to this exercise because it is equivalent to a set of exercises that form a full-body workout. If you're someone with a busy schedule, 20 minutes of jumping ropes is all you need to keep fit.
Jumping ropes can be your warmup or cooldown exercise, or it can also be your only exercise. They are doable both indoors and outdoors, and they're easy to integrate with other training tools and training styles.
Frequently Asked Questions
What muscles do weighted jump ropes work?
Weighted jump ropes typically work muscles that form the upper body (back, shoulders, forearms) and leg muscles (thighs and calves). However, it depends on how thick or heavy the ropes are and how long your skipping session lasts to determine how significant the change is over a certain period.
How much does a weighted jump rope weigh?
Weighted jump ropes can weigh anywhere between 0.5 lb to 1.5 lb. Both the rope and the handle can contribute to the weight of the equipment. The weight that you settle on depends on whether you're a beginner, what your height and weight are, and whether you're an adult or a teen. While 1 lb is commonly used for weighted jump rope exercises, you can opt for a heavier variant if you're confident that you need a more intense workout and muscle flex.
How is a weighted jump rope different?
To word this question differently, many people wonder, "is a weighted jump rope better than a regular jumping rope?" While both jump ropes help burn calories, a weighted jump rope adds more to the results by toning the muscles. They're also a better option when it comes to warmups and full-body workouts.
How to adjust a weighted jump rope?
To adjust the weighted jump rope to your height, take the handles in your hand and place your feet in the middle of the rope. Pull the rope so that it is tightly stretched up to your armpits, excluding the handles of the rope. Mark the excess part of the rope and cut it with a wire cutter. While this is a common technique, you'll find the specific way of adjusting the ropes on the manual that you get upon purchasing a weighted jump rope.
Why Trust MomJunction?
We have curated a list of the best weighted jump ropes for workouts after reviewing multiple products. We considered factors like grip, handle material, size, and cases so that you can pick the right one from the overwhelming amount of options. The article also comes complete with a buying guide section that includes how to choose the best weighted jump rope and its benefits.
Recommended Articles: