It's not easy scouring the stores for the best White Elephant gifts during the festive season. If you are wondering what White Elephant is, it's a game of gift exchange where you get to choose from a whole pile of gifts, snag a gift from the person next to you, or give away your gift.
So, whether you're picking out Christmas presents for someone who's super-picky or might be delighted with anything they get for the holidays, you've come to the right place. We have a carefully curated selection of gift ideas that will make White Elephant the most fun game ever while making your gift the most coveted one. Check out our top gift ideas below.
25 Best White Elephant Gifts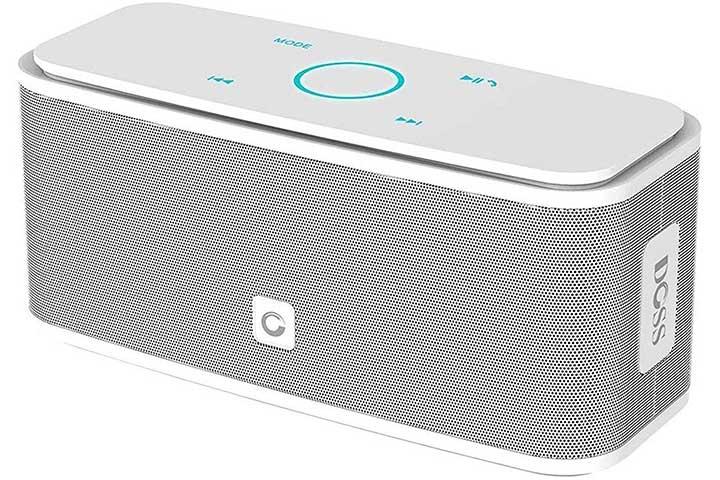 Is there a better gift than the one of sound? We didn't think so, either. This Christmas, surprise your loved ones with a DOSS SoundBox. Carry your music wherever you go with this speaker compatible with Bluetooth, micro SD, and an aux cable. It is enabled with touch-sensitive buttons to ensure that you can transition smoothly between your playlist. Not only a gift to the ears but also the eyes, this wireless speaker boasts a sleek, classy design and is available in 5 colors. You can understand how the product works by checking out this video
Pros:
12W full-bodied stereo with superior sound quality
360° stereo sound
Enhanced bass
You can receive and make calls
Bluetooth connectivity range up to 33-feet
Water-resistant
20 hours playing time
Cons:
Voice prompting may be too loud
Who wouldn't love a sandwich maker? A great gift for the holidays, this sandwich maker helps you whip up delicious meals in minutes. Breakfast, lunch, or dinner, simply place the base of your sandwich on the bottom, an egg, cheese, meat, or any other filling on top of that. To finish it off, add another layer of your choice of food on top and close the lid. In just 5 minutes, you can enjoy a fresh sandwich that will satisfy all your taste buds. This video will give you an insight into how the sandwich maker works
Pros:
4-step operation
Dishwasher-safe
Non-stick coating
Audible timer
Makes 2 sandwiches at once
Cons:
We'd all agree that the best part of the holiday season is to spend time with family, and what better way than to play a fun board game. Say hello to the cutesy, fun, and competitive game of exploding kittens and make a joyous event out of this festive season. Before buying, have a look at this video for more details
Pros:
2 to 5 players
Highly-strategic version of Russian roulette
Suitable for ages between 16-52
Expansion pack available
Cons:
Not suitable for very young children.
If you're playing this game with people who are fans of the Ellen DeGeneres TV show, we're sure you will all love this game. Have the whole family rolling with laughter as you play this hilarious game. It comes with a uniquely shaped mouthpiece that fits perfectly into your mouth. Have the gang guess the word or phrase you are saying correctly, and enjoy an evening of fun-filled laughter!
Pros:
10 dental-grade, FDA and CE certified mouthpieces
6 medium-sized and 4-small sized mouthpieces
Dishwasher-safe
High-quality cards
Expansion packs available
Cons:
Mouthpiece may be uncomfortable after a while
If you've enjoyed the game, Cards Against Humanity, you will thoroughly enjoy this one too. This one is a fresh, new spin on an old game that will leave you crackling on the floor each time you play it. Match the white cards with the red, and come up with new, exciting, and humorous innuendos. Are you ready for a game that's as twisted as your brain?
Pros:
Suitable for ages 17 years and up
Includes 458 Cards
4 and more players
Game lasts anywhere from half an hour to 1 hour
Extension pack available
Cons:
As it may contain adult humor, it may not be suitable for children.
If you were looking for a card's version of the game, 'Who's more likely to', we're delighted to let you know that your search ends here. In this entertaining game with prompt cards, you can call your friends out while simultaneously getting to know each other better. What's more? There are no winners or losers, just giggles and a lot of fun!
Pros:
Ages 17 and up
For 4 or more players
Extension packs available
250 high-quality cards
Cons:
Some cards and phrases may be offensive
A game that truly tests your reflexes and reaction time. Enjoy an evening of suspense, and maybe even a little shock! How can one play with it, you ask? Each player holds the handle of the device with a button. When the end of your handle turns green, quickly press your button. The last one to do so with a delayed reaction time gets an exciting and ever-so-terrifying jolt of electricity. Don't worry because it's completely safe and filled with lots of enjoyment.
Pros:
3 shock controls – low, medium and high
Suitable for ages up to 14 years and above
20-inch cordless cord
Base suction cups
Cons:
Make pancakes and cupcakes perfectly each time with this batter dispenser from KPKitchen Store. Made from high-quality plastic, it has a wide mouth that can quickly pour pancakes into the shape of your choice or fill cupcake molds. It also features a pulley handle that makes dispensing the batter a piece of cake. So worry no more, as everyone participating in white elephant will grab this opportunity to receive a cool yet practical present.
Pros:
BPA-free plastic
¾ inch wide handle
Can be used for all types of batter
3-year warranty
Cons:
The edges may be rough and sharp
Handle may not be durable
Here's one just for laughs! Give someone this gag gift that goes down in the book of creative white elephant gift ideas. What's so great about this one, you ask? It's really just a calendar of pooping pooches! Present this to a dog lover or just to anyone, and see them look puzzled and roll out into laughter.
Pros:
Humorous prank gift
1 dollar of each calendar sold goes to Maui Humane Society
Different dog for each month
High-quality paper
Cons:
Does not come in a carefully packaged box
If you're playing white elephant with a bunch of health enthusiasts, you may have just found the perfect white elephant gift. Tropical, exotic, or citrus – pick your choice of fruit and fill it in the infuser tube. Complete it with any beverage you like and enjoy a refreshing drink, anytime, anywhere. And if you need more convincing, this 32-Oz. bottle comes with a lifetime guarantee.
Pros:
Made from 100% BPA-free Eastman Tritan Food Grade Plastic
Recyclable, eco-friendly., and durable
Shatter-proof
One-click push button lid
Non-slip grip
Travel-friendly
Top rack dishwasher-safe
Cons:
Some may find the capacity too little.
This one tops the list for being one of the most useful white elephant gifts. Give the gift of warmth and present this ultra-snug and cute fleece blanket with sleeves. That's right; it's a blanket that you can wear to keep you warm from the cold winters. Made from a luxuriously soft material, it comes with pockets to keep your hands warm too. It is long, comfy, and soft, making it the perfect addition to your winter wardrobe.
Pros:
100% micro plush polyester
75 x 53 inches
One size fits all
Ideal for men and women
Comes in a storage packaging, ready for gifting
Cons:
May be hard to wash/clean
'Please place your drinks on the coaster!', sound familiar? People who love keeping their place tidy and spotless will jump at the chance of getting this one as a present for white elephant. Complete with a holder, it is a set of 3 round coasters that remind your guests with humor and a dash of sarcasm to use the coasters and not place drinks on other surfaces. It is made from premium quality material, with phrases inscribed in a classy font.
Pros:
Made from ceramic materials
Liquid absorbent
Non-slip cork back
4-inch diameter
Cons:
At first glance, you might actually mistake this box for a real sushi meal! Here's a creative and unique present that may even bring out a few laughs. Made from high-quality soft materials, this socks box is designed to look like an authentic, sushi bento box. So, what are you waiting for? Present this gift that's a treat for the feet and the eyes.
Pros:
OEKO-TEX certified socks
Made from 80% cotton material
2 pairs of socks
Packaged ready for gifting
Cons:
Some may find the socks slightly thin.
Surprised, confused, and frazzled – there's no real price you can put on these emotions. This festive season, give your loved ones a chance to laugh while being bewildered! Warp your real present inside this funny prank box that talks about products that don't exist. See them confused as they unwarp what they think are bizarre, albeit plausible, realistic boxes.
Pros:
Made from 100% recyclable cardboard
10 options available
No glue required to assemble
Large capacity
Cons:
May be difficult to repackage
Want to call someone out for spewing out nonsense? Don't do it yourself; let this talking red button do it for you. This hilarious yet creative white elephant gift echoes a funny phrase that calls someone out for their lies each time it is pressed. Enjoy this Christmas by giving someone this amusing present.
Pros:
Funny, gag gift
5 funny phrases
Durable
Made from premium-quality materials
Cons:
Batteries not included
Voice may not be clear
As fun and as exciting as they are, the holidays can be a stressful time for many. Help people relieve their stress by giving them this sack stress ball as a gift. Designed with a hilarious shape that is sure to bring about a few laughs and can also help people squeeze away their stress.
Pros:
Made from high-quality, ultra-suede fabric
Industrial-strength stitching
Double-stitched Velcro closure
2 stress balls included
Cons:
Let's face it — the magic 8 ball was the coolest thing to own. To replicate that feeling, give someone this fortune-telling ball that is a newer, more innovative, and a fun version of the magic 8 ball. With just one wave of the hand, you can get this ball to predict your future and say it out loud to you. This gift will transcend you to a mystical and magical land and is a perfect present for adults and teens alike.
Pros:
30 possible positive, negative, or neutral answers
Equipped with LED lights
Spooky music and background sound effects
Batteries included
Cons:
May reveal predictions if any object moves past it
We've never met anyone who wasn't a fan of the Golden Girls! An excellent gift for the holidays, we're confident that this set of shot glasses will be the hit of the white elephant game. Not only are these just shot glasses, but they can also be used to play a drinking game. It has the instructions of the game written behind each shot glass, so you can enjoy a game while sipping on your favorite drink. Let the game of the shot glasses begin!
Pros:
1.5 oz capacity
Set of 4 shot glasses
Made from good-quality glassware
Food-grade glass
Cons:
May not be dishwasher-safe
You can never go wrong with gifting a beanie. A gag gift that also keeps you sheltered from the cold winters, we are certain this one will be a great hit while you play white elephant. Made from a comfy, warm material, it has hilarious designs that can make anyone chuckle.
Pros:
Soft and snug
Features 3 LED light modes
Batteries included
Enabled with an on/off button
One size fits all
Options and designs available
Cons:
Some may find the flashing mode distracting.
If you are still in a fix trying to think of a white elephant present, might we suggest this useful and practical present? This desk organizer is made from premium-quality wood plastic, and the design enables you to make DIY patterns on its body. Shaped like an elephant, we can't think of a better white elephant present that can hold pencils, pens, makeup, and just about anything else.
Pros:
Made from eco-friendly, non-toxic materials
Doubles as a cell phone stand
Easy to assemble and dismantle
4 color options available
Cons:
Some may find it slightly bulky.
It's not every day we get to dress up as one of our favorite superheroes. Here's a chance for someone in the group to get their favorite superhero blanket that they can wear. You read that right – this blanket with attached sleeves will keep you cozy and comfortable while making you look like the coolest superhero in town.
Pros:
Made from 100% polyester
48 x 71 inches
Comes with an opening in the back that allows full frontal coverage
Long sleeves that allow movement
Machine-washable
Cons:
Might not be best-suited for very cold temperatures
Any animal lovers reading this? This next one on our list is great for not only ones that love animals but also people who enjoy a good laugh. Transform your feet into animal paws with these cool and realistic animal paw socks. It is a gag gift that also ensures your feet are warm, so we think that's a win-win for everyone!
Pros:
Made from 80% polyester, 10% cotton, and 10% spandex
Great elasticity
Available in various patterns
Realistic prints
Cons:
It may be tight for men with large feet.
There's no way this one will not make every single person in the room burst out with laughter. The ultimate prank white elephant Christmas gift, these shot glasses that resemble a urinal are absolutely hilarious. Not only are they funny to look at, but actually work as great shot glasses.
Pros:
Made of ceramic
Set of 2
Can hold liquids up to 1.5 oz
Dishwasher-safe
Cons:
Here's a gift that we are sure most people will love to own and have. Made from premium quality materials, it comes complete with all BBQ grill accessories and tools that help you cook a hearty meal, every time. The set consists of a barbecue spatula and barbecue tongs, a grill cleaning brush and barbecue fork, 4 barbecue grill skewers, 8 corn holders, a replaceable brush head, a silicone basting brush, 2 barbecue grill mats straws cleaning brush, and 4 metal straws.
Pros:
26 BBQ grill accessories and tools
Made from food-grade stainless steel
Ergonomic, contoured grips
Comes with a storage bag
Dishwasher-safe
Cons:
The cleaning brush may not be up to the mark.
Last but not least, the final product on our list is a gift basket that everyone in the group will love to munch on. This gift basket is filled with delicious and nutritious nuts, including pistachios, almonds, cashews, walnuts, sunflower seeds, pumpkin seeds, and corn nuts, in nine compartments. Sweet, salty, or savory – whatever be your pick, this gift set has it all and can satisfy both your taste buds and your eyes with its attractive packaging.
Pros:
Fresh assortment of high-quality nuts
Non-dairy
Packaged in an elegantly wrapped sturdy wooden box
Available in 2 sizes
Vegan
Diabetic-friendly
Gluten-free
Safe for people who are lactose intolerant
Cons:
The white elephant game is a great way to spend the holidays, share a few laughs, and bring home a present that you love. Steal, share, or settle – this game is famous for bringing friends and family together. It doesn't matter if you're looking for a white elephant gift that is practical, useful, cool, and creative, or just plain funny; our list of the 25 best white elephant gifts will make sure you pick out a gift that leaves you satisfied. So, what are you waiting for? Enjoy the holiday season and choose a gift that will have everyone fighting over it! And don't worry, we won't be taking any credit.
Why Trust MomJunction?
Priti Bose is a gifts enthusiast who is always on the lookout for new and useful gift ideas. She has curated this list of the best White Elephant gifts keeping diverse interests in mind to include gifts to everyone's liking. Priti has also included a buying guide that explains the features of each product as well as its pros and cons. This list contains various gifts, ranging from useful electronic gadgets to stress-relieving toys.
Recommended Articles: