Trends come and go, but one trend that has always stayed is white sneakers. White Sneakers are a huge hit and can be seen on celebrities, social media influencers, and maybe even on your best friends. A pair of white sneakers can be paired with shorts, jeans, dresses, activewear, skirts, etc.
In this MomJunction post, we help you choose the best white sneakers.
19 Best White Sneakers For Women
This Adidas women's sneakers is a '70s style reborn since it takes inspiration from the iconic sport styles of the past. The plush midsole cushioning offers comfort to every step. The sneakers are made of durable leather with Adidas's signature 3-Stripes along the sides to showcase class.
This Roxy Women's slip-on sneaker with a breathable upper, printed heel and lace-up detail deliver support at every step. The memory foam padded insole and the flexible outsole offers utmost comfort to your feet like no other canvas shoes. The insoles offer the right buffer between your feet and the ground.
These white sneakers will appeal to everyone. The air-cooled memory foam insole adds comfort while you stroll, jog, or walk. The leather upper with stylish contrast inlays provides additional ankle support.  The thick midsole completely shock-absorbs your every step.
This Reebok Women's Classic Renaissance shoe is a class apart white sneaker that exudes quality and sophisticated style. The beveled heel enhances your stride for a comfortable walk. The high-quality stitching, premium liner, and soft leather upper offer great comfort. The sneakers have a padded tongue, and the collar delivers adequate support. Also, the subtle branding adds retro appeal to help you stand out.
This Fila disruptor white sneaker is another great addition to the iconic style. It is a part hiking boot and a part raver attire that is quickly becoming popular. If you are a style-conscious urban trekker who needs footwear that must withstand both heavy day job followed by a late-night dance party, then this white trainer is perfect.
This Superga women's fashion sneaker is the best to doll up anytime, anywhere. It is quite likely to give you an easy-breezy casual look. They are available in different colors and offer a lot more support than a regular sneaker. Just wear these top-rated kicks with an oversized sweater and a pair of jeans to chic it up!
This Keds women triple kick canvas amps up your style. These white sneakers add some more sole under your style. The soft, breathable twill lining, foam footbed, and flat cotton tonal lace deliver support at every step. The one-inch platform adds height and helps you sport a casual look.
If you are looking for cute yet lightweight footwear to throw up with a casual outfit, then this is it. The soft footbed provides all-day cushioning, whereas the lightweight EVA outsole with fluting detail links back to signature Cole Haan product. Moreover, there are rubber pods located on the outsole for traction.
This AOMAIS Women's white sneaker is made from superior soft PU and breathable cotton canvas material that provides immense comfort. It comes with features such as adjustable laces and padded insoles that will help feel comfortable even after hours of walking. The anti-slip outsole offers extra balance and stability while walking on wet surfaces.
The Converse Women's Chuck Taylor All Star is an iconic pair of sneakers that enjoy popular appeal. The rubber toe bumper, toe cap, and midsole strips help you keep the classic converse look. The metallic upper sits above the sole's platform, thus adding just enough lift to help you in every step.
These lightweight shoes are suitable for partying, sports, walking, and jogging. The breathable mesh upper offers great breathability and durability, keeping your feet comfortable and cool. The flexible and wearable soles absorb shock, and the elastic sole spreads the impact evenly to reduce the load on your feet. The sneaker also offers excellent grip in wet and dry conditions.
The WXQ women's sneaker features a lightweight knit upper, which allows your feet to breathe and ensures comfort. The upper also stretches and expands with your foot to reduce irritation. The insole is thick to ensure a dry, healthy, and comfortable environment around your foot. The pattern of the sole has grooves that strengthen the anti-skid and grip abilities of the sneakers.
The Roxy women's slip-on sneaker shoe is made up of a textile upper with an elasticized topline that either has an embroidered or printed heel detail. The memory foam padded canvas insole provides the utmost comfort and support to your feet. Also, no regular footwear can beat the ease of a slip-on, which also makes it an ideal travel pair. The mesh material, along with the cushioned footbed, also contributes to the comfy quotient.
This low-rise white sneaker from Blowfish Malibu features a pre-distressed upper with terry cloth lining, decorative laces, slip-on entry, and also a decorative zipper. It even has the ultra-comfortable memory foam insole to give your feet optimal support. Just pair these sneakers with a denim jacket and some cool jeans to complete your California-cool look.
This Adidas originals Stan Smith Sneaker is a beloved classic for a reason. The leather tennis sneakers have earned its style stripes on the street and have grown cult followers. It is not only iconic but also one of the comfiest. Plus, it is available in other colors, too and, can be paired with any outfit.
If you are looking to style up like the 80s, then nothing can beat having a PUMA Women's Carina Sneaker. Although it takes inspiration from the 80s, it is still made to fit today's laid-back sneaker look. The durable leather upper features a perforated vamp along with a PUMA formstripe. However, the highlight of the sneaker belongs to the new cupsole tooling that intends to elevate the platform sole slightly. The foam sock liners offer premium cushioning and optimal comfort at every step.
Reebok women's white sneakers are known for its cushioning soles and timeless style. This pair has a clean upper design that comes with subtle perforations and durable stitching. The trademark heritage style featuring the Union Jack symbol sits right under the laces. It is also super popular among athletes and also regular women too.
This pair of Nike women's white sneakers is an old-school design that still stays fresh today. It features classic clean lines and prominent branding that has been winning users from way back in time. These sneakers also feature autoclave construction that fuses insoles with the outsoles to help give you lightweight comfort. Moreover, the leather upper of these Nike white sneakers is super durable and exudes the classic look
This Lugz women's white sneaker is comfortable and is easy to wear shoe. It  can be paired comfortably with a party outfit or even with a work outfit. It is made from premium quality materials to outlast regular sneakers and provides utmost comfort to your feet. It is overall a versatile sneaker that you can wear anywhere.
How To Choose The Right White Sneakers For Women?
Even though white sneakers are popular, choosing the right ones can be challenging. Let's look at how to choose the best white sneakers:
Canvas / leather / mesh: White sneakers can be in canvas, leather, or mesh material. Leather gives a richer look to your outfit, and it is also easier to clean than a canvas or mesh material. The sneakers made of canvas are sturdy and durable, while those of mesh allow your foot to breathe, but they often do not last long.
Lace-up: White sneakers lace-up is the more classic style and if you are buying one for the first time, then this style needs to go to your shoe collection
High-top/ Low-top: If you are looking for a more sporty look, then high-top sneakers should be your choice. However, the high-tops are not as versatile as low tops, which can go with almost any dress. So, do weigh the pros and cons before buying one.
Frequently Asked Questions
1. How to clean white sneakers?
To clean your white sneakers, first, get rid of any mud, dirt, or gunk with an old toothbrush or a shoe brush. Then, use a sponge, cloth, or even a brush to apply laundry detergent mixed with warm water or a sneaker cleaner to the dirty parts of the sneaker. Repeat this step a couple of times until the tough stains are gone.
2. Can I wear white sneakers for sports?
A pair of white sneakers is good for sports when the weather heats up and also keeps your feet comfortable.
The quintessential white sneakers add glam and class to your closet. Which one did you like from our list of white sneakers? Let us know in the comment section below. 
Disclaimer: MomJunction may earn a commission when products are purchased through affiliate links given in the article. However, this partnership does not influence the editorial content featured in our list.
The following two tabs change content below.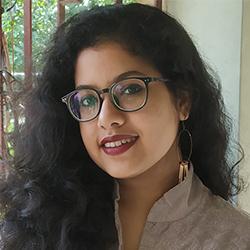 Poulami Nag
Poulami Nag is a writer and associate editor at MomJunction. She did her MA in English from Miranda House, University of Delhi and has qualified UGC-NET. Her journey as a content writer began in 2017 and since then she has garnered diverse interests along the way. Her knowledge of literature and language has given her an eye for detail and...
more