A medicated skin whitening cream is the right solution for several skincare woes, such as blemishes, dark spots, pigmentation, and tanning. We all want a safe product that gives us beautiful and blemish-free glowing skin.
Have a look at the best medicated skin whitening creams in India that make your skin healthy and glowing.
Do Skin Whitening Creams Work?
Several studies and research have been done to find out whether the skin whitening creams work. According to a research conducted by the Boston University School of Medicine (BUSM) on people using these products to treat hyperpigmentation and improve skin tone, only 26.5% of the respondents were satisfied with the results. The most effective products according to these respondents were the prescription-strength triple-combination creams (1). Thus, these products might hydrate your skin and give some relief from pigmentation, but they cannot bring a vast difference to your skin tone.
13 Best Medicated Skin Whitening Creams In India
Blended with the goodness of 100% natural virgin coconut oil, this cream is suitable for every skin type. The whitening and brightening cream protects the inner skin against melanin production and gradually softens the blemishes. It has a pleasant fragrance and is smooth on application.
Key Ingredients: Coconut water, virgin coconut oil, dandelion, manjistha, and almond oil
The Lotus Herbals Cream contains multiple fruit extracts that offer fresh and glowing skin on regular application. It protects against harmful UV rays and reduces skin pigmentation and dark spots. The rich ingredients contain antioxidants that provide the necessary hydration to the skin and keep it fresh.
Key Ingredients: Mulberry, saxifrage, and grape extracts 
The skin lightening cream by Kozicare works brilliantly and helps reduce uneven skin pigmentation and dark spots. The rich blend of Kojic acid,  vitamin C, and vitamin E are effective in lightening the blemishes. It stimulates skin renewal and improves the skin complexion.
Key Ingredients: Kojic acid, arbutin, glutathione, and glycerine
The lightweight night cream hydrates and restores your skin's appearance during the night. Enriched with vitamin C and hyaluronic acid, it works wonders for sensitive skin and diminishes the harmful radical effects. The intense skin moisturizer brightness your skin tone and improves its texture.
Key Ingredients: Almond oil, olive oil, shea butter, and green tea extracts 
The Bella Vita Glow Cream is enriched with natural ingredients and flower extracts that brighten the skin tone and help reverse skin cell damag. It is a mild gel-cream that is easy on the skin and cleanses the harmful toxins and dirt from your skin. It also helps prevent hyperpigmentation and reduce dark spots and blemishes. The smooth skin cream containing vitamin C reduces wrinkles and provides necessary nourishment.
Key Ingredients: Papaya, rose, calendula, saffron, basil, rosemary, etc.
The ophthalmologically tested Melaglow Skin Lightening and Brightening Cream is a gentle and non-irritant product. It is super light to apply even on sensitive skin and helps lighten blemishes and dark spots. The skin cream treats pimple marks,  makes the skin firmer, and rejuvenates the skin cells.
Key Ingredients: Liquorice extract, soy isoflavones, tetrahydro curcumin, and avobenzone 
The Organic Vitamin C Cream is a powerful blend of the most natural ingredients that deliver antioxidant benefits. It works towards providing your skin with moisture and a youthful charm. The lightweight skin cream provides anti-aging benefits and improves the health of dull and damaged skin. The vegan product is free of harsh toxins, chemicals, parabens, and sulfates.
Key Ingredients: Niacinamide, hyaluronic acid, organic jojoba oil, rosehip seed oil, argan oil, and grapefruit extract
The Vihan L Glutathione Skin Whitening Cream rich in Vitamin C effectively controls melanin production and protects against harmful UV rays. The antioxidant cream controls wrinkles, reduces hyperpigmentation, works against skin aging, and ensures smooth, glowing skin. It locks in your skin's natural oils that further boosts your skin health, keeping it soft and hydrated.
Key Ingredients: Glutathione, Kojic acid, and vitamin C
Enriched with natural fruit extracts and free of harmful chemicals, such as sulfates and parabens, the EnQ skin cream works for any skin type. The gentle skin cream effectively removes dullness and reduces blemishes and dark spots, providing you with fresh and smooth skin. The product works well for those suffering from cracked skin and itchy skin.
Key Ingredients: Corica papaya extract and fruit extract 
Jiaobi whitening cream is rich in vitamin B3 and vitamin C that work together to provide smooth and glowing skin. It has several positive benefits, including anti-aging, treatment of acne and pimple marks, restoration of beautiful young skin, and protection against marks and dark spots. The kit includes a face wash, a makeup base, a day cream, and a night cream.
Key Ingredients: Hyaluronic acid, licorice flavonoids, plant essence MBH factor, etc.
The Dr. London Whitening Skin Cream is a premium quality product made from bioactive ingredients that effectively heal dull and damaged skin to provide you with a fair complexion and hydrated skin. It moisturizes and smoothens the skin tone, and the multivitamins present in it works toward reducing pigmentation and dark spots. The product is free of chemicals and is safe to apply even on sensitive skin.
Key Ingredients: Shea butter, lactic acid, and glycerine 
The Pure Skin Whitening Cream is suitable for application at night. The skin cream rich in vitamin C and several other natural ingredients repairs and rejuvenates your skin cells while you sleep and add glow and shine by morning. The product considerably reduces skin pigmentation and dark spots.
Key Ingredients: Natural beads, alpha arbutin, hazel extract, and vitamin c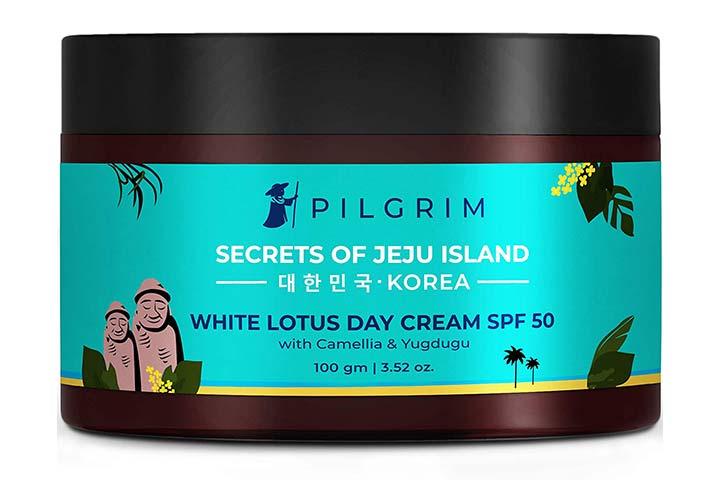 The Pilgrim Face Cream is made using Korean formulations and provides your skin with a luxurious shine and grease-free charm. It diminishes  blemishes and dark spots on your skin and is completely safe for sensitive skin. The face cream works equally well for men and women. The FDA-approved skin brightening cream contains no parabens, sulfates, minerals oils, and other harsh chemicals.
Key Ingredients: Camelia, white lotus, and yudugu 
*Information given in this section is taken from manufacturers' sources. MomJunction is not responsible for any of the claims made here. We recommend readers' discretion.
How To Choose The Right Skin Whitening Cream?
Here are some important factors to pay close heed to before choosing the best skin whitening cream. 
Skin type: Choose a skin whitening cream that goes well with your skin type and contains the ingredients right for your skin. Select the product based on whether you have oily, dry, normal, combination or sensitive skin.
Purpose: Different skin whitening products focus on different areas. Know your purpose, whether it is to improve your complexion, remove blemishes or dark spots, diminish your acne marks, or get rid of skin pigmentation. Then choose the right one accordingly.
Ingredients: Choose a skincare cream made using completely natural and organic ingredients. Look for a product with Kojic acid, vitamin C, lemon juice, aloe vera, glycerine, and hyaluronic acid
Scent: Prefer a subtle and pleasant scent. Some medicated skincare creams have a strong smell that is difficult to carry with.
SPF: If you need a product for protection against harmful UV rays, consider the cream's SPF rating. A skin cream offering a minimum of SPF 25 is considered suitable for dealing with sun exposure. 
If you wish to reduce the appearance of blemishes, spots, pigmentation, and more, medicated skin whitening creams can help you out. The effectiveness of these creams depends on their ingredients, so make sure to check the ingredients and formulation before buying. Furthermore, look for a cream free of harsh chemicals and suitable for your skin type so that you don't experience any side effects or allergies. When using a medicated cream, you should consult a dermatologist before using the product.
Recommended Articles
References:
MomJunction's articles are written after analyzing the research works of expert authors and institutions. Our references consist of resources established by authorities in their respective fields. You can learn more about the authenticity of the information we present in our
editorial policy
.
The following two tabs change content below.

Poulami Nag is a writer and associate editor at MomJunction. She did her MA in English from Miranda House, University of Delhi and has qualified UGC-NET. Her journey as a content writer began in 2017 and since then she has garnered diverse interests along the way. Her knowledge of literature and language has given her an eye for detail and...
more