Are you wondering how to make ordinary wine taste like an expensive one? Invest in a good wine aerator! After all, the secret behind a good wine is aeration, a process that oxidizes the drink to bring out its true flavors and aromas. Simply put, it wakes the wine up and lets it breathe, so all hidden flavors can develop and make the wine taste like it should— fine and delicious!
Though decanters and several other time-honored oxidizing methods are common amongst wine connoisseurs, nothing beats using the best wine aerators as they ensure instant aeration with their state-of-the-art designs. Yep, why wait for the wine to get ready when these aerators can ready the wine exactly when you need it. Plus, they scream elegance! Now, are you ready to enjoy wine as you would at a swanky bar or winery? Let's not wait for the wine to oxidize anymore! Check out our list of the 13 best wine aerators of 2021.

Top Products From Our List
13 Best Wine Aerators In 2021

Now pouring wine can be a visual treat for you and your guests! Vintorio Wine Aerator Pourer's elegant design and crystal-clear spout lets you witness the bubbling wine stream into your glass effortlessly. Also, the built-in aerated chamber is spacious and uses the Bernoulli effect to oxidize the wine and unleash the hidden flavors instantly. And as for the construction, it is ergonomic, leak-free, and will not stain the table cloth or drip while pouring. And to top it all, it is easy to use and clean too. Yep, relish wine like never before with this one!

Whether you are a wine connoisseur or someone who enjoys that occasional glass, this 5-in-1 tool would be a great addition if you fancy beverages! From aerating wine and filtering impurities to keeping the drink fresh with an air-tight seal, this all-rounder tool will elevate your wine experience instantly. Moreover, it is made of BPA-free and food-safe material and guarantees no leaks, drips, or splashes, whether you store the bottle on the side or upright. Also, it'll make a great gift for a wine lover! Go on, enjoy a mess-free wine session with this 5-in-1 option.

If you like your wine with a touch of elegance, this wine aerator will be the perfect match for you. Unfurling delectable flavors and doubling the value of the drink, your wine gatherings cannot get any more memorable and convenient than with this. Also, you get to witness the bubbling wine stream into your glass smoothly, all thanks to the crystal-clear spout! Constructed with a compact air chamber that helps oxidize the wine using the Bernoulli effect, this tool also ensures a drip-less and leak-free experience with its air-tight rubber stopper. And did we mention hassle-free cleaning? Grab this travel- and party-friendly aerator pourer ASAP!

Durable, sturdy, and constructed with a stainless-steel body and silicone base, here's an aerator that claims to last through many, many wine sessions and parties. Moreover, it guarantees to aerate the drink within seconds! Yep, this wine aerator would not only be a great addition to your in-house bar but makes a great gift to give away to your fellow wine connoisseur too. Easy to use, clean, and store, and with no dripping or leaking to worry about due to the air-tight silicone seal, it will fit all types of bottles as well. And did you notice the crystal-clear spout? Go on, add it to your cart already!

Aerating the drink 3 times faster through 32 holes, it'll always be wine o'clock if you have this premium aerator in the house! Just what you need for optimum aeration and to enhance the delectable flavors, this tool is made of heavy-duty acrylic plastic and is ideal for both white and red wine. Helping your expensive wine taste like one with its 3-step processing, Vinluxe Pro Wine Aerator is also easy to clean and store. Yep, never a bitter moment with this one. Try it!

This tilted-designed aerator lets you control the aeration for your drink! Also, the trick lies in the pouring angle. For example, you must pour the wine horizontally for minimum aeration and vertically for maximum aeration. Moreover, this aerator ensures a dripless experience and has a low-profile spout to deliver ideal aeration. And as for the construction, it is made of medical-grade clear resin, which is also chip and crack-free. Need we say more?

No more waiting for the wine! Relish optimally aerated wine at a touch of a button with this electric wine aerator. Designed to deliver the right amount of oxygen to the drink so it can breathe, soften tannins, and enhance the delectable hidden flavors, it's a great tool for social gatherings, parties, and outdoor events. Also, it's portable, automatic, and has a built-in air-tight seal that'll keep the wine mature and fresh for longer. Besides this, the flexible insertion tube is long enough to touch the bottom of the bottle, so not a single drop is wasted. Want to know more? It claims to serve the drink noise-free and is rechargeable too.

Not your regular pourer or decanter, this classic aerator will glam up your aeration and wine-drinking experience with its 3 stainless steel pipes. Transfixing the moment as you witness the wine stream from the bottle into the glass, this aerator pourer also claims to enhance the flavors while delivering an out-and-out visual treat. Also, its lightweight construction is premium-quality and guarantees precision as the aerator is drip-free, leak-free, and splash-free too. Give it a try if you haven't already!

For a squad full of wine lovers, this rechargeable dispenser-aerator comes as a godsent device. Why? Not only does it aerate the wine with 8 levels of oxidation but does it at a push of a button! Yep, no more waiting for your favorite wine to mature when this one guarantees to bring out the tempting flavors and aromas instantly. Moreover, it eliminates sediments, is portable and easy to use, and easy to clean too. And the best part is, it's drip-free, noise-free, and will keep your guests entertained and quenched even when you are not around!

If simplicity is your style, this electronic wine aerator and dispenser might be just the fit for you. Easy to use and ensuring perfectly aerated wine at the push of a button, it also claims to aerate the drink 6 times more than a regular or non-electric aerator. Don't let its simplicity deceive yu though, as it guarantees no mess whatsoever. Yes, no drips or splashes with this one! All you have to do is insert it in the bottle, and the wine is ready to be relished within seconds. Too good to be missed, we think!

Why settle for good wine when you have great wine with a science-backed aerator. Using Bernoulli's principle to aerate your drink, this acrylic-made crystal-clear tool guarantees both smooth wine and a wow-worthy visual experience with every pour. And to top it all off, it comes with a filter design, which means it will discard the impurities and oxidize the wine at the same time. Also, this high-end aerator is BPA-free, lightweight, compact, and travel-friendly, which means you can enjoy your wine smooth and delectable — anywhere, anytime.

How is this aerator pourer any different? Besides its trophy-like design, this aerator comes with multiple holes, so the wine mixes with air instantly and optimally to give you a flavorsome experience. Moreover, it filters out impurities and is drip-free, so you don't have to worry about red stains on the table runner. Made of 100% high-quality acrylic material, it is durable and guarantees smooth wine with every use. Yep, let your wine wake up and breathe with this one!


Forget about that bitter aftertaste once and for all! With a sleek and premium design, here's an aerator that will aerate the wine in real-time and let you witness it through its crystal-clear spout. Plus, it's ergonomic, drip-free, and will fit all types of bottles easily. Designed to follow the Bernoulli effect to oxide the wine, one can notice and enjoy the bubbling (oxidization) through the see-through spout with every use. Also, the silicone base ensures no leak whatsoever! Moreover, one can just run it through water for hassle-free cleaning, and the tool is ready to use for aeration once again.
Pouring wine never looked this beautiful, right? These are the 13 best wine aerators you must try this season. However, if you still need assistance while choosing the best wine aerator, you can check out the buying guide below.
What To Look For When Buying A Wine Aerator?
Here are some features you must look out for before buying a wine aerator:
Though most wine aerators are suitable for both white and red wine, you must inspect if they are ideal for a specific type of wine before buying.
Examine the aeration process and check how quickly and precisely it aerates the wine through the tool. Also, for the best experience, it is ideal to choose an aerator with a built-in filter, so you can enjoy both smooth and oxidized wine with every pour.
Leaks are unacceptable! Not only will they ruin the wine but also leave stubborn marks wherever the bottle travels. Hence, you must select an aerator with an air-tight seal or stopper that guarantees a leak-proof experience.
If there is something your aerator should not do is drip, spill, or splash the wine every time you pour. Unless you want your party to have endless "oops" moments, you must check if the aerator is drip-free or spill-free.
Lastly, let your experience with the aerator be hassle-free until the very end! Choose an aerator that ensures hassle-free cleaning. Plus, there are aerators on the market that are dishwasher-safe too. So, pick accordingly.
Frequently Asked Questions
Can aeration spoil wine?
It depends on the aeration process. However, there are chances of the wine to flatten out and lose its flavors after aeration, which is why it's necessary to invest in a good aerator for the wine.
Now, are you ready to raise your drinking experience with the best wine aerator this season? Let the wine breathe before you devour its delectable flavors with every sip. And with 13 options on our list ensuring instant aeration and smooth wine, you no longer have to indulge in old-school decanters or wait for your drink to oxidize before drinking. Yep, a glass of wine will always be a good idea with a good aerator in the house. So hurry, get one for your wine indulgence today!
The following two tabs change content below.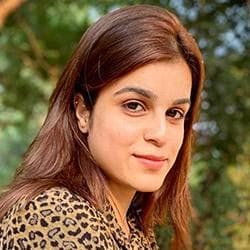 Sakshi John
Sakshi did her graduation in Journalism from the Madras Christian College, Chennai, before starting her career as a freelance writer. She is into blog writing and for MomJunction, she covers various topics, including products to buy for your kitchen, furniture, and other home requirements. Previously, she interned as a content writer in a cyber security firm. As a content writer, Sakshi...
more