.
Every trade is an art and to every art, there is a tool that helps make it significantly easier. Just as a hammer is indispensable to a carpenter, a screwdriver to an electrician, a wine key is to a sommelier, waiter, or bartender. This little overlooked tool can be the fine line between a memorable dining experience or a shocking one. A wine key is what adds to the graceful experience of opening a wine bottle. For a professional, a wine key is a window of opportunity to not just merely serve a customer but to impress him.
Fortunately, wine keys are easy to use by both professionals and beginners. They are typically compact and lightweight, making them easy to carry. If you're tired of struggling to open a wine bottle at home through different unorthodox tricks, it's time you invested in a wine key. Here is our list of the 11 best wine keys.

Top Products From Our List
11 Best Wine Keys
With its simple and functional design for opening wine and beer bottles, the Bravivo professional wine key is regularly used by waiters at wineries, by wine lovers, and non-professionals alike. This multi-purpose tool comes with a double-hinged fulcrum, double corkscrew, a beer opener, and a serrated foil cutter. Made with a combination of natural wood and resin, this stylish wine opener ensures safety and durability. Opening the most challenging wine bottles with crumbling or long corks is made easy by the double-hinged fulcrum 2-step process manual cork remover. It is available in 6 varieties like black resin, natural rosewood, gold resin, pink resin, red pear wood, and white resin.
Pros:
Elite-level craftsmanship
Natural materials
For professional use
Easy to clean
Cons: 
Some may find the worm slightly thick. 
Made with superior quality Indonesian rosewood and stainless steel, the CORKAS wine opener is one of the best corkscrews used by professionals. This wine key opener has 3-main parts. One of these includes a long-serrated foil knife that reduces slippage and tearing, making foil removal quick and easy. Pulling out even the longest or most tricky corks is made easy with its double helix worm and double-hinged fulcrum design. Its easy-to-use push-down mechanism does a splendid job at opening beer bottles too. With an exquisite design engraved in the handle and elegant packaging, this all-in-one corkscrew will be a well-appreciated gift to wine lovers.
Pros:
Chemical-free material
100% solid wood
Multi-functional
Uniform spacing between each coil of worm
Cons:
Foil cutter blade may not extend easily
The HYZ wine opener ensures comfort and durability, courtesy its corrosion-resistant 420-grade stainless steel body coupled with an ergonomic zinc alloy handle. Removal of foil and tricky cork is ensured with the built-in serrated foil cutter and thick corkscrew. The sharp tip of the worm once inserted into the cork requires only 5 turns to remove it, making it an easy task for non-professionals as well. This portable, pocket-sized wine key is one of the best for wine enthusiasts, sommeliers, and waiters. This opener is available in sets of 3, 4, or 10 and a variety of colors like black, blue, burgundy, green, red, white, and yellow. It can also be purchased in a multi-color pack. A bonus feature is that this wine opener opens a beer bottle efficiently without any slippage and spillage.
Pros:
Sleek design
Withstands extreme force
Lightweight
Effort-saving
Cons:
The worm might get loose if continuously used to open bottles that have a long cork.
Made from high-quality rosewood, a superior 420-grade steel body, and packaged in an exquisite silk pouch, this accessory makes for an excellent gift choice. The double-hinged spring-loaded 2-stage fulcrum along with a grooved corkscrew ensures effortless removal of even the trickiest of corks while leaving it intact and ensuring that no residue is left behind. The stainless steel serrated knife allows for a clean cut, while the built-in bottle opener is a convenient addition to this tool.
Pros:
Compact and modern design
Ergonomic design
Handcrafted
Professional use
Cons:
Might be too heavy and bulky to carry in a pant pocket
With its ergonomic design, the ZM-YOUTOO waiters corkscrew is comfortable to use. This professional corkscrew is multi-functional with a serrated foil cutter, a built-in beer opener and a wine bottle opener. Owing to its high-quality 420-grade stainless steel constriction and zinc alloy handle, this professional wine key is durable and sturdy. Opening a bottle is effortless and safe with the serrated steel knife, double-hinged fulcrum, and spiral cork. The grooved corkscrew ensures that the cork does not crumble inside the bottle. To ensure quality and reliability, the company has subjected the corkscrew to a rigorous bend test.
Pros:
Available in multiple colors
Reinforced corkscrew
Portable design
Lightweight
Cons:
May bend a little with extended usage
With a lightweight, superior quality stainless steel body, this fashionably designed True Truetap wine key makes opening bottles effortless. This functional wine key is available in 17 colors, including some in a matte finish. The foil cutter is ideal for a clean and even cut without damaging the appearance of the bottleneck. Uncorking a bottle with the double-hinged mechanism and spiral screw is safe and leaves no room for spillage. The beer opener allows for quick uncapping without any struggle. This product can be enjoyed by waiters, sommeliers, amd beer and wine lovers.
Pros:
Flat blade foil cutter
Non-stick worm
Stainless steel construction
Compact design
Cons:
Painted finish may chip off after prolonged use
Better leverage and smooth removal of the cork is made easy with the 2-step technique that the HQY wine key offers. This double-hinged mechanism reduces force and allows the corkscrew to pull out an intact cork. With its sleek stainless steel body, the waiter's corkscrew comes in red, white, and yellow. The serrated foil cutter in this wine key ensures that the foil is never torn unevenly. This trendy wine key opener can be used by professionals and non-professionals. Beer lovers can make use of the beer bottle opener feature that makes opening bottles quick and effortless.
Pros:
Multi-purpose
Versatile
Lightweight and portable
Shiny finish
Cons:
Some users found that the blades lost its edge after prolonged periods
The Viski Burke professional wine key is an elegant superior-quality copper-plated stainless steel bottle opener. The longest or trickiest cork can be pulled out with just 5 easy turns using the worm and double-hinged fulcrum. Removing or peeling off the foil will no longer be untidy or uneven with the included serrated foil cutter. Not only waiters, wine lovers, and sommeliers but also beer enthusiasts can enjoy this product owing to its unique beer bottle opener.
Pros:
Lightweight
Compact design
Pocket-sized
Non-stick worm
Cons:
Might be prone to scratches
The Kit-Home wine key opener is reliable and is equipped with a soft resin-coated stainless steel handle. Removing the cork from a bottle of wine is seamless with its 2-step double-hinged fulcrum and a thick stainless steel corkscrew that drills into the cork with ease. This ensures pulling out of an intact cork without any crumbling or residue left behind. The foil cutter can cut through the metal, foil, or plastic portion of the bottleneck smoothly. It is available in a variety of colors and can be purchased as an individual piece or as a set of 3.
Pros:
Large resin handle
High-strength hinges
Portable
Can open all wine and beer bottles
Cons:
Wood edges might be a little sharp
With a double-hinged fulcrum and grooved corkscrew, the Wino Wine Accessories corkscrew makes uncorking a wine bottle a 1-step motion. The corkscrew is crafted from high-quality stainless steel that lends it durability and reliability. This multi-functional wine opener can be used for opening wine and beer bottles. Last but not least, its curved foil knife cuts cleanly and evenly, ensuring no more messy foil tears.
Pros:
Corkscrew handle selection
Lightweight
Available in multiple colors
Sharp foil cutter
Cons:
Some may find it slightly bulky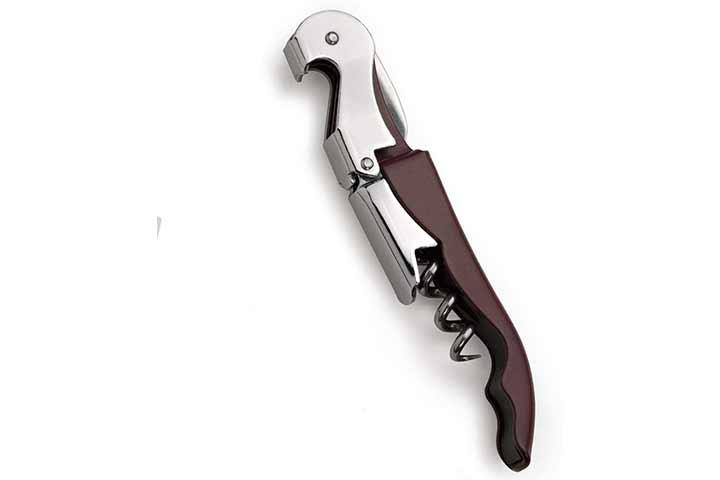 This stainless steel corkscrew with a double hinge and strong screw ensures stress-free uncorking of a wine bottle. The opening of fragile and synthetic corks is made possible with the reinforced screw-worm. Opening a beer bottle is no longer a struggle with this built-in beer bottle opener. The highly-precise foil cutter slices through the foil while still ensuring that the bottle looks presentable and makes it a worthy competitor on our list of the 11 best wine keys.
Pros:
Available in multiple colors
Durable construction
Minimizes cork breakages
Aluminum alloy handle
Cons:
Corkscrew might be a little thin for some corks
Now that you've had a good look at the different kinds of wine keys to choose from, it is time you learned what you need to look for when purchasing a wine key. Here are a few considerations to bear in mind while doing so.
How To Choose The Best Wine Key Opener
Thankfully, almost all wine key openers are made out of some form of metal. Stainless and aluminum happen to be the two most common materials out of which wine key openers are fashioned. Out of the two materials, stainless steel offers the most benefits. Apart from being resistant to rust, it is also the most durable. A sommelier's worst nightmare would be to have a wine key opener that cannot withstand the test of time.
A wine key opener that has a simple design is highly desirable. One shouldn't have to waste time trying to figure out how it works. When working with the corkscrew, the wine opener should allow for the free and smooth movement of the hand, wrist, and fingers. It is recommended to purchase wine keys that are slim and sleek. This makes them easy to carry around and store in one's pocket.
It is integral to purchase a wine key that has a worm that can open all types of wine bottles. Wine bottles differ from each other in terms of their size, shape, and manner in which the cork is sealed. While selecting the best one to suit your needs, make sure to check that the worm on the wine key is long enough to get a good grip on the cork but not too long as that can end up putting too much force on the neck of the bottle. Exerting excessive force on the neck of the bottle may result in a shattered bottle of wine.
In recent times, wine keys have been marketed not only as a tool to remove a corkscrew from a wine bottle but also as a multi-purpose tool that can open beer bottles and serve as a foil cutter. While these are add ons rather than their main purpose of use, it is still nice to know that you can open a bottle of wine or a beer bottle with the same key.
A wine key opener like every other tool must be maintained to keep it effective. While it cannot be repaired and must be replaced if broken, it can last for several years if well maintained. While it may seem like a good idea to use oil on your wine key, it is quite the opposite. You can keep your wine key clean by cleaning it with water and a soft cloth. The great thing about wine keys is their size. They are small enough to carry in an apron pocket around the restaurant, to carry from one room to another in a hotel, or to take on a family vacation. If you happen to need one, revisit our list of the 11 best wine keys and choose the one you like the best.