Winter is a great time to drink a hot latte, snuggle under the blanket and watch your favorite TV shows all day long. However, the reality is that we have to go out and struggle on the difficult snowy road every day to go to school. Our favorite sneakers and high heels are impractical and unsafe to use in the snow. It's time to switch to a winter wardrobe of cardigans, sweatshirts, long coats, and yes, winter boots!
Winter boots are not always the most fashionable items in the closet, and you may be worried about how to choose boots that are fashionable and functional. Keeping this in mind, we have listed 14 great winter boots for college students to choose from.
14 Best Winter Boots For College Students
Sperry's Saltwater Duck Boot is a versatile all-weather boot that is both functional and stylish. These fashionable women's winter boots are lined with wool to keep your feet warm and comfortable. The durable rubber sole provides good grip and is especially helpful in snow or slippery places.
The high-quality stitching and adhesion ensure that no water can penetrate through the tiny pores and cause discomfort. A convenient side zipper makes it easy to put on or take off without the need to tie the shoelaces. Sperry allows you to customize color combinations or even add a personal name logo on the boots. With these stylish boots, you will find yourself traveling through the harsh winter in style. 
The DreamPairs boots scream for long walks in the snow with a chic overcoat. These warm boots are specially designed for wearing in thick snow or wet conditions. DreamPairs offer a comfortable fur lining to provide warmth and comfort. The high wear of 7.5 inches shaft at the arch makes them the high boots that prevent snow accumulation inside. Made of waterproof leather and lined with high-quality breathable materials, the boots keep your feet well-aerated. 
Whether it rains, snows or freezes, Globalwin snow boots can be used in harsh weather conditions and provide reliable protection against natural factors. The fixed insulation and comfortable lining ensure that your feet are always warm and comfortable. The high-quality waterproof winter boots for girls are made of Italian faux leather and knitted collars, giving the boots a touch of style and comfort. Complete your winter wardrobe with these cute waterproof snow boots from Globalwin.
Ankle boots have always been a timeless classic. They are one of the best winter boots for walking and can be worn all year round, with almost anything. The colors of Mishansha ankle winter boots range from neutrals, such as black and gray, to deep red and delicate pink.
They are eye-catching and perfect for walking, casual events, and almost any outdoor activity. The leather upper prevents water from penetrating the boots. Mishansha has also vowed to avoid using animal leather and only use artificial leather to make products.
If you're obsessed with combat boots and ankle boots, then Karkein low ankle long combat boots will not disappoint you. The boots are stylishly designed with high-quality components such as a waterproof leather outer layer and non-slip rubber sole. The lace-up design gives you a classic combat boot look, but the inside is warmer. These boots are stylish and lightweight and can be worn year-round in the cold and autumn.
For people living in cold areas with heavy snowfall, long calf-length warmer boots as thick as Kamik's Snowvalley boots will be a good choice. These boots can withstand the test of extreme weather conditions and are very useful, whether you are going to college on a snowy road or hiking in the mountains.
Although the outside is tough enough to handle anything thrown on the way, the soft and fluffy inside keeps your feet comfortable. These boots may last a long time, and you won't need to buy new boots for a few years.
For the occasional hiker, rugged boots are a popular choice, as they protect the feet from dampness and cold and the strong impact from rocks and pebbles. The synthetic sole of the boots is durable and can easily withstand harsh conditions.
The insole is made of memory foam material, which can provide maximum comfort by adjusting the shape of the foot over time. The outer material is made of leather, and the maximum length of the shaft is the ankle-length from the arch of the foot.
Columbia OmniHeat snow boots make an excellent pair that can withstand the harshest winters. This pair of stylish women's snow boots combines functionality and style. Equipped with an appropriate amount of insulation lining and a faux fur attachment, these snow boots can keep your feet warm and dry. The seams are sewn with special care to provide breathable wear that is fully waterproof. This stylish boot also features crafty accessories, such as metal rings and other decorative elements, making it suitable for special outdoor activities.
If you are looking for affordable waterproof boots, then you need these duck boots. The London Fog Men's Ashford Duckboot uses a waterproof shell to protect your feet and keep them warm through its insulated interior. The boots use a synthetic sole, a waterproof outer layer, and are insulated with 200 grams of unique thinsulate material. With its simple design, colors, and function, these boots can't go wrong.
Timberland has incorporated style elements in its sturdy boots over the years, creating a benchmark for rugged all-weather shoes. These stylish boots from the brand are for those who want comfort and warmth without compromising style.
The upper is made with high-quality leather and an ortholite footbed, making the boots the most comfortable to walk in the snow. Wear boots with skirts, jeans, or shorts; these winter fashion boots are undoubtedly a great choice to compliment any casual or party outfit. 
Blundstone fashionable women's winter boots have timeless style and maximum comfort, making them ideal for everyday wear. This pair of Chelsea boots is another version of the famous Blundstone Chelsea with the same style factors combined with comfort and practicality. These boots have a water-repellent suede upper and sports a removable insole with a cushioned midsole to provide comfort and absorb shock. 
If you like to hike in cold weather, but you are worried about slipping and getting injured, be assured that Vasque Sundowner boots will be as firm and secure as you could imagine. The clambered heel of the boots can provide an effective hiking pace. These low-top boots are made of 100% leather, which not only looks fashionable, but the Gore-tex membrane ensures the highest waterproof capability.
These cool winter boots for men and women by AU&MU are lined with the most comfortable and breathable natural sheepskin fur, which can absorb micro-sweat formed on the feet when wearing the boots and prevent the formation of unpleasant odors.
The soft-on-skin wool provides a warm softness without causing rubbing or smothering. These boots are handmade, so each pair of boots can be considered unique. Match it with your favorite winter clothing to create a stylish and comfortable look.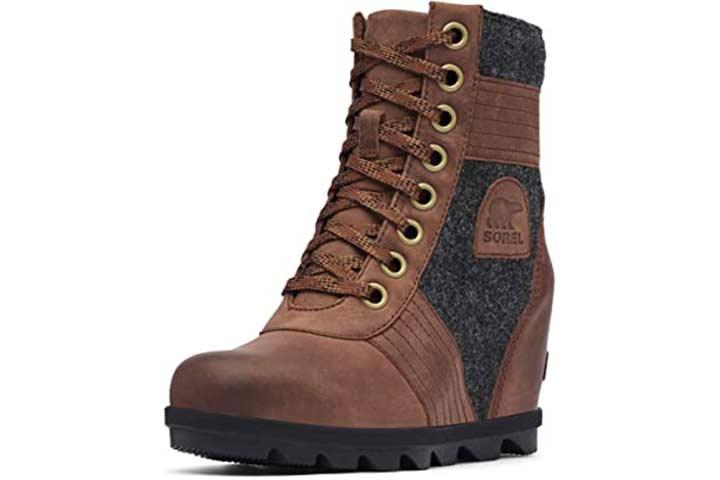 The last one on our list is the Sorel Lexie boot with a wedge heel made of waterproof full-grain leather and a high-traction rubber outsole. Its bold design and likable wedges make this Sorel shoe stand out from other winter boots. Wedge-shaped high heels look good on anyone and are comfortable enough to wear all day. They are also warm enough for heavy snowy days. You can choose a variety of color options from the brand. 
How To Choose The Right Winter Boots? 
Here are some points to consider while buying winter boots. 
Warmth: The degree of warmth provided by boots will vary depending on the material. Various types of lining materials are provided, the common ones being shearing, fur, and wool. With the emerging trends of cruelty-free fashion, the use of faux furs has become more popular. 
Sizing and comfort: The length of the boots ranges from ankle length to almost knee height. High boots are ideal for places with dense snow, while short boots are more flexible and versatile. 
Waterproof and breathability: Find boots with a good balance of water-resistance and breathability. If you want to wear boots for a long time, breathability is an essential factor. Otherwise, your feet will sweat, which will cause discomfort and unpleasant odors. 
Grip: While walking on snow or mud, the possibility of slipping is high. Therefore, it is recommended to choose boots with a certain grip on the sole. The rubber sole with zigzag or other patterns provide good traction and let you easily tread through icy or snowy surfaces. 
Quality and durability: High-quality boots are characterized by durability and robustness. Since these boots are intended to be used in harsh weather conditions, they should withstand harsh and difficult use.
Frequently Asked Questions
1. What are the warmest winter boots? 
Winter boots are made of insulating material, which helps to trap the heat inside. The higher the insulation level, the warmer your boot will be. Check the insulation markers on the boots to know how warm they can be. Those with insulation levels of 1,000 or more are adequate for very cold areas.
2. Should I buy snow boots in a bigger size? 
If you live in colder areas and have to wear thicker socks with boots, there's no harm in wearing larger boots.
Boots worn in winter keep your feet warm and prevent any unfortunate accidents on slippery winter roads. Wearing warm winter boots is as crucial as wearing jackets and sweaters. We believe that this list has enabled you to search for the best winter boots for your style.