The best way to beat the winter gloom when you've spent too many days on the couch is to step out and explore. There are many intriguing things about fall and winter such as Christmas, Halloween, snowmen, snow angels, and snow fights. And if you're taking your kiddo along, you need a pair of good-quality winter boots that can save you from toddler tantrums when their feet get cold, wet, or feel stuffy.
Toddlers are natural adventure seekers, and winters are the right time to introduce them to sports like skiing to help them master the needed skills. Have you planned a winter vacation to a snowy, picturesque destination with your family for the same? If yes, you shouldn't forget to buy the best winter boots for toddlers and pack it along. And if not, you'd still need a good pair to ensure your child is warm at all times. We bring you a list of the 17 best winter boots so that your tiny tot can fight winter blues in style.
Top 17 Best Winter Boots for Toddlers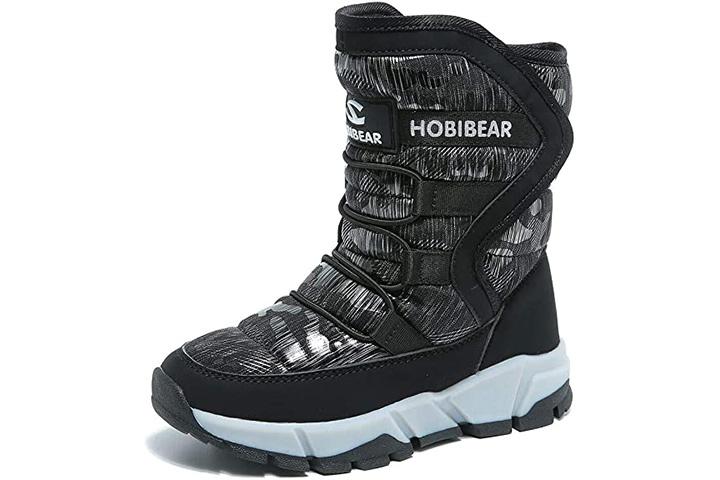 This pair of heavy-duty but lightweight snow boots is worth making space for in your shoe rack for your little one. It is made from synthetic materials and is easy to put on and take off minus the hassle of tie-up laces. Whether it's a casual stroll to enjoy the first snow, or fun vacation in the cold season— these boots won't disappoint you.
Pros
Anti-skid rubber sole
Inner faux fur lining
Adjustable hook and loop closure
Waterproof upper
Cons
The laces may wear after several months.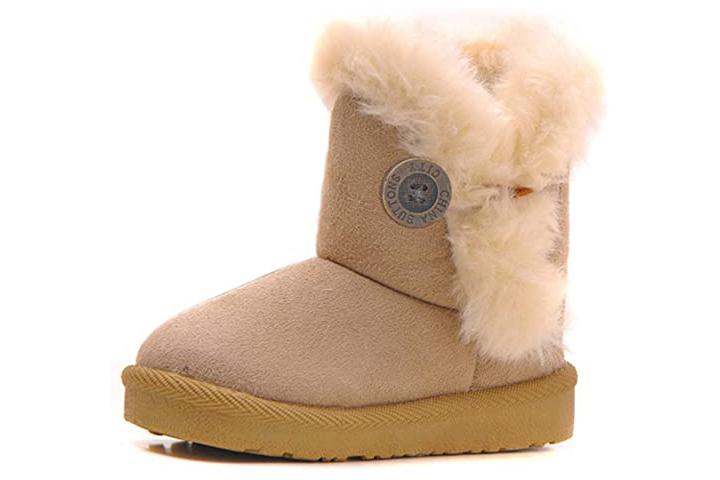 The Femizee Bailey button toddler snow boots make for perfect feet friends during the snowing season for multiple reasons. The bailey button keeps the boot in place and a thick layer of fluffy faux fur ensures warmth at all times. The upper part is made from synthetic leather and the pair features rubber soles. Among other attractive features are exquisite and intricate stitching and beautiful color options.
Pros
Soft and flexible
Breathable
Non-skid soft soles
Durable
Cons
It may not be waterproof.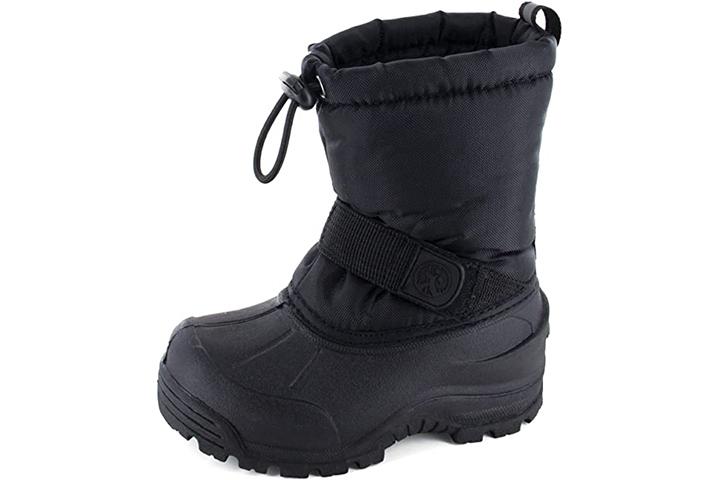 Let your toddler walk in style with these super-chic winter boots for boys and girls. It is made from nylon and the upper part extends 7 inches up to the mid-calf. The Berber lining at the opening of the boots is soft, your child won't feel even a hint of discomfort. The pair also comes with a heel-pull feature with reflective safety straps on each boot. Since the boots also have fully-adjustable vamp straps, you can rest assured that the boots provide secure fit that prevents your toddler from falling.
Pros
Adjustable toggle collar
Waterproof TPR shell
Quick-drying lining
Insulated insides
Available in many colors and patterns
Cons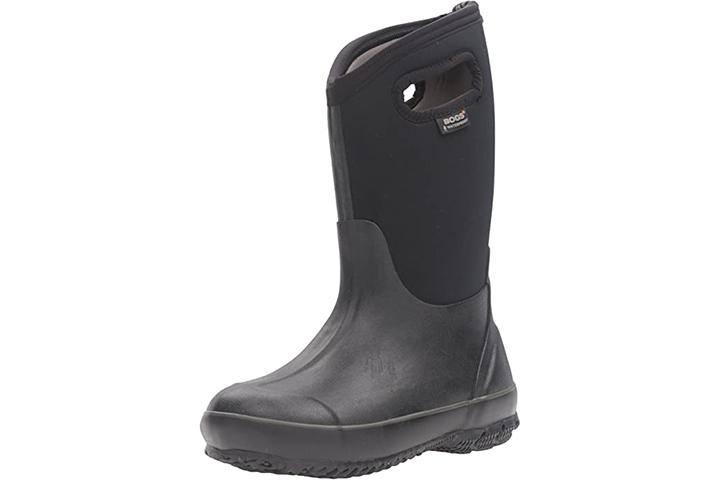 If you're looking for toddler rain boots that can also be put to use during winters, we recommend you to settle for a pair that doubles as snow boots like this one. These boots are a blend of cotton and polyester with added comfort and durability. The boots are made with neo-tech insulation technology and the sides of each boot feature a handle for easy pull-on. They can be worn at temperatures as low as -30℃ to keep those cute little feet toasty.
Pros
Waterproof
Lightweight
Stretchable
Odor-resistant
Suitable for heavy snow
Cons
May not be completely anti-skid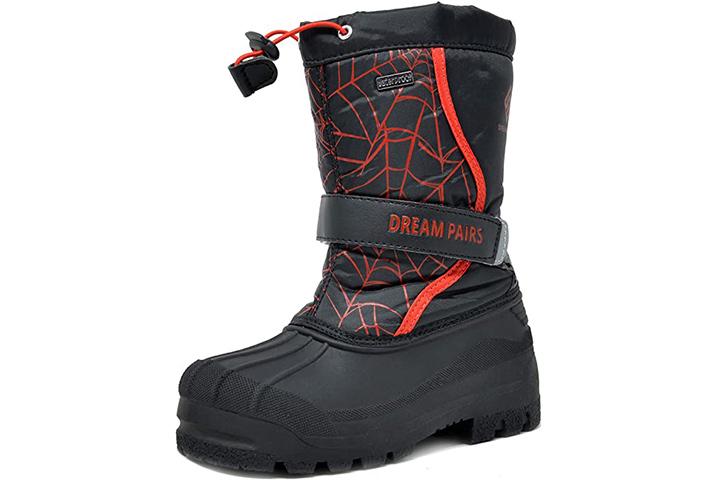 The Dream Pairs winter boots will easily become the automatic choice for your kid when you hit the streets for their adorable and unique designs. These boots feature 200g thermolite insulation that offers protection from gusts, snow, and even mud, and are easy to clean. The inner lining of fleece offers protection during the most frigid weather conditions. The boots are waterproof on the outside, so you don't have to worry about melted snow seeping in.
Pros
All-weather protection
Sturdy outsole
Anti-skid
Available in many color variants
Cons
The drawstring may not tighten completely.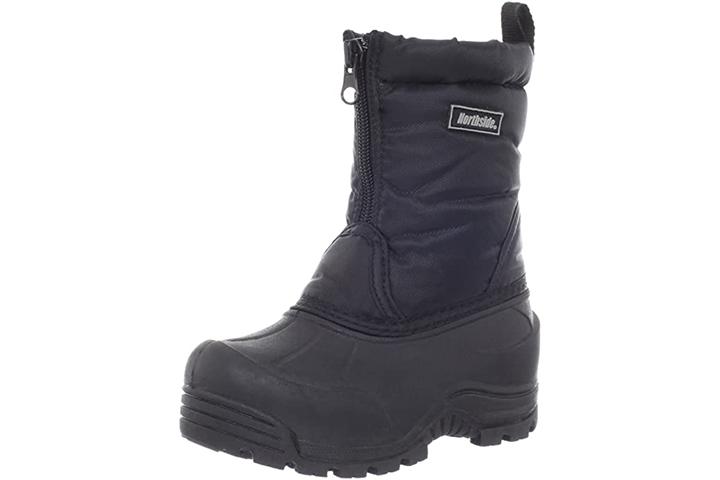 These stylish boots are made from nylon and have synthetic soles. The pair is completely covered right up to the top, which offers adequate protection from brutal winters. It also features a reflective strip, which adds safety when your kid skis or plays in the snow in the dark. If your tiny tot is not a fan of all black boots, you'll find a whole range of prints and colors to choose from.
Pros
Removable EVA insole
Full-zip front closure
Sherpa lining for added warmth
Waterproof
Lightweight
Cons
Some may find the sole's arch to be high.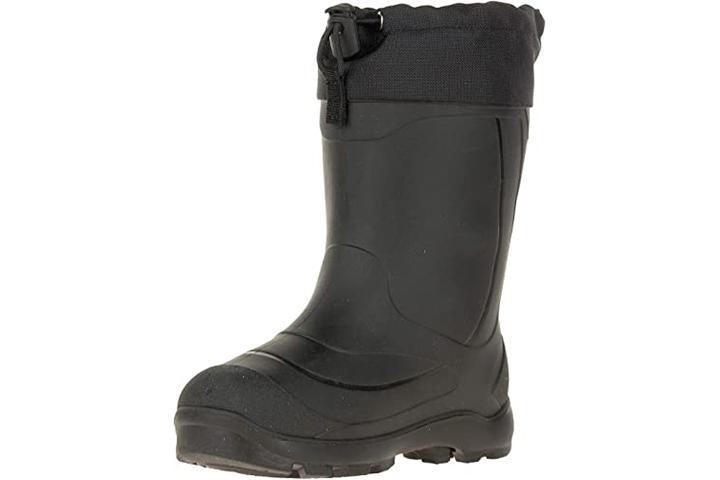 Winter is done right only when your kid's feet rest in highly-insulated snow boots like the Kamik Snowbuster boots. What makes this pair ideal for kids is that they're lightweight and won't weigh down your toddler's steps. Children can run effortlessly for long durations when wearing these boots. The liner is made from 100% recycled content so you're giving back to the planet when you invest in these sturdy kid's snow boots.
Pros
Waterproof
Features a grab-lace lock
Thermal guard removable liner
Moisture-wicking lining
Cons
The insole may not be too cushiony.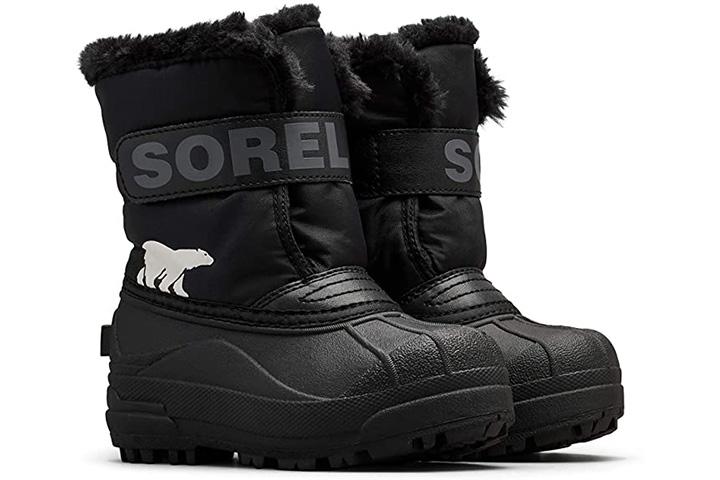 The Sorel warm boots for toddlers are must-haves if you want your child to ace the winters in style and comfort. These commander boots are made from premium-quality synthetic textile material. With a heel height of 1 inch, your child will have better grip while walking and running. The fleece lining keepsthe feet dry, and the outsoles offer excellent traction. All in all, these are among the best snow boots for kids that wrap all the good features that you'd look for in boots for winters.
Pros
Offers extra grip
Durable
Comfortable
Easy to wear
Cons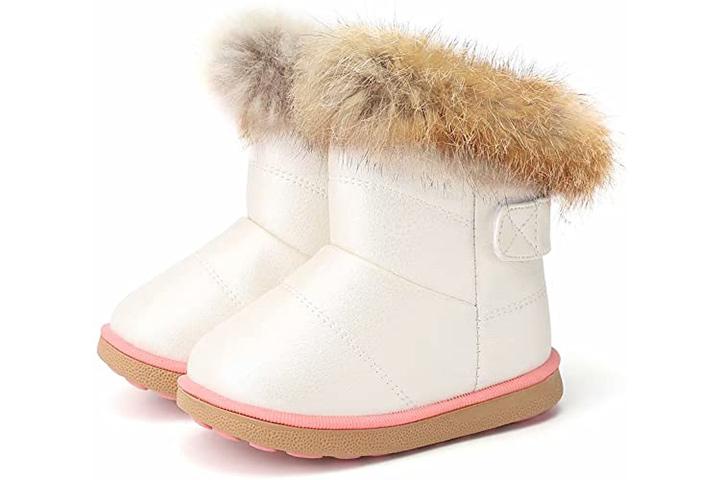 If you're in search of a pair of boots that takes into account the style factor while also being durable, we recommend these cute boots from CIOR. These slip-on style boots are easy to wear and are pose no hassles to take off either. Designed to prevent falls, skids, and made with insulating materials, it offers unparalleled comfort without compromising on safety.
Pros
Comfortable
Flexible
Breathable
Anti-collision boots
Skid-resistant
Cons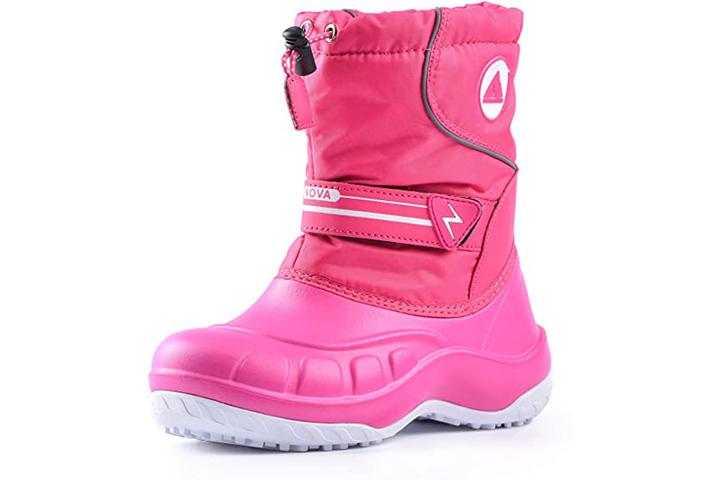 When your child puts these boots on, nothing can stop you and your little one from having fun in the snow. This pair is one of the best kid's winter boots because it is lightweight for easy walking and features an adjustable string so that the boots fit your child's feet like winter gloves. The pair comes with a gusseted tongue, deep lugs, and high-quality outsoles.
Pros
Well-insulated insoles
Traction pad for added friction
Anti-skid outsole
Durable
Cons
May not be entirely waterproof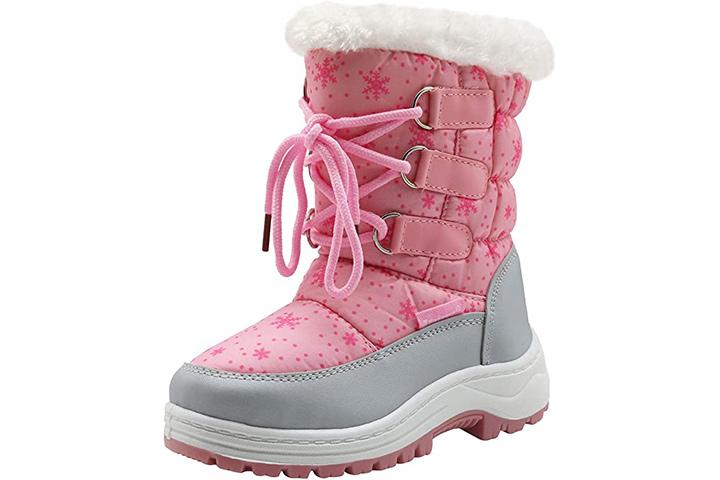 The Apakowa winter boots will help add some color to your toddler's day when it gets dull and grey in the winters. These cute boots have a shaft that measures around 7.5 inches from the arch. While these boots have laces, they also come with a side zipper to make it a lot more convenient for your tiny one to slip into them all by themselves. They also feature multi-direction lug outsoles that offer fantastic traction for safety.
Pros
Slip-on design
Faux fur lining for added warmth
Non-slip rubber sole
Suitable for hiking
Cons
The sole may be slightly heavy for some.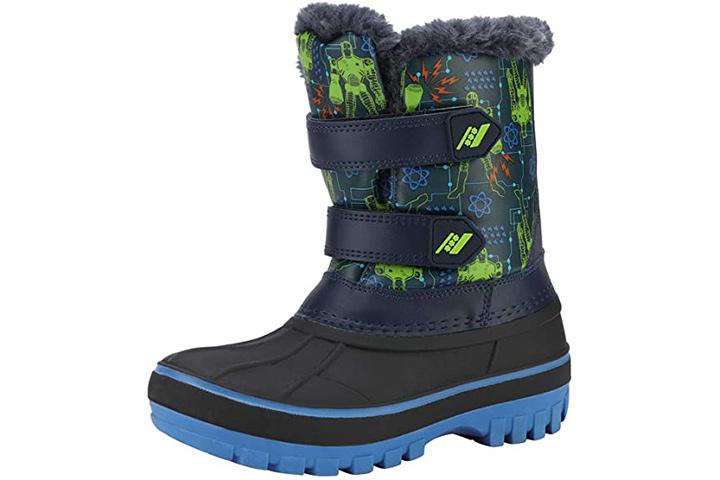 Dream Pairs is a preferred brand when you're on the lookout for the best winter boots for toddlers for many reasons. These boots last many winters, are easy to clean, and feature reflective safety patches. They also ward off a range of environmental elements like snow and moisture from sticking to the boot. That way, children can build a snowman or roll snowballs while staying warm and comfortable.
Pros
Zipper closure
Sturdy outsole
Round toe for added comfort
Durable
Cons
The Velcro may allow only a little adjustment.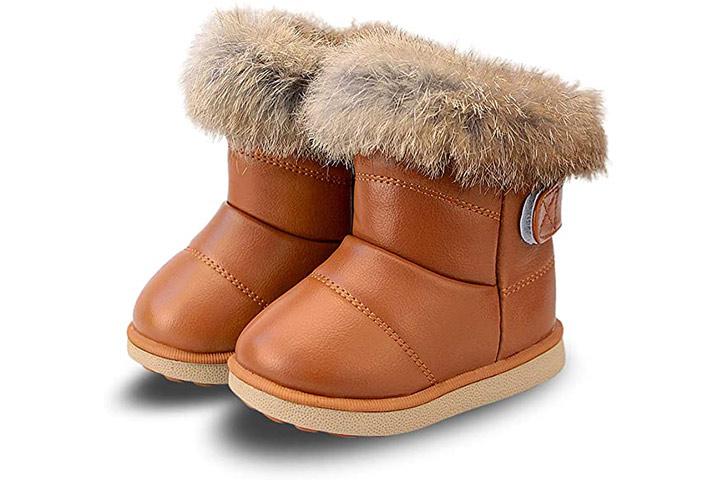 These boots can be a worthy addition to your kid's winter wardrobe to keep off the coldness in style. They have a hook and loop design to avoid the hassle of tying laces to secure the boots in place. The plush fur makes the boots look super cute and pack warmth for delicate little feet. When the boots get visibly dirty, just use a damp cloth to wipe them clean.
Pros
Easy to wear
Waterproof
Plush faux fur lining for insulation
Offers good grip
Cons
The fur may shed after extended use.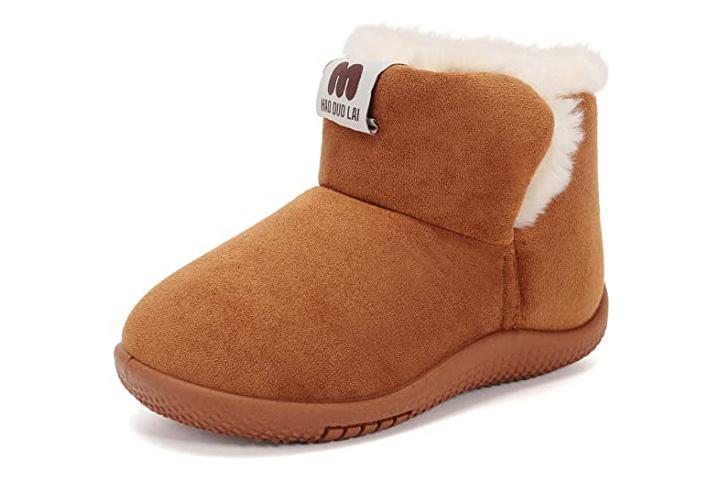 The Keesky toddler winter boots have wear-resistant rubber outsoles and are lined with plush faux fur on the inside to retain warmth at all times. Made from a waterproof material, they boast a no-lace, hook and loop design so that little kids can effortlessly slide their feet into them. They're also anti-snow and wind, which makes them one of the best winter boots for toddlers.
Pros
Breathable
Features a non-slip TPR rubber sole
Skid-resistant
Lightweight
Cons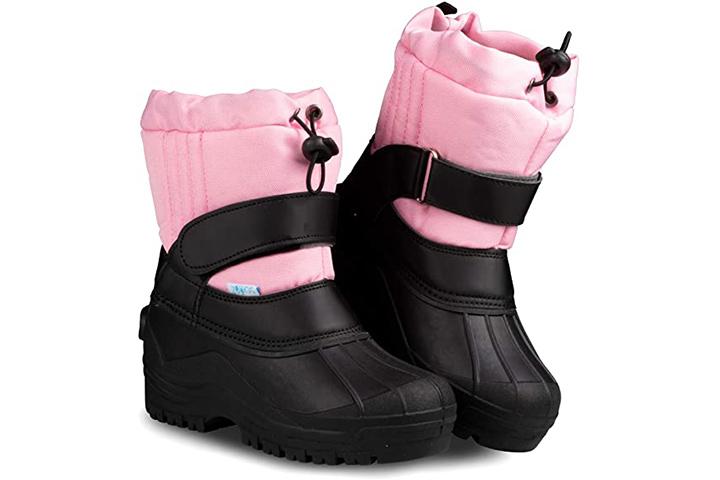 It's no surprise that the Zoogs snow boots are one of the best-selling ones as they are quite durable. They're made from lightweight plastic and have rubber soles, which makes them waterproof. They also have a Velcro strap for added grip. They're available in an array of colors so you can match them with your toddler's outfit if your little one takes fashion too seriously.
Pros
Fast-drying
Features a pull-string
Flexible
Sturdy
Cons
May make stomping sounds on the hard floor.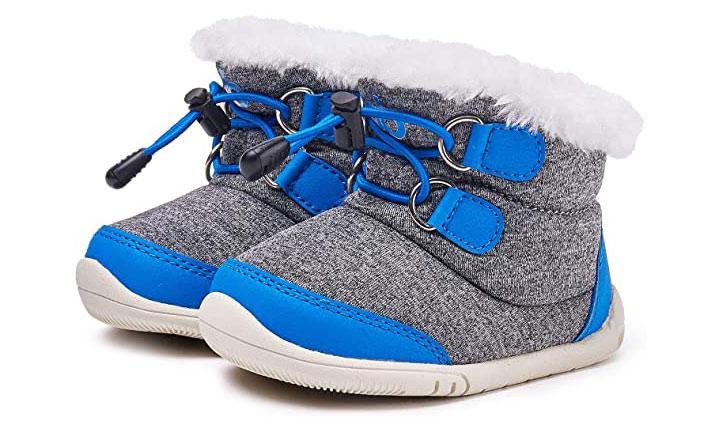 These adorable toddler winter boots are super soft and lightweight to give your little one comfort-packed treading when it's freezing. This pair of boots has laces in the design of pull strings that are stretchable so that the boots accommodate your child's feet snuggly. When you invest in these cute little boots, your toddler will experience lower instances of falls and stumble, and more fun and safety.
Pros
Crashproof
Non-slip soles
Faux fur insoles
Flexible
Cons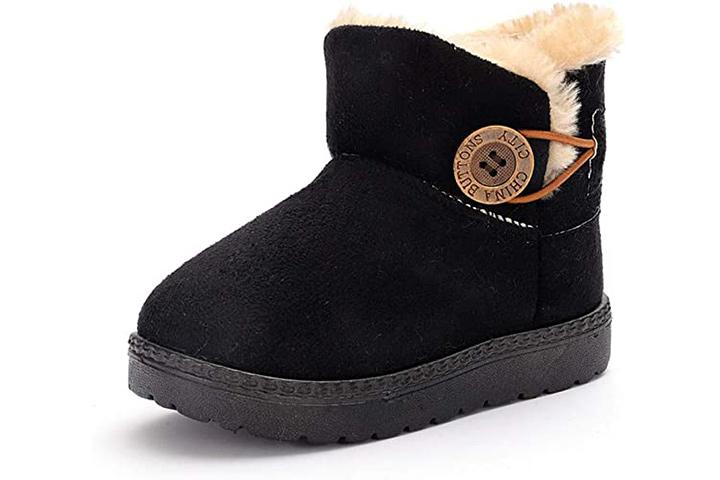 The E-FAK snow boots offer enough room for movement of the feet and are light in weight. They're made from cotton and can be worn all day long. These boots are a preferred choice in terms of safety as they provide protection from collision. Each boot has a cute button that makes the boots more stylish. If you're looking for a pair of boots that can be conveniently worn everyday to school, casual walks, or even inside the house, these boots would fit your requirements.
Pros
Made from breathable suede fabric
Non-slip sole
Skid-resistant
Many color variants
Cons
May need frequent cleaning
It is crucial to know which features make winter boots suitable for your tiny tot, because your decision would decide how comfortable your child feels while wearing them. This is why we've compiled a brief yet useful buying guide that'll help you make an informed choice. Read on to know more.
How To Choose The Best Winter Boots For Toddlers?
The ideal type of winter boots for toddlers are ones with Velcro straps or pull-strings. If you purchase a pair with laces for your child, you might have to tie them several times in the day and they might even be hard to put on and take off. Buying boots that are easy-to-wear can also help you train your kid to be self-reliant.
While boots that fit oddly can cause your toddler's feet to be cold or crammed is one problem, most children create quite a fuss when wearing ill-fitted shoes and boots. Moreover, when you go through different sizes and invest in a pair of boots that are the right fit, they'll help trap and retain the warmth. Your kid will feel comfortable walking in them, and this would also prevent stumbling.
It is important to check the material or make of the insoles. The most common material used in winter boots is faux fur as it helps keep the feet warm irrespective of how cold it is outside. If not faux fur, look for other alternatives like shearling or thinsulate lining and ensure that the boots are meant for cold weather.
If there is a build-up of snow on the boots, it would inevitably mean leaky boots. To make sure your child doesn't have to go through the discomfort of wearing boots that are wet and cold, make it a point to buy a weatherproof pair of toddler winter boots.
The boots that you buy for children should always be skid-resistant, especially when you're out in the snow or walking on slippery surfaces like tiles in the malls. You wouldn't want your little one to slip and have a bad day, so definitely look for winter boots with anti-slip or anti-skid soles.
If you're not someone who'd want to invest in a new pair of winter boots, durability should be a major factor. Even if that's not one of your main priorities, would any of us mind buying a pair of winter boots that last several winters and are worth every penny that we pay?
Frequently Asked Questions
1. Is boot size the same as shoe size?
No, shoe size and boot size can be entirely different for the same person. Too many factors play a role in deciding which size of boots are right for you— from the manufacturer to the type of boots.
We hope that our list of the 17 best winter boots for toddlers helps you set your mittens on a pair that pleases your child. We made sure to talk about the most practical, stylish, and durable boots so that no amount of snow keeps your kiddo from hitting the roads in winters or missing out on the most exciting winter activities. After all, not everyone is blessed to be able to enjoy the perks of living in a snowy region.