A stylish winter coat is a must-have in every woman's closet to dress for the cold months.This cool outfit makes winters more fun and fashionable. Designed to keep you comfortable and warm, the perfect coat should fit you right.
For staying cozy this winter season, go through our list of the best winter coats for plus-size womenand buy one that you like.
Top 17 Best Winter Coats For Plus-Size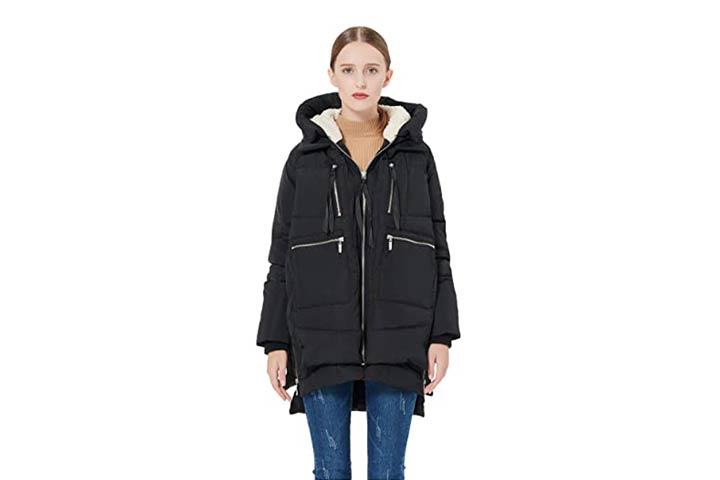 Enjoy winters with this warmest winter jackets for women. Made of 100% polyester lining, 90% duck down, and 10% duck feather sleeve filler, this long coat for womenhas a windproof design with a hood. It comes with ribbed knit cuffs, extra soft lining, and side zippers. The six big pockets add more comfort to this plus-size down coat.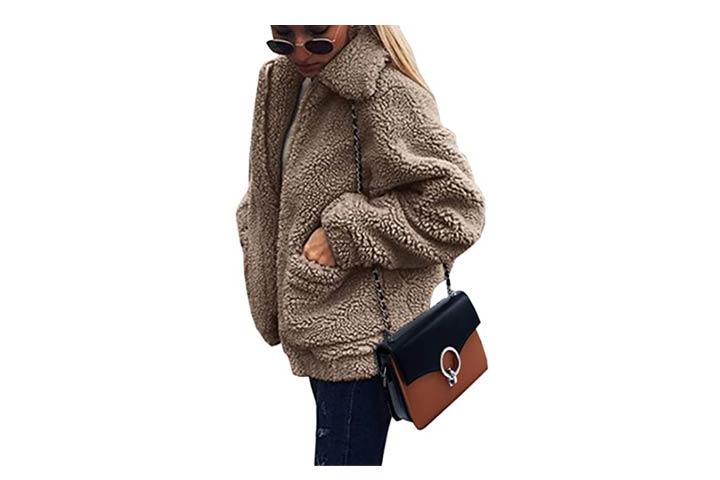 A fuzzy fleece coat is just what you need to make your winters more fashionable and comfortable. It is made of a chunky soft and comfy material. Designed for winters and autumn, it is a stylish jacket to wear when you travel, party, go shopping,or school. It is available in sizes ranging from S to XXXL and in seven different colors.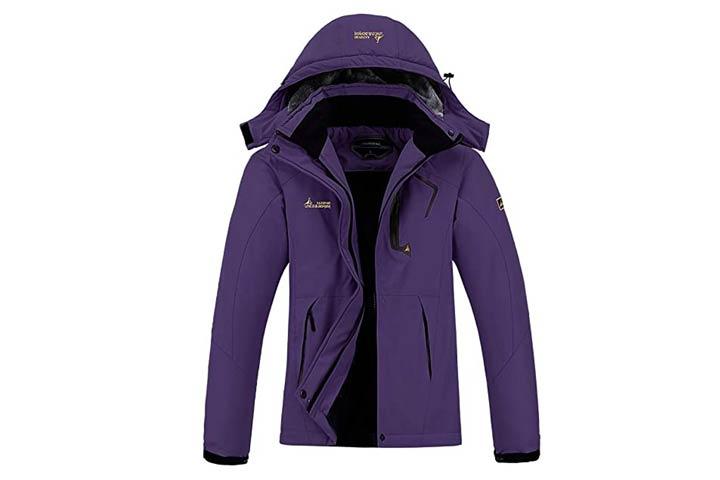 Featuring fluff lining, adjustable cuffs, and stretchable glove holes, this snow coat makes a perfect trendy plus-size jacket. It comes with a water-repellent finish, making it a waterproof and windproof coat to keep you dry and protected in misty and windy weather. Having a relaxed fit, this multipurpose jacket is suitable for snow sports, snowboarding, and skiing.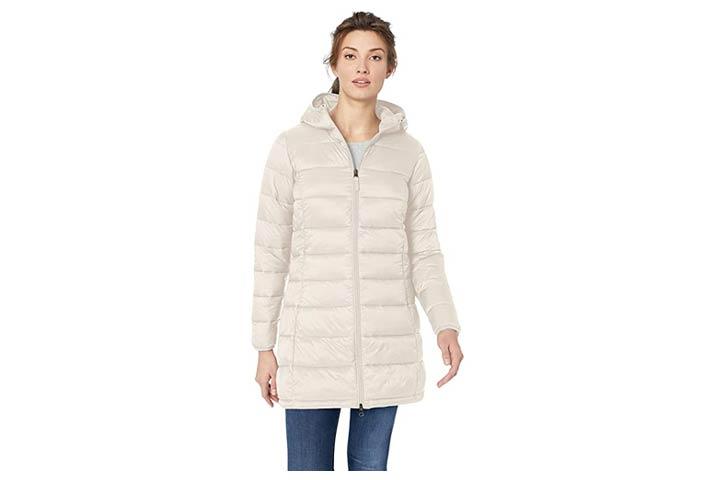 Dress in style and comfort with this puffer jacket made of 100% polyester lining, shell, and fill. It is an extremely lightweight women's winter dress coat with zipper closure, hood, zip pockets, and elasticized cuffs to keep you covered in the cold season. The puffer coat comes ina carry bag having a drawstring closure for neat and easy storage.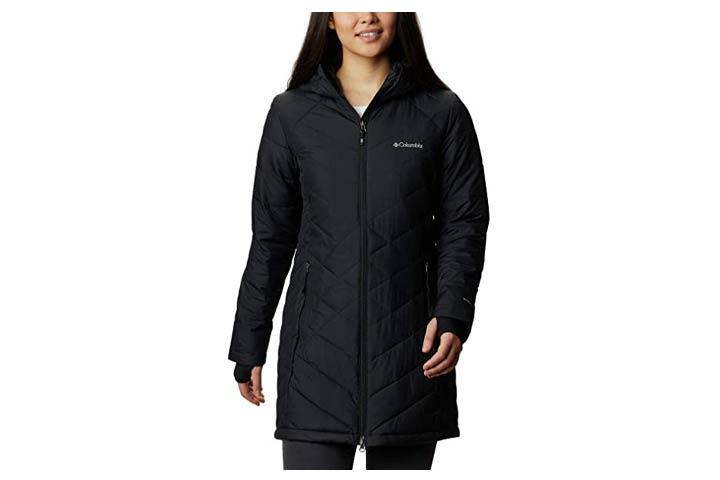 Get ready for winters with this winter coat having thermal reflectivity, synthetic insulation, and cuffs with thumbholes. It is a 100% polyester long jacket with a hood, zippered pockets, and interior security pocket. This water-resistant and lightweight winter coat keeps youalways protected when the temperatures are dropping.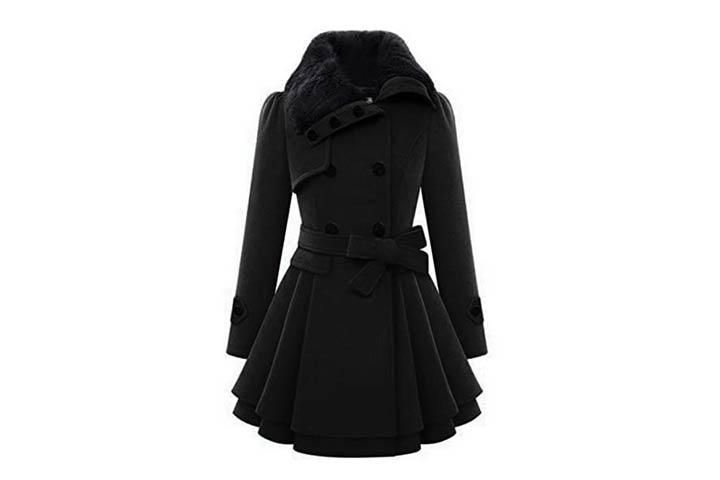 The ZeagooWool-Blend Trench Coat makes perfect outerwear in winters and autumn seasons. It has a double-breasted design with a belt, double front buttons, and buttons on the cuff and back. Having a feminine cut and faux fur turn-down collar, this plus-size coat for women makes great wear to work, outdoors, and parties.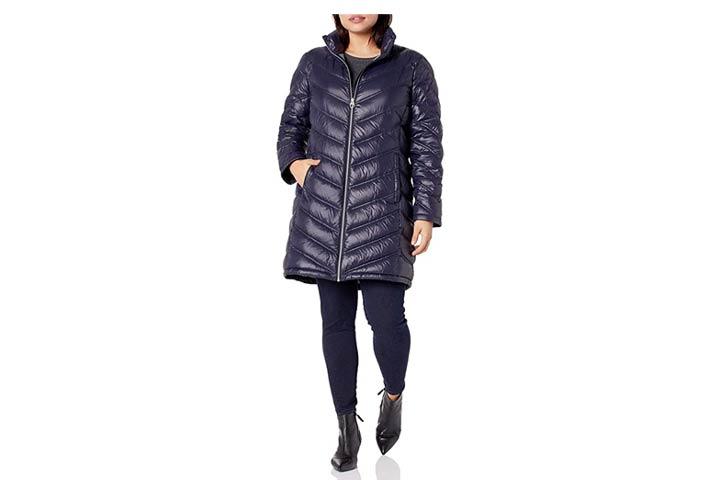 Made of 100% nylon, this is one of the best winter coats for plus size people. It comes with a front zipper and a stand-up collar to offer complete protection from cold temperatures. There are two side pockets for added storage.This jacket packs with ease into a drawstring pouch for easy traveling and storage.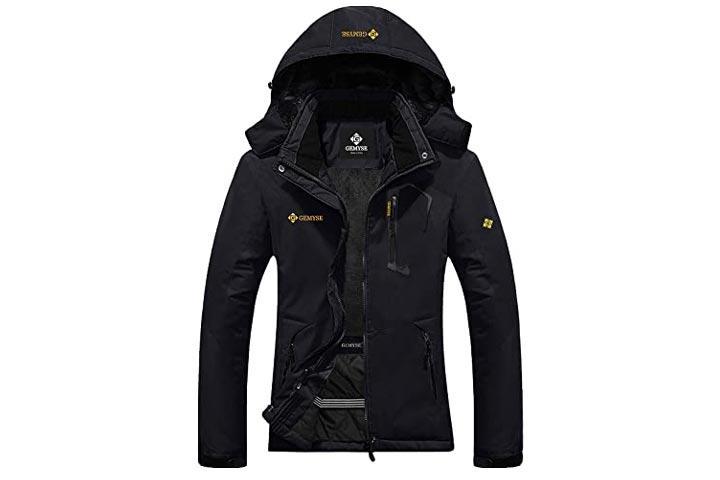 Get ready to face the most challenging winters with this relaxed-fit insulated coat. It is a warm and comfortable plus-size women's winter coat ideal for snow, mountaineering, hiking, and camping. The water-resistant jacket with a thick fleece lining keeps you protected. It comes with a water-repellent coating and zippered pockets for additional comfort.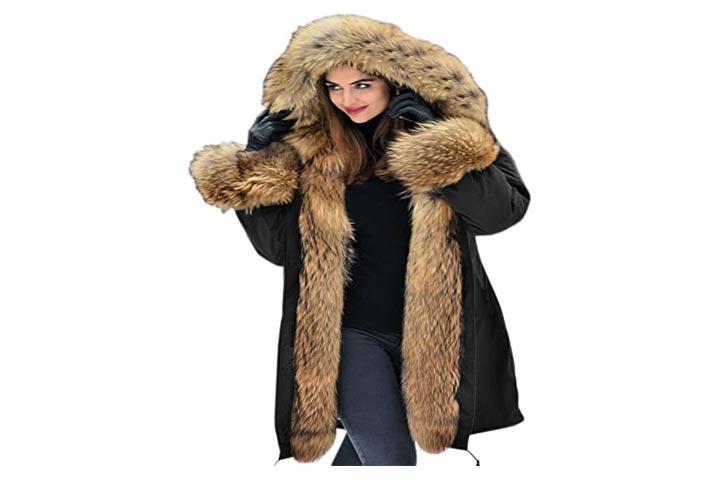 A full-length coat made of 20% polyester and 80% faux fur makes your winters stylish and comfortable. This plus-size coat hasfur trims around the hood, sleeves, and collar. Witha button closure and pockets on two sides,  it is the perfect warm clothing for the cold season.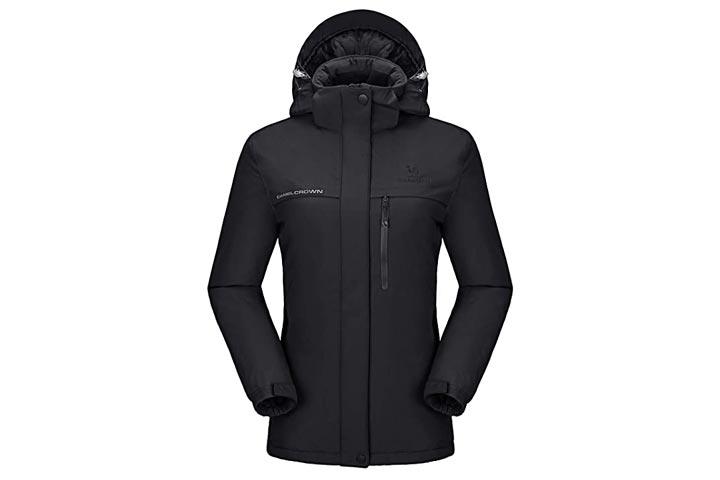 The Camel Crown waterproof and windproof jacket makes your winters comfortable. It is made of dense textiles and comes with a detachable hood, which protects your head and ears from the cold. Having two zippered pockets on the side, stretchable gloves with thumbholes, and adjustable cuffs, this makes a suitable coat to enjoy snow sports without having to worry about the chill.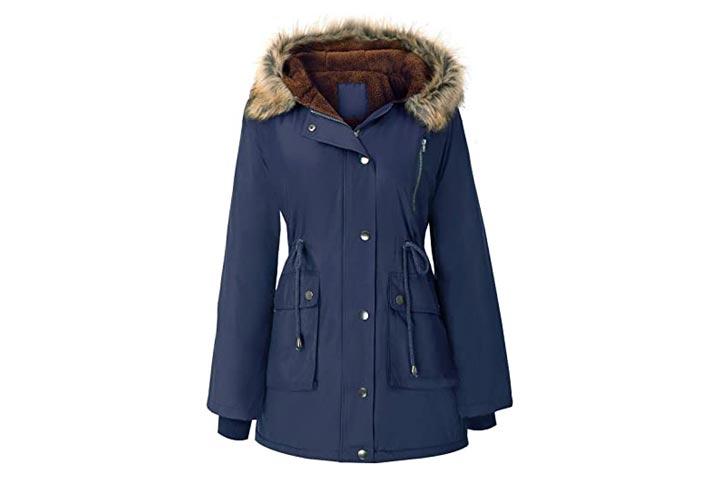 Designed for outdoor sports, hiking, skiing, and casual wear, this plus-size coat comes with cotton padding and fleece lining for cozier winters. The deep hood with faux fur lining and adjustable drawstrings around the waist promises a good fit. It has long sleeves with fixed gloves and two side pockets to keep you protected and covered in the winter season.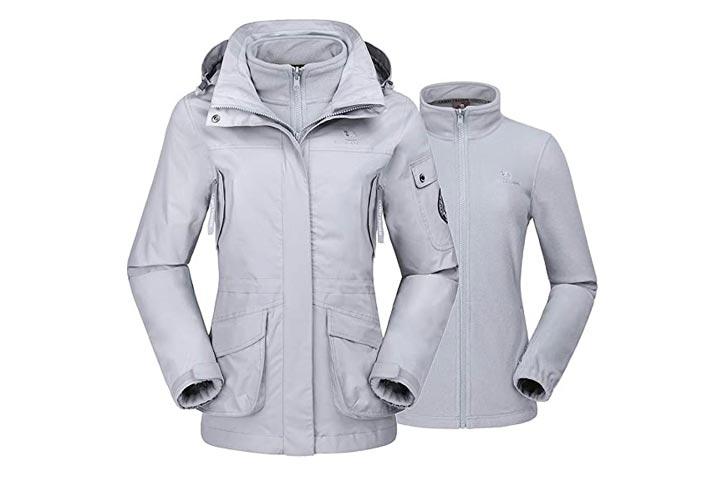 With a fleece jacket inner, this three-in-one waterproof coat keeps you warm on rainy or snowy days. The coat and inner can be worn together or separately, giving you all-season outerwear in your closet. It is made using military-grade Teflon and comes with a seamless zipper and adjustable windproof hook. The adjustable cuffs with Velcro, stand collar, and hood promise warmth and comfort.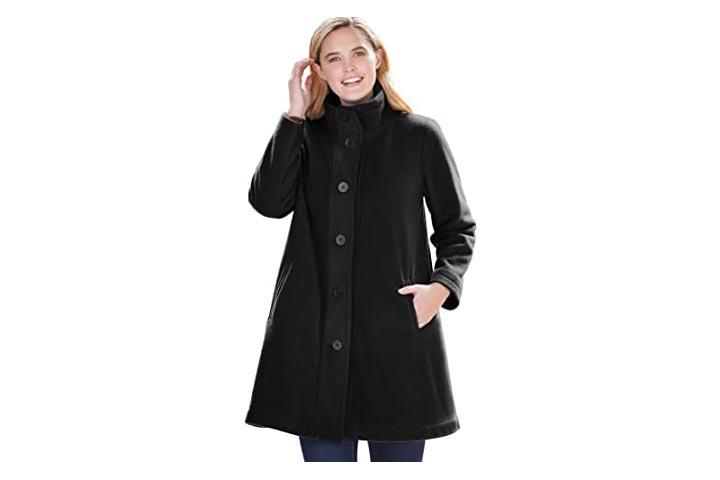 This plus-size swing jacket with a funnel neck is a fully lined coat that extends to the lower thigh. The A-line shaped fleece coat is soft and comfortable to wear. It comes with a stand collar, button-down front, and side pockets to keep you warm. This feminine style jacket is a perfect pick to dress smartly in the cold season.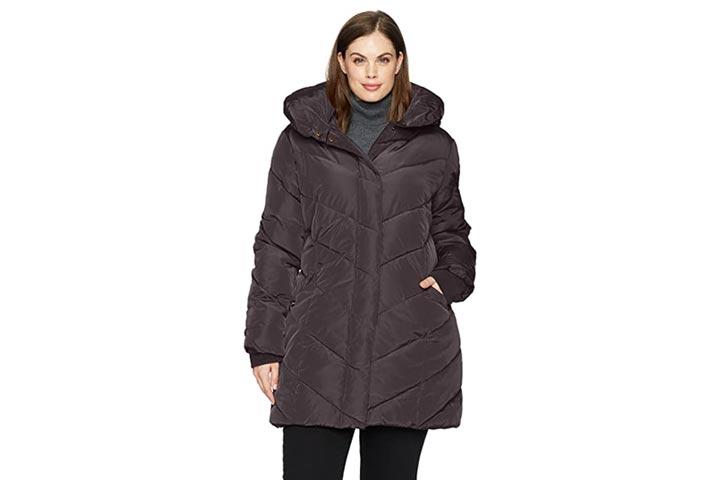 Steve Madden'scozy and warm puffer jacket promises the best of comfort in winters. Made of 100% polyester, it is a lightweight coat with a zipper closure. It is available in four colors and three plus-sizes. The wrist liners protect the cold from getting inside, and the collars keep the neck and ears warm.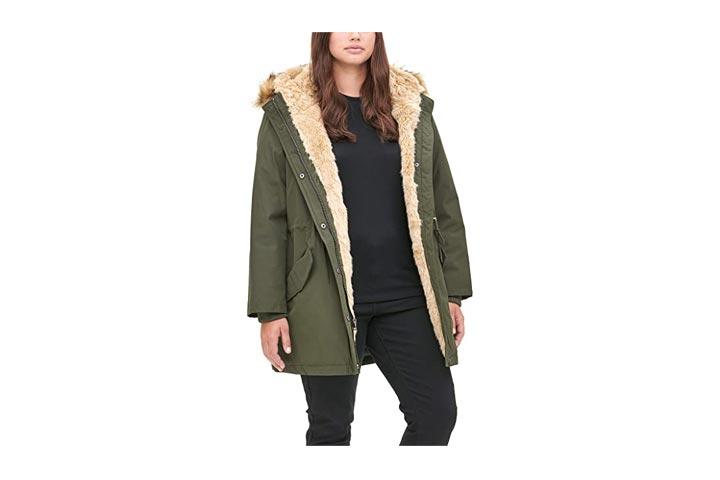 Made of polyester and cotton, this jacket is coated with a water-resistant shell. It has a front zipper with snaps and an adjustable drawstring for a better fit. The faux fur trims around the hood add extra warmth and the two spacious pockets with snap closure provide ample storage.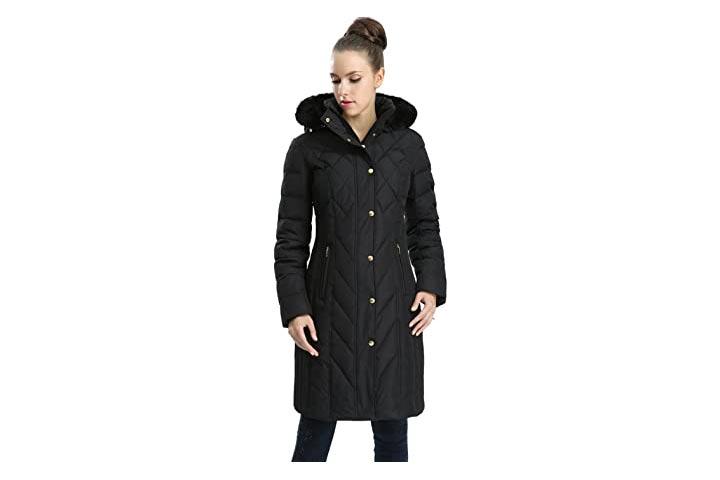 Keep your winters sorted with this winter coat made of 100% polyester with down and feather filling. It comes with front zipper closure, snap placket, two interior and exterior pockets. The removable hood adds to the convenience of wearing this insulated, waterproof, and windproof jacket for different outings.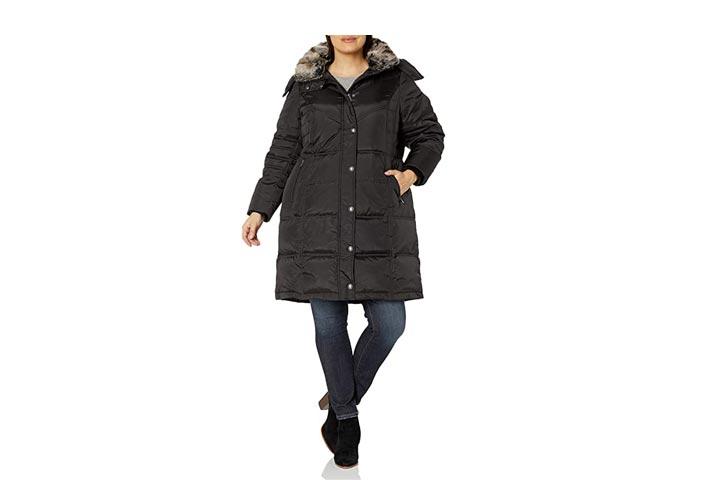 A mid-length coat with quilted panels makes a comfortable winter down coat for plus-size women. Having a 100% polyester shell and lining and 100% fiber body and sleeves, this coat comes with a zip front and a snap placket. The removable collar with faux fur and zipped hood makes it convenient outerwear.
How To Choose The Right Winter Coat?
Here are some important features to consider while shopping for a winter jacket.
Winter protection: Considering the temperature in your region, look for a suitable winter-ready jacket.
Water-resistant: Get a water-resistant coat if you stay in a region where freezing rains are common during winters.
Versatility: Go for winter coats that can be worn in different situations. A winter coat that can be worn to dinners, work, college, or shopping is always a better choice than a coat that is specific to one situation only.
Weight:Look for lightweight coats as they allow easy movement and promise convenience.
  Fitting: Depending upon your body's shape and size, consider the coat's fitting. For instance, A-line coats with drawstrings promise a better fit.
There is a wide range of choices for plus-size women that rank high on warmth, comfort, and style. Pick the perfect winter coat that keeps you sorted for the cold season. Use the buying guide to make choosing one easy.
Recommended Articles: