We all love winters, the cozy mornings in bed, and hot cocoa at night. While we gear up for the season with woolens and room heaters, we need to get the protective gear for our outdoor spaces too. If you have a pool at home, you need an extra layer of protection to keep away the debris and protect it from damage. Whether you have an above-ground or in-ground pool, a safety cover is a hassle-free way to maintain it and keep it ready for summer.
A good quality pool cover will protect it from algae growth, maintain the water's pH balance, and prevent accidents. We bring you a list of the best winter pool covers that fit pools of different sizes.
11 Best Winter Pool Cover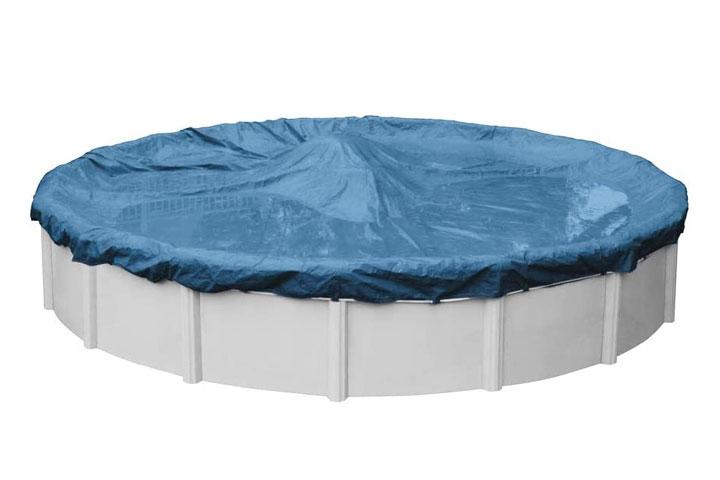 The Robelle above-ground cover is made of sturdy polyethylene to keep a 24-foot round pool safe from harsh winter elements. It is treated on both sides to provide dual-protection from harmful UV rays and prevent algae growth. The edges are strengthened with double-chain stitching, making it weather-resistant. The heavy-duty scrim count of 8×8 makes it a reliable option.
Pros                                                                                                                   
Useful for harsh-weather elements
Easy to install and remove
Four-foot overlay
Does not allow water to pass through
Comes with a winch and cable
10-year warranty
Cons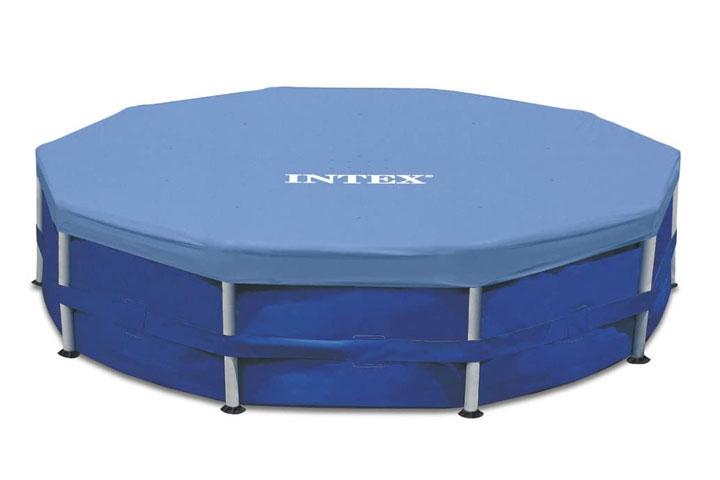 If you have a round pool, the 15-foot Intex round metal frame cover can be ideal. The well-placed drain holes prevent the collection of rainwater. This 10-inch coverfits snugly on the frame of the pool, making it easy to install. It comes with a user-friendly rope to fasten the cover securely and prevent wind damage.
Pros
Prevents water accumulation
Easy to install and durable
Convenient rope tie included
Prevents debris collection
Cons
Grommets are not included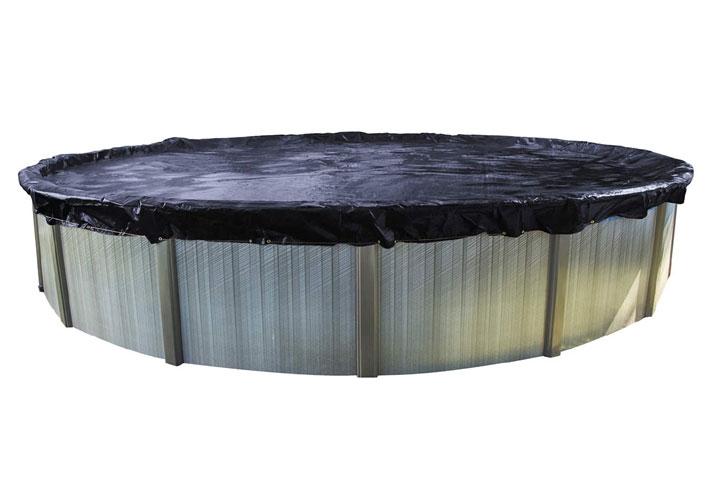 The above-ground cover is made of a heavy-duty scrim,a good choice for a 24-foot round pool. The triple-laminated polyethylene protects the water from harmful UV rays. It is durable and works effectively to protect from harsh winter conditions. This lightweight pool cover is easy to install and ensures your pool is well covered throughout the winter.
Pros
Eight-year warranty
Easy to install
Keeps the pool debris-free
Comes with cable and winch
Cons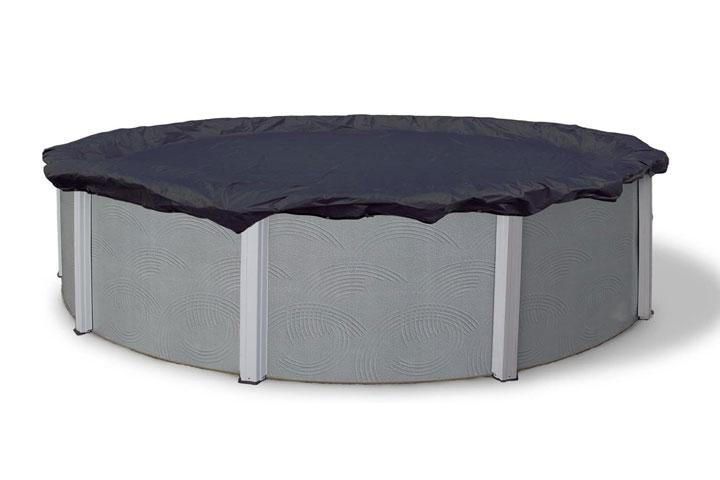 The Blue Wave pool cover for an 18-foot above-ground pool is made of sturdy polyethylene material and has tightly woven long-lasting strands to survive the harshest winters. The metal grommets secure the cover, ensuring no rips and tears. Direct sunlight will not affect this artic armor cover as it is UV protected. This cover provides a snug fit with a four-foot overlay and a black underside that arrests algae's growth to give you a sparkling clean pool in spring.
Pros
Eight-year warranty
Prevents algae growth
Comes with cable and winch
Easy to install and remove
Cons
Seams may tear if not installed properly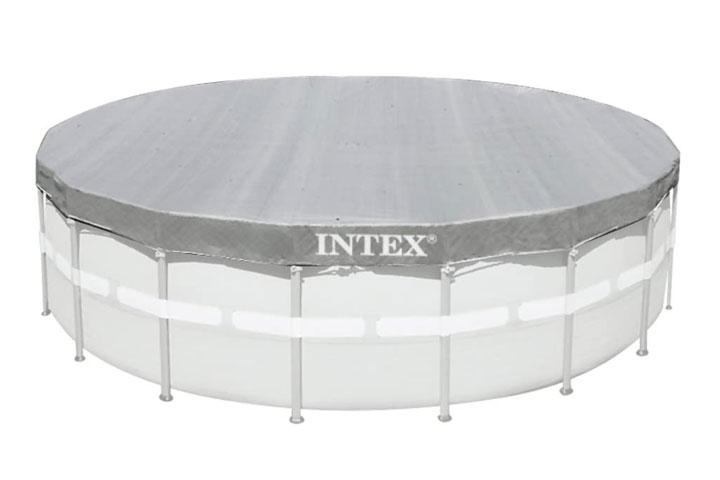 Use the Intex deluxe pool cover to protect your 18-foot round pool from the ravages of the winter. This sturdy pool cover is made of UV-resistant polyethylene that will prevent damage from the sun, wind, rain, and snow. The eight-inch overhang provides a snug fit once it has been secured with the rope ties. Its built-in drain holes make sure that the rainwater is not accumulated on it.
Pros
UV-resistant
Convenient rope
Prevents water accumulation
Quick-release clamps
Cons
Eyelets are too close to the edge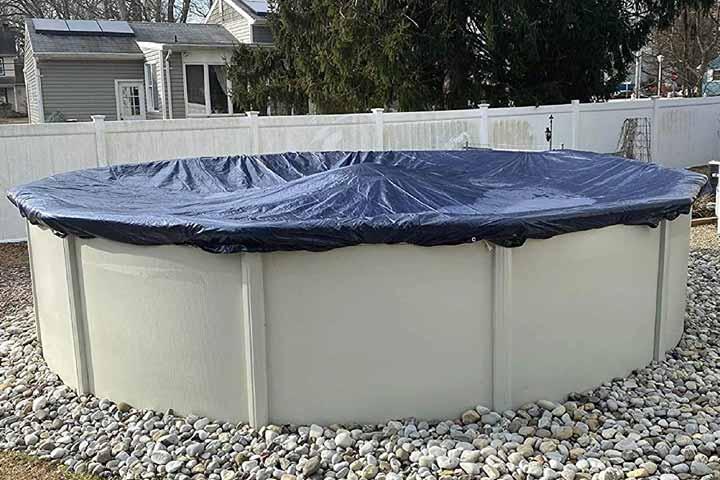 The Winter Block pool cover with a diameter of 21ftis an ideal choice to keep your 18-foot above-ground pool in good condition until next spring. It is made of laminated UV-treated polyethylene material with high-density stitching to protect the pool from leaf debris, wind, melted snow,  sun rays, and rainwater. The 7×7 scrim makes it durable enough to withstand extreme winter conditions.
Pros
Includes perimeter grommets, winch, and cable
Easy installation
Provides UV protection
Lightweight with a tight weave
Cons
Grommets may tear off easily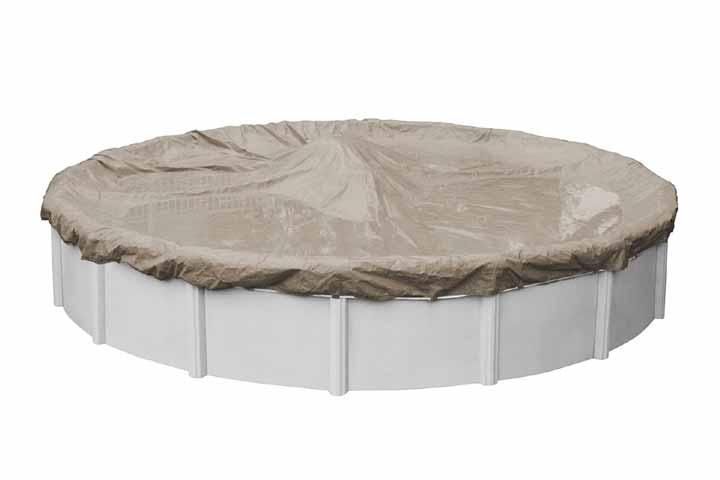 The Pool Mate sandstone cover is designed for a 24-foot round above-ground pool. It is a high-quality cover with heat-sealed seams that will not come apart under the stress of heavy snowfall or seasonal rainfall. It will cover your pool with no pull and stress on the fabric, thanks to its four-foot overlay.
The durable UV-treated material doesn't let water through and blocks the inhibit algae growth. If you are looking for an attractive and heavy-duty cover to last many seasons, this cover fits the bill.
Pros
Includes a winch and cable
15-year warranty
Prevents algae growth
Easy to install and remove
Cons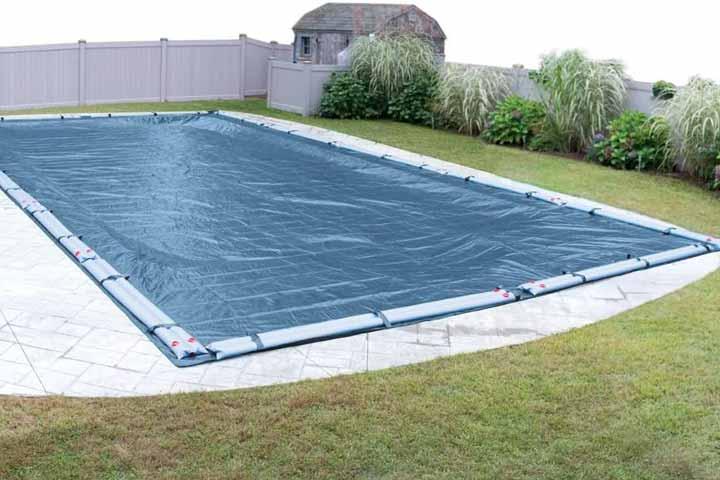 The Robelle Super pool cover with five-foot overlap is suitable for a 20x40ft rectangle in-ground pool. It floats conveniently on the water without any tension and stretching damage while protecting the pool from harsh winter elements. The heavy-weight polyethylene, 8×8 scrim, and reinforced edges make it a durable option. This imperial blue UV-treated cover protects from sun damage and has a black underside to prevent algae.
Pros
Protects from UV rays and algae growth
Ten-year warranty
Easy to install and remove
Doesn't let water pass through
Cons
Doesn't have metal eyelets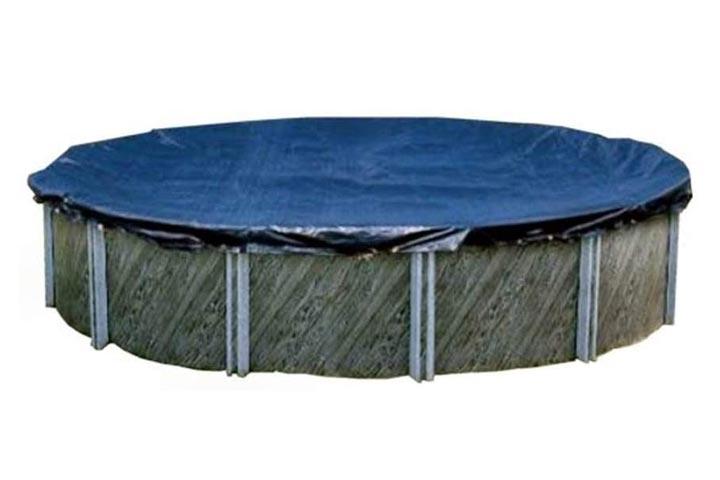 The Super Guard pool cover made of laminated polyethylene fabric with high-density polyethylene stitching keeps the water in your 18-foot above-ground pool crystal clear. The UV-treated cover protects the water from the harmful effects of sun rays. Its tightly woven 8x8scrim is sturdy enough to last extreme weather conditions by keeping debris and rainwater out.
Pros
Includes winch and cable
Easy to install and remove
Eight-year warranty
21-foot diameter
Easy cleaning
Three-foot overhang
Cons
Grommets may not be durable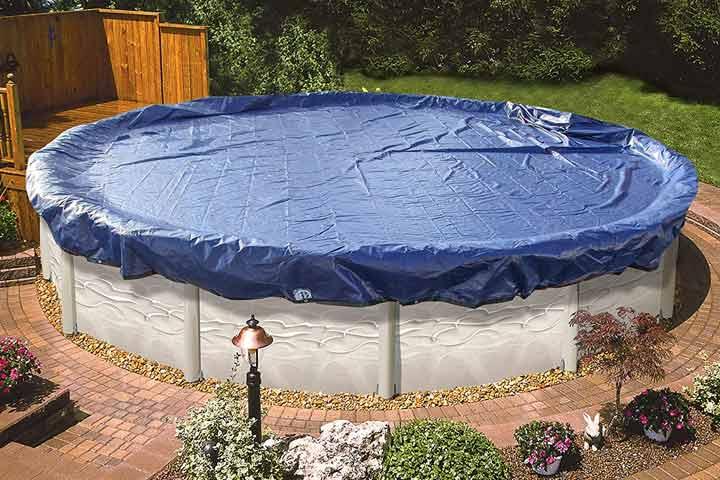 The Yankee Pool cover is fortified on all fronts to ensure your 18-foot round above-ground pool survives the worst winters. The heavy-duty 14×14 scrim count with 185GSM and UV coating make the cover sturdy and long-lasting and give you sparkling clean water next spring. The four-foot overlay with a black underside keeps your pool safe from dirty rainwater and algae formation. With a sturdy winch, specifically made to be easy on your hands and extra strong grommets, this cover can be easily installed.
Pros
Prevents algae growth
Fortified grommets
Easy to install
Thicker handle winch
Cons
Seams may come apart under extra stress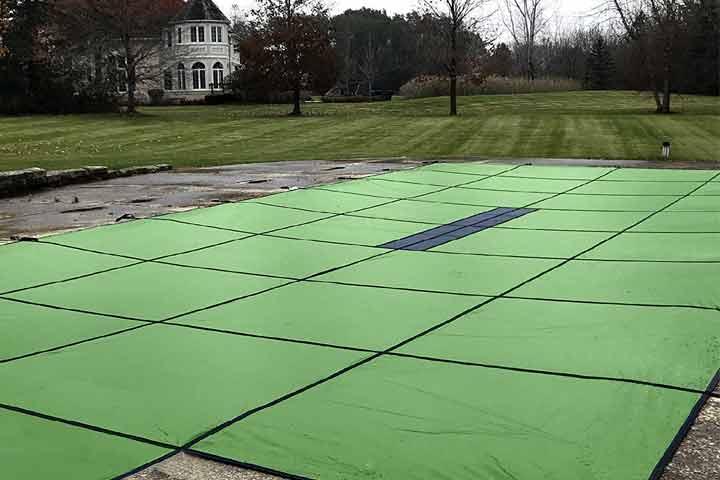 The safety cover from Water Warden features a two-ply triple-stitched strapping to protect your 16x32in in-ground pool in all weather conditions. It will give you full coverage from weathering with a break point of over 4000lb and corrosion-resistant pads. The two-foot overlay provides adequate coverage, and the solid brass anchors fit perfectly into the pool deck, eliminating the chance of tripping.The UV-treated polyethylene blocks 99% sunlight to prevent algae growth.
Pros
Installation hardware included
UV-treated and handcrafted material
20-year warranty
Durable and safe
Cons
Could be heavy
Professional installation required
How To Choose The Right Winter Pool Cover?
Here are some essential points to keep in mind when choosing a winter pool cover.
Types: You can choose from standard winter covers, solid safety covers, mesh safety covers, automatic pool covers, hybrid safety covers, and solar pool covers.
Overlap sizing: The extra material beyond the pool's size is the overlap. There should be adequate coverage without stretching it too much to cover the pool fully and conveniently.
Dark covers: The black underside is essential to prevent algae growth;else, you will have a layer of green growth on your pool water by next spring.
Accessories: Most covers come with their accessories, but it is important to check their quality for easy and secure installation.
Others: Choose a cover that prevents the debris from going into the water,covers the air bubbles for the long-term as they promote algae growth, and has a warranty.
How To Install Winter Pool Covers?
Follow these steps for long-term benefits when installing the pool cover.
Prepare the pool: Clear the pool of all debris such as bugs, leaves, and pine needles as these can clog the skimmer.
Reduce the water level: Ensure the water level is below the skimming level to prevent damage to the skimmer from freezing.
Balance the water: Add the required chemicals to the water to ensure the chlorine levels are maintained. This will preserve the water quality till next spring. Remember to test the water with a chemical test kit.
Drain pool equipment: All other pool equipment like filters, pumps, and heating systems need to be drained.
Place the pool cover: Two people are required to spread out the cover. The overlap will help to make sure it is even on all sides.
Thread and winch the cable: Secure the cover on all sides by threading the cable through the grommets or loops provided.
Protect against wind whip: High-speed winds can cause significant damage to your pool and reduce the effectiveness of the cover. To counter this, place wall bags along the perimeter of the pool or use pool clips.
Frequently Asked Questions
1. Can I empty my pool in winter and fill it in the spring season?
No, you should not drain your pool in winter as this can increase the chances of damaging the insides of the pool. Harsh winter conditions cause peeling and erosion of the plaster in an empty pool.
2. How do we cover an above ground pool with a winter deck?
Add water bags around the perimeter to cover an above-ground pool with a winter deck. The water bags are designed to secure the cover in place. Also, form a web with the elastic cable before placing the cover.
3. How to clean a winter pool cover?
Clean your winter pool cover every three to six months to remove the dirt and debris. Spray water with a garden hose and then scrub it with a pool brush using an extra mild detergent. Rinse it once more and let it sundry.
Having a pool at home is a big responsibility. And during the winters, when you are not using it, it becomes essential to protect this investment, which adds value to your property. A pool cover works efficiently to keep the water clean and is the most cost-effective way of maintaining it. Compare the products from our list of the best winter pool covers and pick one to enjoy winter bonfires without worrying about your pool.
Recommended Articles: