Working outdoors in cold winters can get extremely risky if you are not wearing the right work boots. Moreover, you will be exposed to various issues, such as cold, injuries, and frostbite. Take good care of your feet and keep them protected by wearing boots that safeguard against the chilly outside weather. This article lists the best winter work boots that provide comfort and protection to your feet during winters.
Different Types Of Winter Boot Insulation
Insulation for winter boots is of two types based on the material.
Natural insulation: Natural insulation includes down, shearling, or wool. It provides enhanced warmth and not as durable as synthetic insulation. It requires additional care and extra time for cleaning
Synthetic insulation: Synthetic insulation could be either Thinsulate™ or Thermolite®. Thinsulate™ is warm and thin. It is moisture-wicking, breathable, and gives double the glow of down. Thermolite® is as warm as down and without the mass. The insulated estimation of the two materials is measured in grams. The more the grams, the greater is the warmth.
Benefits Of The Work Boots For Winter 
Here are a few benefits of work boots for winters.
Warmth: Work boots can withstand extreme cold weather conditions. The insulated boots are structured to trap the warmth inside the shoes and are super comfortable to wear. 
Protection: They enhance the safety and protection against injuries. Outdoor jobs are prone to several hazards are taken care of with winter boots. 
Durable: Winter work boots are durable and can last long even when used in the snow and ice, without getting damaged. They are protected from wear and tear and ensure long-term use. 
Proper blood circulation: The blood circulation towards the feet generally reduces during winters. The winter work boots keep your feet warm throughout the extreme cold weather and restore proper blood circulation.
16 Best Winter Work Boots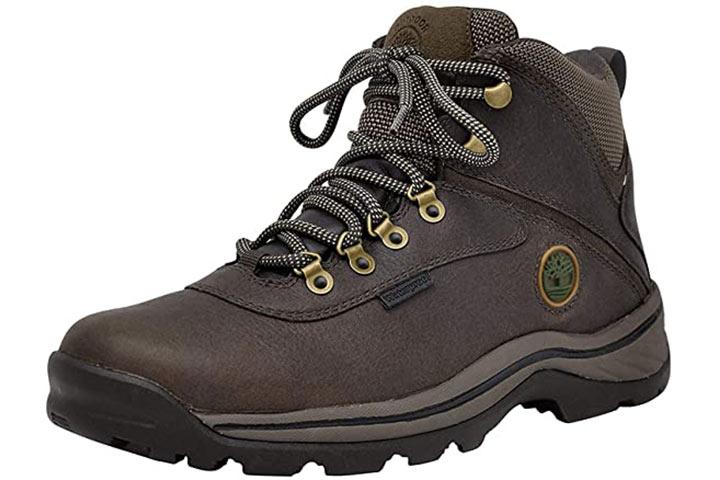 Timberland's white ledge boots are lightweight and extremely comfortable to wear. They are breathable and retain moisture with the seam-sealed waterproof construction, which also makes them breathable. The padding around the ankle is thick and comfortable, and the same holds for the gusseted tongue. It has a removable dual-density EVA insole, offering comfort. It is perforated for extra air circulation.
Specifications
Insulation: No
Material: Leather
Sole: Rubber
Closure system: Lace-up
Pros
Durable
Ankle support
Waterproof
Lightweight
Cons
May have traction related issues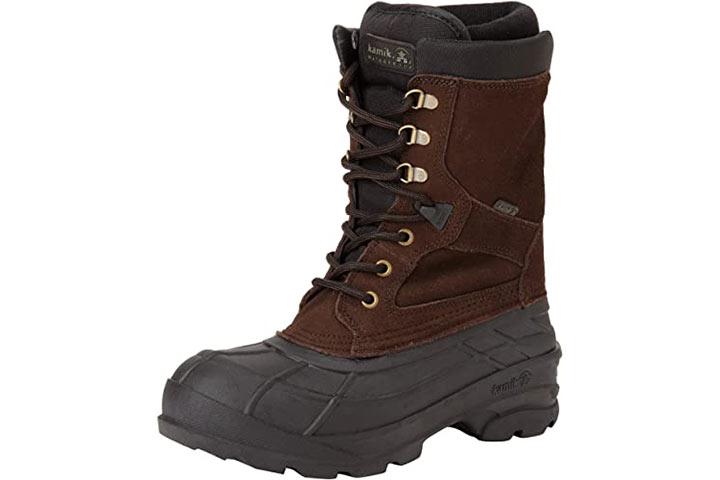 Kamik Men's boots are available in four different colors and protect your feet from extreme cold and low temperatures, up to -40°F. The boots are lightweight, waterproof, and seam-sealed. They have a padded and removable footbed and a rubber outsole. The moisture-wicking lining of the boots makes it reliable for outdoor jobs.
Specifications
Insulation: 200B Thinsulate
Material: Leather
Sole: Rubber
Closure system: Lace-up
Pros
Long-lasting
Padded lining
Waterproof
Great traction in snow
Cons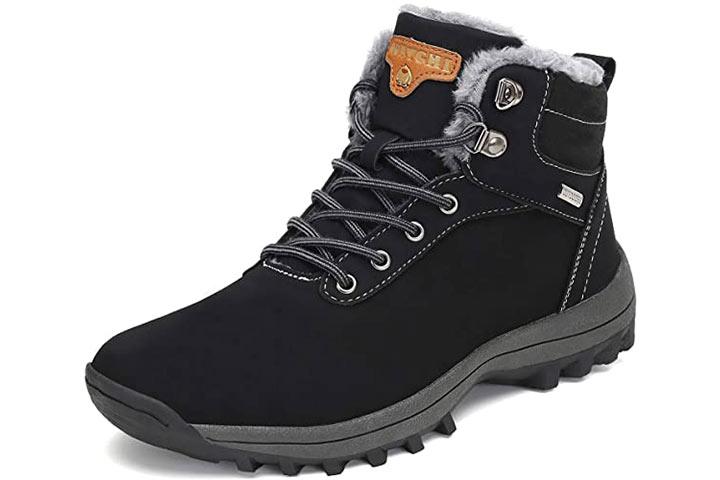 Mishansha offers top design boots made of leather with non-slip soles for excellent grip, making them apt for outdoor jobs. The boot's interior is covered with thick warm faux fur that provides warmth and comfort to your feet. They are water-resistant and have anti-collision toes that keep your feet protected and provide enhanced safety.
Specifications
Insulation: NA
Material: Leather
Sole: Rubber
Closure system: Lace-up
Pros
Comfortable to wear
Toe cap protects the feet
Superior grip
Extremely warm
Suitable for skiing, hiking, and long walks
Cons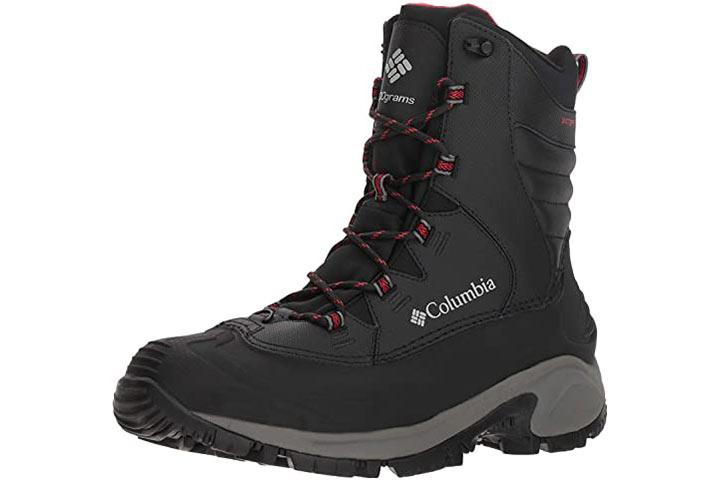 The Columbia Men's Bugaboot has an injection molded shell that prevents water or snow from seeping into the boot. They have 200 grams of insulation along with thermal reflective liners rated at -25°F/-32°C. It has a pull-on loop at the back for easy wear and a padded tongue and collar.
The Techlite cushioned midsole provides support and comfort, while the breathable textile lining keeps your feet moisture-free. The non-marking Omni-Grip Advanced Traction rubber outsole provides firm grip and traction on difficult and icy paths.
Specifications
Insulation: 200g insulation
Material: Leather
Sole: Rubber
Closure system: Lace-up
Pros
Excellent grip
Great traction
Waterproof
Protects from cold and snow
Cons
A little narrow at the heel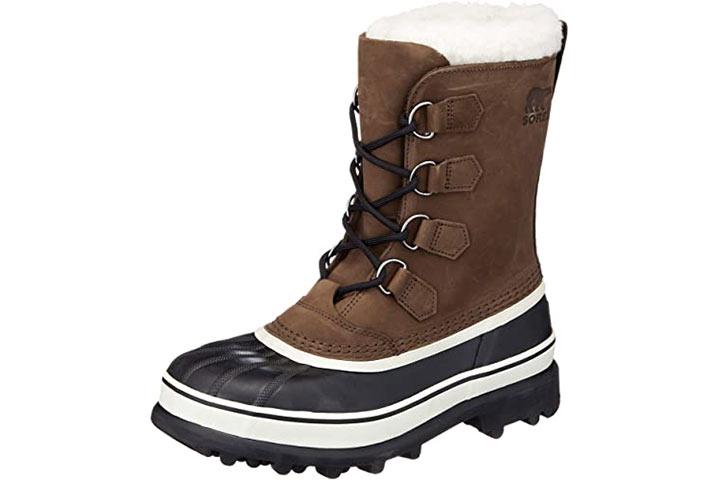 The Sorel Men's Boots are imported shoes with a synthetic sole. They feature waterproof, seam-sealed leather and removable inner boots that ensure enhanced protection and safety in extreme weather. The boot is insulated with removable 9mm ThermoPlus and has an acrylic/wool blend snow cuff, making it perfect to be worn on snow and icy surfaces.
Specifications
Insulation: 9mm ThermoPlus
Material: Leather
Sole: Synthetic
Closure system: Lace-up
Pros
Provide warmth and comfort in cold temperatures
Waterproof
High shaft limits exposure to the snow
Heavy-lugged sole
Cons
Offers limited arch support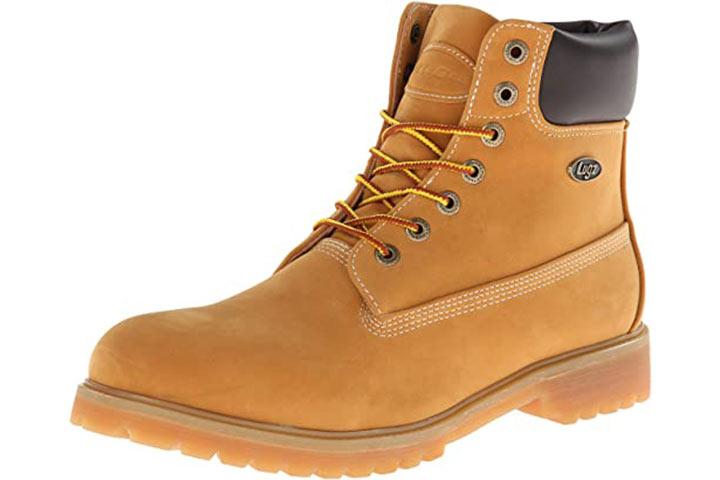 The Lugz Men's Winter Fashion Boots are sleek and water-resistant with cushioned insoles. They have padded collars and durable lug soles. The synthetic upper, textile lining, and rubber outsole together provide an excellent grip. The boots have a long shaft that doesn't allow snow or ice to enter inside.
Specifications
Insulation: NA
Material: Synthetic
Sole: Rubber
Closure system: Lace-up
Pros
Durable
Great traction
Provide warmth and comfort
Long Shaft
Cons
Some users report size issues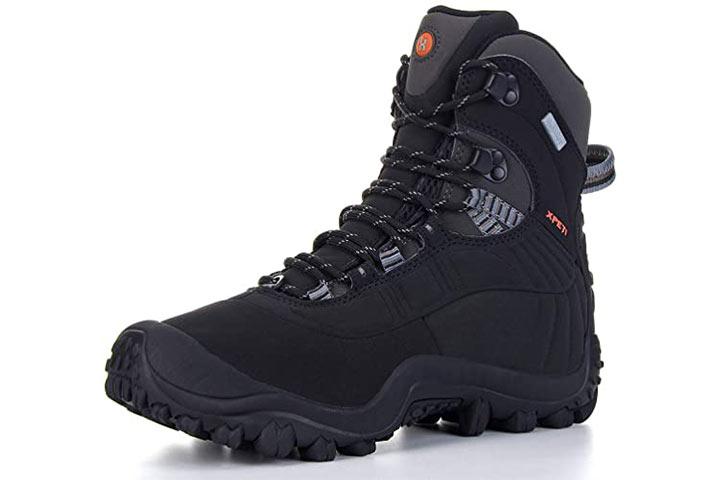 The Xpeti Men's Thermator Mid-Rise Boots are designed with a waterproof mesh upper and Hydroshield membrane that provides great support during hiking, skiing, and rough, icy terrains. The boots are made of 200g Thinsulate insulation and polyester fleece lining, making it suitable for the outdoors. The rubber toe caps and outsoles ensure enhanced safety and protection.
Specifications
Insulation: 200g Thinsulate
Material: Outsole – Fabric and synthetic
Sole: Rubber
Closure system: Lace-up
Pros
Keeps the feet cozy and warm
Sturdy
Lightweight
Waterproof
Offers firm grip on difficult paths
Cons
Fitting may not be true to the size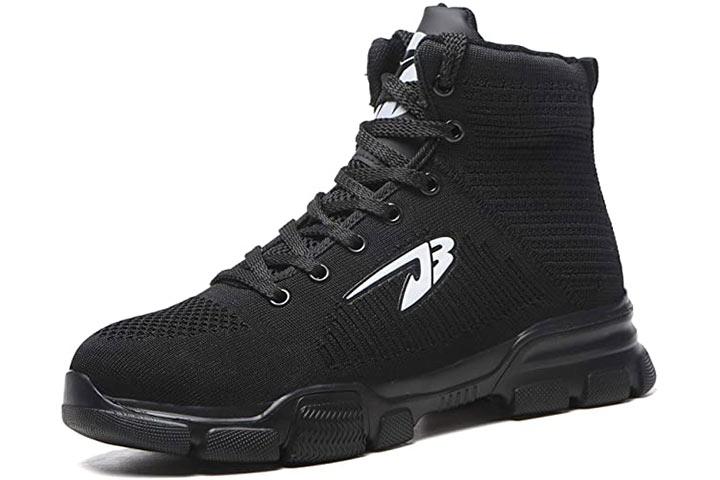 The Oristaco Steel Toe Winter Boot is made of a durable upper and has a classic lace-up closure with a rubber sole. The steel toe cap under the synthetic upper and puncture-proof Kevlar Midsole protect the feet from damages or injuries. The textile and fur lining ensures breathability for feet while keeping them warm. The non-slip polyvinyl chloride outsole material with treads is slip-resistant and provides traction on icy surfaces.
Specifications
Insulation: NA
Material: Synthetic
Sole: Rubber
Closure system: Lace-up
Pros
Ensures toe protection
Lightweight
Durable
Offers great comfort and warmth
Cons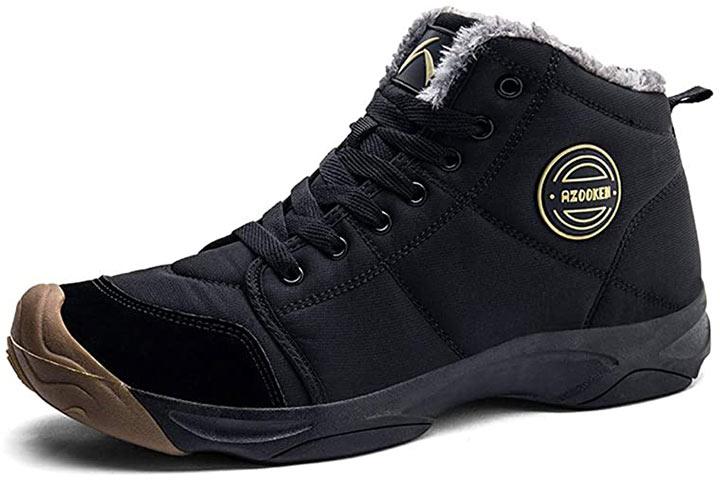 The Upsolo Boots are made of high-quality artificial fluff with an elastic wearable upper and waterproof exterior. The seam-sealed, ankle-high boots are made of breathable material and suitable for cold weather. The anti-slip rubber outsole provides an excellent grip and high traction in wet terrains. It has multi-directional lugs that provide relief from fatigue.
Specifications
Insulation: NA
Material: Synthetic
Sole: Rubber
Closure system: Lace-up
Pros
Keeps feet extremely dry and warm
Comfortable to wear
Breathable
Anti-slip sole makes it suitable for hiking
Cons
Walking through snow can soak your feet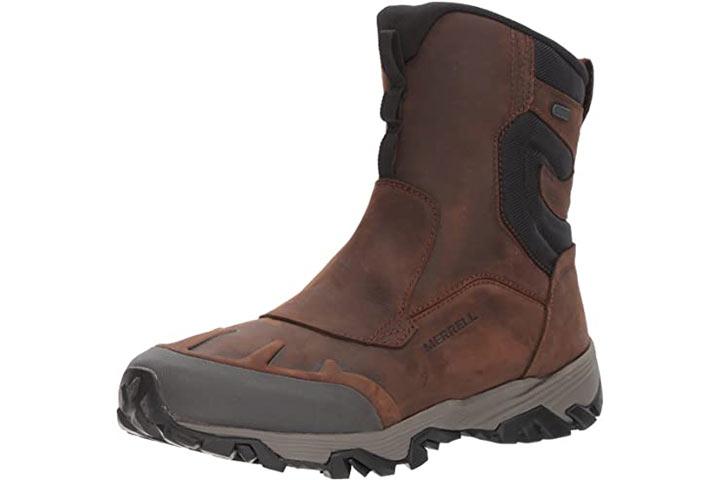 The Merrell Coldpack Boots are slip-resistant and keep your feet stable on icy surfaces. They have a Vibram Arctic Grip outsole designed for outstanding performance in extreme conditions. They also have removable EVA insole and seam-sealed waterproof leather uppers, along with a molded nylon shank for extra support and enhanced stability. There is abundant cushioning in the heels for shock absorption.
Specifications
Insulation: 200g synthetic
Material: 100% Fabric, Uppers – Waterproof leather
Sole: Vibram
Closure system: Slip-on
Pros
Slip-resistant
Offers warmth
Extremely breathable
Stable
Convenient to wear
Cons
Not suitable for deep snow
The Bogs Classic Boots are waterproof and are appropriate in temperatures as low as -40°F. These shoes ensure safety and protection from mud, water, and snow. They have non-slip and non-marking outsoles. The outer shells are made of rubber and have Aegis anti-microbial odor protection insoles.
Specifications
Insulation: 7mm Neo-Tech
Material: Synthetic
Sole: Rubber
Closure system: Slip-on
Pros
Easy to wear
Extremely warm
Comfortable
Durable build
Cons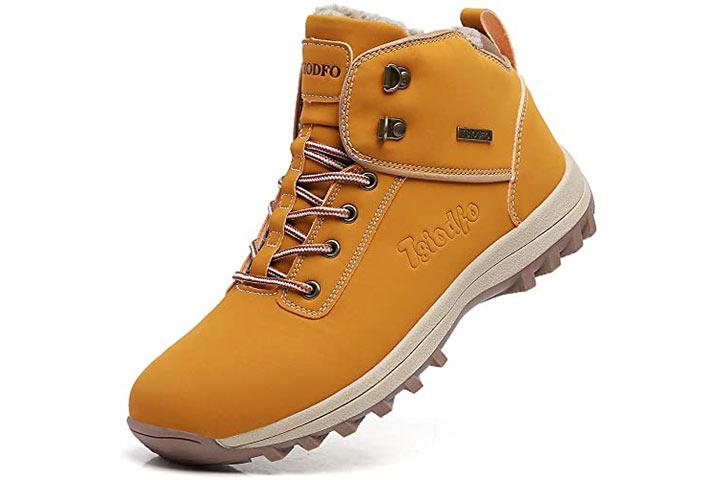 The Tsiodfo boots are waterproof and made from the best quality leather material. They have a rubber sole and a warm fur lining that keeps the feet warm and free of moisture. The shock-absorbing midsoles give you a sense of comfort.
Specifications
Insulation: NA
Material: Leather
Sole: Rubber
Closure system: Lace-up
Pros
Comfortable
Durable
Fits well
Suitable for indoor and outdoor activities
Available in multiple colors
Cons
Mixed reviews on sole quality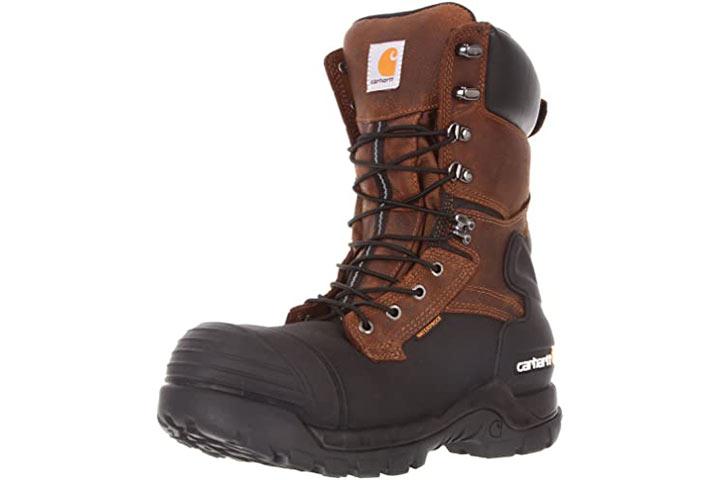 The Carhartt Men's Boots are made of abrasion-resistant leather and waterproof rubber soles, making them extremely comfortable to wear. The rubber lug outsoles of the boots are slip-resistant and provide maximum traction. They feature a  1000 LiteFire insulation, polyurethane midsole, and OrthoLite® foam cushion insoles that provide protection and stability to walk even on the rough and risky terrains.
Specifications
Insulation: 1000 LiteFire
Material: Leather
Sole: Rubber
Closure system: Lace-up
Pros
Protects against electrical hazards
Slip-resistant
Comfortable cushion
Breathable
Cons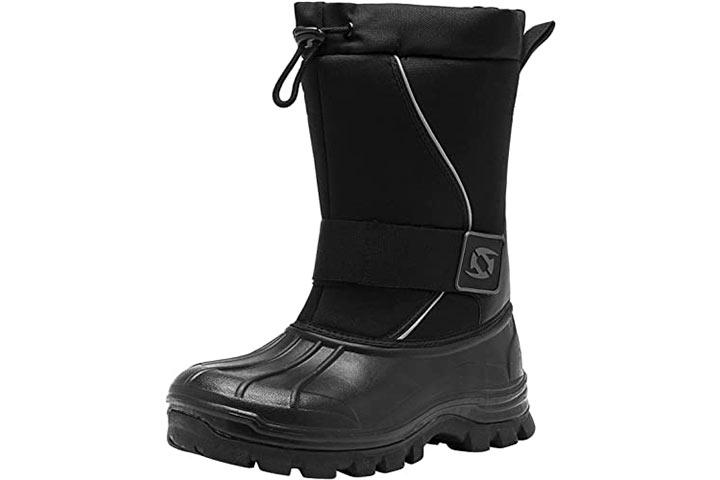 The Leisfit Winter Boots are made of high-quality leather and are available in five different colors. They have a thick faux fur that provides great warmth. They feature a waterproof upper with fully thick fur lining, 200 grams insulation, and a moisture-wicking lining, making them a great choice for outdoor jobs. The ankle hook-loop straps and drawstrings prevent the snow and water from entering inside. The boots are seam-sealed and have durable anti-slip rubber soles with excellent traction.
Specifications
Insulation: 200g
Material: Leather
Sole: Rubber
Closure system: Slip-on with ankle hook-loop
Pros
Warm
Durable
Excellent traction
East to put on
Cons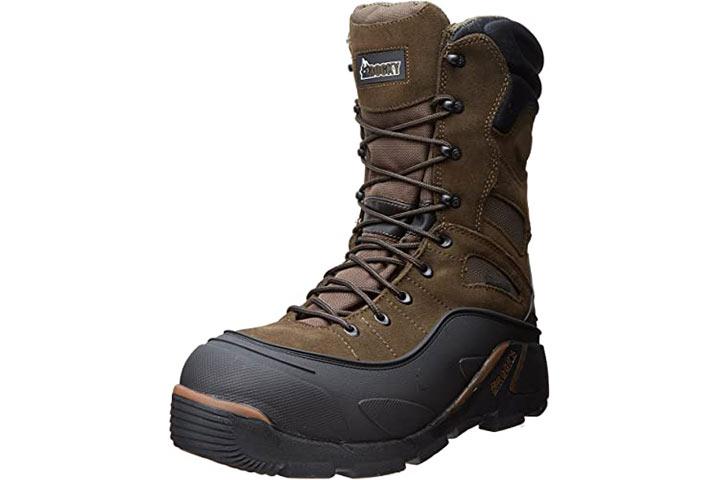 The Rocky Men's Blizzard winter hunting boots are made of 100% leather and textile and have removable mesh PU footbeds that provide excellent grip. They have durable rubber vamps, padded collars, and extended tongues. With waterproof feature and 1200g Thinsulate ultra insulation, they keep your feet protected even in extremely cold weather. The boots also have multi-directional blizzard outsoles, and molded foam padded collars split suedes of 900 denier fabric.
Specifications
Insulation: 1200g Thinsulate
Material: Leather and textile
Sole: Rubber
Closure system: Lace-up
Pros
Snug fit
Excellent stability
Traction
Quite comfortable
Cons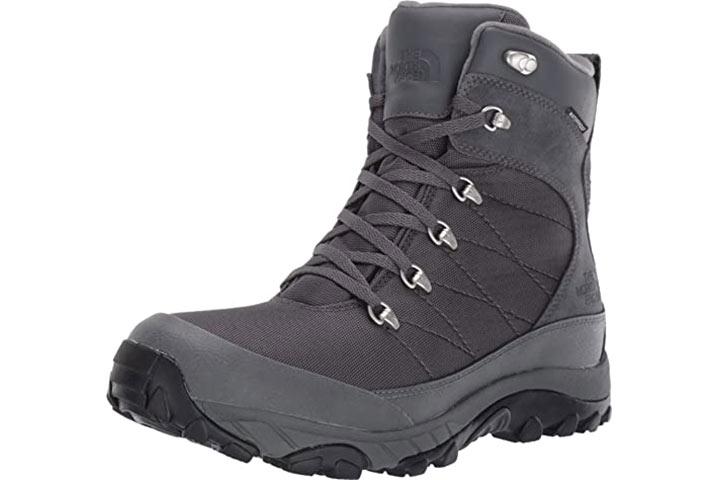 The North Face Men's Winter Boots provide non-stop waterproof protection and have TNF Winter Grip® outsoles with high-traction lugs. They have Dri-Lex® moisture-wicking fleece lining in the collar that protects from ice and snow. The upper of the boots is designed with ballistic-nylon. They have compression-molded EVA midsoles rustproof hardware. The plush tongue and collar provide added comfort.
Specifications
Insulation: NA
Material: Nylon
Sole: Rubber
Closure system: Lace-up
Pros
Excellent grip
Traction
Heel pull loops make them easier to put on and off
Offers comfortable grip on icy surfaces
Cons
How To Choose The Right Winter Work Boot?
Here are some important features to keep in mind while buying winter work boots.
Insulation: Insulation refers to the insulated lining capacity to keep your feet warm during cold weather. It keeps cold away from your feet by securing them tightly. The insulation is provided in grams, and a greater level of insulation ensures greater warmth.
Traction: Winter work boots have firm soles with an emphasis on oil-resistance. They offer excellent traction in various conditions and protect from slips and injuries on icy surfaces.
Waterproof: A waterproof upper prevents water or snow from getting inside the boots. For extremely cold and icy weathers, opt for waterproof boots
Comfort: Consider features such as type of closure, outsole, and construction material to ensure you get the desired comfort level.
Breathable: The waterproof work boots for winter have a limitation that they aren't breathable enough. They may cause skin infection and promotes fungus growth. Thus, getting waterproof work boots with breathable membranes is important.
Frequently Asked Questions
1. What makes winter work boots better than regular boots?
The standard work boots lack features such as insulation, protection, and waterproofing. Winter work boots are equipped with these features and are a great defense against the cold weather.
2. Who needs insulated winter work boots?
Anyone who works outdoors can benefit from winter work boots. Laborers, truck drivers, mailmen, and mechanical men need the help of insulated winter boots to protect their feet from cold.
3. How many grams of insulation do I need for insulated winter boots?
Boots with 600-800 grams of insulation might work better in snowy and icy conditions and provide excellent protection and safety to your feet.
Winter can be harsh, especially if you work outdoors. You must be well insulated from head to toe to avoid any frostbites. Winter boots protect your feet and keep them warm. We hope you find the right winter work boots from the above list as per your preference and requirements.
Recommended Articles: