During winters, around the holiday season, many families love to take skiing trips to bond on the gondola rides to the top of the slopes. Skiing down these terrains whooping in joy children and adults alike are brimming with excitement. There is never a dull moment while skiing, with fresh snow beneath the skis, wind in your face, and all the fun and laughter while being there as a family. A ski trip is definitely one of the best ways to connect as a family as other family travel experiences rarely offer the same thrill and joy.
But ski trips need to be planned well in advance. Carrying the right clothes to go skiing is extremely important, especially your ski pants as they are crucial in keeping your legs dry and warm while you ski down the mountain slopes. They need to be fashionable but also sturdy, comfortable as well as long-lasting. Today, we have the best of ski pants available at the touch of our fingertips. Compiled below is a list of the 13 best ski pants to purchase for your next ski trip with friends or family in 2021.
13 Best Women's Ski Pants To Purchase In 2021
The Arctix Women's Insulated Snow Pants are the perfect pair for all outdoor activities. Made of 100% polyester material it is very lightweight. Let this not deceive you. Without being bulky, this piece of outdoor apparel comes with 85 g Thermatech engineered insulation that offers you warmth. These pants were tested and certified in temperatures ranging from -20 to +35°F. Having an adjustable waistline gives it a comfortable fit. The pants snap at the bottom making it easy to transition in and out of boots.
Pros
Warm, waterproof and comfortable
Good quality material and craftsmanship
Has an O-ring attachment to snap on keys and lift tickets
Added boot attachment features to keep snow out
Cons
There might arise fitting issues for larger sizes 
Camii Mia is known for its quality, simplicity and it's made of 97% nylon and 3% Spandex. Wearing the right apparel when hiking and trekking is most important, especially in freezing temperatures. Keeping that in mind, these ski pants combine British style with European, American and Korean fashion, striving to make a perfect blend of colors and design. This outdoor apparel offers well-rounded protection from extreme weather conditions due to its water-resistant outer material and inner fleece lining.
Pros
Can be machine or hand-washed
Inner fleece lining
Has 2 front and 2 back pockets 
Cons
Sizes run smaller than expected 
This slim-fit hiking pant is an all-in-one pant. It's windproof, warm, waterproof, abrasion-resistant, causes no pilling and is comfy too. The multiple zipper pockets keep your phone, keys, credit cards and other personal belongings secure. These water-repellent outdoor pants come with fleece lining that keeps you warm and dry in the cold and windy weather. The BenBoy Women's Slim Cargo Snow Pants for women are perfect for winter outdoor activities like hiking, skiing and snowboarding while making you look stylish and chic.
 Pros
Abrasion-resistant
Multiple pockets
The slim fit style works perfectly for winter outdoor activities
Cons
They run a bit on the small side
Air drying would be a better option as the adhesive binding of the exterior to the interior could fall over time
This Singbring Outdoor Hiking Pants is water-repellent. The polyester surface layer keeps it dry while the fleece liner keeps you warm. Being waterproof, the zipper pockets keep your personal belongings safe and secure. The adjustable waist allows the pants to fit comfortably. The pants are suitable to be worn when skiing, hiking, climbing, camping, etc as they are straight and fit comfortably without the puffiness that many ski pants usually have. 
 Pros
Waterproof and windproof
Fleece lining keeps you warm
True to size
Cons
The zipper has quality issues 
The TSLA Snow Pants are one of the best snow pants that you need to battle the slopes in extremely cold weather. It is stylish and durable, built to keep you dry and are heat-insulated. They are just right for everyday winter sports besides skiing and snowboarding. These pants combine superior comfort, thermal insulation, and reinforced protection against the harsh climatic conditions at higher altitudes.
Pros
Made using long-lasting, rip-stop fabric
Perfect for winter sports enthusiasts and athletes
Comes with an elastic boot gaiter
Available in a variety of colors and patterns
Cons
Sizes may run larger than expected
Toomett Women's Softshell Insulated Snow Pants are stretchable, making you feel absolutely at peace while skiing. The surface layer is water-repellent and has a breathable coating. These stylish snow pants have zippered pockets that will keep essentials like your cell phone, keys and other items safe and secure as you go about riding or trekking. The softshell elastic fabric keeps you cool and dry in cold weather. These stylish stretch ski pants come with a good-quality zipper with a snap button for added safety, thus making them perfect for all the fun winter escapades.
 Pros
Provides protection against UVA/UVB radiation
Adjustable waistband
Can weather extreme climates
100% softshell polyester, antistatic, and causes no pilling
Cons
The length of the pants may not be true-to-size. 
The outer layer of Columbia Women's Modern Mountain 2.0 Snow Pant is 100% nylon on the outside and 100% polyester on the inside. These pants are well-insulated and designed for any activity in the snow, making you comfortable and keeping you warm too. Featuring a leg gaiter on the inside and snap gusset at the leg make it easy for you to wear it with boots, while the zippered pockets make sure that your belongings stay intact.
Pros
Can be easily machine-washed
Comes in a variety of colors
Has 4 pockets in the front and back to store valuables
Cons
The length of the pants may have a sizing discrepancy
These high-rise hiking pants with bottom zippers are made of 96% polyester, 4% Spandex and have 100% polyester lining. It has 2 types of waist designs—an elastic waistband and one with a Velcro waist. These pants come with a boot cut leg opening that fits over boots. It has 2 zippered waist pockets to keep your valuables safe and secure. These pants are suitable for casual or outdoor activities like skiing, fishing and climbing too.
 Pros
Bottom with zippers make it easy to put on and take off your boots
Measurements and fit is true-to-size
Zipper puller has reflective elements for low-light visibility
Cons
Inseam across the knee might be uncomfortable for some users. 
The Wildhorn Kessler Women's Ski Pants are designed to give you a good fit. The sloped waistband provides immense overall comfort. Utmost care is taken to seal the hems, thus providing water-resistance to keep you comfortable even on the rainiest days. These snow pants come with 2 completely waterproof, low-slung pockets in front and a water-resistant thigh pocket that offers adequate storage for essential items. An adjustable leg opening with a durable zip makes it easier to slide your heavy snowshoes easily.
Pros
These pants offer freedom of movement and comfort
The closed leg opening with scuff guard panels stops the snow from entering in the pants
Extendable boot cuff
Environment-friendly packaging
Cons
Sizes run smaller than expected
APTRO Women's Insulated Snow Pants are filled with high-quality polyester to provide a good heat preservation effect. These pants keep you warm even at temperatures as low as -30°F using high-performance, waterproof fabric. In order to fully and effectively block the attack of rain or snow and to prevent water seepage, all the tile joints and seams are sealed employing the use of a high-temperature adhesive process. Zipper-closed and mesh-lined venting over the thigh ensures effective exchange of fresh air.
Pros
Breathable polyester material
Inner soft feel fleece lining
Waterproof material
Cons
BALEAF Women's Outdoor Insulated Ski pants come with a drawstring closure. The pants feature soft fleece lining that is windproof to keep you cozy and comfortable while hiking, sledding, or skiing for hours. Made of 90% polyester and 10% Spandex, it has an adjustable waist and a complimentary belt to adjust. These pants are not bulky and so you could easily wear leggings underneath them for added warmth. It has 4 zippered pockets that will keep your belongings safe and easy to carry around while hiking, sledding dog walking, etc.
Pros
Adjustable waist with a complimentary belt
Made of polyester and spandex blend
Has 4 zippered pockets
Cons
It is recommended that you choose a larger size for these hiking pants as the sizes run smaller than usual.
The Asfixiado Women Softshell Pants are waterproof and windproof outdoor pants designed to last long and tough it through extreme weather. These pants are suitable for skiing, snowboarding, hiking and so much more. It features patchwork knees and an adjustable waist for a comfortable fit with an inner fleece layer to keep you warm. The zippered cargo pockets are extremely helpful to hold your phones and other important items, while the inner layer lined with polar fleece keeps you warm. So ladies, gear up with these pants and head out in the wilderness.
Pros
Polar fleece-lined
Lotus leaf bionic technology
Keeps you dry in rainy weather
Cons
Not recommended for running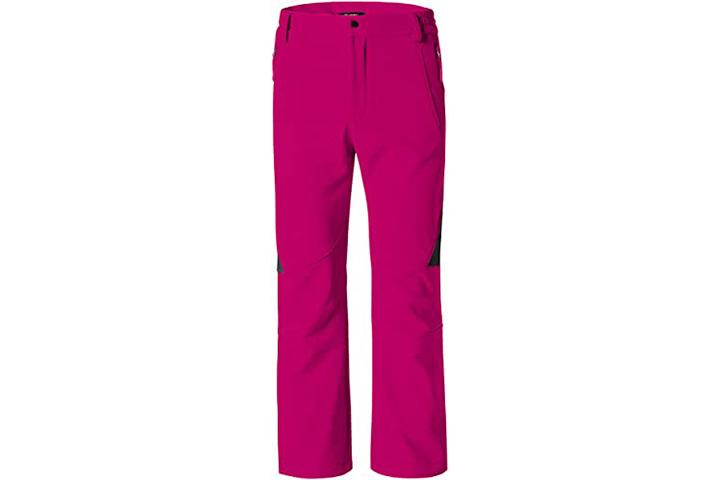 The Wantdo Women's Insulated Ski Pants are ideal for all winter outdoor sports such as skiing and snowboarding. It is made with a polyester fiber material that is lightweight, breathable, water and tear-resistant and is also wrinkle-free. It has many added features such as adjustable bottom and zippered pockets. At an economical price, the Wantdo Women's Insulated Ski Pants are an absolute steal.
Pros
Breathable material
Fleece-lined
Adjustable bottom
Zippered pockets
Elastic waist with button
Tear resistance 
Cons
Sizes may run larger than expected. 
The Best Ski Pants To Buy In 2021- A Buying Guide
Choosing the right ski pants for yourself may seem like a daunting task. We have created a list of pointers to keep in mind while purchasing the best ski pants to match your needs.
Always ensure that the material of the ski pants you have your eyes set on is waterproof. Any other material that allows water to seep in would not serve its purpose of keeping you dry and warm while skiing.
This is another important feature to look out for while purchasing a ski pant for obvious reasons. You need your legs to stay warm while skiing and a good fleece lining will ensure that.
Buying a ski pant is an investment as it should last you for about 3-4 years at the very least. Check whether the material is sturdy and not flimsy. It cannot be made of a material that rips up after just a couple of slips on the slopes.
If you'd be using your ski pants for a few years, you need to make sure that the they have an adjustable waist. It is also important to be able to fit in as much as heavy padding while out in the bitterly cold weather.
Comfortable and Breathable
While the material is durable, it also needs to be breathable and comfortable. It's important that you are comfortable in your ski pants while skiing down the slopes.
Frequently Asked Questions
1. What's the difference between loose fit and slim fit ski pants?
A slim ski pant as compared to a loose fit ski pants allow lesser room for movement while skiing. If you do opt for skinny fit ski pants, make sure you buy one that has stretch features around the knees and ankles.
2. What should I be wearing underneath my ski pants?
An appropriate base layer to wear under ski pants is long underwear, preferably of synthetic material that could help you stay dry and keep you warm. Anything more than a base layer will restrict movement while skiing.
3. Do I need pockets on my ski pants?
Having pockets is necessary as they can hold your essential items and help keep your hands free on sloped terrain.
4. Do I go with waterproof and/or breathable pants?
Buying ski pants with either or both these qualities is a good purchase as waterproof ski pants keep you dry and warm, while breathable pants keep you comfortable and allow ease of movement.
Buying the best ski pants available at your disposal is a good investment for all the ski trips that you are planning with your family. Always pair your ski pants with a base layer that is made of natural or synthetic materials that do not soak water. Care for your ski pants as they are usually expensive and need to be maintained. With this list of the 13 best women's ski pants of 2021, we are sure you'll be sorted for the upcoming winter trip with your family and loved ones!