A wood stove is a heater powered by wood. It generates and provides heat to a confined space. You can place it anywhere by passing the vent pipe outside your home.
Wood stoves are more efficient, and powerful than traditional pot-bellied versions. They feature removable ash pans, see-through glass doors, insulated door handles, air circulators, and thermostats. From traditional to contemporary styles, we give you a list of the best wood stoves to help you pick the right model.

Top Products From Our List
13 Best Wood Stoves
If you are a backpacker, a wanderer, or an explorer, this compact and movable wood stove by TMS could be the right pick. With the four interlocking fuel pipe parts connecting a vent, this wood stove can generate adequate warmth on chilly winter nights. The ample space gives you room to cook tasty dishes. You can also dry wet gloves, socks, or other small items on the cooktop by rotating it outwards.
Pros
Spark arrestor for added safety
Front and rear air flow regulators
Accessible bottom for collecting ashes
Top grate doubles as a carrying handle for easy portability
Cons
Paint may wear off with use
This durable, high-quality, and efficient wood stove by Unigear is made of long-lasting stainless steel and can endure the wear and tear of rugged backpacking. Use this multifunctional stove to cook and bake your food while camping. Apart from wood, this stove also uses leaves, twigs, fuel tablets, coal, and gas as fuel.
Pros
Portable, foldable and can be easily placed in a backpack
Can work with pots and pans of any size
Sturdy and durable
Includes six-month after-sales service
Cons
Ash pan could have been deeper
The Redcamp wood stove can burn bright steadily, overcoming the heavyweight and high heat inflicted on it. It is made of 430 quality stainless steel and 304 stainless steel grill net. The stove is efficient, durable, and sturdy.
Pros
Collapsible, foldable, and movable
Can use various fuels such as leaves, and twigs
Ventilation design and rotatable switch
Includes 100% money-back guarantee
Cons
The US Stove Company camp stove comprises a six-feet chimney pipe, flue brush, damper tool, legs, and racks. Its long-lasting and heavy-duty steel construction makes it durable and strong enough to tolerate wear and tear. It is suitable for camping, hunting, or fishing trips. You can use wood of up to 13-inch long in this 14-inch-long stove.
Pros
Heat adjustment simplified with a simple door damper
in cooking surface
Racks for drying clothes or indirect heat
Ideal for small to medium-sized tent installations
 Cons
Vent pipe is small and might make the confined tent smoky
Relatively smaller stove
Fltom's Tent Stove can heat up fast with its high heat output and keeps you toasty during winters. It features a six-piece pipe that can reach up to 4.69ft and is adjustable to suit different spaces. You can easily carry and use this product based on your needs and circumstances. The entire product is detachable with four collapsible legs and six adjustable pipes.
Pros
Flat top stove for cooking
Uses firewood, leaves, twigs, etc., as fuel
Convenient and portable
Connective legs provide a stable base
Cons
StarBlue's camping stove is built with superior-quality stainless steel that won't rust, retaining a new and sturdy look for years. The cooking top is wide enough to cook your favorite meal conveniently outdoors while enjoying the freshness of nature. It comes with a cross stand and a wide grate to provide a stable platform for your cooking pot. It is a perfect addition to your camping gears, satisfying your cooking and heater requirements.
Pros
Large fuel chamber for efficient heat transfer and longer burn time
Collapsible, portable, and easy to assemble
Durable and efficient
Can burn various fuels, including twigs, and wood sticks
Cons
No collecting tray and hot embers fall out of the bottom
The Drolet Wood Stove produces a maximum heat output of 32.2kW to create a cozy atmosphere in your home. It has a pedestal with ash drawer, air damper, ash lip, and ceramic glass.
Pros
Large combustion chamber to load logs of up to 22 inches
Has ten hours burn time
Insulated top panel adds durability
EPA-certified
Cons
Door handle can get hot quickly
Satisfy your outdoor cooking needs with this sturdy, robust and high-efficient wood-burning stove by Winnerwell. It is made of high-quality materials that won't corrode or rust and can withstand severe outdoor environments. The tripod-style foldable legs make it extremely portable for your hiking or hunting trips.
Pros
Glass window for viewing and managing fire
Foldable side shelves function as carrying handles
Durable 304 stainless steel build
Removable cooktop plate
 Cons
Firebox is relatively small
If you work on a small barn or enclosed space and wish to make the place mellow during winters, this US Stove's product is for you. This cast iron wood burning stove has a high heat output of 54,000 BTUs that can heat up to 900sq.ft. It combines advanced technology and the old traditional style.
Pros
Can burn logs up to 19-inch long
25-inch cooking surface top
EPA-certified
Easy to use
Cons
Door and handle may malfunction with frequent use
The titanium wood stove by Kcelarec has dual windows, a side rack, and a wood drying basket. You can cook tasty dishes on the cooktop and heat stones on the side rack. It is a compact and user-friendly device built for your convenience.
Pros
Foldable and light design for portability
Double window enables you to view fire and acts as a light source at night
Can be used for boiling or heating hot water
Easy to set up
Cons
No damper at the chimney connector
Make your tent warm and cozy with Danchel's Outdoor titanium wood stove, designed ultralight. It is the perfect blend of durability and style and is highly portable It has a high melting point to endure high heat, which enhances its strength. The doors seal the heat inside and prevent it from leaving the stove.
Pros
Anti-corrosive material
Glass window for fire management
Collapsible legs for easy transportation
Easy to assemble
Large door allows you to store some wood pieces inside
Cons
Subpar chimney
Difficult to clean
With Ashley Hearth's Wood Stove, you can find the needed warmth and comfort in your home. It can generate 112,800 BTUs of heat, warming up to 2,500sq. ft easily. The stove brings charm and elegance to your room with its polished nickel spring door handle and pedestal base.
Pros
Firebrick for longevity and efficient combustion
Can take logs up to 21-inch-long
Integrated ash drawer with glass door
Approved for mobile homes (USA only)
Cons
Lets out a lot of smoke during heavy burning
Blower needs to be bought separately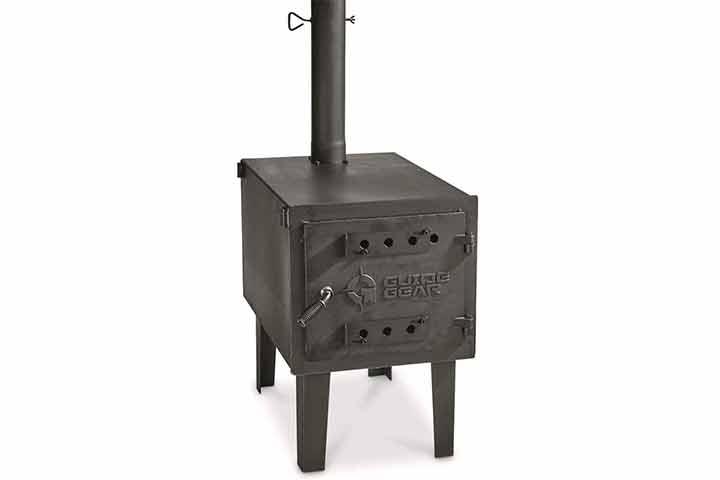 The Guide Gear's Wood Stove is made of strong galvanized steel and cast iron, making it durable and strong. Its gasket improves the heat output and burning efficiency. The detachable legs make this stove portable and easy to manage.
Pros
Fibreglass gasket creates an airtight seal
Adjustable damper for controlling airflow in the firebox and chimney
Cool-touch coiled handle
Cons
Poor welding
Chimney is too narrow to allow smoke suction
How To Choose the Right Wood Burning Stove?
Here are some points to consider while buying a wood stove.
Heat output: It will determine if the stove can heat your space effectively and thoroughly. Consider a wood stove that has a high heat output between 100,000 BTU and 600,000 BTU.
Heating area: Measured in square feet, the heating area is the space or area the stove can properly heat up. Consider this requirement before buying one.
Log size: The wood logs should fit correctly inside your wood-burning stove. They should be able to hold logs measuring between 18-inch and 22-inch.
With its multipurpose cooking and heating features, a wood stove is an essential appliance for winters. Grab any of these stoves and enjoy the warmth and food during camping trips. Our list of the best wood stoves, including compact, lightweight, and advanced features, can make your experience a blissful one.
 Recommended Articles: 
The following two tabs change content below.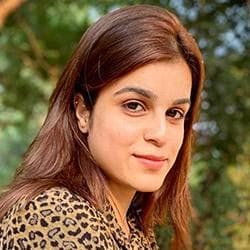 Sakshi John
Sakshi did her graduation in Journalism from the Madras Christian College, Chennai, before starting her career as a freelance writer. She is into blog writing and for MomJunction, she covers various topics, including products to buy for your kitchen, furniture, and other home requirements. Previously, she interned as a content writer in a cyber security firm. As a content writer, Sakshi...
more