When winter arrives, you will need the best wool gloves. These gloves protect your hands from the freezing winds and help retain heat to make you feel comfortable and cozy.
Wool gloves offer much comfort, whether indoors or outdoors. So, to help you find the right pair, we bring you a list of wool gloves that are breathable, warm, skin-friendly, and stretchable. Keep scrolling and pick the perfect pair.
13 Best Wool Gloves
The Achiou wool gloves are made of high-quality acrylic fibers and ultra-soft warm wool lining. They come in eight solid colors and color combinations, expanding your choices. The unique touchscreen feature on three fingers (thumb, index finger, and middle finger) can help you use all types of touchscreen devices with the gloves on. They are available in medium and large sizes, and suitable for both men and women for sports such as cycling, running, and motorcycle riding. This video offers a more detailed explanation of the product.
Pros
Non-slip silicone palm gives a secure grip while driving or using touchscreen devices
Brushed design keeps the cold fingers warm
Breathable material does not cause any sweating
Excellent elasticity to fit most hands
Warm and skin-friendly
Compatible with all touchscreen devices
Cons
Touchscreen function may not work well in temperatures below 20 degrees
Sizes may run small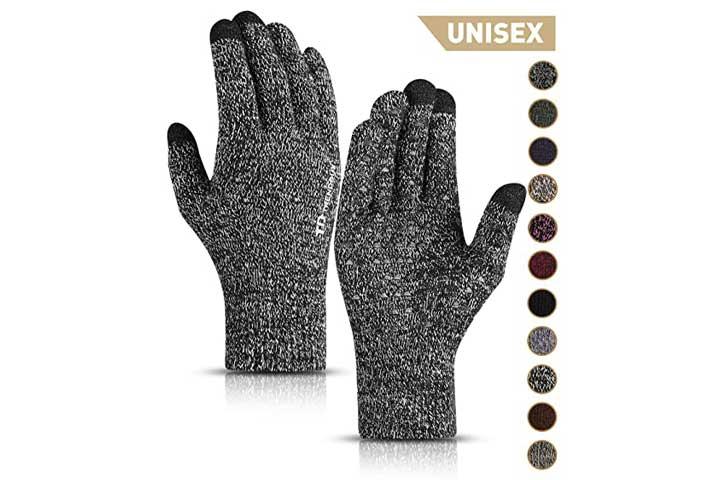 These unisex gloves are super lightweight, and you can wear them all day long in cold winters. They are made of acrylic and spandex fabric, which makes them warm, stretchable, and stylish. A 50% more conductive yarn is added on three fingers (thumb, index, and middle fingers) for  touchscreen compatibility. They are available in three sizes of medium, large, and extra-large, and 12 different colors. You may check this video for a better understanding of this product.
Pros
Upgraded touchscreen finger pads work on iPhones, tablets, and smartphones
Triangle silicone palm offers you a firm grip on the steering wheel or phone
Soft inner lining wool offers comfort and warmth
Thickened wind-proof elastic cuffs
Hand-washable and air-dryable
Comfortable and stretchy snug fit
Cons
May not provide warmth in extremely cold weather
The ViGrace fingerless wool gloves are convenient to be used in either way—fingerless or with finger flaps. They are made of 50% wool and 50% acrylic, and are great to wear for work and outdoor activities and while using electronic devices. They are available in one large size suitable for all men and women and four different color options.
Pros
3M Thinsulate insulation traps heat and allows moisture to escape from hands
Thick and comfortable
Hogskin on the palm and thumb offers a secure grip
Hook-and-loop strap on the flap cover's back to cover your fingertips
Can be used indoors and outdoors
Cons
Has a bulky feel
Suede leather gives off a peculiar smell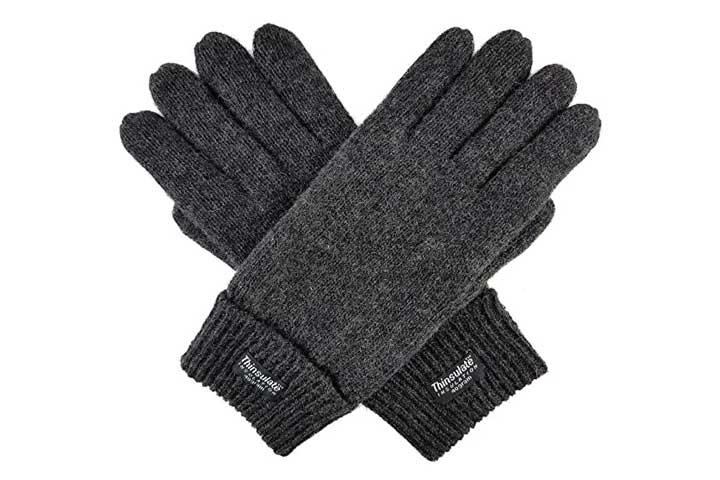 These 100% wool gloves from Bruceriver keep your hands comfortable and cozy. While the wool surrounds the gloves' exterior, the interior is lined with fleece and has 40gm Thinsulate material. There are eight different color options to choose from, with a few styles having a special touchscreen function on the thumb and forefinger.
Pros
Durable outer shell wool
Elastic rib-knit cuff prevents cold from entering the hands
Thinsulate material provides warmth
Classic and easy-to-use gloves
Decent touchscreen feature
Cons
Not waterproof
Wool may easily rip
The RefrigiWear insulated gloves feature 100% rag wool that keeps your hands warm in winters. They contain 40gm Thinsulate insulation and soft fleece lining for proper protection from wind and cold. These unisex gloves are available in green and come in large and extra-large sizes.
Pros
Waterproof outer shell
Keep your hands toasty
Double-layer knit cuff gives extra warmth on windy and freezing days
Suitable for fall and winter
Can be used as glove liners
Cons
Mixed reviews on durability
The Timberland Men's wool gloves are made with a blend of polyester, nylon, wool, and other fibers. They are extremely well-made with a tight-knit wool weave that keeps the hands warm in zero-degree temperatures. The touchscreen fingertips give optimal control and can be used comfortably. They are available in medium and extra-large sizes and charcoal and black colors.
Pros
Textured palm for extra grip
Embossed Timberland logo on wrist
Great fit and gives a decent amount of hand and finger control
Lightweight and warm
Cons
Thick and bulky
Seams may become loose
This Lethmik pair of thick gloves by Lethmik is made of thick acrylic material and features a super soft wool lining. It has a solid and stylish knit construction and is great for skiing, skating, snowboarding, camping, or hiking.  It is available in five color options and one universal size.
Pros
Comfortable and flexible
Stretches to fit most hands
Provides warmth and softness
Ambidextrous gloves
Cons
May have a peculiar smell
Seams may fall apart
Not machine-washable
AndeanSun fingerless gloves are crafted with authentic alpaca garments, which gives nature's best thermal care and comfort. They are great for indoor or outdoor use and activities. The composition is 90% Alpaca, 7% Lycra, and 3% Nylon, a proven blend known to increase the gloves' durability. You will find them in small, medium, and large sizes and five color options.
Pros
Antimicrobial aloe-infused fabric protects skin and prevents blisters
Moisture-wicking feature keeps your hands dry
Hypoallergenic and is unlikely to trigger any allergies
Machine-washable and air-dryable
Ribbed wrist provides a snug fit
Cons
Alpaca fiber may fall out with time
Not suitable for use in extremely cold conditions
The Torro wool gloves are made of 100% premium wool and are available in charcoal gray. The touchscreen-enabled gloves allow you to use a mobile phone or tablet with ease. The classic Torro bull's head logo on both the cuffs gives them an authentic look. Tit comes in one universal size, measuring 23cm from the cuff to the fingertip.
Pro
Soft wool offers warmth
Comfortable and flexible
All the fingers including the thumb are touchscreen-sensitive
Original and authentic product made in the UK
Elastic and stretchable to fit any hand
Cons
Some users reported an itchy feeling from the wool
Available in a single universal size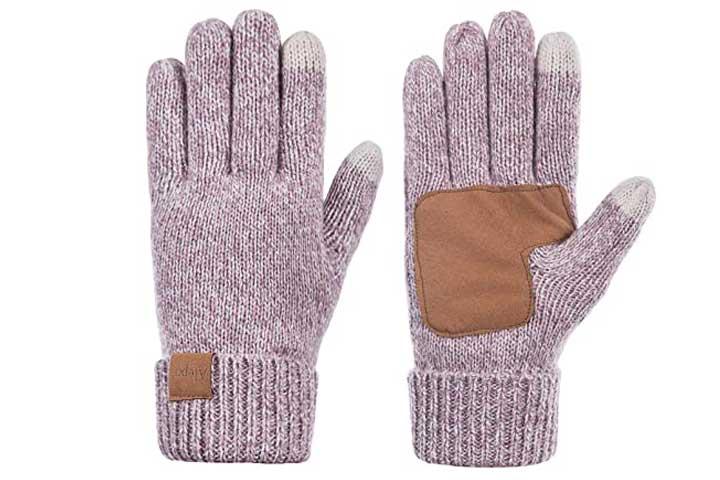 Alepo smart wool gloves are classically designed to fit both men and women. They are available in ten different color options and two different sizes, namely medium and large. These gloves include a touchscreen feature on the thumb and the index finger.
Pros
Thick fleece lining provides warmth
Touchscreen-compatible material lets you access the smartphone even in extremely cold conditions
Wool and acrylic outer shell provides high elasticity
Faux suede on the palm provides a firm grip while driving or holding the phone
Cons
May not offer a snug fit
Mixed reviews on durability
The BSB LL winter knit gloves feature a comfortable soft plush chenille fleece lining. They can be worn while walking a dog, driving, or playing winter sports. You will find them in various styles, designs, and colors to match your every winter outfit.
Pros
Soft and comfortable fabric
Provides warmth without being bulky
Shorter cuffs to easily fit under the sleeves of jackets or coats
Knit construction allows stretch for a right fit
Cons
Available in one size only
Manly and rugged in construction, this classic pair of FoxRiver gloves is useful in cold weather conditions and provide warmth. It is a blend of wool, nylon, and deer leather. It is available in brown tweed, and three sizes of small, medium, and large.
Pros
Durable gloves for everyday use
Rugged, supple dots offer a secure grip
Breathable and naturally resists odor
Good fit for hands
Machine-washable
Comes with a one-year manufacturing defect guarantee
Cons
Those allergic to wool may find them scratchy
May get dirty easily
These are hunting gloves crafted with a blend of Merino wool and possumdown fabric. The hollow core of these fibers contains air pockets, giving a cushioned feel. They can be used for skiing, camping, hiking, and everyday wear. It comes in black and natural shades and four sizes, from small to extra-large.
Pros
100% natural fibers
Keeps your hands fresh and warm
Comfortable and soft
Moisture-wicking feature keeps your hands dry
Cons
How To Choose The Right Wool Gloves?
Here are a few useful features to consider before you buy the best wool gloves.
100% wool: Consider buying gloves made of 100% wool. They are the best quality gloves that are strong and last long with minimal maintenance.
Moisture-wicking: This is an important feature to check in gloves as it keeps your hands dry. The gloves should wick moisture that results from sweating.
Anti-fungal: Wool usually does not hold bacteria. Unless you find your wool gloves dirty, there is no need to wash them. Read the reviews to understand if it has anti-fungal property.
Size: It makes sense to go through the size chart to purchase gloves that fit your hands.
Dexterity: Whichever pair of gloves you choose, it needs to offer enough dexterity. It should be useful in many situations, such as skiing, shoveling snow, or just walking in extreme cold.
Budget: The price of wool gloves depends on the type of wool and the quality of wool. Setting a budget beforehand and narrowing down your options to gloves that fall in your set budget can help you find the right gloves.
Frequently Asked Questions
How warm are wool gloves?
Wool works perfectly to keep your hands warm as it is a natural insulator. It also has moisture-wicking and anti-fungal properties that keep the hands dry, pure, and clean. Therefore, they keep your hands warm and protected in winters and cold temperatures.
How to wash and dry wool gloves?
You should hand wash the wool gloves and not in the machine. Soak them in the water for some time, and then drain the water. Allow them to air-dry and do not wring or twist them as it changes the gloves' shape.
How to stretch wool gloves?
If you have to stretch the gloves to fit your hands, use the water stretching method. Soak the gloves in a water tub with a drop of conditioner. Begin by pulling them in sections. Once you have stretched the gloves, keep them flat, and let them dry. Try if they can fit. If not, repeat the method.
Wool gloves keep your hands warm and comfortable even in extremely cold temperatures. They are not only useful in cold climates but can also complement your outfits. In addition to the buying tips,  reviews can help you understand the product better and buy the best wool gloves for the season.
Why Trust MomJunction?
We have compiled this list of the best wool gloves in the market to protect your hands from the cold weather. These products have been selected after going through several related forums and user reviews. We have mentioned the quality of the wool fibers and other features such as comfort, stretchability, and style. We have also included wool gloves with triangle silicone pads on the fingers to help you use your smart devices.
Recommended Articles: