Even though full-length leggings are suitable for workouts during winter, wearing them in summers might be uncomfortable. So, we have brought our list of the best workout shorts for women to tackle the summer heat. These shorts have breathable fabric, comfortable elastic, good fit, stretchable waistband, and more to ensure optimal comfort. They allow you to move freely without restrictions to help you exercise properly.
Sometimes, the wrong pair of shorts can lead to workout disasters like slipping waistbands, camel toe, or wedgies. Our list includes various fun styles, patterns, and colors to suit your requirements. So, take a look at the options listed below to find a suitable pair.
Top Products From Our List
13 Best Workout Shorts for Women
These women's shorts are made of 88% polyester and 12% lycra, which allows you to stretch comfortably during a workout. It has an elastic closure, and the side pocket fits mobile phones measuring up to 5.5 inches. With a high-rise waistband and ergonomic seams, these shorts enable a wide range of moves. The gusseted crotch allows greater flexibility in movement. These shorts are perfect for yoga, Pilates, dance, aerobics, and any other type of workout and available in a variety of colors.
These shorts suit both activewear and loungewear. The shorts are ideal for travelling, running, working out, or just relaxing. They come with an inner mesh that provides support when you stretch and keep you comfortable when you work out. It is made of quick-dry fabric, and the special moisture management technology helps you keep cool and dry. It is made of 95% polyester and 5% spandex. It comes in a pack of two and various color combinations.
These stylish shorts have double scalloped leg openings and do not ride up even during deep squats. They are suitable for an intense workout session at the gym, cardio, cross-fit, weight training, and more. The ultra-lightweight fabric allows breathability, and an opaque mesh lets you work out with confidence. It has an elastic waistband pocket with a hidden zipper, making it one of the best workout shorts with pockets.
The shorts are made of 100% polyester, with an elastic waistband made of 88% polyester and 12% spandex that makes it stretchable. It has two pockets on the waistband: front one to keep a keycard, coins, etc., and one in the back to keep your phone. It has a mesh liner to provide comfort and safety during a workout. It is suitable for daily workout, gym, yoga, running, etc., and comes in many colors and sizes.
Made of 96% polyester and 4% spandex, the 2-in-1 shorts have an elastic closure and quick-dry feature. It is made of a lightweight and breathable fabric that keeps sweat away. It has two side pockets to hold keys, a keycard, phone, etc. It has an adjustable drawstring and wide elastic band that makes it the best choice for a variety of work out routines, such as running, yoga, swimming, jogging, etc. These shorts are machine-washable and easy to maintain.
These shorts are made of high-quality fabric with 95% cotton and 5% spandex to allow breathability. It is suitable for all kinds of activities, such as biking, gym workouts, running, yoga, etc. It comes in different packages, mostly containing black, grey, charcoal, and navy blue shorts, or a combination of them. It is available in different sizes and is a must-have in your workout wardrobe. It has pull-on closure, and the three-inch inseam makes it easy to wash and wear.
It is made of 87% polyester and 13% spandex. The high-quality synthetics make these shorts breathable and most comfortable for women. They have an athletic trimming curve that gives a stylish look when you are working out. It can be used for dancing, workout at the gym, yoga, running, jogging, etc. This can be used by both women and juniors. The sleek design of these shorts gives you a slim yet sexy look.
The solid-colored shorts are made of 75% nylon and 25% spandex, while others are made of 88% polyester and 12% Spandex. Featuring a high waist and a gusseted crotch, these shorts allow for tummy control and provide good coverage when you are bending or stretching during a workout. The side pockets can fit a mobile phone, credit card, keycard, etc. comfortably. Its moisture-wicking, no see-through fabric with a four-way stretch maximizes breathability and adds comfort.
These tight-fitted shorts are made of 84% nylon and 16% spandex. Its enhanced stretch design makes it ideal for any kind of workout, ranging from intense gym sessions to more relaxed yoga sessions. It has a high waistband to achieve tummy control and high-quality fabric that provides maximum comfort during workout. It is available in a wide range of colors and sizes. It has a four-way stretch, and no see-through fabric to ensure safety and privacy.
Made of 84% polyester and 16% spandex, these shorts have a wide waistband. Their three-layer construction provides maximum comfort and control, while the four-way stretch fabric adds breathability and provides a sculpted fit. It has a hidden pocket at the waistband that allows you to keep your phone and other small valuables safe while you workout. Machine wash these shorts with cold water for durability.
These shorts are made of polyamide and spandex. They are made of moisture-wicking, stretch fabric that adds comfort. The tight fit gives you a sexy look when you workout. It has a four-way stretch high waistband that helps in tummy control, thereby creating a slimming illusion. Its ultra-soft fabric adds to the bodycon fit. The seamless, strong compression fit shorts also allow quick-dry and come in a variety of colors and sizes.
These affordable, stylish shorts are made of soft spandex and polyester material. They feature side pockets that can store phone, keys, keycards, etc., and a hidden waistband pocket that allows you to keep your valuables safely stashed. It has a high-rise waistband that allows tummy control, and the no see-through fabric and gusseted crotch provide privacy. The four-way stretch feature adds breathability and supports advanced workouts too.
Made of 90% polyester and 10% spandex, these shorts have a moisture transport system that allows sweat to dry quickly. It has a double-layered, triangle-shaped gusset that adds comfort and provides privacy. It boasts of ergonomic flatlock seams that provide a chafe-free feel and allows you to move smoothly when you are working out or playing. The reflective details on the shorts give you low-light visibility, and the four-way stretch helps in mobility.
How To Choose The Right Workout Shorts For Women?
The clothes you wear can make a huge difference when you are working out. If the clothing is uncomfortable, you may not be able to achieve your workout goal. So here are a few factors that will help you choose the right workout shorts.
Moisture-wicking: Always choose the fabric that allows you to experience maximum breathability. Shorts made of moisture-wicking fabric absorb sweat and leave you feeling dry, in turn allowing you to work out better.
Fabric: Cotton pants are ideal for workout, but when you sweat more, it's okay to choose shorts made of polyester and spandex. This gives you elasticity and helps move smoothly during the workout.
Right fit: Choosing shorts that are neither too tight nor loose matters. If the clothes are too tight, they may not allow you to exercise freely. And if they are loose, they may keep slipping or need you to keep tucking while you're working out.
Workout type: Shorts you wear depend on the workout you want to do on that day. If you are doing yoga or Pilates, choose the one which offers more breathability. If you are going running or biking, choose tight-fitted shorts.
Note that you will always sweat when you work out, whether it is exercising in gym, cycling, yoga, or aerobics. So, wear clothing designed specifically for the workout you have in mind. Pick a pair of shorts that keeps you comfortable and dry quickly by soaking all that excess sweat away.
Did you like any of the products mentioned in this post? Do let us know your experience in the comments section below!
The following two tabs change content below.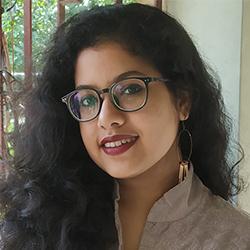 Poulami Nag
Poulami Nag is a writer and associate editor at MomJunction. She did her MA in English from Miranda House, University of Delhi and has qualified UGC-NET. Her journey as a content writer began in 2017 and since then she has garnered diverse interests along the way. Her knowledge of literature and language has given her an eye for detail and...
more