Brewing beer is an art, and trying it without the right equipment leads to failure. A good wort chiller plays an essential role in successful wort fermentation by rapidly cooling the wort before any chances of contamination with bacteria or wild yeast. No matter what you want to brew, you can find various wort chillers to make the whole process easier. Here, we have listed the best wort chillers available for a fresh homebrewed beer.
Types of Wort Chillers
Wort Chillers can be immersion chillers, counterflow chillers, and plate chillers.
Immersion chillers: They are simple chillers made from either copper or stainless steel. On immersing in the hot wort, the cold water draws heat from the wort while circulating through the coil, thus cooling it. Immersion chillers are efficient and can cool your wort within minutes.
Counterflow chillers:They work on a reflux condenser principle and have one inner and one outer tube. While the inner tube circulates the wort, the outer tube circulates cold water in the opposite direction. The chiller is known to have a rapid cooling capacity.
Plate chillers: The plate chillers consist of multiple metal plates in contact with each other. It has one entrance and exit, with the hot wort passingin one direction and the cool water passing through the opposite direction. A plate wort chiller may also be used with a pump to circulate the liquids.
11 Best Wort Chillers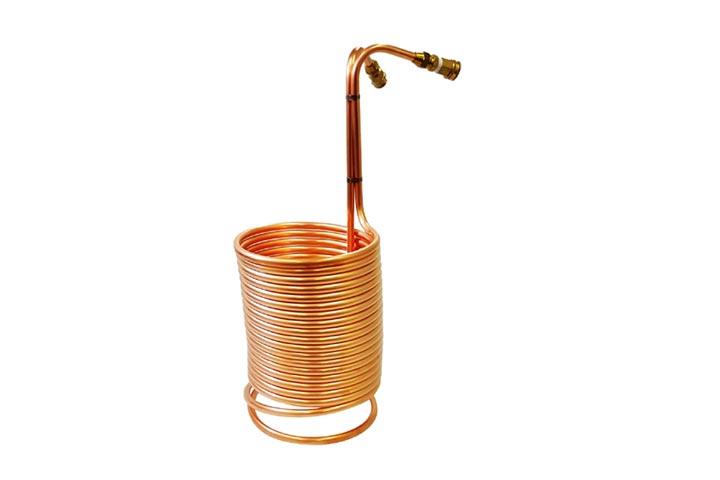 The NY brew supply chiller is recommended for 10 to 20-gallon batches. It quickly cools down the hot wort by running cold water from a faucet or spigot through the hose. The cooling rate can also be increased by adjusting the water temperature. It includes copper tubing,stainless steel clamps, a garden hose adaptor, and an instruction guide. The chiller works efficiently and is versatile.
Features
Dimensions: 24x11x16in
Weight: 7.88lb
Material: Copper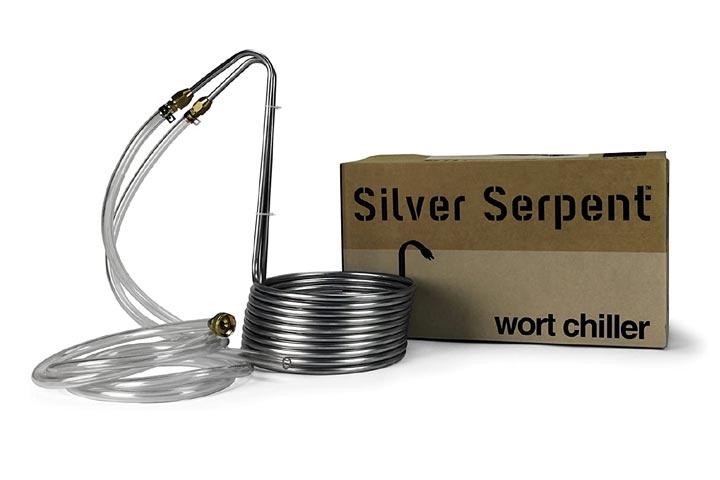 The Northern Brewer is an efficient chiller that cools wort super quickly. It is made of high-quality stainless steel and doesnot require any sanitization. Bring water to boil and place the chiller in the kettle for some timeto use it. It can easily be used for ten-gallon batches. The chiller ensures no leakage during use and prevents contamination. It provides a standard garden hose fitting convenient for brewing outside, and can be connected to a kitchen sink.
Features
Dimensions: 20x10x10.5in
Weight: 4.29lb
Material: Stainless steel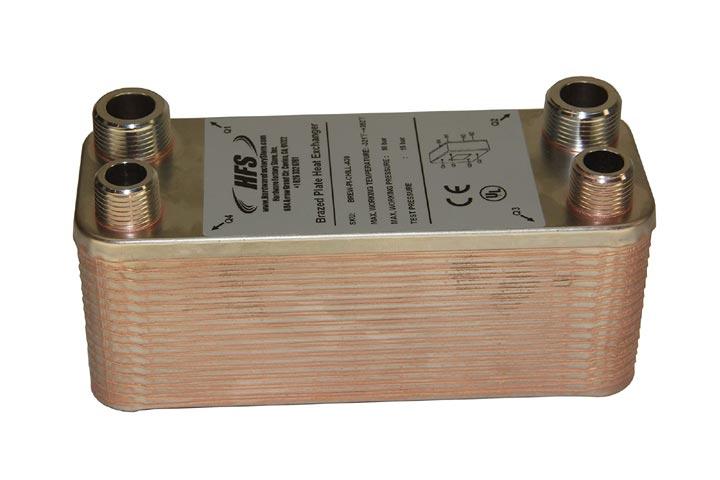 The compact and powerful HFS Homebrew Chiller is made of high-quality stainless steelwith 99.9% copper brazing for maximum durability. It has a simple coil-free design with effective heat exchange performance. The chiller has a closed-loop water system that helps in saving the water needed for the chilling process. It can support temperatures up to 392°F and is ideal for ten-gallon batches.
Features
Dimensions: 2in
Weight: 99lb
Material: Stainless steel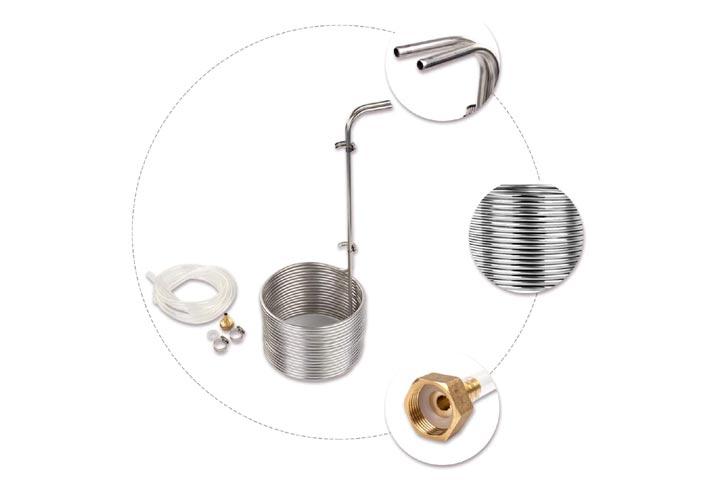 The Bacoeng chiller has 50ft tubing that can efficiently cool bulk batches of homebrew at a go. It has unique 0.5mm tube walls that enable superior heat transfer. The chiller includes one brass hose adaptor and two five-foot oxidation-resistant hoses. It has specialized clamps that enable coil elevation and alignment flexibility.
Features
Dimensions: 75×10.1×10.1in
Weight: 28lb
Material: Stainless steel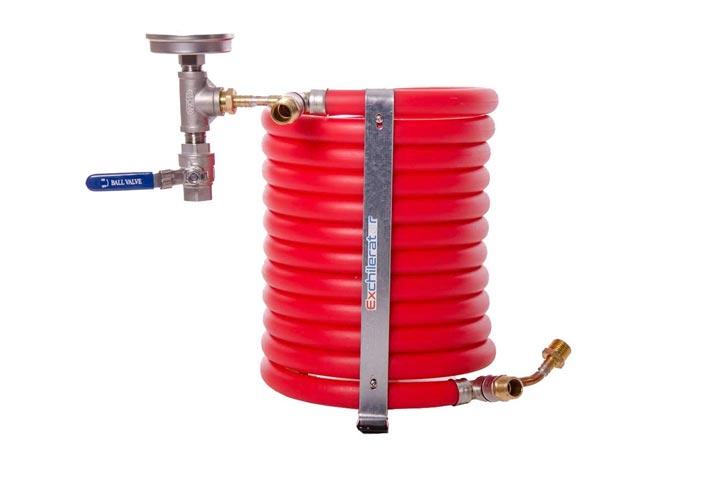 Exchilerator's red counter flow wort chiller can cool five gallons of boiling wort in five minutes. It uses Pex tubing and a ten-gauge non-metallic wire woven in a co-helical manner around inner copper tubing.
The chiller ismade of materials used for potable water supply,which allow re-use of wastewater without any aftertaste of chemicals or garden hose. It works with a pump and is easy to clean. The chiller has a temperature gauge and a precision valve system to adjust the flow. It also has fixed garden hose connections and PVC caps to protect the wort from leaking at the ends.
Features
Dimensions: 10×10×11in
Weight: 10lb
Material: Stainless steel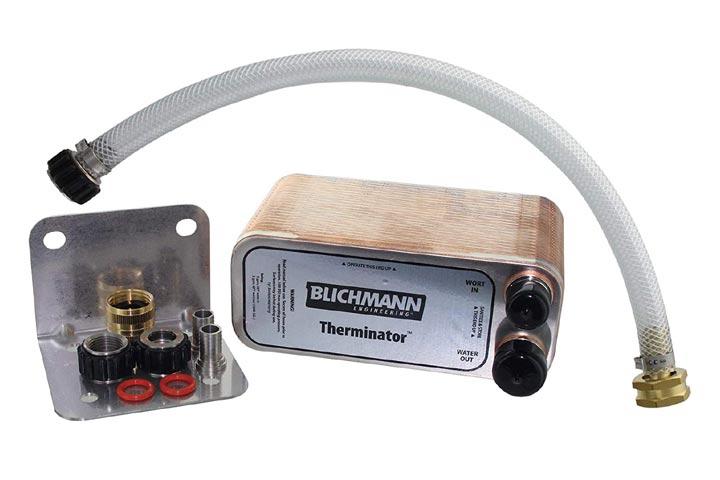 Blichmann Therminator offers a stainless steel plate wort chiller that is compact and brazed with pure copper to dissipate heat properly at a rapid rate without any risk of leakage. The product has half-inch male NPT fittings that fit thestandard hose connectors and are easy to sanitize. The chiller features a heavy-gauge mounting bracket and can chill a ten-gallon batch to 68°F in five minutes using cool water.
Features
Dimensions: 5x3x3in
Weight: 7.81lb
Material: Stainless steel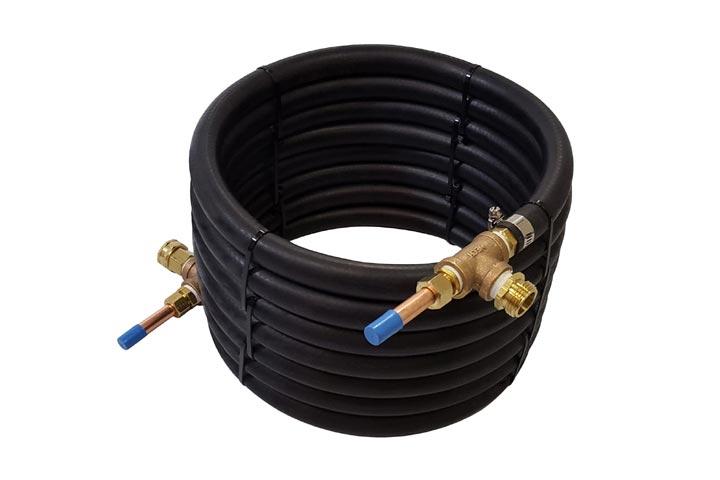 NY Brew Supply offers a durable counterflow chiller featuring 25ft of half-inch copper tubing that ensures superior heat transfer. Its ¾-inch hose can withstand high temperatures, and the heavy-duty brass fittings allow you to adjust the input and output hoses' angle and position. The chiller is suitable for five gallons, does not leak,and quickly chills wort to the appropriate temperature without hassle.
Features
Dimensions: 16x16x8in
Weight: 11.23lb
Material: Copper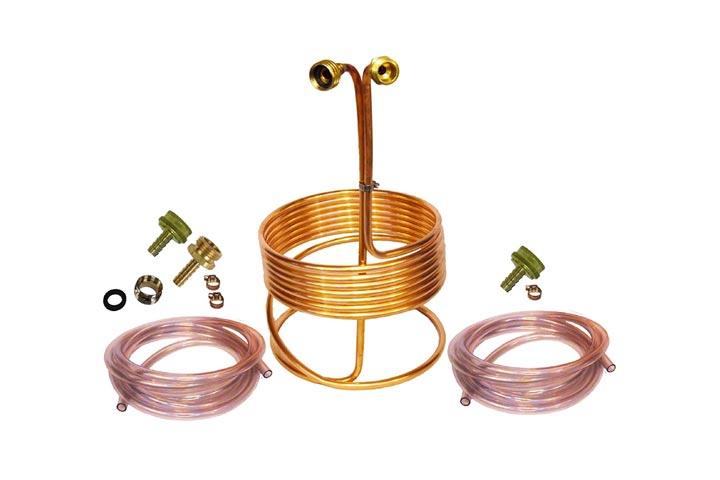 The HomeBrew Stuff 25-inch is an efficient copper immersion chiller designed to keep the coils elevated for a faster chilling process. With a 25ft of ⅜-inch copper tubing,it ensures 28 times higher thermal conductivity than stainless steel and can cool hot wort of five gallons in minutes.
The chiller has a durable body and easily adjustable coil,is super easy to clean and sanitize, and ensures no leakage. It is about 17in tall, with a 9¼-inch diameter. It includes braised garden hose fittings for easy setup and can quickly get hot wort under 80 degrees Fahrenheit.
Features
Dimensions: 10x18x10in
Weight: 4.75lb
Material: Copper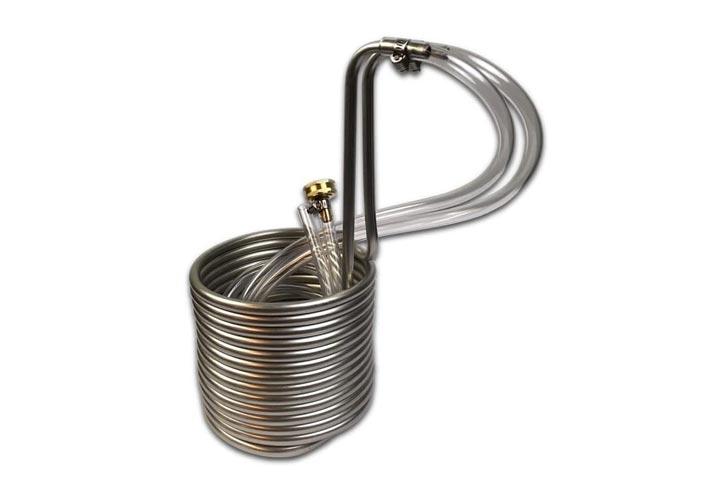 Coldbreak Chiller is compact equipment for chilling small batches of about fivegallons. It is an immersion wort chiller made from 25ft of ⅜-inch OD stainless steel tubing. The chiller is assembled with two 4-inch clear vinyl tubing, three strong stainless steel hose clamps, and one ¾-inch heavy-duty female swivel garden hose fitting. The chiller has a coil of 6inch height, 6.75-inch diameter, and 13.5-inch inlet/outlet height.
Features
Dimensions: 4×7.4- in
Weight: 3lb
Material: Copper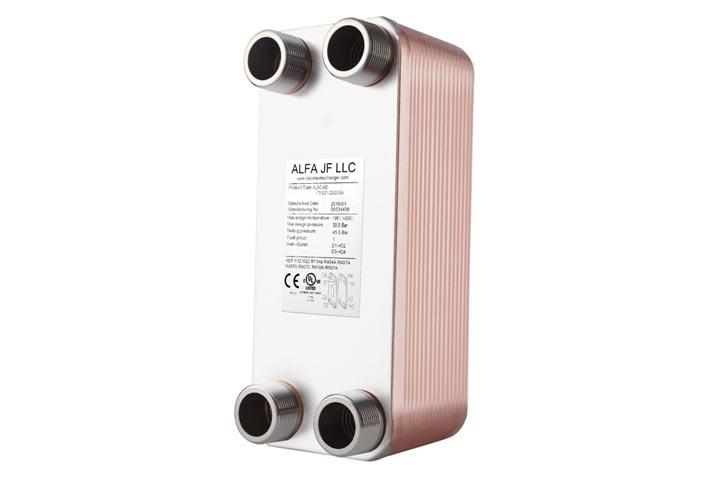 AB Plate Exchanger is lightweight equipment made of high-quality 316L stainless steel, brazed with 99.9% copper, and has ¾-inch NPT male fittings. It features corrugated plates that produce a highly turbulent flow for an accurate counter-current exchange.It can be used for multiple functions such as homebrew chilling, water heating, central heating, floor heating, and solar heating. The equipment ensures high thermal efficiency and resists oxidation and leakage.
Features
Dimensions: 8x3x5in
Weight: 6.98lb
Material: Stainless steel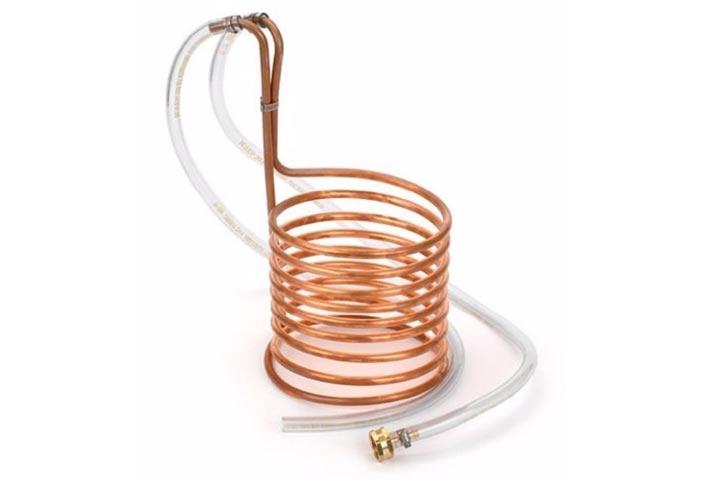 E.C. Kraus Immersion Chiller is made of high-quality stainless steel. It is ideal for cooling five to ten gallons of beer in batches. The equipment ensures cooling of the wort in minimum time with no infection and no oxidation. The chiller has 20ft copper tubing and two ⅜-inch ID vinyl hoses. It also has a brass garden hose fitting to thread onto a laundry sink faucet or outside faucet. A faucet adapter is included for attaching to most kitchen faucets.
Features
Dimensions: 01×10.39x10in
Weight: 4.3lb
Material: Stainless steel
How To Choose The Right Wort Chiller?
Here are some factors to help you choose the best wort chiller for your home.
Type:As discussed above, three types of chillers are available in the market: immersion, counterflow, and plate. Do your research and select the one that suits you the best
Size: Decide on how many gallons you plan on cooling with the equipment. For example, equipment of size 25ft ⅜-inch is apt for five gallons, while 50ft ½-inch is suitable for ten gallons of beer.
Material: The heat exchange properties of a chiller depend on the material used for making it. Copper and high-grade stainless steel are preferred materials for this equipment.
No matter which type of beer you wish to brew, the best wort chiller equipment will save you time and energy. It helps pitch faster and protects your wort from getting spoiled by the bacterial invaders.
Recommended Articles: