Knitting a baby blanket is a pleasure every mother or grandmother would enjoy. Soft, snuggly, and cozy covering provides comfort and security to your child, and therefore choosing a good yarn is of utmost importance. It is not just about the color and texture but also the durability and maintenance. Choose from our list of the best yarns for baby blankets and knit your baby the comfort shrug.
14 Best Yarns For Baby Blankets


The soft 100% polyester fiber yarn by Bernat in pitter-patter color is ideal for baby blankets and garments. It is a soft chenille-style yarn with a big gauge. The yarn is perfect for knitting and crochet and is long-lasting. It is soft on the baby's sensitive skin and has been tested for over 300 harmful substances. Therefore, it keeps your baby safe, warm and snuggled. The ball size is 300g and 201m.
Pros
Versatile
Machine-washable
Available in various colors
Safety-certified
Cons
Some skeins may have too many knots
Caron Jumbo Yarn is a worsted weight four yarn. It has a large range of shades and is available in an economical big ball skein. The yarn is machine-washable, easy to dry, and care. The ball size is 340g and 544m. You can use it for crochet and knitting garments and accessories. It is ideal for home decor projects.
Pros
Rich variety of colors
100% acrylic
Versatile
Soft
Cons
The Bernat Pipsqueak Yarn is a set of three skeins with 277m knitting yarn. It is made from 100% polyester and has a super bulky weight yarn no.5. This four-inch gauge is suitable for knitting and crochet. The yarn can be hand washed and dried and is easy to maintain.
Pros
Dry cleanable
Machine washable
Soft on child's skin
Cons
Feels Like Butta yarn from The Lion Brand has a velvety touch of chenille. The yarn feels soft and delicate on the skin and suitable for children and adults. Pastel palettes make these yarns comforting and look cozy.
Pros
Machine wash and dry
100% polyester
Available in many colors
Suitable for babies and adults
Cons
Color may differ from product image
If you are looking for a yarn for a 5mm knitting needle or a 5.5mm crochet hook, the Soft Baby Steps yarn from Red Heart could be a perfect choice. It measures 234m and is made of 100% medium worsted acrylic material. It is ultra-soft to touch and comes in fresh, no-dye colors for babies.
Pros
Machine washable
Soft texture
Acrylic
Available in many colors
Cons
The pack of three balls from Lion Brand BabySoft yarn is available in a lovely palette of pastel colors. It has a comfortable texture and is soft to touch. It contains 420m of yarn and is made of 60% acrylic and 40% nylon polyamide materials.
Pros
Soft on baby's skin
Available in various colors
Machine-washable
Lightweight
Cons
Knitting and crochet projects with baby yarn become easier with Mary Maxim Twinkle yarn. The acrylic sock yarn is four-ply and 210m. It is a super lux yarn blend that is ultra-soft and extremely warm. This yarn is suitable for handmade sweaters, clothes, baby afghan blankets, hats, socks, and winter gear.
Pros
Durable
Cozy and cuddly
100% washable
Non-fade colors
Cons
The baby Alpaca yarn is available in sets of over 35 colors. Each ball is 50m long and bulky. The 100% Alpaca wool is soft and snugly. The natural fiber is insulating and temperature-compensating, worn in any weather. It is a long-lasting and versatile yarn and does not cause any itching or scratching. The lightweight yarn features low moisture absorption and does not collect sweat bacteria.
Pros
Durable
Odorless
Hand wash
Natural fibers are soft on the skin
Cons
The Himalaya Dolphin Baby Yarn comes in two steins of 100gms each. Each ball measures 120m and is formulated with 100% micro-polyester. It is suitable for knitting, crochet, and crafting.
Pros
Super soft
Suitable for 6.5mm needle size
Machine washable on delicate cycles
Velvety
Cons
The Drops baby merino yarn
is temperature regulated and works well for summers and winters. This yarn is spun from extra-fine merino wool and is super soft on delicate baby skin. It is machine-washable and suitable for daily use.
Pros
Superwash
Solid shades
Itch-free
Durable
Cons
The Amigurumi yarn from Himalaya Dolphin is suitable for baby blankets. The chenille velvet yarn measures 120m per ball and weighs six super bulky. You can use the yarn for knitting or crochet and it is made of 100% micro-polyester. It helps make men and women cardigans, hats, shawls, lush blankets or crochet pillow covers, and other home decor items.
Pros
Includes four skeins
Color choices available
Great for doll making projects
Extremely soft
Cons
Puffy fine yarn from Alize is perfect for making baby blankets. The yarn is constructed from 100% micro-polyester that is super chunky and woven worsted. It has a thickness of six super bulky, and each ball is 14.5m long. This pack contains three steins and can be used for loop weaving and crochet.
Pros
Soft
Quick
No needles or crochet hooks required
Available in multiple colors
Cons
Loops are relatively small
The Truevalue knitting yarn is suitable for finger knitting and does not require any needle or hook. 100gm and 7m of yarn in each of these five steins are ideal for making baby blankets. It can be used for making garments and accessories and is also perfect for improving a child's creative skills.
Pros
Soft
Looped yarn
100% polyester
Suitable for unique crafts
Cons
The 50g acrylic yarn from Golo is ideal for knitting and crochet. It is soft, strong and ideal for starters. It is made of 35% acrylic and 65% cotton and measures 125m. The four-ply yarn is not thick and is easy to work with, providing ultimate comfort. The yarn is available in a variety of attractive colors.
Pros
Soft
Strong
Ideal for knitting
Good for beginners
Cons
How To Choose The Right Yarn For A Baby Blanket?
Here are some points to consider when buying yarn for a baby blanket.
Yarn fiber: Acrylic, bamboo, superwash wool, and cotton fibers are ideal choices for baby blankets. The fiber should be soft and non-irritable to the baby's sensitive skin. Fluffy fibers, such as alpaca, mohair, or angora, may feel snuggly but may shed, posing danger to the child. Single-ply fibers are less durable.
Washing instructions: Choose a yarn that is machine washable and tumble dry. You can also find yarns that require hand wash.
Temperature regulated: Choose a fiber that does not overheat or hardly heats. It should keep the baby's body temperature regulated and comfortable. Merino yarns are a good choice for temperature regulation – keeping babies cool in summer and warm in winter.
Weight: If the yarn is heavy, it may be suffocating and uncomfortable to the child. Choose a lightweight and fluffy fiber, such as four-ply and DK for baby blankets and wraps.
Color: A darker color may hide spills and stains, but bold colors may not be cute. Shaded yarns are also available to match every outfit.
Yarn tension: Do a small, destructive test before you venture on a project of knitting a whole blanket. The yarn should take the tension of the pattern and design of your knit. Knit a swatch to check the durability of the yarn.
Frequently Asked Questions
1. Is wool a good material for a baby blanket?
Wool is an excellent choice for baby blankets, especially the all-natural and organic ones. These yarns contain no synthetic fibers and are safe for the baby's sensitive skin. Wool also absorbs moisture quickly to keep the baby warm at all times.
2. Is it safe to wash knitted garments?
It is safe to wash knitted garments to help them last longer. The type of yarn determines the type of care required. Most yarns come with instructions on whether they can be machine-washed, hand-washed, or dry cleaned.
3. How to decide between yarns for warm and cold weather?
Yarns made from cotton or any plant fiber, including rayon, linen, hemp, and bamboo, are great for summer as they are lightweight and breathable.
Heavier yarns with worsted weight and bulk add warmth to the garment. A wool blend or acrylic with wool is a good option for extra warmth in cold weather.
A good blanket is soft and cozy and puts your baby in a comfortable slumber. The yarn to knit a garment needs to be cushy, soft, and non-irritating to your baby's sensitive skin. Browse through our list of the best yarn for baby blankets and pick the best for your precious one.
Recommended Articles: 
The following two tabs change content below.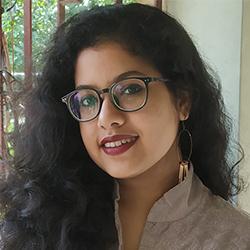 Poulami Nag
Poulami Nag is a writer and associate editor at MomJunction. She did her MA in English from Miranda House, University of Delhi and has qualified UGC-NET. Her journey as a content writer began in 2017 and since then she has garnered diverse interests along the way. Her knowledge of literature and language has given her an eye for detail and...
more