Selecting the right variety of yarn is essential for knitting and crocheting. To make a blanket, you would need soft, washable, and skin-friendly yarn. Usually, yarn is made of several materials, including cotton, acrylic, wool, and polyester. You can choose one or more, depending on the kind of blanket you want to knit. Keep reading, and we will give you a list of the best yarns for blankets and how to choose them when shopping online.
11 Best Yarns For Blankets
You can make a soft and luxurious blanket with this weighted yarn made of 100% polyester. It could be a great choice to knit afghan blankets that require bulky stitches. It is available in different colors, including aquatic, scarlet, sand, pumpkin spice, dark grey, pink lagoon, and blue velvet. Offered as a 10.5oz size yarn ball, which is equivalent to 220 yards of yarn, this can be used to make small and big blankets that can be washed in a machine. The recommended knitting needle and crochet hook for the yarn is 8mm (U.S. 11).
Making a blanket with this soft yarn could be easy, fast, and fun, that too without a hook or a needle. It is available in single and double colors and can be used to make a soft, smooth, and comfy blanket. One skein has 3.5oz or 7.6yrds of yarn that is lightweight and made of 100% polyester to make blankets and rugs. It can be washed and tumble dried (low) in a machine.
Bring home a pack of three skeins of Bernat blanket yarn, available in light and bright colors, such as pansy purple, vintage white, waterslide, country blue, red white boom, and pow purple. Each skein holds 108yds or 5.3oz of 100% polyester yarn. You would require an 8mm (U.S. 11) knitting needle or 19mm crochet hook to make a blanket with this nice yarn.
You can use the super fluffy and light yarn material to make warm blankets. It is available in two sizes, 20m and 60m, and comes in six colors, including grey, blue, tan, mint, pink, and dark grey. You don't need a needle for this thick yarn, as it is easy to create any pattern just with your hands to make a beautiful yarn blanket. You can even wash the blanket made from this chunky yarn in a machine.
The premium-quality super soft yarn can be used to make a chunky blanket. The yarn material is available in different sizes, including 4.4lbs, 6.6lbs, 8lbs, and 9lbs. It is available in 13 colors, including green, yellow, white, rose, beige, red, purple, and grey. The fine and soft wool does not irritate the skin, and a blanket made with this wool can regulate body temperature and keep you comfy and warm on cold days and cool on sunny days.
You can knit a super fluffy, comfortable, and chic blanket with this good quality cotton yarn. The chunky yarn is easy and fun to use with your bare hands to make a blanket of your choice. The yarn is thick and durable, pet-friendly, and can be washed in the machine. It is available in three sizes, 0.55lb, 1.1lb, and 2.2lb, and ten colors, including grey, light green, denim blue, pink, navy, red, white, milk-white, and beige.
Wrapping yourself in a blanket made of this soft, smooth, and lightweight yarn could make you feel warm and pleasant. The skin-friendly yarn can be used for knitting, felting, and weaving blankets or rugs. The skein of yarn is available in four sizes, 3lb, 5lb, 8lb, and 11lb. You can use a needle or make a blanket with your hand, whichever is convenient for you. Some of the colors available are yellow, khaki, green, rose red, ivory white, and navy, to name a few.
You can make a 42x42in hand-knitted blanket with this weighted yarn made of 100% polyester fiber, wrapped as a 28oz ball. It is skin-friendly and can be washed and dried in the washing machine. The yarn is available in single and multiple colors to make beautiful and comfortable blankets of your choice.
You may not need a needle or a hook to make a blanket out of this super fluffy quality yarn. The 100% micro-polyester yarn can be used for hand-crafting a fine piece of colorful and beautiful blanket. One skein contains 15.3yds of yarn with a super bulky weight of 6. Each skein of yarn has a mix of three colors, which makes it a unique choice for a handmade blanket.
Get a pack of two or four skeins of this yarn, based on the size of the blanket you want to knit. The 100% polyester fabric yarn comes in different colors, including yellow, pink, navy, red, and green, to name a few. The recommended needle to make a blanket of this yarn is 4.5mm (U.S. 7), and the recommended crochet hook is 5mm (H-8). The fabric is dirt-resistant, lustrous, and can be washed in the machine.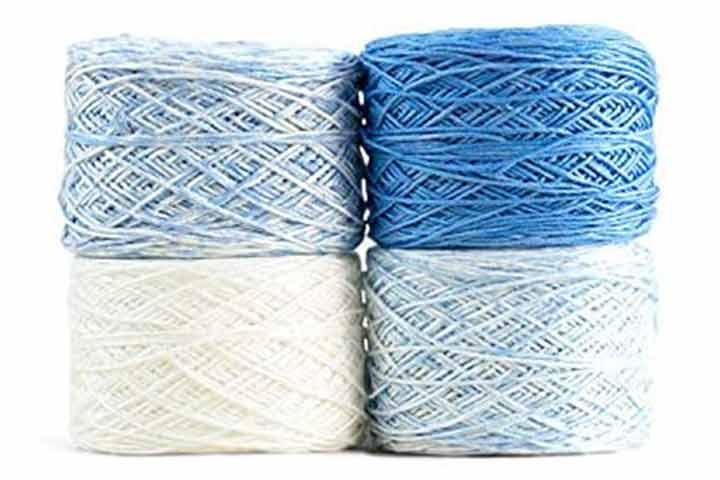 The pack brings you four skeins of quality yarns in four different shades of blue. The high-quality yarn is made of 50% cotton and 50% viscose, suitable for knitting a baby blanket. Each skein of this set contains 241yds of yarn that could be enough to make a small-sized blanket. You can use a circular needle of size U.S. 2 or 3 and a gauge of 32R and 23STS. It is a machine-washable yarn that is known for its premium-quality and texture.
How To Choose The Right Yarn For The Blanket? 
Here are a few tips that can help you select the best yarn for a blanket.
Types: Wool, cotton, fleece, and polyester are the common types of yarn that can be used to knit a blanket. You can choose any yarn type that suits the pattern requirements of the blanket.
Texture: Based on the kind of blanket you want to make, you can choose from a lightweight yarn, chunky yarn, or weighted yarn. You can even go for super fluffy and very soft yarn.
Weight: The weight of the yarn can be chosen as per the thickness of the blanket. The thicker the yarn, the warmer you can be when wrapped in it.
Other features that you can look for when choosing the yarn to knit a blanket are color, thickness, eco-friendly, skin-friendly, machine-washable, and dust-resistant.
Consider the tips and compare the yarns based on their features and cost. You can even make a checklist and see if the product details match your requirements before buying the best yarn to make original blankets.
Recommended Articles: 
The following two tabs change content below.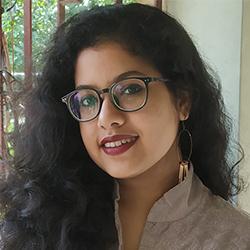 Poulami Nag
Poulami Nag is a writer and associate editor at MomJunction. She did her MA in English from Miranda House, University of Delhi and has qualified UGC-NET. Her journey as a content writer began in 2017 and since then she has garnered diverse interests along the way. Her knowledge of literature and language has given her an eye for detail and...
more