Yoyos are something that was invented way back in 500BC. Though one might be skeptical of using an age-old toy when there are new and innovative toys at your disposal, yoyos have undergone a major evolution since then. This age-old toy has become a true innovation.
Yoyos help to improve hand-eye coordination and motor skills. Kids get to try out different yoyoing methods and tweak it to their likes. Yoyos are not just a toy, but it can be turned into a hobby or an art form. And as parents, any hobby that your child acquires that keeps them away from screen time is definitely worth it. So, without further ado, let's dive in and check out the 13 best yoyo for kids that MomJunction has lined up for you.
13 Best Yoyo For Kids
If you are looking for a simple design without whistles and bells, then this yoyo for kids might be the one for you. The steel axle and the wide shape of the yoyo makes landing it on the string a lot smoother.
Features
It has a steel axle for smooth spin and features a wide string gap
It is crafted with starburst response
The yoyo provides a smooth landing
It comes in four color variants
Designed using durable plastic
This yoyo is the perfect pick for beginners and comes with a smart design. It offers great yoyo tricks for kids and someone looking to improve their skills.
Features
The centrifugal clutch in the yoyo allows the automatic return to hand
Made using high-quality material, it offers great durability
Easy to remove knots
It comes in three different colors — red, green, and blue.
Looking for the best yoyo for kids? What sets apart the Merlin yoyo from the rest is that it can be easily turned into an unresponsive yoyo by putting a wide C bearing.
Features
Optimized to provide long fast spins
Offers great balance and stability
Has a yoyo string and ball-bearing axle
Crafted with silicone response system
Let's be honest, the cool black color with a splash of metallic gold is enough to make anyone deem this as one of the best yoyo for kids. The non-responsive you makes it a great option for beginners.
Features
It includes 2 rubber weighing rings for longer finger spins
The steel axle offers smooth spinning
Made using high-grade aluminum, it gives the yoyo a sleek metallic look
It features zero recess feature without overdoing it
Next on our list of the best yoyo for kids is the Yomega Brain Yoyo. The easy to throw and play design makes it easy and less frustrating for beginners to learn the basics.
Features
The centrifugal clutch makes it easy to return to the hand
The clutch system on the downswing for longer spins
Designed to make it easy to master classic tricks
Knows when to sleep, spin, or wake up at the string end 
Who said the best yoyo for kids should always come with typical features and design? We believe the Glow Ball Light-Up Yo-Yo is everything you want in a yoyo, and so much more! The battery-powered yoyo has lights that get activated as it spins. 
Features
The yoyo lights up as it spins
It features boomerang action
It includes batteries
Recommended for kids around the age of 4 years and above.
The Yomega Fireball Anatomy is a great yoyo for intermediate and advanced players. It would also make a great gift if you want to introduce someone to the basics of yo-yoing.
Features
It features high-performance transaxle that enables smooth long spins
The fireball allows one to move to the advanced stage of yo-yoing
The modular design makes it easy to lubricate the parts or untangle strings
Easily returns to the user's hand with a flick of the wrist
It is perfect for kids of all ages
If you are hunting a yoyo with a badass design, then your quest for the best yoyo for kids ends right here. Known for its uber-cool design, the Power Brain XP is a great pick for anyone looking to purchase a stress buster.
Features
It features a smart switch to change from an automatic return to manual.
It includes 2 extra strings
It has a starburst return system
Crafted for beginners and intermediate level players
It comes in various colors
The Yomega Raider is geared towards anyone who is past the beginner's level. This yoyo is not just restricted to kids but can be used by adults as well.
Features
The revolutionized design makes it easy to master complex string tricks
Offers optimum control to two-handed players
Designed with the starburst return system
Features an advanced ball bearing technology
Recommended for kids of 4 years of age and above
Finding the best yoyo for kids can be tedious. The Spintastics Tornado 2 from Spintastic is designed by none other than the world champion, Dale Oliver. Whether it is learning new yoyo tricks or honing your looping skills, the Tornado is all you need.
Features
Comes with a traditional yoyo string
Designed with a bearing that sleeps
It features a starburst style response
Can be easily unscrewed to remove knots or change strings
Provides longer spins with ball bearing axle
This wooden yoyo is reminiscent of olden times and easy to use. This yoyo allows you to engrave your child's name in it, making it one of the best yoyo for kids. This makes for a great personalized gift item as well.
Features
Made using durable lightweight wood
It can be customized up to 14 characters and in 4 different font styles
Comes with a string attached
Responsive yoyo that is easy to play with
These yoyos glow in the dark and come in 5 attractive colors. It is a great pick for beginners and intermediate players and lets you perform all the classic yoyo tricks with ease.
Features
The responsive yoyo requires just a tug along the string to wake up
Crafted with a ball bearing axle for longer spin times
Suitable for intermediate and advanced tricks
Suitable for both kids and adults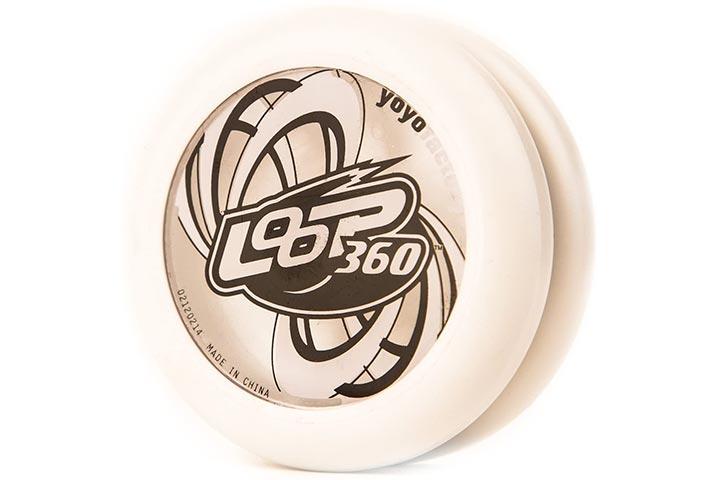 Next on our list of the best yoyo for kids is the Loop 360 from YoYoFactory. Made with the intention of making yo-yoing easier, it is a great pick for beginners and little ones as well.
Features
Crafted using aerodynamic principles, it offers great performance
The modular design can be easily unscrewed for lubrication and untangling strings
Made using durable material
Suitable for kids, beginners, intermediate, and advanced players
Now that you have got the list of the best yoyo for kids, let's help you in making a better decision at that.
How To Choose The Right Yoyo For Kids? 
Here a few points to bear in mind while buying a yoyo:
If your child is a beginner, make sure to pick one that is beginner-friendly and easy to use.
A yoyo that is crafted for beginners will help your child learn the basic yoyo tricks with ease.
Another factor to take into consideration is the design and durability of the product. After all, you don't want to be stuck with a product that your child doesn't find to be visually appealing or can't withstand wear and tear.
The durability and affordability of yoyos make it a wise toy to gift your kids. Apart from being an entertaining option, yoyos are perfect for kids to develop their hand-eye coordination and motor skills. We hope that our diverse list of yoyo toys made it easier for you to choose the one that would be perfect for your kid.
Recommended Articles: