Nothing compares to the comfort of sitting on the best anti-gravity chair and relaxing your muscles after a long day at work or after your workout sessions. Of course, the chair doesn't float or defy the rules of gravity in any way, but the name originates from the fact that it can emulate the reclining posture astronauts take when shuttling toward space. This strategic position helps them feel less stressed and shields them against intense gravitational effects while taking off from Earth.
Also known as zero-gravity chairs, these are designed to distribute your body weight evenly and put you in a neutral position, thus taking the pressure off your body, especially from the spine. If you want to bring one home, here are some of the top picks that deserve a spot in your living room. Read through this post if you aren't sure of what to look for in a zero-gravity chair, as we also give you a few buying tips.
20 Best Zero Gravity Chairs
This zero gravity pool chair offers weightlessness and comfort lounging for your day in the pool. Equipped with armrests and leg bolsters, it comes with adjustable position options, including small, medium, and tall, or to sit higher or lower than the water level. Owing to its compact size, it is easy to inflate and drain water from the chair.
Pros
Portable
Compact size for easy storage
Measures 42inx 40in (107cm x 102cm) when inflated
Has a capacity of 250lb
Inflates and deflates quickly with the DuoLock inflation system 
Cons
Seams may open due to wear and tear
May be difficult to inflate
If you are looking for foldable, lightweight zero gravity chairs, this pair offers real comfort and comes with a cup holder tray. Sit on it and glide into a zero gravity position on these chairs that are equipped with elastic cords that adjust to your body and support you well in suspension.
Pros
Easy to assemble and fold
Comes with a removable, adjustable padded headrest
Ergonomically designed for comfort and is highly portable
UV-resistant mesh seat offers durability
Has a weight capacity of 250lb 
Cons
May rust
Locking knobs may become dysfunctional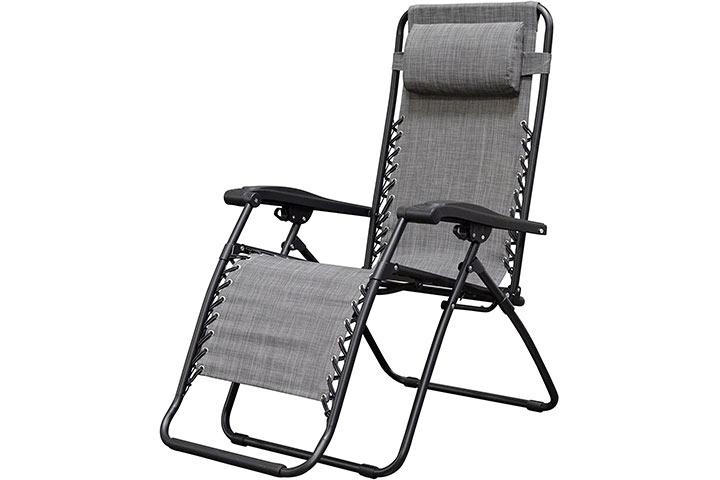 The Caravan Sports Infinity zero gravity chair comes with a locking system and adjustable headrest. Made with Textilene fabric and tubular steel frame, it can lock in different positions for lumbar support.
Pros
Adjustable pillow for custom fit and lumbar support
Easy to fold and open
Has a weight capacity of 250lb
Compact; folds down to 6.3in width 
Cons
May not be as sturdy
Locking feature may not be effective
Made with UV-resistant mesh, and a powder-coated steel frame, this zero gravity chair by Sunjoy adjusts to your body. The chair requires no assembly and is equipped with contoured armrests and a padded, removable headrest.
Pros 
Easy foldability for storage and transportation
Weather-resistant Textilene fabric
Lockable system for the reclining position
Lightweight 
Cons
May rust
Locking knobs may become dysfunctional
FDW's zero gravity patio chair offers a comfortable reclining position and comes with an adjustable headrest. Because of its resistance level, it does not throw you back when you sit back and provides the appropriate pressure to let you rest in a reclining position. It is made of Textilene fabric and a sturdy steel frame that make it durable.
Pros
No assembly required
Easy foldability for storage
Comes with a non-slip footrest, reducing wear and tear
Has a weight capacity of 250lb 
Cons
May rust
Reclining to the maximum level could be a bit challenging
This zero gravity chair offers a removable headrest pillow, wooden armrest, and a large cup holder for real comfort. It is made of powdered steel frame and durable polyester. Equipped with a patented locking system, it can take a full upright or reclined position.
Pros
Easy to transport and store
Offers full padded seating
Ergonomic design
The fully reclined chair can reach a length of 72in
Has a weight capacity of 350lb 
Cons
May be difficult to recline
Armrest coating may peel off
The Homall Zero gravity chairs are a set of two with a head pillow and a cup holder. Easy to fold and unfold, these chairs are made of double bungee rope and steel tube frame. One of the best zero gravity outdoor chairs, these are equipped with a lockable recliner system that enables you to adjust according to your comfort.
Pros
Lightweight
Has a capacity of 300lb
No need for assembly
Fully detachable padded pillow 
Cons
May rust
May be flimsy or unstable
This padded, zero gravity chair offers a cup holder and removable headrest pillow. It is made of sturdy steel and Oxford cotton for maximum comfort. The chair can be spot cleaned by a damp cloth and comes with a one-year AmazonBasics warranty.
Pros
Measures 65inx29.5inx44.1in
Can be folded into a compact size
Easy storage and transportation
Ergonomic design 
Cons
May be difficult to recline to the maximum level
Lock may become dysfunctional
If you are looking for an oversized zero gravity lawn chair, then this one from Portal may be the one for you. It comes with a padded seat, wooden armrests, and an adjustable padded pillow for lumbar support. It is equipped with a locking system and a side tray table for extra convenience.
Pros
Has a capacity of 350lb
Easy to fold into a compact size
Length of the chair, when fully expanded is 72in
Ergonomic design that offers a comfortable curve 
Cons
May develop mildew
May rust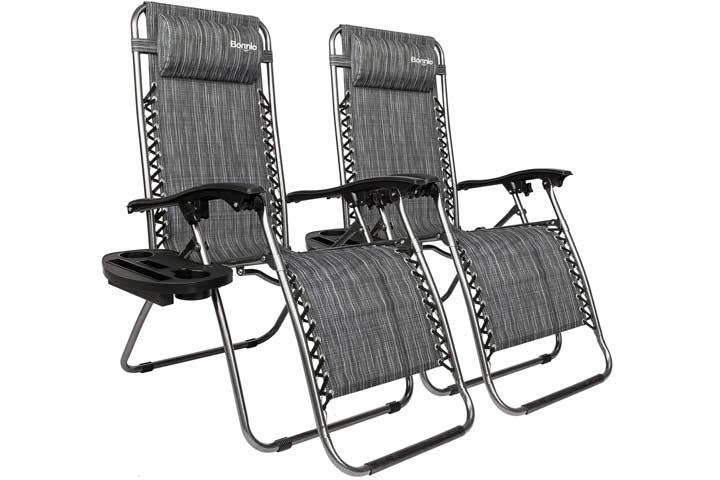 This zero gravity camping chair comes with an accessory tray and locking system. It is made with all-weather fade-resistant Textilene sling fabric and sturdy steel frame that glides easily into the zero-gravity position. The bungee cords connecting the frame and the fabric offer additional comfort.
Pros
Has a capacity of 350lb
Measures 70inx20.5inx14.5in when open
Upgraded locking system for easy and safe gliding
Thickened, durable fabric 
Cons
May rust
Lock may become dysfunctional 
This oversized zero gravity chair comes with a thickened 5mm bungee cord that offers additional strength and durability. It is wider and longer than the average chair and is designed for taller people. With its flexible locking system, you can easily adjust it in multiple positions.
Pros
Rustproof
Has a capacity of 420lb
Equipped with a cup holder and headrest
Durable fabric; less likely to tear
31.5in extra wide and 75in extra long 
Cons
May be difficult to recline
Size may be an issue for shorter individuals
This padded zero gravity chair offers versatility and adjustability. Made of heavy-duty metal frame and Oxford fabric, it is equipped with a flexible locking system that allows different reclining positions. In addition, the padded seat and headrest offer lumbar and back support.
Pros
Has a capacity of 300lb
No assembly required
Height of the chair can be adjusted from 32.48in to 44.09in
Weather-resistant and rust-proof
Easy to fold and transport 
Cons
May be difficult to recline
Maybe narrow for some
This Zero gravity chair with canopy by Goplus is ergonomically designed for maximum comfort. Its steel frame and durable weather-resistant fabric add to its sturdiness. It comes with a removable cup and magazine holder, a removable headrest, and a locking system that lets you adjust your chair in different positions.
Pros
Comes with a flexible shade canopy
Lightweight
Easy to fold and transport
Compact and easy to store 
Cons
Lock may become dysfunctional
May rust
This BestMassage zero gravity reclining chair has an adjustable headrest and cup holder. Because of its resistance level, you are not thrown back as soon as you sit, as it applies appropriate pressure to keep you secured. It is also equipped with a non-slip footrest for stability. 
Pros
Comes with a flexible shade canopy
Easy to fold and store
Has a capacity of 250lb
Fade-resistant fabric 
Cons
May rust
Screws may loosen often
This set of two zero gravity beach chairs comes with all essential features, including a flexible locking system, adjustable headrest, and a cup holder. Made of Textilene fabric and steel frame, these chairs are ergonomically designed to offer lumbar support.
Pros
Lightweight
Easy to fold
Have a capacity of 260lb
Measure 59.1inX 20.5X 33.1in when expanded 
Cons
Maybe unstable
Lock may become dysfunctional
It is equipped with an adjustable and removable headrest cushion, contoured armrest, a footrest with a protective ring, and foot glides. Its 20mm European HLE steel frame with resistance levers and UV, mold, and sagging-resistant material offers higher durability. In addition, this sling chair comes with a patented clip suspension system.
Pros
Made of Batyline fabric
Designed for outdoor use
Has a capacity of 310lb
Portable, compact, foldable
Ergonomically designed 
Cons
May not be comfortable for shorter individuals
Designed specifically for tall people, this chair is foldable and compact. It has a locking system that allows for multiple positions, an adjustable padded pillow, and a cup holder.
Pros
Has a capacity of 350lb
Length of the fully reclined chair is 72in, comfortable for taller people
No assembly required
Made of padded polyester fabric 
Cons
May be difficult to maneuver
Weight capacity may be an issue
The zero gravity rocking chair by Furniwell comes with a rocking feature to help you relax. Easy to fold and carry, this chair is made of a durable steel frame with an ergonomic design, double bungee rope, and a triangular structure for more stability.
Pros
Lightweight
Adjustable headrest
Rocking feature
Safer design
Has a capacity of 250lb 
Cons
Seat may fold
Lock may dysfunction
Zero gravity folding chair by BMS comes as a set of two with an adjustable padded headrest. With its easy-to-use twist knobs, it is easy to glide and recline in a preferable position. It is made of a tubular steel frame and UV-resistant Textilene mesh for added strength and durability.
Pros
Lightweight
Has a capacity of 300lb
Length of the fully reclined chair is 61in
Big armrests
Has a phone holder, a pad holder, and water cup holder 
Cons
This zero gravity recliner by Dkeli has all the essential features, including an adjustable pillow for headrest and lumbar support, a cup holder, a lockable recliner system, and foldable design. The powdered-coated steel frame and UV-resistant Textilene mesh ensure durability and quick drying. Its lying length is 65.2in for ultimate comfort.
Pros
Comes with a shade canopy
Easy to fold, carry, and store
Has a capacity of 330lb
Big armrests 
Cons
How to Choose the right Zero Gravity Chair? 
Here is a quick buying guide for you to use when picking up a Zero Gravity Chair.
Utility: You may need to consider where you will be using the zero gravity recliner chair. For instance, do you want it for your patio, pool, or take it along on camping trips? Some chairs are made of heavy material, whereas others are lighter and may be easy to move around outdoors.
Frequency of use: Would you take out those chairs when camping or use them regularly in your sitting area or patio? Based on that, you need to consider the durability and strength of the chair, which may impact your budget.
Dimensions: When buying a zero gravity chair for yourself, consider its dimensions when opened or expanded. Depending on your height, the chair may feel narrow or oversized, if not selected properly. 
Weight capacity: Apart from the dimensions, you should also consider the chair's weight capacity, which is dependent on its frame and the supporting fabric.
Flexibility: These chairs can take different positions depending on where you fix the lock. Therefore, you may need to consider the adjustability or flexibility and how easy it is to change the positions. 
Assembly and foldability: It is equally important to consider how easy it is to assemble the chairs, although most chairs may not need assembling. You may also want to look at the ease of foldability if you plan to carry or transport these chairs frequently.
Material: Material of the zero gravity chair may determine the durability and ease of cleaning. For instance, the majority of recliner patio chairs are made of Textilene, mesh-like fabric or polyester, whereas massage chairs are primarily made of leather. 
Accessory features: Depending on your use, you may also consider additional features that come with the chair, such as a cup holder, adjustable headrest for lumbar support, canopy, or a foot massager. 
Benefits of Zero Gravity Chairs
Zero gravity chairs may offer these health benefits.
These chairs alleviate the pressure from the spinal discs by ensuring that the body takes a neutral position and natural curvature of the spine.
Zero gravity chairs also help improve the circulation of blood through the body.
As you take a relaxing or comfortable position in these chairs, you could experience reduced mental stress and physical exhaustion. In fact, many people use such chairs for meditation sessions or alone time.
Massage features in zero gravity chairs can also help reduce muscle stress by offering instant relief.
Zero gravity chairs are designed to offer complete lumbar support or back support. Therefore, these chairs will ultimately help you improve your posture by maintaining the spine's natural curve.
When in a zero-gravity position, your lungs may expand completely, allowing oxygenated blood to reach the body with lesser energy. Therefore, it is believed that these chairs may improve lung function over a period of time.
Types of Zero Gravity Chairs
Zero gravity chairs come in different styles and may include massage options too. Let us have a look at them.
Zero gravity recliner: This style of chair is ideal for elderly persons, post-operative patients, or individuals suffering from spine-related problems. These chairs help relieve pressure from the spinal cord.
Zero gravity massage chair: If you like to get an occasional massage, you could look at these chairs. Designed to alleviate muscle tension, these zero gravity massage chairs are suitable for seniors, and those with back problems.
Zero gravity rocking chair: These chairs offer relaxation by mitigating back pressure and pain. Zero gravity rocking chairs may work for people with back pain and elderly persons.
Orbital zero gravity chair: Because of their compact size, orbital zero gravity chairs are perfect for those who are short on space. These chairs are said to provide the right posture for those recovering post-surgery or those suffering from high blood pressure. They work by relieving excess strain and back pain. 
Why Trust MomJunction?
Sakshi John is a seasoned writer and reviewer who writes extensively about functional and trendy furniture. She goes through various websites and picks products based on user reviews and ratings. Here, she has listed the best zero gravity chairs and provided the pros and cons of each product to let you make an informed choice. Sakshi also tells you about the types and benefits of zero-gravity chairs and provides you with a buying guide to help you choose the right chair.
Recommended Articles