Zesters are essential kitchen tools that allow you to extract fresh and flavorful zests from fruits and spices. The multi-purpose kitchen tools are also known as rasps or microplanes in the modern culinary world.
Out of the many types of zesters available, not all are designed to help you achieve the desired results. You may choose one, depending on the type of tasks you have in mind. With our list of the best zesters, we help you choose the perfect product for your kitchen.
13 Best Zesters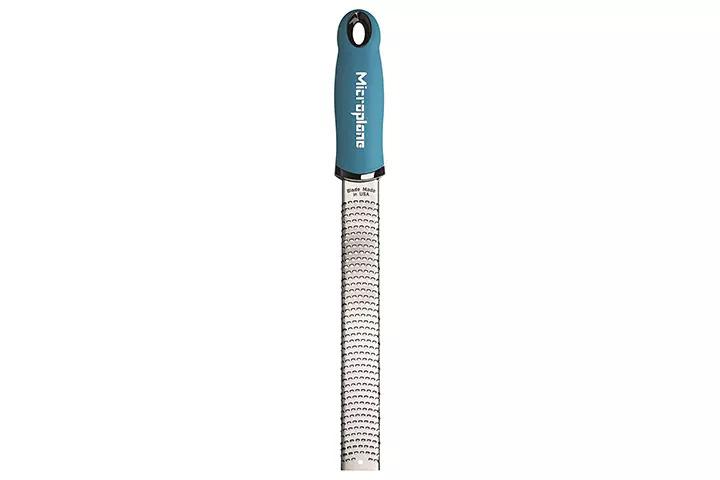 The tool has been designed from photo-etched razor-sharp blades made in America. The photo-etched technology is used to create a finer point. Crafted from surgical-grade stainless steel, the zester is rust-resistant and retains sharpness over time.
Features
Dishwasher-safe
Versatile
Soft-touch BPA-free handle
Easy to store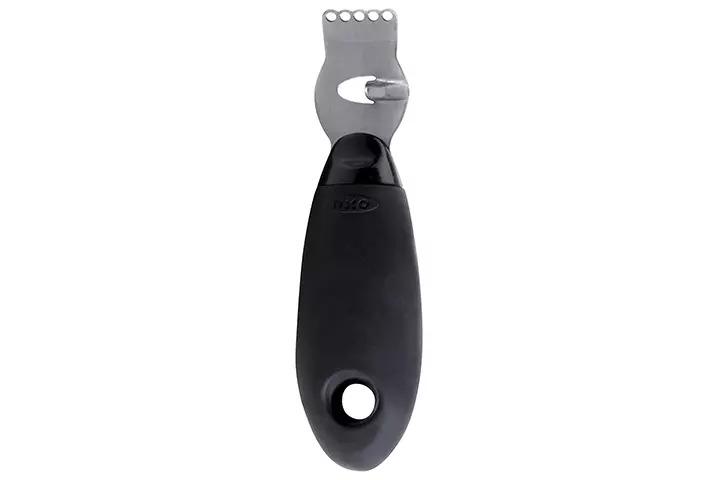 The OXO Good Grips Lemon Zester is one of the best traditional zesters available. It creates ideal, long strands of zest. The zester also has a built-in channel knife if you need long twists of zest to garnish your drinks.
Features
Ergonomic handle that won't slip from your hand
Dishwasher-safe
Handy tool
Durable and sturdy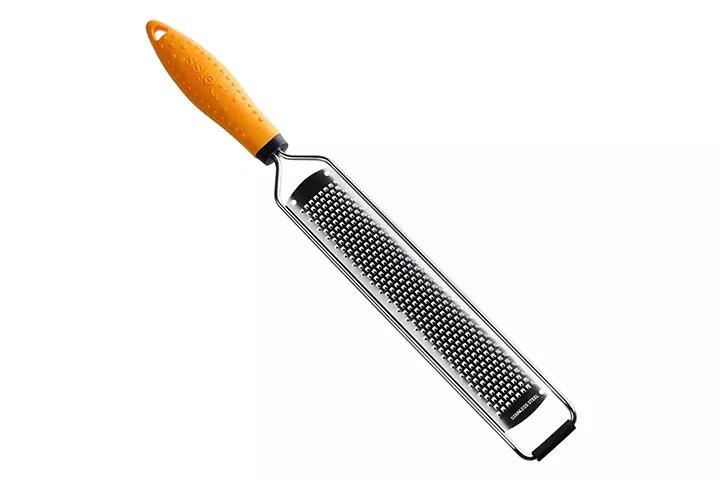 The tool is designed to help you prepare hard-to-grate ingredients into fluff effortlessly. It features rust-proof and razor-sharp blades that are extremely rigid. It is durable, and the curved sides allow easy zesting.
Features
Ergonomic handle for added comfort
Easy to clean as it does not get clogged up easily
Comes with a plastic cover for safe storage
Anti-slip rubber foot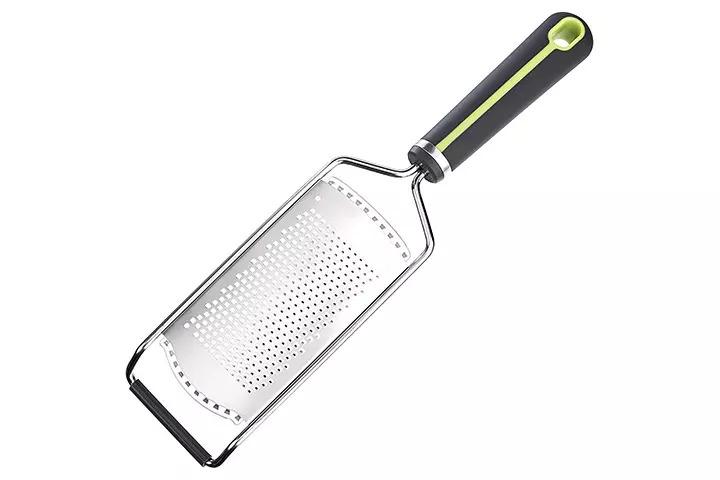 The AmazonBasics Handheld Zester and Grater is perfect to create finely grated and shredded ingredients for your meal. Made of durable stainless steel, the zester can take a substantial amount of pressure. The blades are acid-etched and effectively shred hard food into a fine zest.
Features
Dishwasher-safe
Non-slip and the soft grip comfortable handle
Protective cover for safe storage
Raise rubber foot prevents slipping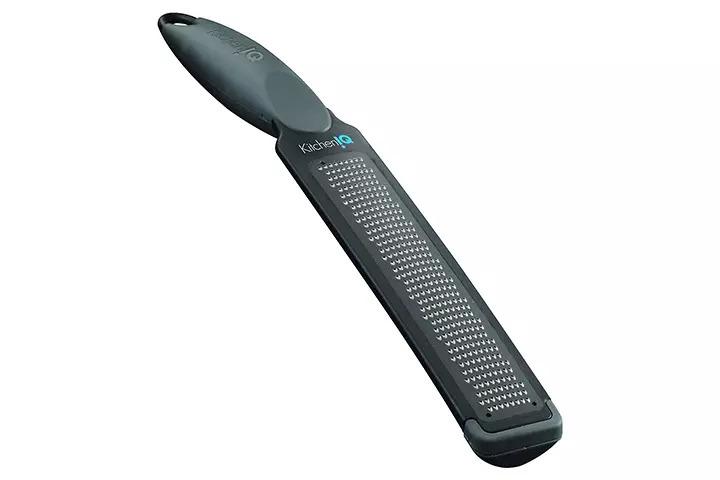 The KitchenIQ Zester is designed with the advanced technology with more than 300 V-etched teeth for zesting any citrus fruit. It uses minimal force to produce even and uniform cuts. The non-stick coating gives a smooth surface for easy zesting and cleaning.
Features
Soft and tough handle for secure grip
Dishwasher-safe
Accompanied by a marked container to store grated ingredients
Re-usable safety cover
Squeegee for easy zest removal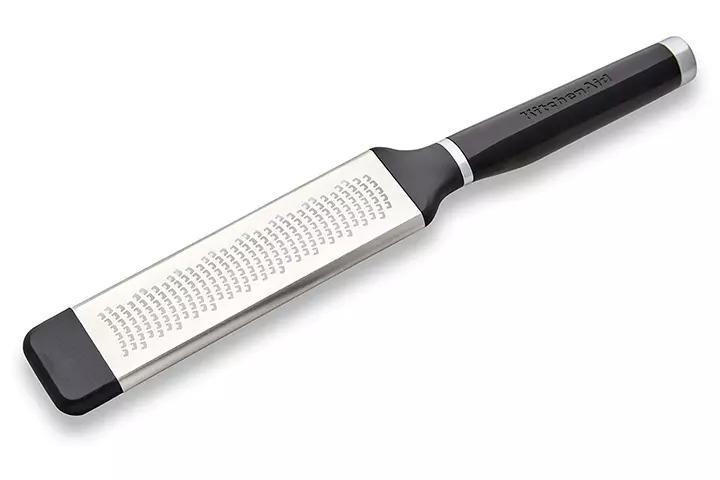 The KitchenAid Fine Grater and Zester is perfect for grating a variety of foods, including ginger, nutmeg, chocolate, and zesting citrus fruits. The grater is crafted from 304 stainless steel extra sharp blades. It features unique micro-serrations that grate in both directions for added speed and efficiency.
Features
Dishwasher-safe
Protective blade cover for safe storage
Ergonomically designed handle for comfort
Anti-skid soft foot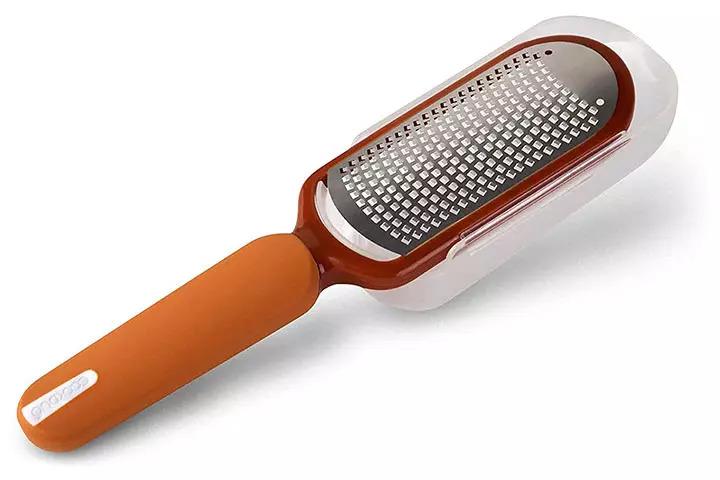 The Cookduo Zester is a high-quality tool that comes with a convenient container to catch the grated zest. Its sharp acid-etched, stainless steel blades are rust-resistant. It is perfect for grating various foods from hard cheeses to spices.
Features
Compact design
Non-slip grip handle
Clear container to catch zest or store zester safely
Dishwasher-safe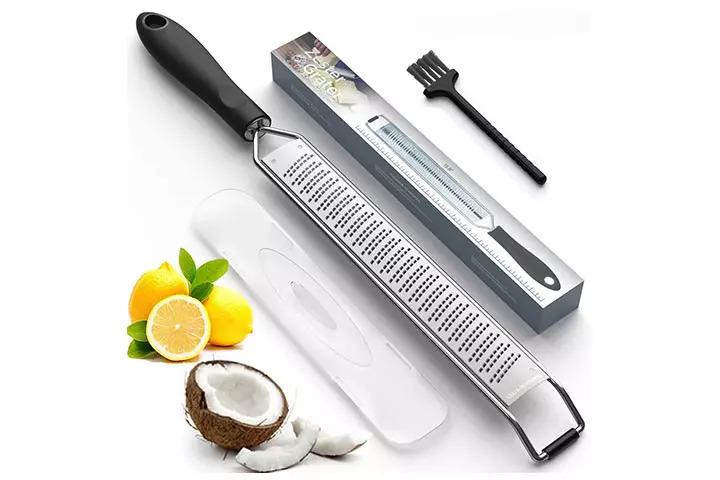 Joyfuyu is one of the best lemon zesters in the market. It is made of premium 18/8 rust-resistant stainless steel with sharp square blades. The zester is a great tool to make kids' meals as the blades do not clog easily when crushing carrots and potatoes.
Features
Tough body
Large silicon handle for comfort
Easy to store with hang hole design
Customer satisfaction guarantee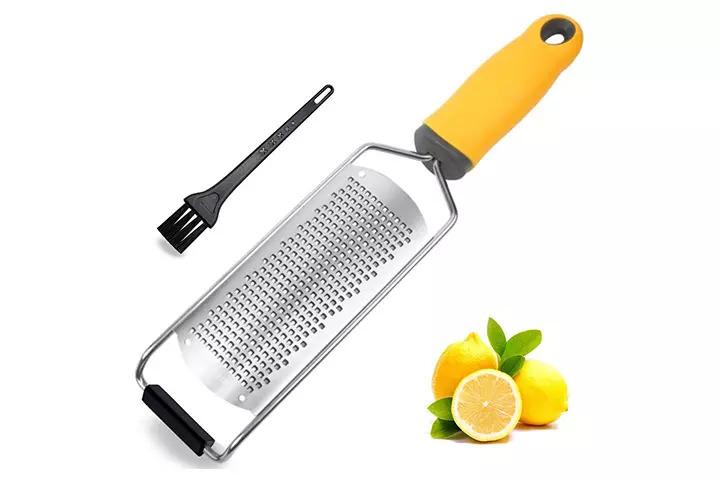 The LCPUD Lemon Zester has a razor-sharp 304 stainless steel blade that can quickly grate any food. Its soft silicone handle provides a better hold over the grater. The zester is designed to keep your fingers safe from hurting.
Features
Durable design
Dishwasher-safe
Includes clean brush to clean hard-to-reach particles
Non-slip handle
Non-slip silicone foot prevents slipping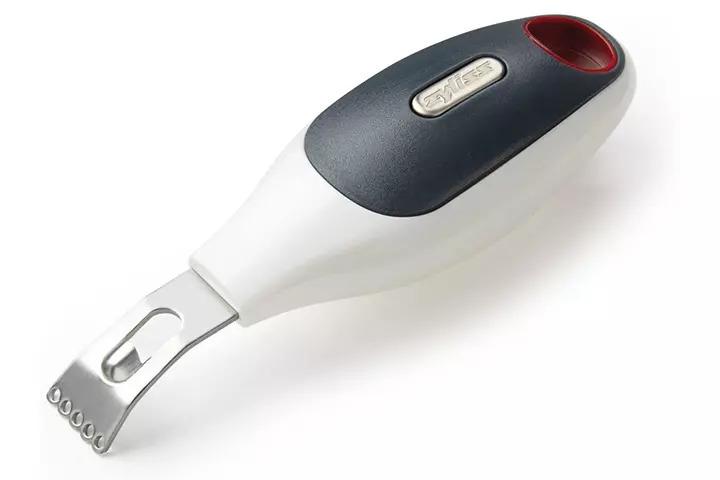 Zyliss Zester offers functionality, safety, and durability. It features stainless steel blades with five teeth to facilitate easy zesting of fruits. The built-in channel knife creates garnishes for your drinks with cocktail twists.
Features
Portable design
Dishwasher-safe
Five-year Zyliss guarantee
Comfortable handle offers firm grip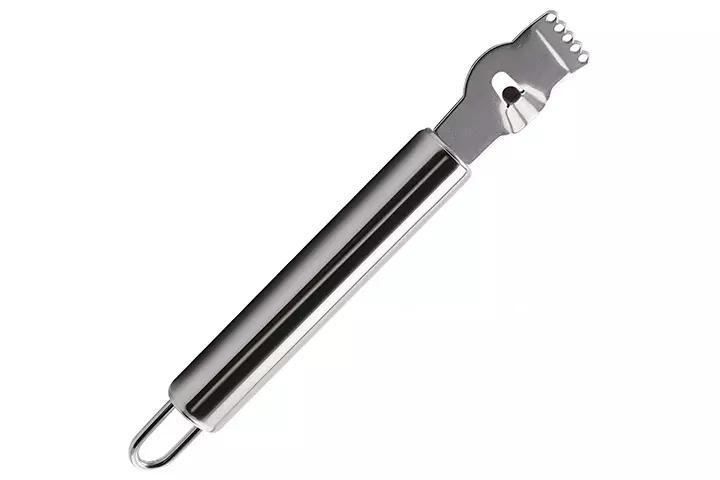 The tool boasts of its award-winning innovative design that brings elegance to your kitchen or bar. The corrosion-resistant blades stay sharp for a longer time. It ensures safety and reduces the risk of contamination.
Features:
Satin-finished handle for secure grip
Easy to clean
Built-in channel knife makes cocktail garnishes
Dishwasher-safe
Durable stainless steel body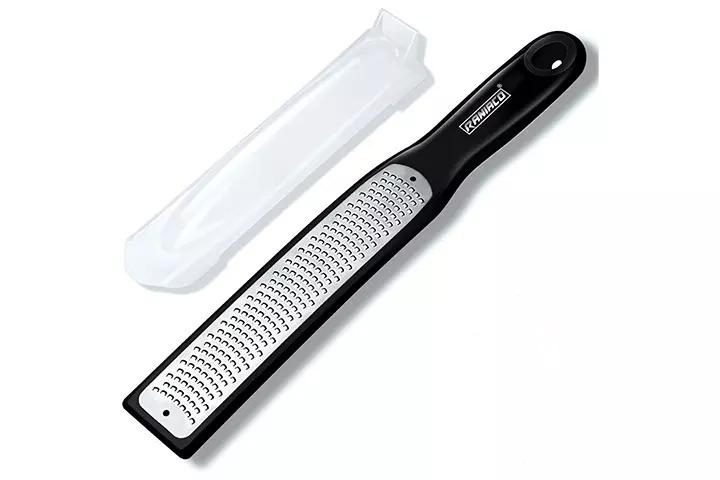 The highly resistant stainless-steel blades of Raniaco Zester are crafted with exclusive technology. It features machine-sharpened blades that allow you to prepare your meal quickly. The zester also has a long slip-resistant handle for comfortable grip and control.
Features
Dishwasher-safe
Protective covering for safe storage
Versatile
Non-slip silicone feet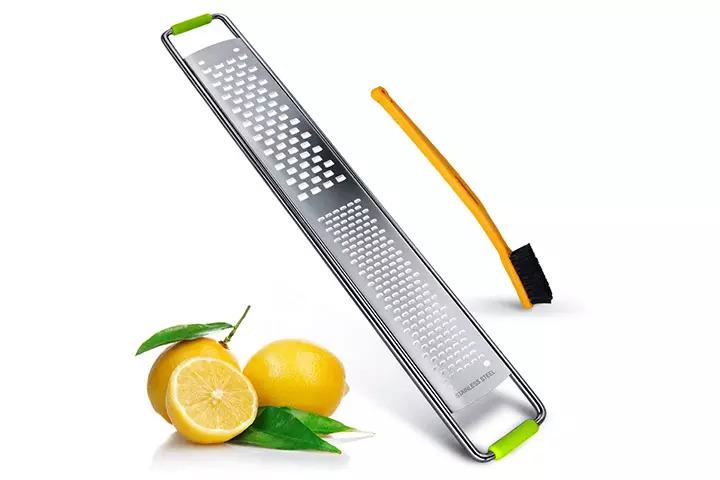 The combination zester with two different-sized blades is perfect for grating hard cheese and crushing baby food efficiently. It is made of high-quality stainless steel and is rust-resistant. Sharp and square edges provide more sturdiness to the zester.
Features:
Easy cleaning brush
Unique coated handle for a comfortable grip
Both ends can be suspended for storage
Easy to use
How To Choose The Right Zester?
Here are some important factors to keep in mind while buying a zester.
Material: Zesters are made of rust-proof stainless steel blades. They retain sharpness for a long time and are durable.
Versatility: Choose a zester with a multi-purpose feature. It will allow you to zest and grate various foods from hard cheese and spices to soft baby food.
Ergonomic handle: Choose a tool with a soft, comfortable handle that will give you a better grip.
Additional features: Zesters with containers for a mess-free experience and protective sleeves for storage are some of the additional features to consider. Look for brands that offer a warranty. It is a good indicator of the quality of the products.
How To Take Care Of A Zester?
Here is how you have to care for and maintain the zester.
Clean the zester thoroughly, either in the dishwasher or under running water, using a cleaning brush. Avoid a scouring pad to clean the tool.
Use a clean, dry towel to pat dry the zester before storing.
Ensure safety by not allowing kids to use it without assistance. Do not allow them to clean it.
Follow the recommended storage option. Pay special attention while storing zesters without a protective covering or sleeve.
It is important to identify the features you desire in a zester, and when you do, it is not difficult to find a good zester. From the zesters listed above, we hope you will find the best one for your kitchen needs.
Recommended Articles: