Cycling is a healthy exercise that people of all ages can indulge in. Teenagers can also enjoy this activity to stay fit and to travel short distances to school, the grocery store, or the park. If you want your teenaged girl to cycle for health but are clueless about what bike you can get her, this post is for you.
Bikes are usually safe and have progressive geometry, plus high-quality components, broader tires, lighter frames, and a broad range of size options to suit people of different heights and builds. These are some of the things you must consider when picking a bicycle for your teenager.
Read on for a list of the best bikes for teenage girls that you can buy today.
10 Best Bikes For Teenage Girls
The EVRYjourney hybrid cruiser is a classic bicycle from sixthreezero that looks sleek and modern. It is designed for comfort, style, and ease-of-use to suit a wide range of teenage riders. This single-speed model bike offers smooth rides on flat terrains in neighborhoods, parks, city roads, and beaches.
Pros
5-inch lightweight aluminum frame for easy maneuvering
Available in two models – 24in and 26in to suit riders from 4ft to 6ft in height
Upright riding style to keep the shoulder and the back comfortable
Foot-forward design to provide ample space to extend the legs
Front handbrake and a rear coaster brake for safe stopping
Cons
Difficult to assemble
Has no bell
Steering bar is too wide
Heavy and bulky
This sixthreezero bike with sweeping cruiser handlebars and upright riding design could be one of the best bikes out there for girls. It comes with a chain guard that protects pant cuffs from getting caught, and a rear rack with optional baskets, panniers, and other accessories.
Pros
17-inch lightweight steel frame
Comes 85% assembled
Provides smooth and upright riding om on all terrains
Wide chrome-plated cruiser handlebars for comfort riding
No complicated cables or gear systems
Cons
Handlebar may shift while riding
Brakes make a loud noise
Chain may get loose often
The Firmstrong Urban Lady Cruiser bicycle comes in a range of colors to suit your girl's taste and has been designed to accommodate women of different heights. You will find four gearing options specifically made for different types of rides. The oversized seat with dual springs offers a comfortable ride on all terrains.
Pros
Ideal for rides up to 30 miles and speeds up to 20 MPH
Front and rear hand brakes make stopping easy
Comes 80% assembled
17-inch steel frame and aluminum wheels with whitewall tires
Wide handlebars with rubber grips
Adjustable seat and handlebar height and tilt
Available in 13 colors
Cons
Fenders may be weak
Kickstand is light
A relatively heavy bike
Let your girl ride with style and confidence in this vintage or retro-styled cruiser by Schwinn. The bike takes you back in time for classic riding experience. It is available in three colors of black, yellow, and light mint. You can choose from a step-through or step-over frame.
Pros
Steel frame and fork offer a comfortable ride
Alloy front and rear hand brakes for easy stopping
Fender protects from splashes
Suitable to use in all weather conditions
Classic rear carrier for storage
Accommodates riders of height range 5'4" to 6'2"
Cons
Seat is hard and may not be comfortable
Assembly could be difficult
This could be one of the comfort bikes for everyday riding around the town, beach, or up and down the hilly regions. It has three gears that can be adjusted to suit different riding levels. It is available in a wide range of colors with matching front and rear fenders.
Pros
26-inch wheel size that fit riders of heights between 5'4″ and 6'4″
Extra-wide comfort saddle with dual springs absorb bumps
Pedal-backward coaster brakes for precise stopping
Crankset configuration makes pedaling easy
Wide chrome-plated handlebar that keeps shoulders, arms, and back in a comfortable position
Comes 85% assembled
Cons
Handlebars and seat may not be intact
May make a noise when pedaling in second and third gear
Relatively a heavy bicycle
Relax and take it easy as you glide as you ride the Schwinn Perla Women's Beach Cruiser Bike. Designed for ease and comfort, it has a cushiony and quilted seat with spring action for comfortable riding. The seven different speed system allows stress-free terrain riding experience.
Pros
Sturdy steel frame material makes the ride easy around the neighborhood, beach, or park
Allow linear-pull brakes for easy stopping
Upright riding position keeps shoulders and the back straight
Available in four colors of pink, yellow, blue, and coral
Steel frame with matching fenders offer a stable riding experience
Rear track to carry or store things
Cons
Can only fit riders of heights between 5'4" and 5'9"
Assembly may be difficult
If your girl is a beginner, then this could be a good choice for her. The Schwinn Phocus 1400 and 1600 Drop Bar Road Bikes are suitable for cruising around the neighborhood, short commutes, or getting some exercise. The sturdy frame material, the braking system, and comfortable saddle are its ideal features.
Pros
Aluminum frame and carbon fiber road fork
Highly sensitive braking mechanism
Double-wall rims with paired spokes that last long
Alloy three-piece crank offers a wide gear range
Lightweight with minimal accessories
Drop handlebars for an aerodynamic and powerful riding position
Narrow tires for minimal rolling resistance
Cons
Comes partly assembled
Caliper brakes that may not last long
The stylish beach cruiser bike is a combination of classic and vintage bikes. Designed with a lightweight aluminum frame, it delivers rolling momentum for effortless pedaling. The cushion spring saddle offers a rich riding experience, and the dual-density grips make every movement enjoyable.
Pros
Suitable for ages between 12 and 19
Swept-back handlebars give upright riding stature with full leg extension
Front basket and a rear rack for storing essentials
Coaster brakes enable safe and comfortable stopping
Alloy rims protect the bike from rust
Stenciled flowers on the chain guard make it beautiful
Cons
Fixed gear and may require more effort when riding uphill
Requires assembly
Firmstrong comes with another beach cruiser bike with a wide range of comfort features. It has a single gear system with just one brake. The pedals rotate easily so that the riders don't get exhausted soon. It is available in five different colors.
Pros
Suitable for learners who are graduating from training wheels to a larger bike
Accommodates girls within the height range of 3'2" to 4'4"
Seat and handlebars are easily adjustable
Training wheels can be installed if required (not included)
Oversized saddle with dual springs give extra comfort
Cons
Fenders may be weak
Not fully assembled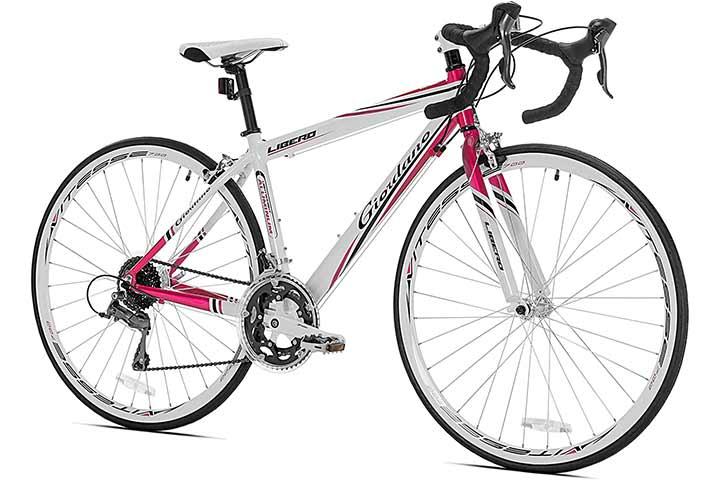 The Giordano Libero 700c bike available in white, pink, and black color theme is sure to gain a lot of attention. It is available in medium and large sizes and can accommodate riders of varying heights. Weighing around 38 pounds, it is lighter than other alternatives.
Pros
Handcrafted aluminum frame and is lightweight
Simple and easy to assemble
Drop handlebars for a powerful and aerodynamic riding position
Two water bottle mounts
Wheels are well designed for wide terrains
Cons
Brakes may not be that strong
Thin tires may skid at times
How To Choose The Right Bikes For Teenage Girls?
Here are a few important things to look for when finding the best bike for your girl.
Bike size: Choose a bike that suits your teen's height and weight. She may get wobbly and not enjoy riding if reaching the pedals is difficult.
Lightweight: A lightweight bike is much easier to lift or transport wherever she goes, and they are easy to ride too.
Frame: Frames are made of different materials, including carbon fiber, steel, aluminum, or titanium. Steel is relatively durable but makes the bike heavy. Titanium is strong and expensive. Carbon fiber is stiff and long-lasting. Aluminum is usually durable, strong, and lightweight.
Handlebars: A good handlebar that is convenient should be between 36cm and 38 cm in width to offer stability while riding.
Seat: Consider a seat that is comfortable even for long-distance traveling. Check the features and read the reviews to have a better idea about it.
Whether finding a comfortable bike for exercising, everyday travel, or just for fun, the above list and the features should be of help. Go through the specifications, keep the buying guide in mind, and purchase the perfect bike that suits your teen's needs.