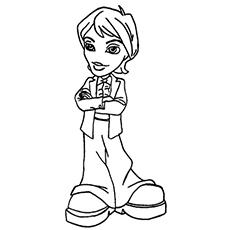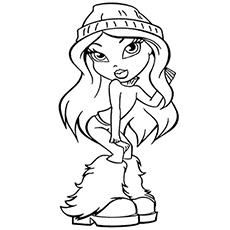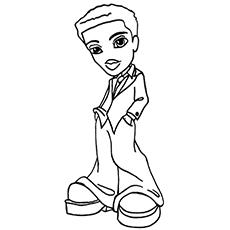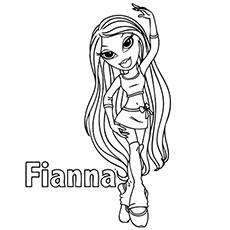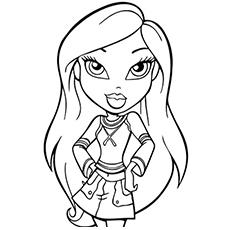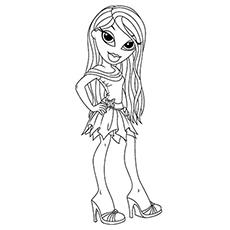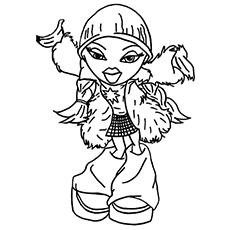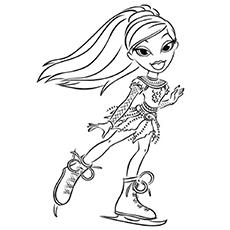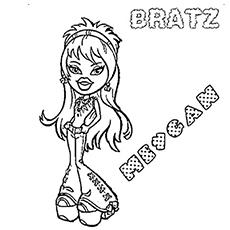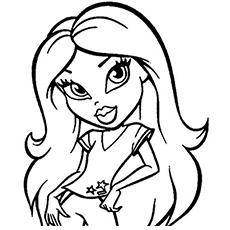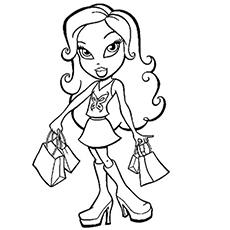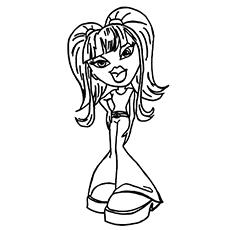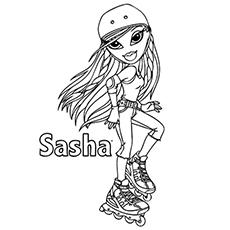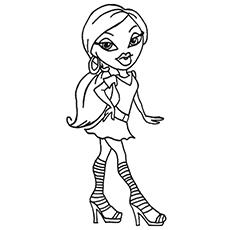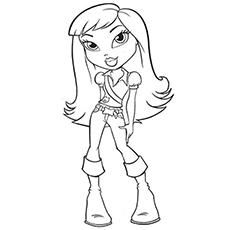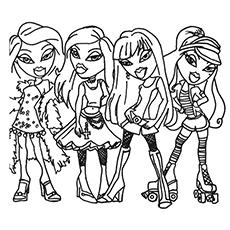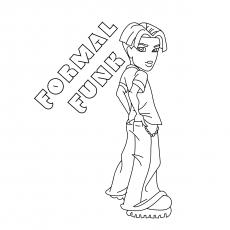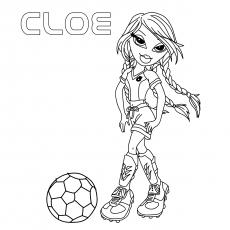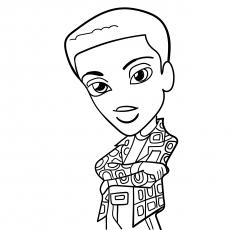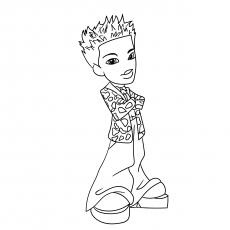 Recommended Articles:
"Bratz" is an American line of dolls manufactured by the MGA Entertainment. The collection includes four dolls – Yasmin, Sasha, Jade and Chloe. The dolls are portrayed as teenagers distinguishable with almond shaped eyes, large heads, skinny bodies, airtight shoes, baby nose, eyes adorned with eye shadows and glossy lips.
The success of the line of dolls inspired the manufacturers to expand the collection with "Bratz" movie, television series and video games. They have featured on kid's merchandize as well.
Top 20 Bratz Coloring Pages For Kids:

The coloring pages of bratz are very popular with girls. Here is a collection of Bratz coloring sheets for your little ones. Ask your child to explore her imagination and make these bratz coloring pictures bright and colorful.
1. Yasmin:
Meet Yasmin, a Pretty princess with a beauty mark underneath her left eye. She has appeared in all Bratz collections.
Yasmin has brown eyes, tanned skin tone and brown hair. She has a beauty mark that makes her look prettier.
She has a unique and colorful sense of style. Yasmin wears a colorful, long sleeved top with bell shaped sleeves underneath a pink tank top. She pairs the dress with denim shorts and stockings.
Yasmin is a shy girl, but loves being in the spotlight. She is an open minded, graceful and always knows the latest fashion, fitness and beauty trends.
2. Cloe:
Cloe, also known as Angel, is one of the four original members of the Bratz pack. Her signature color is blue, but she also enjoys the color pink.
Cloe is a blonde doll with blue eyes and light skin tone. However, she has also been produced with colored streaks and tanned skin tone.
Cloe is a down-to-earth and confident individual who has a different way of looking at life.
She is energetic and loves to participate in a wide variety of sports.
[ Read: Barbie Coloring Pages ]
3. Jade:
Jade, nicknamed as Kool Kat, is one of the four Bratz dolls. She is the deuteragonist of the series.
Jade has light skin tone, black hair and hazel eyes.
Jade is the ultimate fashionista. She has a unique and trendy sense of style; she loves anything that is cool and quirky.
She owns a pet cat named Mica.
4. Sasha:
Meet Sasha, a green-eyed beauty of the Bratz series.
She has a dark skin tone and dark brown hair. She has also appeared with black, silver and orange hair.
Sasha is an intelligent girl who knows what she wants and how to get it. However, she is short tempered, which often leads her into trouble.
Sasha cares a lot for her friends, so much that no one dares to mess with them. She is very fond of music and dancing.
5. Dylan:
This coloring sheet features Dylan, one of the Bratz Boys. He is shown to be quite slick with women.
While coloring Dylan, ask your child to use black for the hair, brown for the eyes and light brown for the skin tone.
Dylan is shown to be very flirtatious. His plot majorly revolves entirely around him trying to get dates, no matter who the girl is.
[ Read: Cheerleading Coloring Pages ]
6. Roxxi:
Here is a coloring sheet of Roxxi, the twin sister of Phoebe.
She is nicknamed as Spice by her twin sister. Roxxi is also viewed as the "Bad Twin" in the series.
Roxxi has blue eyes, auburn brown hair, light skin tone and a beauty mark on the right of her lower lip. She is of Mexican and Italian heritage.
Roxxi has an amazing sense of style. She loves to spice things up.
She is always ready for adventure and loves to try out new things.
7. Fianna:
Fianna is popular for her varying eye colors that changes from shades of blonde to light brown.
She has tanned skin and is of Brazilian heritage.
Fianna is called Fragrance by her friends because of her love for the sweet smell.
She has a graceful and well-mannered personality that attracts people to her.
She is also a good dancer and enjoys ballet and samba!
8. Meygan:
Meygan, also called "Funky Fashion Monkey", is the first additional character introduced to the line.
She is called Wild monkey because of her love for adventures.
Meygan has varying eye colors, varying shades of red hair and light skin tone. She has a wild sense of style.
She loves traveling to a new land and trying out new things.
She is considered the fifth member of the Bratz clique.
[ Read: Cinderella Coloring Pages ]
9. Katia:
Katia is called "Flirty Turtle" by her friends.
She has light skin tone, brown eyes and dark brown hair with black highlights.
Katia is an easy going and talkative girl who loves to participate in charity.
She has also appeared in "The Bratz Forever Diamondz" video games.
10. Cameron:
Cameron, officially known as the Blaze, is one of the Bratz Boys.
He is named after the son of MGA Entertainment president Isaac Larian.
Cameron has blond hair that is sometimes shown to be light brown in color. He has dreamy, light blue eyes and a Caucasian skin tone.
Cameron is a fearless boy, who likes to live his life to his fullest.
11. Phoebe:
This is Phoebe, Roxxi's twin sister.
She is called Sugar by her sister and friends. Phoebe is also viewed as the "Good Twin".
She is a beautiful girl with auburn hair and light skin tone.
She has a beauty mark to the right of the upper lip.
Phoebe is an extremely sweet and gentle girl. She is always concerned about other people, which is why people go to her for advice.
[ Read: Wizard Of Oz Coloring Pages ]
12. Sharidan Jones:
Sharidan Jones made her movie debut as an unexpected model in "America Rocks Fashion."
She has later appeared in "Bratz Forever Diamondz" and "Movie Starz" lines. She is very quiet and shy girl.
Sharidan loves bling. She loves to design her clothes with hints of diamond.
Sharidan has long, black hair, pale skin tone and brown colored eyes.
13. Nevra:
Nevra is fondly called Queen B by her friends because of her bossy nature.
She has done cameos in some of the Bratz movies.
Nevra has blue eyes, dark brown hair and olive skin tone.
She is a girl of action and does not waste time beating around the bush. She is also great at sports and martial arts.
14. Dana:
Dana is nicknamed Sugar Shoes because of her collection of fancy footwear.
She is of Puerto Rican heritage and has brown hair, blue eyes and light skin tone.
Her love for space and science influences her sense of style.
You will find this geeky doll either on the computer or reading. She wants to open the first school in space.
[ Read: Alice In Wonderland Coloring Pages ]
15. Cade:
Cade was produced with blonde hair in the "Boyz Play Sportz" Baseball collection.
A model of him is also seen in "Bratz Forever Diamondz" video game.
Jade is called Viper by his friends because he is quick to make a move and always looks out for his friends. He is loyal and protective of his friends.
Cade has dark brown hair, a tanned complexion and brown eyes.
16. Maribel:
Maribel loves to party and is very fond of ice-skating.
She is nicknamed "Party Penguins" because of her passion for ice-skating.
Maribel has long, brown hair with red highlights. She has blue eyes and a light skin tone.
She wears an orange, long sleeved top and matching skirt. You will see her wearing orange net leggings while skating.
17. Eitan:
Meet Eitan, one of the Bratz Boys.
He has appeared in the "Rock Angelz" DVD and video game. He is nicknamed Dragon by his friends.
His love interest is shown to be Yasmin.
Eitan has brown eyes with varying hair colors like black to brown. He has a light olive skin tone and is known to have Asian ethnicity.
[ Read: Princess Coloring Pages ]
18. Kumi:
Kumi first appeared in the "Tokyo-A-Go-Go" collection, dressed in a Japanese kimono.
She has also appeared in "Ooh-La-La, Sweet Dreamz", and "Bratz Class".
Kumi has a vague resemblance to Jade. She has brown eyes and long, flowing black hair. She wears a peach-red strapped shirt and peachy red skirt.
Kumi carries her camera everywhere she goes to capture the memories.
19. Gable:
This coloring sheet features Gable.
He is one of the characters from the "Masquerade" collection.
Gable has dirty blond hair with brown eyes and olive skin tone.
He has a beauty mark underneath his lip.
He can be outrageous, dark, quiet, annoying, sophisticated and tidy, all at the same time.
20. Bratz Girls:
This coloring sheet features the original Bratz Girls – Yasmin, Sasha, Jade and Cloe.
Yasmin, the protagonist of the series.
Sasha, the loyal friend.
Jade, the ultimate fashionista.
Cloe, a down-to-earth and confident individual.
These free printable bratz coloring pages online will provide hours of entertainment for your kids. They will surely enjoy filling colors in these elegant doll and their fashionable clothes. Print out these bratz coloring pages to print to create a personalized "Bratz" coloring book.
Don't forget to share your child's coloring experiences with other readers in the below comment box.
DISCLAIMER: All images found here are believed to be in the "public domain". We do not intend to infringe any legitimate intellectual right, artistic rights or copyright. All of the images displayed are of unknown origin. If you are the rightful owner of any of the pictures/wallpapers posted here, and you do not want it to be displayed or if you require a suitable credit, then please contact us and we will immediately do whatever is needed either for the image to be removed or provide credit where it is due. All the content of this site are free of charge and therefore we do not gain any financial benefit from the display or downloads of any images/wallpaper.
The following two tabs change content below.