Are you pregnant and want to check the health aspect of everything that you eat and drink during these special months? Have you thought of checking the safety of eating cheese while you are pregnant and want to know if it can harm your unborn baby in any way? Do you love eating cheese but have now kept it on hold as you are pregnant and are not sure whether or not you should continue? Would you like to know some more about eating cheese, especially brie cheese while pregnant before you can resume eating it?
If all the above queries seem like things you have been asking yourself, it's time for you to scroll down and check all about eating brie while pregnant, and whether you should abstain or happily continue.
What Is Brie?
Brie is a kind of soft cheese made using cow's milk. It is named brie after the region of Brie in France from where it actually originates. Brie cheese has a soft pale color and sometimes can also have a slightly grayish tinge to it. The cheese also has a rind of white mold that is mostly eaten by those who love brie. The exact flavor of brie cheese largely depends on the ingredients that used for that particular type as well as the environment where it has been manufactured (1).
Here is a quick look at how brie cheese is usually made:
Brie cheese can be made using whole milk or semi-skimmed milk.
At first, rennet is added to raw milk and heated to a temperature not exceeding 37 degrees C. The process helps create curd.
Next, the cheese curd is poured into molds, sometimes with the use of traditional perforated ladles that are known as pelle a brie.
The mold is filled with many thin layers of cheese and is drained out for almost 18 hours. Once the molds drain, the cheese is taken out, is seasoned with salt and is inoculated with cheese mold. It is kept in a cellar for about four to five weeks to let it set.
Sometimes, if brie cheese is left for a maturing stage for a time of many months to even a year, the flavor can be rich and strong. In such cases, the rind becomes darker and more crumbly.
Brie cheese that has been made overripe contains too much of ammonia, which is not particularly considered healthy.
Is It Safe To Eat Brie Cheese While Pregnant?
Brie is made out of unpasteurized milk and can contain the extremely harmful Listeria. It is recommended that while you are pregnant, you only eat cheese that is hard or if you want to eat soft cheese, eat those that are made by using pasteurized milk (2). Therefore, to eat brie in pregnancy, you need to be extra cautious.
[ Read: Symptoms Of Listeriosis In Pregnancy ]
What Are The Health Benefits Of Eating Brie?
While eating brie when pregnant is not at all safe, you can always get back to eating it once your baby is born, and your doctor gives you the go ahead. You should remember to first check with your doctor while you are breastfeeding. Rather than eating brie cheese during pregnancy, eat once you have weaned your baby. Here are a few health benefits of brie that you can avail of once you are on the green signal to eat it:
1. Loaded With Vitamins:
Brie is loaded with various vitamins that are good for your overall health.
Brie cheese has many vitamins like vitamin B 12, riboflavin, folate and niacin.
The vitamin A found in brie will keep your immune system healthy and is also great for your hair as well as your skin.
The vitamins will help your body to break down the various carbohydrates, fats and proteins and lets them use as energy that you derive naturally from other food sources.
The vitamin D found in brie boosts bone health.
2. Proteins And Fats:
Brie is a rich source of fats and proteins.
One ounce of brie cheese contains about six grams of protein and eight grams of fat, which also includes saturated fat.
The protein that you find in brie will provide you with all the amino acids that your body needs to take care of its overall health.
The unsaturated fatty acids found in brie are good for your body, as they contain trans-palmitoleic acid. It helps reduce the risk of type 2 diabetes.
[ Read: Protein Rich Foods During Pregnancy ]
3. Abundance Of Essential Minerals:
The many essential minerals found in brie cheese are also good for your health.
One ounce of brie cheese contains calcium, phosphorus, and manganese, all of which help make up the tissues in your bones.
Brie cheese also contains zinc that helps to support the functioning of enzymes in your cells.
The selenium content in brie cheese is a good antioxidant.
Eating brie cheese will also increase your overall consumption of manganese and copper that are also found in the same.
4. Rich In Carbohydrates And Calories:
The calorie and carbohydrate content found in brie cheese provides a healthy source of energy to your body.
One ounce of brie cheese has about 95 calories, which is almost five percent of the recommended calorie intake. While it is definitely a great source of quick energy, make sure you practice some restraint so as not to overeat the same.
One ounce of brie cheese also contains about 0.13 grams of carbohydrates in the form of sugar.
Brie cheese is also low in lactose and will not cause any side effects or health risks to those who suffer from lactose intolerance (3).
[ Read: Is It Safe To Have Swiss Cheese During Pregnancy ]
Delicious Recipes With Brie Cheese
Once your doctor gives you the all-clear sign to start eating brie cheese, here are a few recipes you can try:
1. Cranberry Butternut And Brussels Sprout Brie Skillet Nachos:
You Will Need:
1 ½ cups of peeled and cut butternut squash
2 tbsp. of olive oil
1 tsp of brown sugar
A dash of salt and black pepper as per taste
1 cup of thinly shredded Brussel sprouts
2 cloves of minced or grated garlic
1 tbsp. of freshly chopped thyme
2 tsp of chilli powder
¼thtsp of cayenne pepper or more as per taste
¼thtsp of crushed red pepper
½ cup of dried cranberries
8 ounces of shredded fontina cheese
1 bag of tortilla chips
8 ounces of sliced brie cheese
4 ounces of gorgonzola or blue cheese for topping
For The Sauce:
1 cup of pure cranberry juice
1 tbsp. of brown sugar
How To:
Heat a big skillet over medium heat and add olive oil once the pan is hot. Add the butternut squash and sprinkle some brown sugar on the top. Add some salt and black pepper as per your taste.
Keep cooking over medium heat and make sure you constantly stir it so that it does not stick to the bottom of the skillet. Cook for about 15 minutes or till the time the squash turns completely tender and you can break it apart with a fork.
Next, add the sliced brussels sprouts, thyme, garlic, cayenne, chilli powder and crushed red pepper. Keep cooking for another ten minutes. By that time, the squash and the sprouts should start to caramelize. Once they are fully caramelized, remove the skillet from the heat and add the dried cranberries. Mix everything well and pour it on a plate.
Preheat your oven to 400 degrees F.
In the same skillet that you cooked the vegetables earlier, add about 1/3rdof the chips at the bottom and cover it up with 1/3rd of the cheese by mixing a little brie cheese and some fontina cheese. Next, add a layer of the vegetables but use only about 1/3rd of the vegetables you prepared earlier. Keep layering for two more times till you have finished up using all the cheese and the vegetables.
Now put the skillet in the oven and bake for about ten minutes, or till the cheese melts.
In the meanwhile, prepare the cranberry molasses. In a small pot, add the cranberry juice and the brown sugar. Let the mix boil for about five to eight minutes or till it is reduced completely and leaves behind sticky syrup. If it becomes too thick you can add a little bit of the cranberry juice.
Once done, take the skillet out of the oven and add the gorgonzola cheese on top along with the cranberry molasses you prepared. Serve together with the nachos.
2. Fettuccini With Brie And Basil:
You Will Need:
12 ounces of dry fettuccini pasta
4 large seeded and chopped tomatoes
2 minced cloves of garlic
1 ½ cups of cubed brie cheese
¾thcup of chopped fresh basil
½ cup of olive oil
1 tbsp. of red wine vinegar
½ tsp of salt or as per taste
½ tsp of freshly ground black pepper or as per taste
2 tbsp. of freshly grated parmesan cheese
Water
How To:
Mix the chopped tomatoes, minced garlic, brie cheese, chopped basil, olive oil, salt and pepper and the vinegar in a bowl. Toss everything together. Cover the bowl and let it stand at room temperature for about one to two hours.
In the meanwhile, place water in a pan and add some salt. Once it starts to heat up, add the pasta and bring to a boil. Do it for about 12 minutes or as per the instructions on the package of the pasta.
Once the pasta is done, drain it and mix it with the sauce that you had kept marinating earlier. Add the grated parmesan cheese on top just before serving.
3. Brie Cheese Glazed With Sugar And Nuts:
You Will Need:
¼thcup of packed brown sugar
¼thcup of chopped macadamia nuts or pecans
1 tbsp. of brandy
1 round brie cheese
Apple wedges for serving
Pear wedges for serving
2 to 3 tbsp. of lemon juice
Crackers for serving
How To:
Mix the sugar, nuts and brandy in a small bowl and ensure everything gets properly coated. Cover the bowl and let it chill for at least 24 hours or a maximum of a week.
Preheat the oven to 500 degrees F.
Take an oven-safe plate or a pie plate and place the brie cheese on it. Bake the brie for about four to five minutes or till it turns a little soft. Once it becomes soft, take it out of the oven and add the sugar mix on top. Make sure you spread it out evenly.
Bake it for another two to three minutes or till all the sugar melts.
In the meanwhile, brush the apple and pear wedges with the lemon juice. Once you take the brie out of the oven, place the apple and pear wedges on one side of the brie cheese. On the other side, place the crackers.
4. Brie Stuffed Mushrooms:
You Will Need:
4 tbsp. of butter
12 ounces of stemmed and washed white button mushrooms
4 to 5 sliced green onions, till only the green part
4 cloves of minced garlic
¼thcup of chopped fresh flat leaf parsley
A splash of white wine
One 8 ounce wedge of brie cheese cut into bite-sized slices
How To:
Preheat the oven to 375 degrees F.
Heat a large skillet and add the butter to it. Once the butter starts to melt and the skillet is very hot, add the caps of mushroom and cook them in the butter for about a minute. Remove the skillet from the heat and place it aside.
Add the green onions and the garlic to the skillet and sauté for about a minute and then add the wine and the parsley. Mix everything nicely to coat in the mix and cook for another one to two minutes. Once the herbs start to release their aroma, remove the skillet from the heat.
Place the mushroom caps in a baking dish and put a piece of brie cheese inside each mushroom cap. Next, pour the parsley mix over the top of the mushroom caps, coating them properly. Set the baking dish in the oven and bake it for about 15 minutes, or till the cheese melts.
Take the mushrooms out and immediately serve them.
[ Read: Best Energy Foods To Eat During Pregnancy ]
5. Caramelized Onion Tart With Gorgonzola And Brie:
You Will Need:
2 tbsp. of olive oil
4 cups of sliced onion chopped into thick slices
1 tbsp. of brown sugar
2 tbsp. of balsamic vinegar
½ tsp of salt or as per taste
½ tsp of freshly grounded black pepper or as per taste
8 oz. of frozen puff pastry – make sure you defrost it at least a few hours before using in the recipe
2 oz. of chilled brie cheese with the rinds removed and diced
2 oz. of diced Gorgonzola or any other blue cheese
2 tbsp. of chopped fresh tarragon
How To:
In a deep pan, heat the oil over medium heat. Add the onions and cook them for about ten minutes or till they start to turn brown and wilt. Next, add the sugar, the vinegar and the salt and pepper.
Reduce the heat to low and keep cooking slowly. Make sure that you cook it without covering the pan for about 20 to 25 minutes or till the onions turn a rich caramelized consistency.
If you feel the onions are becoming too dry or may stick to the pan, you can add a very little amount of water. Once the onions caramelize, remove them from the heat and set them aside. Let it cool to room temperature.
In the meanwhile, roll out a pastry to make a 10 to 14 inch rectangular shape or any other shape you want to make it into. Place the pastry on a baking sheet which you have to first line with a parchment paper. Use a fork to prick the pastry so that it does not form any bubbles while you are baking it.
Once you are done pricking the pastry with the fork, take the onion mix and spread it over the pastry. Make sure you spread the onions all the way to the edges of the pastry. Spread cheese on the top and sprinkle some tarragon as a last layer. If you are not going to bake it immediately, you can keep it in the fridge till you do.
Preheat your oven to 400 degrees F.
Place the pastry and onion layering inside and bake it for about 18 to 20 minutes or till the cheese is completely melted and the pastry has turned crispy. Let it cool in the oven for about five minutes before taking it out.
Once you have got it out, cut out the pastry into smaller bite-sized squares or wedges. You may sprinkle some more cheese on top right before you eat it.
6. Creamy Four Cheese Brie And Buttery Ritz Cracker Mac And Cheese:
You Will Need:
7 tbsp. of unsalted butter
1 minced or grated clove of garlic
1 ½ cups of crushed Ritz crackers
1 pound of elbow pasta
¼thcup of flour
3 cups of warm milk
1 ¼thcup of shredded sharp white cheddar cheese
1 cup of shredded fontina cheese
1 ¼thcup of shredded Havarti cheese
4 to 6 ounces of chopped brie cheese with the rinds removed
¼thtsp of mustard powder
¼thtsp of cayenne pepper or more as per taste
¼thtsp of salt or more as per taste
½ tsp of freshly ground black pepper or more as per taste
Water
How To:
Preheat your oven to 350 degrees F. Take a baking dish and spray it with nonstick spray.
Add water and salt to a pan and place it on heat to boil. Once the water starts to boil, add the pasta till it starts to turn tender. Drain it well and set aside.
As the pasta is boiling, place a skillet and heat it. Add the butter and let it melt. Once the butter has melted, add the garlic and sauté it for about 30 seconds. Next, add the crushed Ritz crackers and mix everything together so that the crackers are completely coated in the mix.
Keep tossing the crumbs for about three to five minutes and be sure to keep stirring so that you can avoid it from burning. Once the crackers start to look slightly roasted, remove the skillet from the heat and set the crackers aside.
Once you have drained the pasta, use the same pot and place it on the heat. Add the remaining four tbsp. of butter and let it melt over medium heat. Next, add in the flour and keep whisking it well to ensure there are no lumps and to make sure that it does not stick to the pan. Keep the heat low to about low or medium low and let the flour cook for about one minute or so, or till it starts to bubble.
Now very slowly add in the milk and make sure that you do not add it all in a splash. You will have to add it bit by bit and keep stirring in the milk and the flour all at once so that it does not form any lumps. Once you have added all the milk, you can increase the heat to medium high. Let the mix cook for some time and start to boil. As it starts to boil, make sure to keep stirring it constantly till the entire mix becomes thick in consistency like a thick creamy sauce. It could take about two to three minutes for the milk and flour to mix well and form a thick creamy sauce.
Once the sauce is ready, remove it from heat and add the cheese, mustard powder, cayenne, salt and pepper. Keep mixing till the cheese melts. Add the pasta and place in a baking dish.
Sprinkle the toasted crackers on top and bake for about 20 minutes or till the cheese melts.
[ Read: Is Paneer Safe During Pregnancy ]
Speak to your doctor about when you can safely get back to eating brie cheese and enjoy these delicacies once you begin.
What was your doctor's opinion about eating brie cheese while pregnant? Do you have any favorite brie recipes? Do tell us here.
Recommended Articles:
The following two tabs change content below.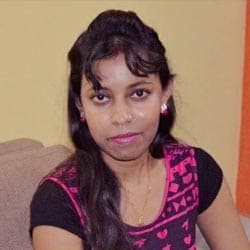 Ria Saha
Ria is a techie-turned-writer and writes articles on health, with special emphasis on nutrition. She did her B.Tech from West Bengal University of Technology and was previously associated with IBM as SAP ABAP technical consultant. She moved into freelance content writing in 2013 and worked for various websites including MomJunction, Brainpulse Technologies, and Emarketz India.