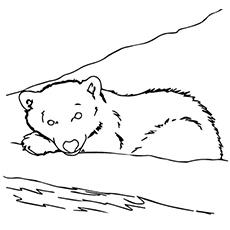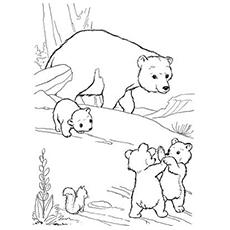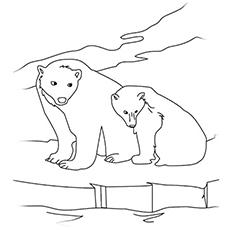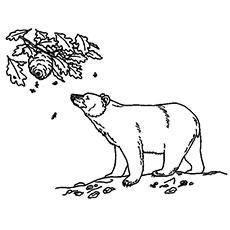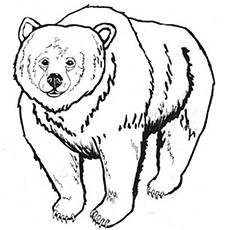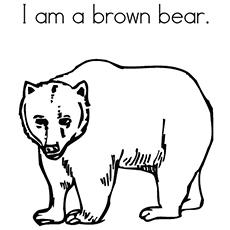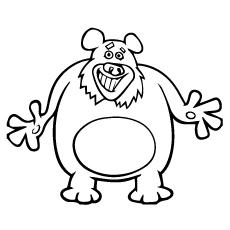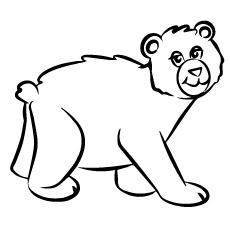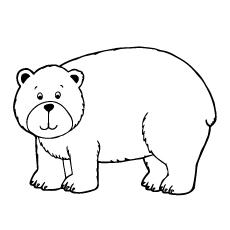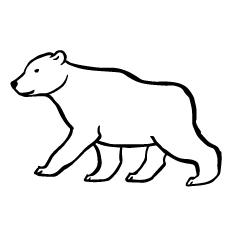 Recommended Articles:
Does your kid have fancy for teddy bears? Then your kid would love this page as it will be a fun activity to know more about brown bears and color them accordingly.
Brown bear coloring pages comes under children's activities of animal theme in schools. It is also a very good way of spending productive time with them at home.
About Brown Bear
Brown bear is large bear, and there are many sub-species. Depending on from where they hail from, a brown bear may be called Alaskan, Grizzly, Europe Syrian and Kodiak.
Top 10 Brown Bear Coloring Pages For Kids
Apart from coloring, these pages will help your child understand the daily life of a brown bear, its habitat and lifestyle. Here are top 10 brown bear coloring pages printable:
1. I Am A Brown Bear:
This image shows a brown bear standing and introducing itself through the caption written at the top.
Since a bear comes in different shades from black to white let your child color this one as he wishes to.
While your kid colors, tell him about bears that they are huge animals.
Male bears are twice the size and weight of a female bear, with Kodiak bear topping the list in size.
[ Read: Pooh Bear Coloring Pages ]
2. Brown Bear Standing Up:
This image shows the bear standing on its hind legs looking over something. With a dash of vegetation at the background and lots of contours in its body this bear will bring a colorful image when colored by your kid.
Generally, a male bear stands to locate a female far away or to find food up in trees like berries and small fruits.
Brown bears stand to draw territory, mate and also to find food in trees.
They are roughly 3.5 feet but 6-7 feet when they are standing on their hind legs.
3. Brown Bear Roaring:
In this picture, brown bear is seen roaring.
Brown bears roar while marking their territory from other male bears, or it can be a call to mate.
All brown bears are not completely brown. They range from size and shades; from white (polar) to cream brown orangish and even to almost brownish black. So tell your kid to color this image as per his or her choice.
[ Read: Panda Bear Coloring Pages ]
4. Brown Bear Sniffing Honey:
In this picture, the brown bear is seen sniffing honey from a beehive and planning its next line of action.
Doesn't your child love "Winnie the Pooh" the bear? And like Winnie, all brown bears too love honey.
You kids can relate bears and bees. Tell them about bees that can't hurt bears due to its fur and so bears can hunt down beehives easily and eat their most favorite honey.
You can also tell your kid about not touching the beehives themselves as the bee sting may hurt your kid.
[ Read: Duck Coloring Pages ]
5. Brown Bear Fishing:
Here, the brown bear is seen holding a fish, mostly salmon being its favorite, in its mouth. The presence of water and fish makes the picture interesting for your child to color. While he colors, tell him about the bear's food:
Brown bears eat mostly grass roots berries, smaller mammals like squirrel birds insects and mostly fish.
A brown bears claw is specially designed to catch fish. It has a specific sweeping action with it makes the fish immobile and then catches it with its mouth.
6. Grizzly Bear:
This image shows the grizzly bear standing upright and looking for something in the horizon. It can be colored by your child in shades of grayish brown or any other color. While he colors, tell him about the bear's habitat:
Brown bear are often called "grizzlies". It's also called the silvertip bear due to its silver grayish tinge at the end of its fur.
It's generally found in grasslands and meadows as is seen in the picture, looking in the distant.
The presence of grass and other greenery make it a perfect habitat of the great brown bear.
[ Read: Goldilocks And The Three Bears Coloring Pages ]
7. Brown Bear Sleeping:
This image shows a brown bear sleeping comfortably in a den. Your child can color the bear in lighter shades to contrast with the surrounding dense color.
Brown bears hibernation is a way to adapt to the cold during winters.
They hibernate from four to six months in the winter and eat up to 90 pounds of food per day during the fall.
Bear cubs are born in this time and live of their mother's milk for a year before surviving on their own.
They dug out their own caves underneath a big tree or live in caves during hibernation.
8. Standing Bears:
This picture looks realistic with two bears, greenery and mountains. A perfect picture for your child to color as you can color different things together. Your child can color both the bears in different shades to bring a contrast to the picture other than the greens.
Bears can stand up to 6-7 feet when they are on their hind legs.
They are extremely protective of their female after mating and hence mark its territory from other smaller bears.
The larger a bear the more alpha male it is.
[ Read: Three Little Pigs Coloring Pages ]
9. Mother Bear With Her Cubs:
Here, the female bear is seen with four cubs looking down from a height. Ask your child to color them in shades of cream brown and beige to create contrast to one another. Giggles and raised eye brows are sure to follow to see these cute little cubs by your kid.
Mother bears are ferocious protectors of their cubs.
Mother bears milk is rich in protein fat and calories, helping cubs grow fast.
A mother bear generally gives birth to two to three cubs per 2-4 yrs and carry the cubs with her till they are about three years of age.
[ Read: Littlest Pet Shop Coloring Pages ]
10. Bear Family:
This image shows two bear cubs playing with their mother. Your child can color them in contrast to the green vegetation at the background.
Bears vary in color from dark to reddish brown to even cream color when they are small.
A male bear usually leaves the female after she gets pregnant. So to call a bear family it will consist of the mother and her cubs.
Male bears are known to eat their own cubs where females are known to adopt lonely cubs.
While your kid enjoys coloring these brown bear coloring sheets, you can also educated him on the bear facts. Isn't this fun and learn together?
What are you waiting for, compile these free printable brown bear coloring pages online and gift your kid now! We are sure that he will love to color all of them. Create your own brown bear coloring book and share your views by commenting below.
DISCLAIMER: All images found here are believed to be in the "public domain". We do not intend to infringe any legitimate intellectual right, artistic rights or copyright. All of the images displayed are of unknown origin. If you are the rightful owner of any of the pictures/wallpapers posted here, and you do not want it to be displayed or if you require a suitable credit, then please contact us and we will immediately do whatever is needed either for the image to be removed or provide credit where it is due. All the content of this site are free of charge and therefore we do not gain any financial benefit from the display or downloads of any images/wallpaper.
The following two tabs change content below.