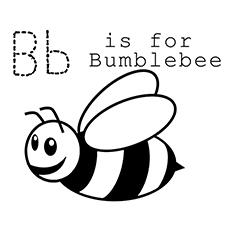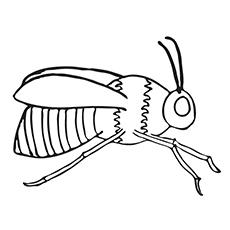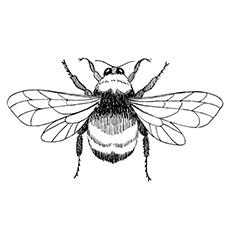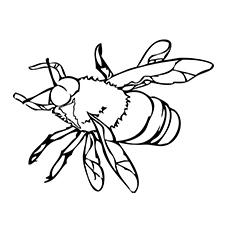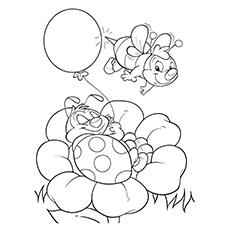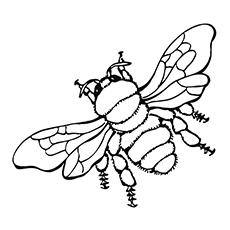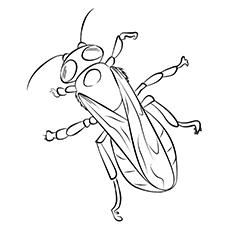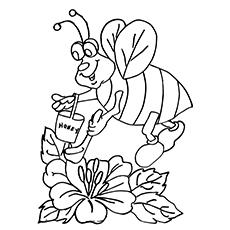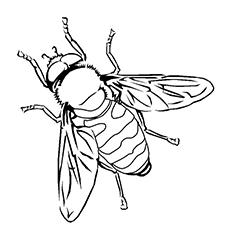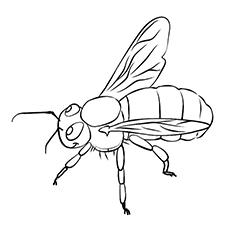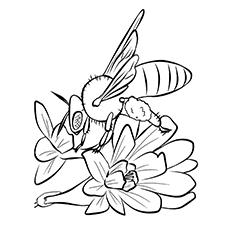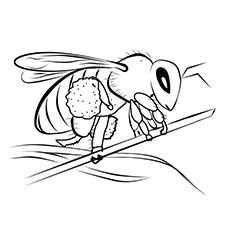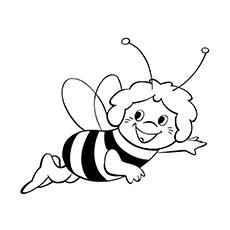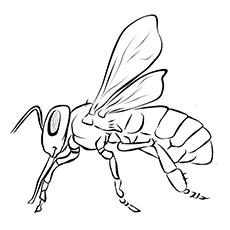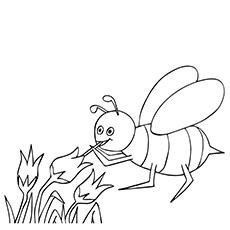 Bumblebees are probably the most popular insects out there. These buzzing busy little yellow and black insects make the perfect subject for coloring pages. If you have a little entomologist at home, consider reading ours post below to learn how to further his interest in bumblebees!
The short and stubby bumblebee is a large and hairy insect with a bumbling and clumsy flight. Bumblebees are social insects and spend most of their time in the colony with their buddies. These insects are a favorite among most kids, along with the usual suspects like the butterfly and the ladybird. So, keep your kid busy with our collection of 15 bumblebee coloring pages.
1. B for Bumblebee
In school, when you don't get A's, you start searching for B's. Here's a delightful coloring page featuring a happy-go-lucky bee along with the upper and lowercase B and the wordings "B is for Bumblebee". Tell your kid to color the bumblebee in yellow and then practice tracing the upper and lowercase B and the wordings. The Bumblebee coloring sheet will help your little writer to build his fine motor skills. It will also enable him to try writing freehand just after a little bit of practice. Or cut it out to practice memory and spelling games with your kids.
2. Early Bumblebee
Here's a coloring image of the early bumblebee. It is a tiny bee with shot tongue. You will find these bees hovering around the vetches, but some also manage to forage on sage, allium, thistles and white clover. The early bumblebee is a very colorful bee. It has a yellow thorax, a yellow base in the abdomen and pink or orange brown tails. Color this bee fast before he runs back to his hive! Or have your kid make a home for this bee. He is looking morose without his friends.
3. Red-Tailed Bumblebee
Here's a coloring sheet of a red-tailed bumblebee. The red-tailed bumblebee is one of the heavily built bees, but queen bees have a slim stature. This bee has a black body and bright orange. The worker bees are of the same color as the queen but are tiny. Some are even smaller than houseflies. Yes yes, they are very small. It's a relatively detailed coloring page of the red-tailed bumblebee and working within the lines will develop your kid's fine motor skills.
4. The Brown-Banded Carder Bumblebee
The Brown-Banded Carder Bumblebee is one of the few ginger colored bees in the United Kingdom. During summer, the hairs of the Brown-Banded Carder Bumblebee fade to beige in color. And it makes a beautiful sight in the garden. Don't you think this bumblebee looks very aggressive? Well, it is as bold as it looks. Don't even think of disturbing this bumblebee as it can chase humans for kilometers on end. Allow your kid to express himself creatively. Encourage and compliment regardless of the result.
5. Bee And Ladybug
Creepy crawlies looks exceptionally beautiful when they flutter around in the garden. In the coloring page, the ladybug is sleeping solemnly, and the bumblebee is up to something mischievous. What could it be? Is he thinking of waking up the bumblebee by buzzing in his ears? Or will he tickle him with the flower stems? Have your kid capture the beauty of bumblebee, ladybug and his surroundings with this special coloring page. Did you know that if a ladybug landing on you is a sign of good luck?
6. Flying Bumblebee
Where is this bumblebee going? We think that he is lost! Can your kid help this bee find the way to his house? He just has to put some colors and make a garden backdrop. Do not draw the clouds, as it will be difficult for him to get through it. And make sure your kid adds colors to its broad wings. He can even try shading on the winds. It will look lovely! Did you know that every year, scientists discover a new species of bumblebees and give them names according to their distinct characteristic?
7. Garden Bumblebee
The garden bumblebee, as the name suggests, is common in gardens. These bees have small heads, long legs, and slim body. But have the longest tongue than any other bumblebees in the world. Their tongue can be up to 2 cm in length. They usually forage over flowers that are close together and have deep corollas like foxglove, lavender viper's bugloss and vetches. You will rarely see it feeding in open flowers.
8. Bumblebee With Honey Pot
No one can resist coloring this adorable bumblebee. It features a bumblebee collecting nectar from the flowers. Bumblebees have short tongues. So they prefer flowers with a distinct landing platform like thistles, dandelions, and daisies. The heads of these flowers have small florets, each containing just a small quantity of nectar. And bumblebees walk around the flowers instead of flying. It's their way of preparing themselves for the low yield of nectar.
9. Buff-Tailed Bumblebee
The plump bumblebee you see here is the buff-tailed bumble tee, one of the largest bumblebees in the world. The buff-tailed bumblebee is one of the first bumblebees to emerge in spring. This species of bumblebee is used extensively for greenhouse pollination. So you will find it even in areas where is does not belong. The queen bee has dirty orange hair, and the male buff-tailed bumblebee has yellow hair. So which color is your kid thinking of giving to his bee?
10. White Tailed Bumblebee
The White-Tailed Bumblebee is one of the largest species of bumblebee in the United States. As the name implies, these bees have a white tip on their abdomen. The queen bees are around 18 cm in length and have yellow thorax hairs. The males and the workers look like the tinier version of the queen. But they have more yellow hair and a cute, little yellow nose. The male White-tailed bumblebee does not emerge until the end of August. The White-tailed bumblebee can visit up to 6000 flowers a day to get the nectar for maintaining the heat needed to brood for her eggs.
11. Cuckoo Bumblebee And Flower
This realistic coloring page shows a cuckoo bumblebee landing on a flower. Before invading the colony, Cuckoo Bumblebee feeds directly from the flowers. Once she has infiltrated the territory, the female cuckoo bumblebee subdues or even kills the queen of that colony. She can even use physical attacks to force the workers to feed her and her young ones. The cuckoo bumblebee has a humungous venom sac that enhances her chances of taking over the nest. Second graders will surely enjoy learning about this wacky bee and bringing it to life with his crayons.
[ Read: Spider Coloring Pages ]
12. Franklin's Bumblebee
Here's a coloring image of the Franklin's Bumblebee, one of the most narrowly distributed species of bumblebee. You will find it flying in all its glory in the northern California and southern Oregon. These bumblebees have a distinctive yellow pattern on the thorax that extends to the top of its head. Just like most of the North American bumblebees, even Franklin bumblebee feeds on wildflowers like horsemint, lupine, and California poppy.
13. Cute Bumblebee
Bumblebees are everywhere, but they never looked so cute before. Let your kid use his imagination and color this cutie the way he likes. Fact- Bumblebees see color at a very fast speed, at least 3 to 4 times faster than humans do. Speedy visions take up just a bit of energy. So the quick seeing of color is very extremely valuable for the bumblebees. They use their fast color vision to identify the flowers. It also helps them keep a track of the color in the flickering light, especially when they are traveling through bushes.
14. Rusty-Patched Bumblebee
The Rusty-Patched Bumblebee is a bumblebee native to North America, especially in Ontario, United States, and Georgia. It belongs to the Apinae subfamily. As you can fathom from its name, the Rusty-Patched Bumblebee has a rusty colored patch with yellow on the first half of its body. This medium to large sized bumblebee is an excellent pollinator of cranberries, apples, onion and wild flowers. But the Rusty-Patched Bumblebee is at a risk of extinction. Its number has declined drastically in its habitat range.
15. Bee Sucking Honey
This lucky bumblebee has stumbled upon a delicious treat. Right now, he is busy collecting nectar from the flower, so have your kid color it before it finishes his meal. Bumblebees are one of the most significant pollinators. They assist in the reproduction of 75% of world's flowering plants. Explain the symbiotic relation between a bumblebee and flower with this diagram. You can also teach the scientific term of the bumblebee with as he colors.
Our bumblebee coloring pages are perfect for your kid's spring and summer break. These printable will come handy if you are hosting a spring-themed party for the kids. Just supply the kids with an assortment of crayons, markers, watercolors and stickers. Tell each child to write his name on his creation. Then proudly display each kid's artwork. Happy coloring!

DISCLAIMER: All images found here are believed to be in the "public domain". We do not intend to infringe any legitimate intellectual right, artistic rights or copyright. All of the images displayed are of unknown origin. If you are the rightful owner of any of the pictures/wallpapers posted here, and you do not want it to be displayed or if you require a suitable credit, then please contact us and we will immediately do whatever is needed either for the image to be removed or provide credit where it is due. All the content of this site are free of charge and therefore we do not gain any financial benefit from the display or downloads of any images/wallpaper.
The following two tabs change content below.