Childbirth can be exhaustive, and you may wish to take a relaxing bath after the process. However, you need to seek your doctor's permission before taking a bath after a C-section.
If the incision from the surgery or vaginal area is submerged in water for a long time, you may catch an infection. Therefore, it is generally recommended not to scrub yourself vigorously while bathing. It is also advisable to keep your incision dry. Most doctors may advise a sponge bath until you recover completely.
Read in detail why you should practice caution while bathing after a C-section, the benefits of bathing, and some useful tips to follow.
Can You Take A Bath After A C-Section?
Your doctor may suggest not to take a fully submerged bath until three weeks after the surgery (1). It is to keep the incision area dry and prevent bath water from entering the vagina. You may also strain yourself by getting in and out of the bathtub, which might delay recovery.
However, you may take a shower, but it is important not to scrub or mess the incision area. Also, you should be careful if there is any bandage or wound around the incision. In this case, it has to be dried using a dry cloth or hair dryer to avoid infections that are more likely to occur in the moist areas (2).
Why Should You Be Careful While Taking A Bath After C-Section?
After a cesarean, your body needs some time to recover completely. You may experience pains and aches after childbirth. You may also experience vaginal bleeding and fever that may increase the risk of contracting infections.
Hence most hospitals recommend and provide a sponge bath under special care. Also, getting in and out of the bath may not be easy soon after a C-section.
Precautions While Having A Bath After C-Section
The following are the precautions you may need to follow to avoid complications.
Allow the water to run gently over the incision. Do not use direct hand-shower or pour water over that area.
Use antimicrobial soap to keep microbes away from the area. Do not apply soap directly; instead, use your hands to create foam and then apply gently on the incision area.
Use only lukewarm water while taking a bath. Avoid extremely cold or hot water as it could affect the wounded site.
Take care not to be harsh over the incision area while you are bathing.
Once you wash the area, use a clean towel, and pat gently to remove as much water as possible.
Your doctor may give a medicated ointment to treat the incision. Use your finger to take the required amount and apply over the area lightly.
Do not use any other creams or perfumes or bath oils over the incised area. They might irritate the area.
Avoid using the bathtub for about four weeks as they are rarely cleaned every time after a bath and increase the risk of infections.
Also, if you have vaginal bleeding, this could contaminate the bathtub for you and others using the same tub.
There is a risk of slipping and falling in the bathtub that may worsen the wound. You should, therefore, wait for the wound to heal completely and then use the tub.
When you follow precautions, a good bath could be beneficial.
What Are The Benefits Of Taking A Bath After C-Section?
Taking a warm water bath after cesarean section might provide the following benefits:
A warm water bath after cesarean delivery may offer immense physical and mental relaxation. It might relieve you from fatigue and take your mind off the discomfort.
A warm water bath may relax the muscles of the pelvic region and have a soothing effect on you.
It may help repair episiotomy and soothe the area to make you feel better.
You should avoid scrubbing the incision area or submerging in the water while taking a bath after a C-section. Hospital staff may provide you a sponge bath after C-section since you won't be able to take a bath until you recover from anesthesia effects and pain after the procedure. You can take a shower using an antimicrobial soap only after your doctor permits. Soaking in the bath can be done after the vaginal secretions cease, and the wound is healed after a few postpartum weeks. You may pat dry the incision site after bath and apply the recommended ointments or creams. You may also avoid bathtubs if they are not cleaned after one use.
References:
MomJunction's articles are written after analyzing the research works of expert authors and institutions. Our references consist of resources established by authorities in their respective fields. You can learn more about the authenticity of the information we present in our
editorial policy
.
The following two tabs change content below.

Rebecca is a pregnancy writer and editor with a passion for delivering research-based and engaging content in areas of fertility, pregnancy, birth, and post-pregnancy. She did her graduation in Biotechnology and Genetics from Loyola Academy, Osmania University and obtained a certification in 'Nutrition and Lifestyle in Pregnancy' from Ludwig Maximilian University of Munich (LMU). She has been into health and...
more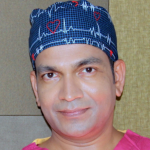 Dr Sachchidananda Maiti
(MD)
Dr Sachchidananda Maiti is a practising Consultant Gynaecologist & Obstetrician in Manchester, UK both in the National Health Service (NHS) and in private care at Pall Mall Medical. He has had decades of clinical experience in the UK and abroad. He specializes in managing high risk early pregnancy complications and a variety of gynaecological conditions using ultrasound scan, colposcopy, laparoscope...
more