Are you planning to cook carrots for your kid but wondering how exactly to tempt her into eating it? We can understand. Kids and veggies just don't get along, for some reason. But children do need to eat vegetables. So, what can you do? A simple carrot cake recipe for kids or a warm carrot soup recipe for kids are among the hot options available. We have the solution, right here! Here are ten amazing carrot recipes for kids that are tasty and healthy to eat.
10 Easy Carrot Recipes For Kids:
1. Carrot And Apple Salad:

This simple dish packs a punch of nutrition. Bonus: it is super easy to make!
Ingredients:
8 ounces crushed pineapple
2 tart apples
3 cups carrots
3 tbsp raisins
3 tbsp flaked coconut
1/3 cup vanilla yogurt
1/3 cup plain yogurt
3 tbsp mayonnaise
1 tbsp lemon juice
How To Make:
Drain the pineapple juice and coat the apples in it.
Now take a bowl and combine the pineapple, carrots, raisins, coconut, and apples.
In a smaller bowl, mix the remaining ingredients and with the carrot mixture. Give it good toss.
Cover the bowl and refrigerate until chilled.
[ Read: Apple Recipes For Kids ]
2. Creamy Carrot Rice:

Looking for a recipe that will make a wholesome meal? Try this yummy dish!
Ingredients:
One can chicken broth
1 cup carrot juice
2 tbsp butter
1/2 small onion
Coarse salt and ground pepper
1 cup long-grain rice
1/3 cup grated Parmesan cheese
3 tbsp parsley
Butter
How To Make:
Combine the chicken broth, carrot juice, and two cups of water in a pan.
Place the pan over low heat and bring to a simmer.
Melt some butter and add onions to it.
Cook the onions for about five minutes over low heat and then add salt and pepper.
Now raise the heat a little and add rice.
Cook for about three-four minutes.
Now add half a cup of hot chicken broth and stir until it is absorbed. Repeat the step until the rice is almost cooked. Make sure not to overcook your rice.
Add the remaining butter and Parmesan cheese.
Season with salt and pepper and serve
[ Read: Rice Recipes For Kids ]
3. Carrot Cake Pancake:

Most kids love to eat pancakes. This easy carrot cake recipe for kids here will surely appeal to their sweet tooth!
Ingredients:

a. Pancakes:
1 cup all-purpose flour
One tsp baking powder
1/2 tsp baking soda
1/2 tsp table salt
1/2 tsp ground cinnamon
1/2 tsp nutmeg
1/8 tbsp ginger
1 egg
2 tbsp packed brown sugar
1 cup buttermilk
One tsp vanilla extract
2 cups grated carrots
3 tbsp butter
b. Cream Cheese Topping:
4 ounces cream cheese
1/4 cup powdered sugar
2 to 3 tbsp milk
1/2 tsp vanilla extract
Cinnamon
How To Make:
a. Cream Cheese Topping:
Beat the cream cheese in a small bowl.
Add the sugar, milk, vanilla, and cinnamon and beat together.
b. Pancakes:
Take a large bowl and whisk together flour, baking powder, baking soda, salt, cinnamon, nutmeg, and ginger.
Take another smaller bowl and mix the egg, brown sugar, buttermilk, and vanilla.
Now add the carrots and mix it with the dry ingredients.
Next, melt about one tbsp butter over medium heat in a pan.
Take a ladle full of the pancake batter and pour it into the pan.
Flip once and let t cook till the pancakes are brown on both sides.
Serve with cream cheese topping!
4. Carrot Chips:
Kids love chips. But as a mother you want to feed your little one healthy food. Here's the compromise – healthy chips!
Ingredients:
Carrots
Coconut oil (or oil of your choice)
Salt
Pepper
Cinnamon
How To Make:
Slice the carrots paper-thin.
Pour the oil into a pan and heat over medium flame.
Fry the chips till the edges curl and they look brown.
Remove from pan and place on paper towels to drain off excess oil.
Season with salt, pepper, and cinnamon.
Watch as they vanish within minutes!
[ Read: Sweet Potato Recipes For Kids ]
5. Carrot Coconut Pineapple Muffins:
There's one thing we can promise about this carrot muffin recipe for kids.Your children will badger you to make more of them!
Ingredients:
2 cups white whole wheat flour
2/3 cup brown sugar
Two tsp cinnamon
1/4 tsp nutmeg
1/4 tsp ginger
Two tsp baking powder
1/2 tsp salt
2 cups carrots (grated)
1/3 cup unsweetened coconut (shredded)
6-ounce pineapple Greek yogurt
2 eggs
1/3 cup coconut oil
1/4 cup milk
How To Make:
Preheat the oven to 400 degrees F.
Grab your muffin tin and line it with paper liners.
Take a large bowl and add flour, sugar, spices, baking powder, and salt. Stir.
Now add the carrots and coconut. Mix and set aside.
You'll need a separate bowl to mix yogurt, eggs, coconut oil, and milk. Stir well to ensure all the ingredients have combined well.
Now that the batter is ready, spread it into the muffin tins.
Bake for 15-20 minutes.
Let the muffins cool down.
Serve!
6. Maple Glazed Carrots:
Now this is one recipe that will surely get your kid drooling!
Ingredients:
3 pounds carrots
1/4 cup maple syrup
Two tbs unsalted butter
Salt and black pepper
How To Make:
Add carrots, syrup, butter, 1/3 cup water, 1/2 tsp salt, and 1/4 tsp pepper in a skillet.
Bring to a boil.
Now reduce heat and simmer until the carrots are tender. By now the liquid should be just a glaze.
And you are done! Let it cool down and serve!
7. Carrot Soup:

Did you end up buying too many carrots from the market? Don't worry! Here is a great way to use the extra carrots.
Ingredients:
One tbsp butter
One tbsp extra-virgin olive oil
One onion
One stalk celery
Two cloves garlic
One tsp parsley
Five cups chopped carrots
Two cups water
Four cups chicken or vegetable broth
1/2 tsp salt
Pepper to taste
How To Make:
Melt butter and oil over medium heat.
Add onion and celery. Cook until they are soft.
Now add garlic and parsley and cook for around 10 seconds.
Next add the carrots as well as water and broth.
Let it simmer for about 25 minutes.
Puree the soup in a blender until smooth.
Season with salt and pepper.
[ Read: Vegetable Soup Recipes For Kids ]
8. Carrot Puree With Hazelnut Tapenade:
Easy to make, this recipe will come handy when you are running short of time.
Ingredients:
One pound carrots
Two red potatoes
Two tbsp hazelnuts
Two tbsp green olives
Two tsp orange zest
One clove garlic
Two tsp extra-virgin olive oil
1/2 tsp salt
How To Make:

Take an inch of water  in a large pan.
Now bring the water to a boil.
Steam the carrots and potatoes for around 12 to 15 minutes in the boiling water. You can use a steamer for it.
Now bring out the yummy hazelnuts and mix with olives, orange zest, garlic and one tbsp of oil.
Put the carrots and potatoes into a food processor, along with one tbsp oil and salt. Blend until smooth.
Garnish with hazelnut tapenade and serve.
This kid friendly carrot recipe will leave your little ones wanting for more!
9. Carrot Croquette:
We love this recipe. You would too. Just give it a try!
Ingredients:
2 ½ cups steamed carrots
½ egg white
¼ cup parmesan cheese
¼ cup bread crumbs
½ tsp cinnamon
½ tsp sugar
Salt
Pepper
Cumin
Garlic powder
Spice
Breadcrumbs for coating
Parsley
How To Make:
Mix all ingredients. But do leave some bread crumbs for coating.
Shape mixture into cone-shaped carrots.
Now roll in breadcrumbs and set on a platter.
Fry the croquettes over medium heat afor bout 3 minutes per side.
Add parsley on top and serve!
10. Carrot French Fries:
Carrot French fries? Yes, they are a thing!
Ingredients:
One pound carrots
Two tsp oil
½ tsp salt
How To Make:
You know how to get the French fry shape? Well cut the carrots to get as close to the original French fry look as possible.
Put the slices in oil along with some salt.
Bake at 450'F for 10 to 12 minutes.
The perfect snack is ready for your kid!
[ Read: Healthy Food Recipes For Kids ]
Cooking carrots recipes for kids was never this much fun! So, go carrot shopping and wow your kids with your gourmet skills and other kid friendly carrot recipes!
Do you know of any other healthy carrot recipe for kids? Do share with us.
Recommended Articles
The following two tabs change content below.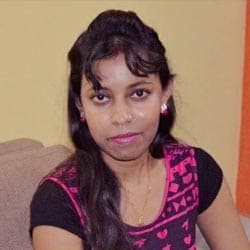 Ria Saha
Ria is a techie-turned-writer and writes articles on health, with special emphasis on nutrition. She did her B.Tech from West Bengal University of Technology and was previously associated with IBM as SAP ABAP technical consultant. She moved into freelance content writing in 2013 and worked for various websites including MomJunction, Brainpulse Technologies, and Emarketz India.