Are you elated because of your first pregnancy? Do you know that pregnant and lactating women are prone to malnutrition? Well, if you are clueless and anxious fret not! Check out this post to end all your worries!
Malnutrition during pregnancy can cause serious health complications for a mother. It can also take a toll on fetal development. Do you know consuming a balanced meal can ensure both a safe pregnancy and a healthy baby? Want to know how to keep the threat of malnutrition at bay? Read on! (1)
What Is Malnutrition In Pregnancy?

Malnutrition is a serious condition that occurs when an individual's diet contains insufficient nutrients that do not meet the requirements of her body. It can cause damage to the vital organs and can adversely affect the functioning of the body.
What Are The Causes Of Malnutrition?

Malnutrition during pregnancy may be a result of the following factors.
1. Lack of a nutritious diet in low-income families.
2. Painful teeth or mouth conditions that may affect the ability to consume food.
3. Following an unhealthy diet due to lack of knowledge.
4. Loss of appetite due to other health conditions such as chronic infections, depression, etc.
5. Use of certain medications that may interfere with nutrient absorption.
6. Diarrhea, nausea, and vomiting may also cause malnutrition.
7. Inadequate intake of nutrients and calories that does not meet the increased demands of pregnancy. (2)
[ Read: Diarrhea In Pregnancy ]
Health Risks For The Mother

Women who are undernourished at the time of conception may also fail to meet the increased nutritional requirements during pregnancy. It can lead to insufficient weight gain during pregnancy and increase the mortality risk.
Deficiency of micronutrients during pregnancy could lead to the following:
Zinc and Magnesium deficiency could cause pre-eclampsia and preterm birth.
A lack of Iron and Vitamin B12 could cause anemia.
Inadequate intake of Vitamin B12 can also lead to neurological issues.
Vitamin K deficiency can lead to excessive bleeding during childbirth.
Inadequate Iodine intake during pregnancy can lead to miscarriage and stillbirth.
Effects of malnutrition during pregnancy can be adverse.It can affect the mother's health in the following ways:
It can lower immunity and lead to infections.
It can cause anemia and weakness.
It can lower productivity. (3).
[ Read: Magnesium Rich Foods You Should Take During Pregnancy ]
Health Risks For The Baby

According to a study, in utero malnutrition could adversely affect the growth of the baby in the early years. It can also increase his risk of suffering from obesity, diabetes, and other metabolic complications like liver disease, etc. (4)
Micronutrient deficiency during pregnancy could adversely affect the baby in the following ways:
Iodine deficiency can cause – congenital abnormalities, neurological cretinism, mental deficiency, spastic diplegia, myxoedematous cretinism, etc. It can also increase infant mortality risk.
Low Zinc levels can cause fetal growth retardation and congenital abnormalities.
Vitamin D deficiency can lead to rickets in the fetus.
A deficiency of folate can cause neural tube defects in the infant.
Calcium deficiency can lead to poor fetal skeletal development.
Low iron levels in the mother's body can cause fetal growth retardation. (5)
An unbalanced diet during pregnancy could take a toll on the newborn's health in the following ways:
It can lead to stillbirth.
It can cause a premature birth.
It can increase perinatal mortality risk.
It can lead to neurological, respiratory, intestinal and circulatory complications in the infant.
It may lead to birth defects and brain damage.
Maternal under-nutrition can make a child prone to the following health complications, in the long run:
He may face cardiovascular issues like – hypertension, atherosclerosis, stroke, and coronary heart disease.
Organ dysfunction of testes, ovaries, brain, heart, liver, and small intestine, etc. (6)
Maternal malnutrition can also negatively affect mental development and school performance of a child.
[ Read: Nutritional Food During Pregnancy ]
Prevention

Having a balanced diet can help you enjoy a safe pregnancy. Consume a lot of fruits and vegetables to gain vitamins, minerals and fiber. Include healthy protein sources like fish, eggs, pulses, beans, and poultry in your diet. Also, add starchy foods like cornmeal, pasta, noodles, bread, and potatoes to meet your increased carbohydrate requirement. (7)
[ Read: Pregnancy Diet Chart  ]
You may ask your physician for health supplements during pregnancy.Maternal malnutrition during pregnancy happen due to insufficient intake of nutrition. By simply following a healthy diet and lifestyle, you can protect your precious baby from malnutrition and various health complications.
If you found this article informative, please leave us a comment below.
Recommended Articles:
The following two tabs change content below.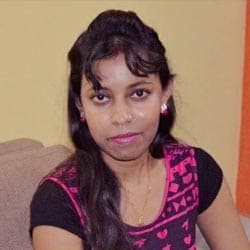 Ria Saha
Ria is a techie-turned-writer and writes articles on health, with special emphasis on nutrition. She did her B.Tech from West Bengal University of Technology and was previously associated with IBM as SAP ABAP technical consultant. She moved into freelance content writing in 2013 and worked for various websites including MomJunction, Brainpulse Technologies, and Emarketz India.