Christmas time calls for friends and family to come together and enjoy the cozy winters with good food and festivities. Whether you're inviting guests over or attending a feast at a friend's place, it's great fun to choose great outfits for your kids. The search for the best Christmas outfits for kids is easier said than done. There is a wide variety of looks to choose from, ranging from formal and gentlemanly to casual and fun.
If you're looking for ideas about how to dress your little one this Christmas, worry not, as we have listed some amazing outfit ideas for you to choose from.
24 Cute Christmas Outfits For Kids
The NZRVAWS gown is made of the softest and finest fabrics for newborn babies up to six months of age. Made of soft and durable cotton, this gown will be gentle on your little one's skin. It has a roomy fit, and the stretchy fabric offers easy movement. You also get beany that is color-coordinated with the gown. Its elastic openings make putting it on and off and diaper changing easy. This gown is super comfortable and available in more than 20 different color options.
Pros
Can be used for both baby boys and girls
Machine washable
Crew neck makes it easy to dress
Breathable material
Cons
Material might get stretched out over time
May experience sizing issue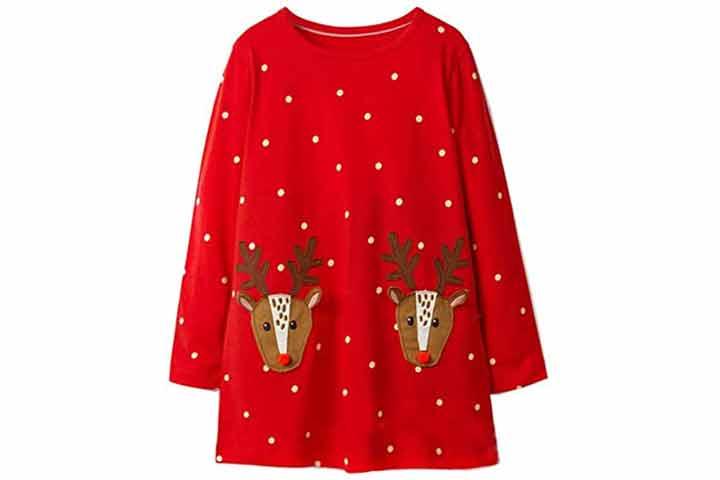 You cannot go wrong with this simple and pretty Christmas-themed full-sleeve outfit. The fit is meant to be flowy and loose so that your little girl doesn't have to face any size issues. It is made of high-quality and breathable cotton that is smooth to touch and feel. The bright colors and designed prints bring out the festive mood. Mix and match it with other winter apparel to make a fashionable outfit for your child.
Pros
Super soft texture
Button closure
Attractive color
Comfortable fabric
Cons
Dress might be short for some
Polka dots may chip off over time
The set of two bright and colorful footed pajamas from Simple Joys have a Christmas theme design. One is bright red with a large Santa print on the front, and the other is white with penguins and reindeer prints. The pajama suits have full zips for easy and quick wear and removal. They are made of soft cotton and fleece combination for super comfortable wear. The outfit is kept tag-free to avoid itching. Your child can be warm wearing these adorable home wear pajamas throughout the winter.
Pros
Zipper closure
100% polyester material
No-slip grippers
Machine washable
Cons
Not flame-resistant
Not suitable for summers
Fioukiay offers a cute set with a plaid pleated dress and a fleece legging trouser. It is available in four patterns, each adding a retro touch. The legging has an elastic closure knit to provide a comfortable fit. It is suitable for toddler girls for winter festivities and occasions such as birthday parties, photography sessions, holidays, and celebrations.
Pros
Soft material
Comfortable
Machine washable
Available in different colors
Cons
May experience sizing issue
Leggings may cause sweating
Dress your baby girl in glowing bright colors for her first Christmas with this lovely dress. The four-piece set includes a onesie, tutu-skirt, leg warmers, head-bow, and shoes. All the accessories are color-coordinated with the dress and made of good quality fabrics that are gentle on the skin and don't itch or irritate. The red and white colorway goes perfectly with the Christmas theme.
Pros
Easy-to-wear headband
Cute and bright pattern
Easy to wash
Ideal as a gift
Cons
Ruffles may not withstand many washes
Socks are thick
PopReal lets you buy outfits in different sizes for little girls and adults. For those special mother and daughter outing days, why not have some fun matching outfits. The dresses are made of good quality fabric, a mix of cotton and polyester with spandex linings. The plaid dress features a full-sleeve knee-length dress for the mom and a pretty dress with a child's fluffy skirt. Make this Christmas more double the fun with these mother-daughter twinning outfits. 
Pros
Available in different colors
Suitable for daily wear and occasions
Stretchy material
Machine washable
Cons
Slit at the back might be a bit high
Fabric may be a little thin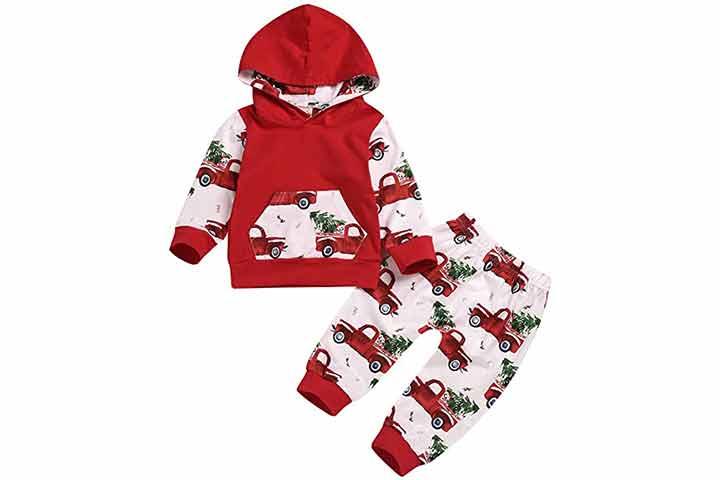 Dress up your little one in this adorable, hooded outfit. The set includes a colorful hooded top with front pockets and a printed jogger. Made of blended cotton, the outfit is super soft and comfortable. The fabric is breathable and slightly stretchable, making it excellent for outdoor and home wear.
Pros
Pull-on closure
Available in various sizes
Available in two prints and colors
Perfect fit
Cons
Made of thin material
Pants may be see-through
The brilliant red Christmas dress will brighten up your child's festive mood. This classic sweater dress with full sleeves has good quality knitting, is soft on the skin, not too heavy, and keeps your little one warm. It is adorned with bright, colorful patterns to make your girl look adorable. The stitching and fit are of superb quality, making it is a great choice to wear to parties or outings throughout fall and winter.
Pros
Available in different bright colors
Pull-on closure
Smooth knitting
Thick material
Cons
May not be breathable
Might run large
The 7 Ate 9 raglan t-shirt combines the Christmas theme with an outdoor skater look. It features a large reindeer print in red and black plaid combination. The print quality is good and doesn't crack or peel over time. The fabric is soft and durable, suitable for outdoor play and rough use. It is tailored by professionals and ensures comfort.
Pros
Pull-on closure
Three-fourth sleeves
Attractive
Withstands frequent washing
Cons
Color may bleed upon washing
Fabric may be a little thin
Be it Christmas celebrations or special events, Glamulice offers the best flower dresses for baby and toddler girls in different sizes. This attractive lace dress will transform your little one into a princess. Its tutu skirt has the right amount of fluff, and its satin waist belt offers a ballerina style look. The dress includes a matching head-bow and shoes, making it a perfect choice. It is made of high-quality fabric with cotton linings for super comfortable wear and is available in different colors.
Pros
Zipper closure
Cute and elegant
Rich color
Available in different colors
Cons
Only hand washable
Dress may develop wrinkles
Make your little girl look the cutest in this adorable and premium Christmas outfit that includes a soft and breathable top and a pant. The white top with a floral pattern has a cute print on the front. It has linings on the bottom that add contrast to the entire look. The trouser has a unique print and goes perfectly with the top.
Pros
Pull-on closure
High-quality material
Stylish design
Machine and hand washable
Cons
May be small in size
Color may be bit different from the image
The cute pajamas set by KikizYe will be your little one's favorite if they are fascinated by dinosaurs. It is a combination of red and green; however, the dinosaur graphic is a unique twist to this festive T-shirt. Made of 100% cotton, it feels gentle on the skin and does not cause irritation or discomfort. The T-shirt and pajama set is available in various other patterns and several sizes to help you choose what suits your child's preference.
Pros
Pull-on closure
Fits snugly
Non-see-through
Machine-washable
Cons
Sizing may not be accurate
May shrink upon washing
Add a dash of style to your daughter's wardrobe with this chic outfit. The three-piece dress includes a top, a pair of trousers, and a scarf. It is made of a mix of cotton and spandex, giving a snug fit. The blacktop features a reindeer print in white, and the legging and scarf are color coordinated with a plaid pattern. The heavy scarf gives a French-style look with the bright and contrasting combination of black, red, and white, making it stand out during festivities.
Pros
Pull-on closure
Soft material
Perfect fit
Attractive reindeer design
Cons
May not be suitable for machine washing
Pants may be a bit see-through
Make your baby boy look like a gentleman in this attractive three-piece outfit. It includes a red cardigan jacket and a bodysuit with a bow tie and a pant. The color scheme is such that all the pieces bring out a perfect contrast and give a dazzling look. The trouser has cute pine tree embroideries on the knee area, making it look adorable. This bright red and black holiday getup with the green bowtie can be the perfect outfit this holiday season.
Pros
Available in different colors
Classic style
Comfortable wear
Perfect fit
Cons
Waist pants might be a bit stretchy
Seams may not be well-stitched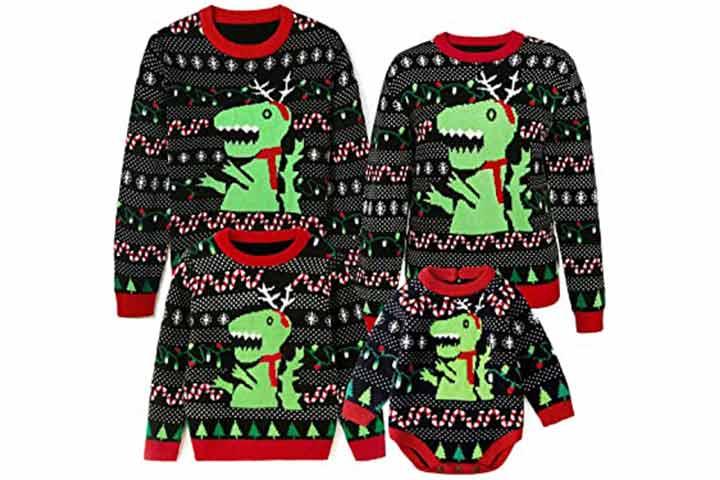 Uniquely designed Christmas sweaters can be great fun for families during the holiday season. The set of four matching sweaters with funny dinosaur print makes a good pick for the entire family. It is made of light, breathable acrylic fabric that is comfortable to wear and gentle on the skin. Get a photo clicked with the matching sweaters on for the annual Christmas family photo or Christmas cards sent to near and dear.
Pros
High-quality fabric
Pullover model
Machine washable
Available in different colors
Cons
Sleeves may be bit long
Collar area may seem a bit wide
The classic gentleman outfit from Xifamniy includes a striped shirt and trouser in a combination of green, red, and white. The suspenders with a bow bring out the charm of this dress to make your baby boy look the best. The outfit features well-tailored cuffs, lapel, and other small and cute elements. It is made of high-quality cotton, which is smooth and skin-friendly. Let your baby shine in those festive photo sessions wearing his favorite Christmas outfit.
Pros
Adjustable straps
Button closure
Pants feature an elastic waistband
Available in different patterns and colors
Cons
Buttons may not be well-stitched to the fabric
Pants may run big
Be it for a comfortable sleep or a naughty pillow fight, the Mini Honey sleepwear is an excellent choice for children. The set includes a bright colored full-sleeve top with a striped pant reflecting the festive energy. It is available in red and green color. The fabric is super soft and comfortable and is made of blended cotton. It is machine-washable and easy to clean.
Pros
Pull-on closure
Made of cotton blend material
True to size
Suitable for festive occasions
Cons
Material may feel a bit thin
Rudolf, the reindeer, is quite popular among children. This three-piece outfit with a reindeer print will lighten up your child's mood during the holiday season. The green dress is made of cotton with spandex add-ons giving a flexible and stretchable fit. It includes a matching trouser and a scarf in a plaid pattern mixed with different colors. The nicely tailored snug fit gives it a stylish look while the color combination brings out the holiday cheer.
Pros
Pull-on closure
Cute and attractive
Available in two colors
Stretchy fabric
Cons
Not machine washable
Scarf may not be as long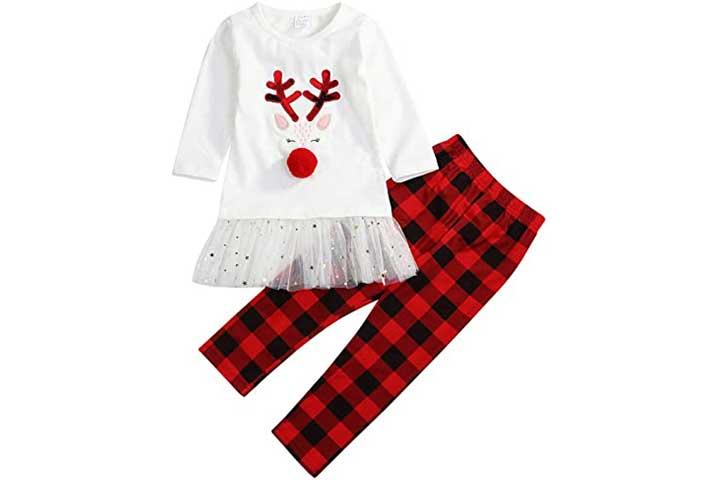 The set includes a top and a pant, suitable for little girls aged three to seven years. The white top with a reindeer embroidery on the front brings snowy mountains to mind. It has an attached frill with tiny stars adorning the folds. The plaid pant with red and black color provides the right color contrast to the white top. Its fabric is soft and skin-friendly, and design attention has been given to tiny details like cuffs, hems, and neck linings to ensure the most comfortable fit.
Pros
Pull-on closure
Breathable
Soft and comfortable
Machine washable
Cons
Ruffle may not endure frequent washes
Reindeer nose may come off over time
Xipai offers this adorable tutu sweater dress for girls up to the age of three years. The dress features high-quality knitting, which can be easily seen on the cloth surface. It is available in different festive colors, apt for the celebrations. You can coordinate it with other colorful outfits and accessories. Mix and match to get different styles each time wearing the dress, which provides warmth and comfort to your little girl and is also soft on the skin.
Pros
Pull-on closure
Stylish look
Suitable for winter season
Soft material
Cons
Not machine washable
Sleeves might be a bit long
Let your boy look handsome in an attractive bright, and colorful suit. It has a red and black checkered jacket along with matching trousers and a tie. Made of high-quality woven fabric, it provides a comfortable fit. The well-tailored outfit has full lining in the coat and has pockets, buttons, and belt loops. Your child will look dapper in this outfit and likely get the best-dressed award at the party.
Pros
100% polyester
Button closure
Machine washable
Available in different colors and prints
Cons
Pant legs may seem short
Some may experience tightness around waist
A red flannel shirt with blue jeans provides the classic South American look. This outfit comes with a bow and suspenders. It is made of good quality cotton that ensures breathability, and the bright colors don't fade away even after multiple washes. Throw in a hat and let your child sport an adorable cowboy look this festive season.
Pros
Adjustable bow
Pockets for shirt and pants
Bright color
Attachable and detachable straps
Cons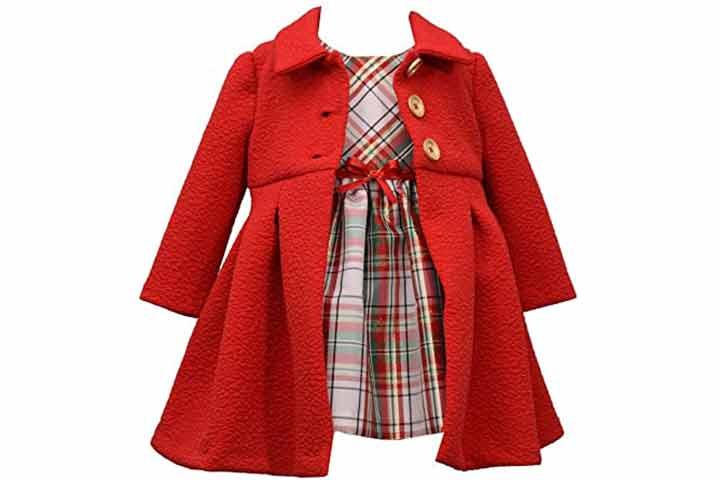 Want to make your girl look like Little Red Riding Hood? The beautiful red coat, along with a plaid dress, has full sleeves and layers to keep your child warm and cozy. The quality textured fabric with big gold buttons enhances the look. It has a mix of bright colors with a cute velvet bow on the front. This coat and dress combination will coordinate well with your favorite accessories and is perfect for the Christmas season.
Pros
Can be worn with or without the jacket
Zipper closure
Machine washable
Available in different colors
Cons
May have a little rough texture
The festive season is a time to put on glamorous clothes. This fashionable red velvet coat and dress set will surely attract compliments at parties. Tiny sparkles adorning the dress with the white waist ribbon bow add to the attractiveness. Its matching jacket and a fur lining around the neck area provide warmth. Let your girl lighten up the Christmas celebrations with this stylish little outfit.
Pros
Comfortable soft trim
Made of velvet material
Features a white tulle underneath
Looks shiny and bright
Cons
May not endure machine washing
Why Trust MomJunction?
Wedetso Chirhah writes on children's products, household items, etc., and produces detailed reviews to provide you with high-quality products. This article is about the best Christmas outfits for kids that your little ones can sport to rock the occasion. He has considered real user feedback to offer you an unbiased opinion. These outfits are made of premium materials and are durable and comfortable. The list also includes a buying guide for your convenience.
Recommended Articles: