Babies with cleft lip and palate have certain underlying genetic disorders that cause the malformation. The baby's mouth takes its shape and structure in the early weeks of pregnancy. Further, the fusion of the right and left parts of the baby's upper lip occurs between the fourth and seventh weeks of pregnancy. Finally, the palate (roof of the mouth) develops by the eighth or ninth week (1) (2).
If the fusion of the upper lip and palate does not occur properly, a cleft or split in the tissue is formed. Cleft lip and palate may occur separately or together.
Read this post to understand the types, symptoms, causes, treatment, prevention, and prognosis of babies with cleft lip and palate.
What Is Cleft Lip And Cleft Palate?
Dr. Jin Lin, a board-certified pediatric dentist and the founder of Hurst Pediatric Dentistry, Texas, explains, "Typically, the left and right sides of a baby's upper lip and palate (the roof of the mouth) fuse together during the first trimester, but sometimes the fusion process does not happen properly. Cleft lip occurs when a baby's upper lip does not fuse together properly, and cleft palate is when the baby's palate does not fuse properly. A child may have one or both conditions, and the conditions can be unilateral (i.e., affect only one side of the child's face) or bilateral (affecting both sides of the face)."
The face's tissues grow from both sides of the head towards the center and form facial features such as lips and the mouth. If these tissues fail to fuse before birth, there remains a small opening called a cleft. The cleft is usually small but, in some cases, may extend up to the nose, affecting its shape as well.
A cleft lip could occur on one or both sides of the lip or very rarely in the center. A baby with a cleft lip may also have a cleft palate. A cleft in the palate may happen both in the front and back of the palate (3). Since lips and palate develop at different times during pregnancy, it is possible for a baby to have only one of the conditions, that is, a cleft lip or cleft palate. However, it is most common for cleft lip and palate to occur together.
How Common Is Cleft Lip And Palate In Babies?
The Centers for Disease Control and Prevention have given the following statistics for the prevalence of cleft lip and palate in babies born every year in the USA (3).
Cleft lip with cleft palate: 1 in 1600
Cleft palate: 1 in every 1700
Cleft lip without cleft palate: 1 in 2800
Types Of Cleft Lip And Palate
A cleft lip is classified into the following categories (4).
Forme fruste unilateral cleft lip: A small pit-like or subtle cleft on one side of the upper lip. It may appear like a slight indentation.
Incomplete unilateral cleft lip: A cleft occurs on any one side of the upper lip and does not extend into the nose.
Complete unilateral cleft lip: A cleft on one side of the upper lip that also extends into the nose.
Incomplete bilateral cleft lip: Clefts occur on both sides of the upper lip with no involvement of the nose.
Complete bilateral cleft lip: Clefts occur on both sides of the upper lip and extend into the nose.
A cleft palate is classified into the following types (4).
Incomplete cleft palate: It is a cleft in the back of the mouth in the soft palate.
Complete cleft palate: It involves the hard and soft palate. In this type, the mouth and nose cavities are exposed to each other.
Submucous cleft palate: It involves the hard and/or soft palate, which is covered by the mucous membrane that lines the roof of the mouth.
Causes Of Cleft Lip And Palate
The causes of orofacial clefts are not always known. Cleft lip and palate may occur due to a combination of genetic factors that affect the baby and maternal factors during pregnancy, such as environmental conditions, diet and nutrition, or medications.
The following factors may influence the occurrence of cleft lip and palate in babies (2) (3) (5) (6).
Genetic defects
Family history
Maternal lifestyle factors (tobacco and alcohol use)
Inadequate vitamin consumption in pregnancy
Poorly managed maternal diabetes during pregnancy
Certain medications taken by the mother, such as medicines for epilepsy, arthritis, psoriasis, and cancer
Maternal obesity during pregnancy
Infections during pregnancy
Diagnosis Of Cleft Lip And Palate
Most cleft lips and palates are seen on the 18-21 week ultrasound while the baby is in-utero (7).  Some cleft palates can be missed on ultrasound and are diagnosed after birth.
In rare cases, the baby with cleft lip and palate may go undiagnosed even during routine check-ups. Instead, it is diagnosed when the parents report feeding problems, such as the inability to latch while feeding (2). Some types of cleft palates, such as submucous cleft palate, may be diagnosed later in life (3).
Complications Of Cleft Lip And Palate
Cleft lip and palate may cause the following problems (4) (6) (7) (8).
1. Feeding problems
Feeding problems may occur in newborns with cleft lip and palate as the anatomy of their mouth is not normal. The following problems could occur.
The baby may be unable to achieve a tight seal around the breast or bottle nipple.
Babies with cleft palates have problems with generating suction due to the opening between their nose and mouth.
When there is a connection between the mouth and the nose, food or fluids may often leak out of the nose.
2. Ear infections
Babies with cleft lip and palate are more prone to fluid accumulation in their middle ears due to dysfunction of the Eustachian tube that connects the middle ear and the throat. Recurring infections may increase the risk of hearing loss.
3. Speech problems
Reduced muscle function due to the opening of the palate and lip could lead to delayed or abnormal speech.
4. Dental problems
Babies with cleft lip and palate may experience the following dental problems.
Missing teeth, small teeth, extra teeth, and crooked teeth are the most common problems.
The crooked teeth may lead to cavities in the teeth.
The upper jaw may be divided into two or three parts separated by wide gaps for babies with cleft lip and palate. It may affect the baby's biting and chewing abilities.
5. Repeated lower respiratory tract infections due to aspiration (aspiration pneumonia).
Treatment For Cleft Lip And Palate
The treatment plan for cleft lip and palate is usually long-term and needs regular assessment from the doctor. The following are the main interventions (7) (9).
1. Taping and nasoalveolar molding (NAM) before cleft lip surgery
NAM is done to reshape the gums, lip, and nose before cleft lip surgery. Molding helps in reducing the gaps in the gums and the lips. It also helps in lifting and shaping the nose.
NAM is done using custom-made plastic molding plates on the baby's gum line. The plate directs the gum growth. The doctor will fix the plate every one to two weeks to make the cleft smaller.
2. Surgical intervention
Surgical procedures could vary based on the type of condition.
Surgery for the cleft lip:
The first surgery is done between three and six months (10).
The two sides of the lip are sutured together. The scar due to the procedure blends into the lip.
This surgery fixes lip separation. In some cases, additional surgeries at a later date might be needed (11).
Surgery for the cleft palate:
Surgery for the cleft palate is done between the ages of six and 18 months.
It is a more complicated surgery than the surgery for cleft lip.
Tissues from either side of the mouth are used to fill the gap.
A repeat surgery might be needed.
A baby could require different surgical strategies and procedures based on the severity of the condition and whether they have cleft lip, cleft palate, or both. Additional surgeries for the correction of the nose's shape might be needed at a later age.
The baby may require bottle-feeding of formula or breast milk through special nipples that help compensate for any loss of suction due to the slightly different anatomy of the mouth and lips, even after surgery.
Who Treats Babies With Cleft Lip And Palate?
A panel of specialist doctors helps in the correction and management of cleft lip and palate. The team may be called a craniofacial team. The team could include (10)(12)(13):
Plastic surgeon
Face and head (craniofacial) surgeon
Dentist
Orthodontist
Ear, nose, and throat specialist
Lactation specialist
Occupational therapist
Anesthesiologist
Genetic counselor
Cleft nurse specialist
Social worker
Dietician
Audiologist
Speech and language pathologists
Mental health provider
Prevention Of Cleft Lip And Palate
There is no known way to prevent cleft lip and palate in babies. Observing the following precautions before and during pregnancy may help avoid any maternal factors that influence the development of the condition (1).
If you have or your partner has a history of cleft lip and palate or any birth defect, you may consult a genetic counselor before planning a pregnancy.
You may consider a preconception check-up, including a blood test, to determine if you have any infections or diabetes.
Make sure all your vaccinations are up to date, especially the rubella vaccine.
Consider achieving a healthy body weight before conception since it may improve the chances of having a healthy pregnancy.
Consume a healthy, balanced diet during pregnancy. Take vitamin and iron supplements after doctor consultation. Folic acid supplementation should be taken.
Avoid lifestyle choices, such as tobacco and alcohol use, which may increase the risk of birth defects in newborns.
Get your doctor's consent before consuming any new or existing medications.
Prognosis For Babies With Cleft Lip And Palate
Most babies with corrected cleft lip and palate lead a healthy life and do well. The baby may require assistance with feeding through the help of specialized bottle nipples. However, most have normal orofacial functions as they grow older, achieving normal appearance, speech, and eating (3) (6).
Dr. Larry Hollier, surgeon-in-chief at theTexas Children's Hospital and chief of plastic surgery Baylor College of Medicine, says "When the child is diagnosed with cleft lip or cleft palate, the parent must educate themselves on the special care they'll need to provide for their child, to whatever extent possible. As this can be an emotional and overwhelming experience, a good first step is to consult your primary care provider. They can answer your initial questions, connect you with a specialist and a parent support group that may benefit the parents' mental health during this time. From there, a parent will have to learn how to appropriately feed their child and take care of them."
Some older children with treated orofacial clefts may have issues with self-esteem due to the slightly different appearance of the nose and the mouth. In several cases, subsequent surgeries could correct any anomaly. You may consider discussing the social aspects of the appearance with your doctor. Support groups and organization scan also help parents and children (3) (14).
Frequently Asked Questions
1. Does a cleft lip affect the brain?
Though rare, in some cases, a child with additional issues with the cleft lip (syndromic clefting) may have cognitive difficulties and brain structure and functioning abnormalities (seen in less severe, isolated clefting cases). However, more longitudinal and diverse group studies are required to support these findings (15).
2. Can a cleft lip heal in the womb?
A baby with a cleft lip and palate experiences this condition because of the underlying genetic disorders. Family history, medications, and some environmental factors can increase the risk of this condition. Cleft lip and palate lead to complications, such as feeding issues, dental problems, and ear infections. Treatment involves surgical intervention and requires a team of specialized doctors. Most children lead normal lives after their treatment. Fortunately, the condition may be prevented if couples with a family history of this condition seek genetic counseling before planning their pregnancy.
Key Pointers
Cleft palates in babies can be identified in the fetal stage or later after the baby's birth during breastfeeding.
Untreated cleft lip and cleft palate may cause dental issues, feeding issues, ear infections, and speech problems.
Taping, nasoalveolar modeling, and surgery are performed to treat cleft palate in babies.
The prognosis of cleft palate is good after surgery, with only a few feeding inconveniences during the initial days.
References:
MomJunction's articles are written after analyzing the research works of expert authors and institutions. Our references consist of resources established by authorities in their respective fields. You can learn more about the authenticity of the information we present in our
editorial policy
.
The following two tabs change content below.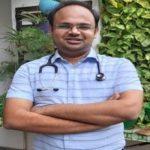 Dr Prakhar Nyati is an eminent pediatrician and neonatologist in Indore. He has done his MBBS and MD Pediatrics from MGM Medical College, MY Hospital and Chacha Nehru Children Hospital, a renowned medical college in central India. A gold medallist in his graduation, Dr. Nyati has deep knowledge about diseases, diagnosis and treatment. He holds teleconsultations for local as well...
more

Dr. Ritika Shah is a dental surgeon with more than seven years of clinical experience across various cities in India. During her clinical practice, pediatric dentistry was her particular area of interest, and she constantly thrived to inculcate the latest advancements in the field of dentistry into her practice. She also holds a certificate in lactation counselling from iNational Health...
more