Do you put everything you eat, drink or use, under the scanner? Do you want to be sure that whatever you are using or consuming is safe during pregnancy? Clove has many health benefits but is it safe during gestation?
Read our post and learn whether you can use clove during pregnancy. If you are looking for answers that will verify your queries about using clove during these special months, scroll down and check for yourself.
What Is Clove?
Clove is a herb that is used in various forms for eating and medicinal purposes. Clove is mainly used in as oil, as leaves, as dried flower buds and as a stem.
[ Read: Is It Safe To Use Clove Oil During Pregnancy ]
Are Cloves Safe During Pregnancy?
Many cultures use clove as spice for food. Clove boasts many benefits. Consult your doctor before you decide to consume cloves during pregnancy. While clove may not be harmful, your doctor will assess your health and let you know if you can safely continue using it.
Using clove is safe when you are pregnant, but only as a part of your food. There is not enough research information on whether or not it is also safe for use as a medicinal supplement. The best thing to do is include small amounts of clove in your food and stay away from using it in the form of medication [1].
[ Read: Benefits Of Pepper During Pregnancy ]
Health Benefits Of Clove While You Are Pregnant
Remember that it is only safe to use clove as a food ingredient while you are pregnant. Use it in its spice form and stay away from using clove as clove oil or any other medicinal supplement. Here are some health benefits of eating cloves during pregnancy:
Cloves are a rich source of antioxidants. Certain antioxidants in cloves help make activate your body's antioxidants. As a result, your body fights off any oxidative cell damage and the antioxidants prevent any further harm.
The rich amount of antioxidants is a great way to increase your immunity and is especially useful while you are pregnant.
Cloves contain a high amount of minerals such as manganese, sodium and phosphorus. All these minerals will help promote your unborn baby's development.
The dietary fiber in cloves will also help keep your digestion smooth and regulate your bowel movements. When you are pregnant, constipation is a common problem. Including clove in your main dishes will help alleviate any constipation or digestive problems.
The vitamin C and K in cloves will add to your overall health and also prevent you from contracting cold and flu, another health condition that is common when you are pregnant.
[ Read: Herbs To Avoid During Pregnancy ]
Cloves contain a high amount of omega-3 fatty acids. The fatty acids help promote your unborn baby's brain development. It keeps your baby's nervous system healthy and lets it develop normally.
The protein and carbohydrate found in clove will provide you with a dash of energy while you are pregnant.
The calcium and phosphorus content in clove promotes your unborn baby's bone formation.
Cloves are also a good source of flavonoids that act as anti-inflammatory agents. Eating clove during pregnancy will prevent joint ache or swelling.
Cloves have many health benefits and are safe to use during your pregnancy. However, you need your doctor's approval first. Ensure that you don't use cloves. Also, ensure you use it in small amounts and do not over-use it.
Did you have cloves in pregnancy? What did your doctor advise you? Tell us about your story. Share any tips with other mommies here. Leave a comment in the section below.
Recommended Articles:
The following two tabs change content below.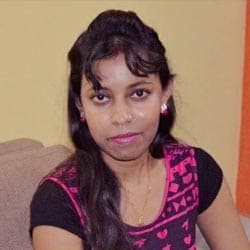 Ria Saha
Ria is a techie-turned-writer and writes articles on health, with special emphasis on nutrition. She did her B.Tech from West Bengal University of Technology and was previously associated with IBM as SAP ABAP technical consultant. She moved into freelance content writing in 2013 and worked for various websites including MomJunction, Brainpulse Technologies, and Emarketz India.