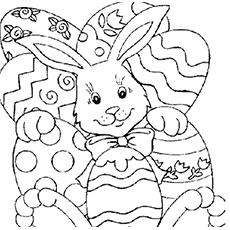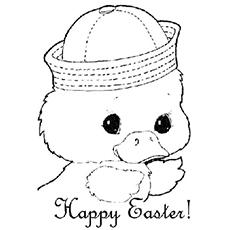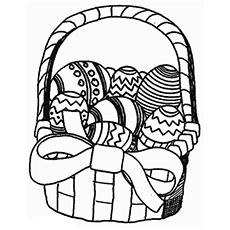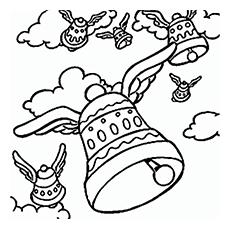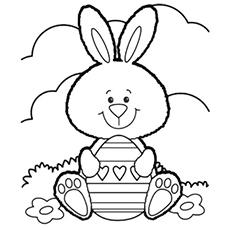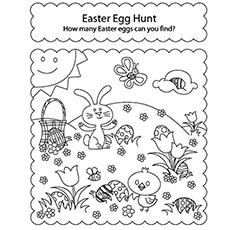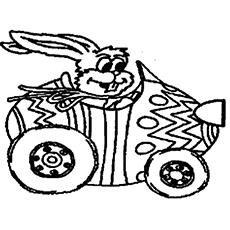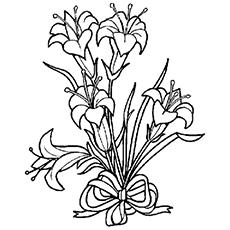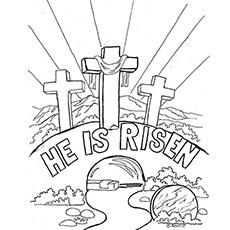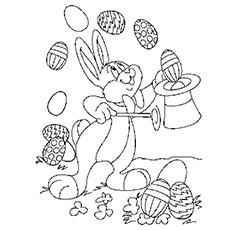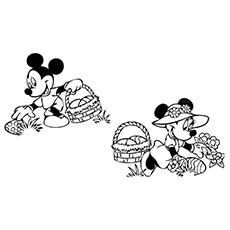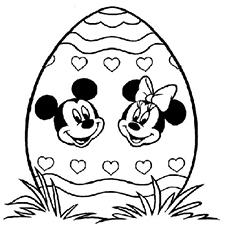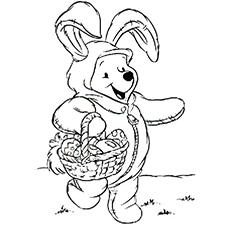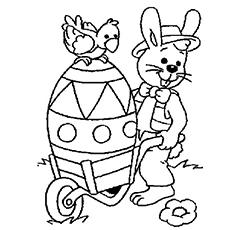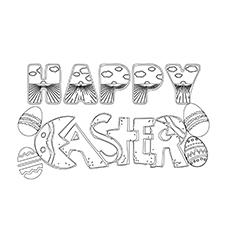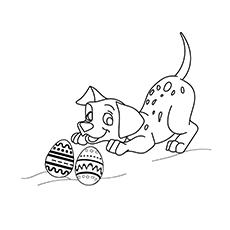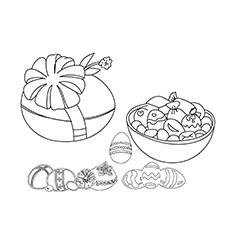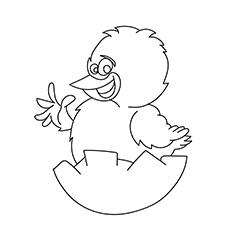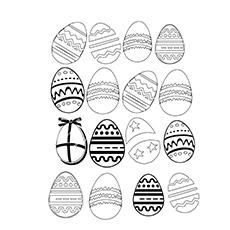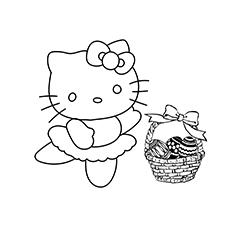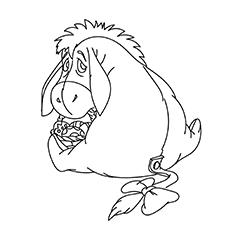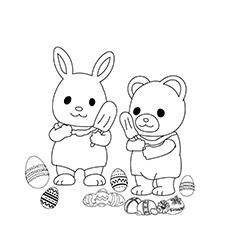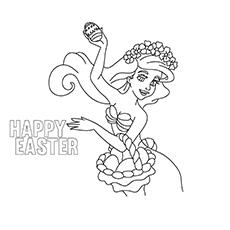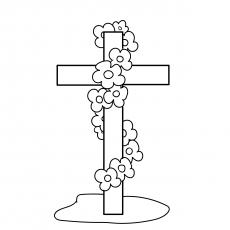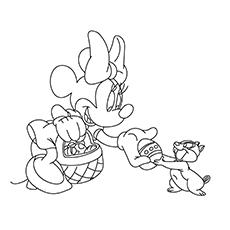 Recommended Articles:
Easter is the oldest and most important festival for Christians. It is the day when Jesus came back to life after being crucified. The festival is therefore celebrated as a symbolic victory over death.
The mere word "Easter" evokes the memories of lilies, baskets, gifts, bunnies and chocolate, eggs and much more. Here are 25 Easter coloring sheets to help your kids acquire knowledge about this springtime festival in a fun way.
Top 25 Colorful Easter Coloring Pages For Kids
Here is a beautiful collection of free Easter coloring pages to print out and color. This will be the ideal way of developing coloring skills in your younger child & also offers hours of fun.
1. Easter Basket:
Easter basket is a hallmark of this festival. It has played a pivotal role in the celebrations of Easter for ages. It is not just an ensemble of goodies and treats; it signifies a new life, rebirth and renewal. According to the legend, a white hare would gift Easter baskets filled with brightly colored eggs, candies and other goodies for the kids to gorge on.
Make your kids color this beautiful page to help them discover the essence of this springtime festival. You can also print out the page and use it to wrap small gifts.
2. Easter Egg:
The tradition of celebrating Easter with eggs dates back to the 13th century. Earlier, bird's eggs painted in bright colors were given as a gift. Now chocolate eggs or plastic eggs filled with candies and other sweet treats are gifted. Easter egg symbolizes the empty tomb of Jesus.
Here is a pretty Easter egg picture for your kids to color. You can also print out the page and stick up on the display.
[ Read: Barbie Coloring Pages ]
3. Easter Bunny:
The Easter bunny is a prominent symbol of Easter. Rabbits are known to be prolific procreators, symbolizing the new life and fertility of Easter. It is believed that Easter bunnies deliver decorated eggs to children who leave their baskets on Easter Sunday night. The bunny also evaluates whether the children were well behaved or disobedient at the start of the Easter season.
Your kids will love coloring this long eared and short-tailed creature. It will keep them happy for hours.
4. Easter Lily:
Easter lily is a biblical flower associated with the resurrection of the Christ. It is usually given along with other Easter gifts. This magnificent trumpet shaped flower symbolizes the spiritual essence of Easter. It stands for purity, hope, virtue, innocence and life.
So grab your crayons, felt pens or colored pencils to decorate this simple, yet stunning Easter lily sheet.
[ Read: Hello Kitty Coloring Pages ]
5. Easter Chick:
Just like the Easter Bunny, the newly hatched chick is also a common Easter symbol. It is believed that the chick emerges from the eggs brought by the bunny. The hatching of the chicks is seen as a symbol of the resurrection of Jesus.
Easter chicks are a source of inspiration for several home crafts, including the coloring sheets. This cute little chick hatching from the egg looks extremely appealing. It only needs a little bit of color to look beautiful.
6. Cross:
The cross symbolizes the victory of truth over falsehood, spirit over matter and light over darkness. Christ's resurrection increased our faith in His teachings and supreme love.
You can also educate your children about Christ and His teachings while coloring this picture with them.
[ Read: Mickey Mouse Coloring Pages ]
7. The Sylvanian Family Celebrating Easter:
Who does not know about these cute, little plastic creatures? The Sylvanian family toys are very popular with children around the world.
Here is a beautiful picture of the Sylvanian family celebrating Christmas. You can also use the print out of this picture as a home decoration or poster for your kid's room.
8. Easter Bells:
Easter bells summon, celebrate and commemorate the arrival of Christmas. They serve as a tool of communication for both the spiritual and secular matters.
Easter bells coloring will not just entertain, but will also act as a teaching tool for your young children. Let your imagination soar and paint the bell with the colors of your choice.
[ Read: Spiderman Coloring Pages ]
9. Easter Egg Hunt:
The Easter egg hunt is another popular tradition of Easter. The egg hunting or rolling is a symbol of the rolling away of the stone from Jesus' tomb. It is an event where hard-boiled eggs or plastic eggs filled with candies of various sizes are spread across the garden for the children to run around and find. Kids who collect the largest number of eggs are given beautiful prizes.
This activity sheet with butterflies, trees and eggs will keep your kids occupied during the holidays. Make your kids count the eggs while they fill in the colors.
10. Easter Candy:
The Easter season is the second most important candy-eating occasion for the Americans. The most popular sweet treats in Easter include jelly beans, marshmallow peeps chocolate eggs.
11. Dalmatian and Easter egg:
See this cute little Dalmatian poking at the Easter egg inquisitively. He also wants to know what is hidden inside. If your child is an animal lover and if you have a pet in the house then your baby will be able to associate with this picture. Your child also has a curious mind and is ready to explore; you will find broken toys in the house because your child is curious to see what is inside the toy. Babies can associate with little pups since both are curious and are in a stage of discovering new things.
12. Bugs Bunny on the Easter Egg Plane:
This picture will make your child laugh aloud. By now your child is familiar with the popular bug's bunny cartoon on TV. So when he sees a scared Bug's bunny on an Easter egg plane, with the two front teeth jutting out he will laugh with glee.
This is a time when your child's milk teeth falls off and often children at this age also have only two front teeth jutting out. After seeing Bug's Bunny they will not only start eating carrot but will also admire their teeth in the mirror. You can take snaps of your kids when they laugh with only two teeth in the front. It looks so cute!
[ Read: Minnie Mouse Coloring Pages ]
13. Mickey and Minnie Mouse Easter Eggs:
If your child loves Disney characters like Mickey Mouse and Minnie Mouse then they will love coloring this page. Mickey and Mouse are great friends and this is this time to start bonding with other kids. They form new friendships and you can organize a coloring session by inviting his close friends at home. Your little one will thoroughly enjoy the coloring session with his new friends.
14. Cute Bunny and Easter Eggs:
This cute bunny pokes its head out of a pile of Easter Eggs! Both Easter Bunny and Easter Eggs are the prominent signs to depict this joyful spring time festival. Spring is the festival of color, rebirth and a time for new blossoms. Easter is also a festival that celebrates resurrection of Jesus Christ. This season is marked by fertility and rabbits are a great symbol of fertility for their procreative powers. You will see gardens filled with rabbits and colorful butterflies. Let your child's imagination fly high while coloring this picture.
15. Kitty and the Easter egg:
Kitty is a very cute symbol that all kids love. Many children like the kitty character so much that they request their parents to buy them bags with a kitty poster or a pencil box with a picture of Kitty on it. Kitty has a feminine look with a ribbon on its head and a floral printed T-Shirt. Little girls can associate with Kitty character than boys. Coloring this cute picture is always fun!
16. Disney Easter Fun:
Easter is full of surprises and in this picture Goofy surprises Mickey Mouse. As Goofy breaks out of the egg Mickey Mouse is startled. You have often played hide and seek with your little one and startled him often. This picture will bring back those fond memories. Since, your child is already a big fan of Disney animated characters he or she will have great fun coloring them.
Mickey Mouse is a funny animal character and the official mascot of Walt Disney Company. This anthropomorphic mouse who wears large yellow shoes, red shorts and white gloves was created by Walt Disney. Mickey Mouse is most recognizable character and the first to get a star in the Hollywood Walk of Fame. You can share some interesting facts like this so that your child knows the rich history of his favorite character Mickey Mouse. You can also share your experiences of watching Mickey Mouse cartoons and iconic films like Steamboat Willie, Lend a Paw and Plane Crazy as a kid with your child. You can also watch these films with your little one.This will be a great way to spend quality time with your cute little kid.
[ Read: Bugs Bunny Coloring Pages ]
17. Mickey Mouse and Minnie Mouse Easter Egg Hunt:
Easter egg hunt is a very interesting and popular game played in the Easter parties by children. This treasure hunt is a very rewarding experience because the winner gets amazing prizes for collecting the largest number of Easter eggs filled with yummy chocolates. So it is a double win for the winner who gets both the prize and the candies hidden inside the colorful Easter Eggs.
In this picture Mickey and Minnie Mouse are busy with an Easter egg hunt. Children can easily associate with this Disney picture.
18. Happy Easter Poster:
Your child's imagination will fly high when he will color the poster. You can actually gauge his creativity. After your child completes coloring this entire poster, hang it up in his room, so that he feels proud and happy about his work.
19. Easter Marks Rebirth:
The festival of Easter celebrates the resurrection or rebirth of Christ after crucification. You can educate your child about the story of Jesus Chris's life and his teachings while your child colors this poster or page. Sit beside him when he colors this page and guide him to use the right colors.
[ Read: Little Mermaid Coloring Pages ]
20. Easter Bunny Juggling Easter Eggs:
Every child loves to watch magic shows. They watch with wonder when the magician juggles numerous balls at a single go. This picture will remind them of the magician's act of juggling. The cute bunny rabbit with long ears juggles Eggs with a magic hat.
21. Little Mermaid Wishes Happy Easter:
Little girls can associate with this picture, especially those who have read the book and watched the Walt Disney film. They love various hair accessories and will love to color the flowers on little Mermaid's hair.
[ Read: Winnie The Pooh Coloring Pages ]
22. Cute Bunny Pushes the Easter Egg Cart:
The cute bunny wearing a hat and a bow tie pushes a cart with a huge Easter egg on it. You child will have great fun in choosing his favorite colors to make this picture look more cheerful.
23. Winnie the Pooh Celebrates Easter:
Winnie the Pooh is in a mood for fancy dress, he has dressed up as a bunny rabbits and has a big basket with Easter eggs inside. All children love a fancy dress competition and love to receive gifts and chocolates. They will enjoy coloring this picture and will exercise their imagination while filling colors in the Easter eggs.
[ Read: Clown Coloring Pages ]
24. Possessive about Easter Eggs:
This cute animated character with a bow in the tail is really possessive about the Easter egg basket. His face is worried that someone will see the basket of goodies and take it away from him, so he is holding on it tightly. Children behave in the same way; they hold on tightly to their favorite toys and foods and are afraid that their friends or siblings will snatch it away from them.
25. Cute Chick Wishing Happy Easter:
This is a very cute poster you can fix in the wall of your kid's room after he or she has colored it. Chicken breaking open from an egg depicts rebirth, the concept that is celebrated in Easter. This picture is very suitable for Easter and you can decorate your house, especially if you are hosting an Easter party at home.
[ Read: Four Leaf Clover Coloring Pages ]
This gorgeous coloring sheet will surely delight the children of all ages.
Coloring these images will help your kids develop hand and eye coordination, thereby forming the foundation for early learning success.
The Easter season is the second most important candy-eating occasion for the Americans. The most popular sweet treats in Easter include jelly beans, marshmallow peeps chocolate eggs.
Hope you kid liked these free printable Easter coloring pages online for kids. Do share your views below in the comment box.
DISCLAIMER: All images found here are believed to be in the "public domain". We do not intend to infringe any legitimate intellectual right, artistic rights or copyright. All of the images displayed are of unknown origin. If you are the rightful owner of any of the pictures/wallpapers posted here, and you do not want it to be displayed or if you require a suitable credit, then please contact us and we will immediately do whatever is needed either for the image to be removed or provide credit where it is due. All the content of this site are free of charge and therefore we do not gain any financial benefit from the display or downloads of any images/wallpaper.
The following two tabs change content below.