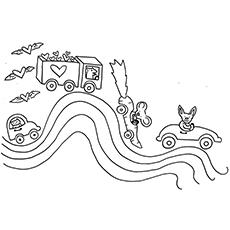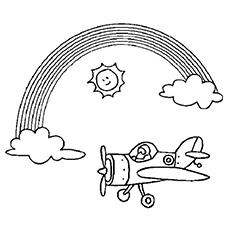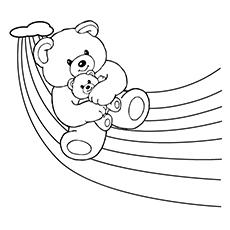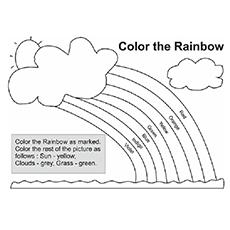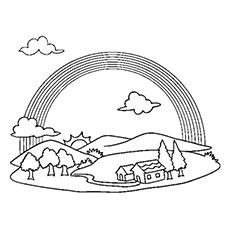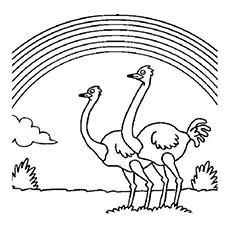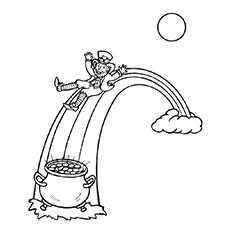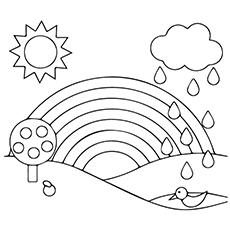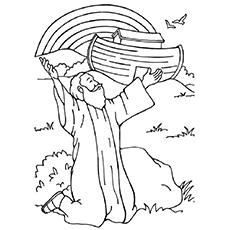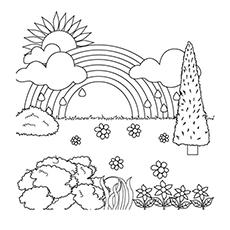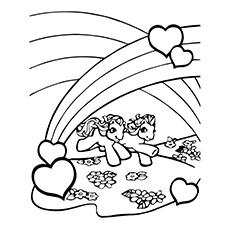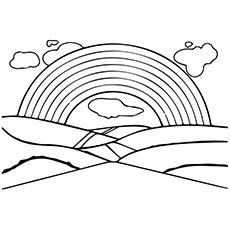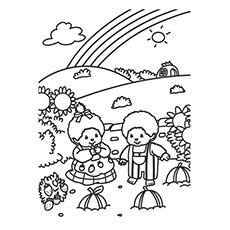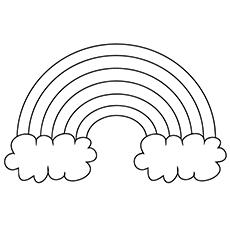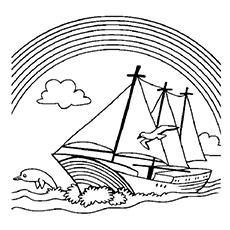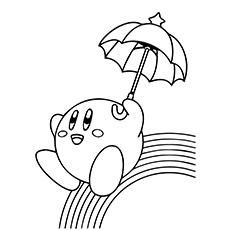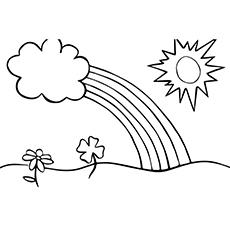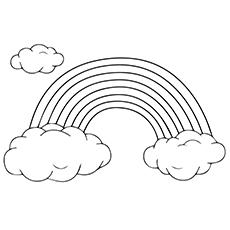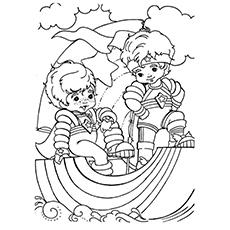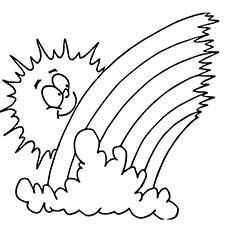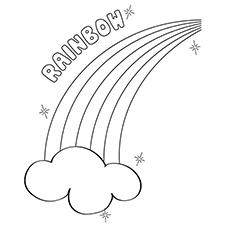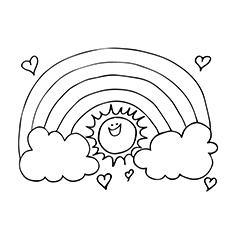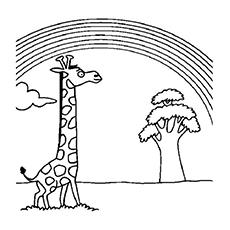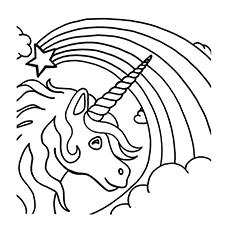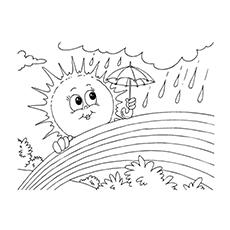 Recommended Articles:
The beautiful colors of rainbow enchant everyone including young and the old. The children are especially fascinated when they see the seven colors of rainbow making an arch in the blue sky.
Children love to color the different VIBGYOR colors present in the rainbow. They readily agree to color these sheets. Apart from developing an interest in the kids by making them color a rainbow, you are also introducing them to new and novel things about color identification and color refraction.
Just as for nursery kids the colors are major attraction, similarly for the primary school-going children, the process of formation of rainbow is of great interest. So, whichever class your child is studying, he can always learn a good deal with the rainbow coloring sheets.
Top 25Â Rainbow Coloring Pages
Here are the top ten options of rainbow pictures to color. You can download these coloring sheets for your small kids and spend more quality time:
1.The Basic Rainwow:
This picture includes the rainbow arch and a small cloud. Just ideal for kids who are starting with the coloring session especially those going to nursery or kindergarten and for whom this is just the start to new introduction to colors and the process of coloring.
2. Rainbow In The Cloud:
Rainbow and clouds are usually together. This picture has several clouds that are crowding the rainbow. Your child may ask you several questions regarding the clouds and the rainbow while coloring this rainbow-coloring page. And you can then make him aware of the process of formation of rainbows. So, along with recreation the purpose of education is also fulfilled.
[ Read: Number Coloring Pages ]
3. Rainbow In A Village:
This rainbow picture includes the village ambience. The trees and the small houses in the village increases the scope for coloring more thereby encouraging him to try out different color schemes that will bring out the beauty of rainbow in the picture.
4. Rainbow In The Hills:
The up and down of the terrain and the hills give ample scope to the children for coloring in between the restricted line limits and also to ensure that the color combination is good.
[ Read: Flags Of The World Coloring Pages ]
5. Rainbow With A Sun:
Rainbow, the Sun and the clouds-all the elements that are popular with the kids are there in this picture. It is a very simple picture and with its thick outlines ensures that the small kids who have just started coloring do not find any difficulty in maintaining the line-to-line limitation of each color.
6. Rainbow And Rain:
This small picture with rainbow, sun and clouds also has rain shower coming down. It is a simple picture that looks as if drawn by a small child and hence the young kids can easily relate to it.
[ Read: Alphabet Coloring Pages ]
7.Color Identifying Rainbow:
This picture has simple rainbow design, but each arch has the color name that it represents written on it. Due to this, the kids who are just starting to identify different colors will be able to color the rainbow correctly and will also be introduced to new colors in the process.
8. Rainbow Dreamland:
This picture has everything that a child loves to color. Small trees, flowers, sun, clouds, rainbow and everything that makes a picture color perfect. The children get a lot of scope to play and experiment coloring while doing this coloring sheet.
[ Read: Happy Birthday Coloring Pages ]
9. Colorman Rainbow:
The picture shows a colorman using his stick to create a rainbow that pours all its colors on the ground to form a rainbow pond with several animals like dog, cat, dolphin and horse having a good time together. The children will surely find this picture very interesting to color.
10.The Classic Rainbow Arch:
Here the rainbow is making a beautiful arch starting from one cloud to another and joining the two clouds. This is a very simple yet interesting coloring sheet for small children.
[ Read: Easter Coloring Pages ]
11. Rainbows in Pony Land:
My Little Pony is an entertainment franchise developed by Hasbro which is marketed primarily to girls. It started as a line of plastic pony toys developed by Bonnie Zacherle, Charles Muenchinger and Steve D'Aguanno which have been produced since 1983. The ponies feature colorful bodies, manes and a unique symbol on one or both sides of their flanks. These are referred to in the two most recent generations as "cutie marks."
This picture depicts friendship and love and your child's imagination will make this picture look even more bright and beautiful. This can become a great wall hanging for your daughter's bedroom, since loves playing with little Pony toys and has already watched the Little Pony cartoon series. You can play a little Pony video game as a treat with her, as a mark of your appreciation for her amazing art work!
12. Rainbow over the Sea:
This is a beautiful picture of a sailboat with three large sails and seagulls flying around it and a cute little dolphin leaping in the waters. There is rainbow in the background and small clouds flying in the sky.
This scenery can only happen in imagination since it is so perfect. Don't forget to pin it up as a poster for your kid's room after he has done coloring.
13. Rainbow in Monchichi Land:
Monchichi is a line of Japanese stuffed toy monkeys from Sekiguchi Corporation, first released in 1974. They were released by Mattel in United States in 1985. The Japanese anime twins or Monchhichi twins, the television series was produced by Tokyo 12 Channel or TV Tokyo. The American cartoon series Monchhichis in 1983, produced by Hanna- Barbera productions and in 20005 by Kids station. These cartoons are popular among children and they love these adorable little creatures that remind them of TeleTubbies.
The nature looks beautiful in the Monchhichi land and these two cute little Monchhichi twins are having strawberries from the garden. See your child's happy face as he colors his favorite Monchhichi coloring page.
14. Rainbow at Noah's Ark:
Noah's Ark is the vessel in the Genesis Flood narrative (Genesis chapter 6-9). As the story goes that God gives Noah a detailed instruction to make an ark of Gopher wood and smear it inside and outside of this vessel with pitch. The ark had to have three decks with internal compartments and it should measure 300 cubits long. The roof of the ark would be finished to a cubit upward. The ark stayed afloat throughout the flood and saved Noah and his family and all the animals of the World, before it came to rest at Mount Ararat. This flood story is found in many other cultures, like the ark appears in Quran as SafinaNuh and in the earliest written Sumerian flood myth, the Epic of Ziusudra.
Narrate to your child the story of Noah and look at his surprised face. Through this picture you can teach your child to be thankful to God for all the living creatures of God and also the sun, moon and the bright rainbow. All are His wonderful creations. Your child will learn the importance of prayer and will learn to respect all humans and living creatures.
15. Rainbow and a Pot of Gold Coins:
In this picture we see a pot of treasure, some unique shaped leaves like the ones you see in a playing card and the rainbow. This picture will make your child think where did this pot of treasure come from? There is a kind of mystery in this picture that will spark the imagination of your little one.
16. Rainbow and Unicorn:
The unicorn is a legendary animal that has been described a s a beast with a large pointed spiraling horn projecting from its head. The unicorn is depicted in the seals of ancient civilization and in Greece. The mentions of unicorns are found in the natural history Ctesias, Strabo, Pliny the Younger and Aelian. The Bible also describes the presence of a unicorn. In European folklore this animal is described as a horse and goat like animal with long horns and cloven hooves. It is a symbol of grace and purity and lives in dense woodland. Unicorns can only be captured by virgins. As per the belief, the horns of unicorn could heal sickness and can render poisoned water potable.
Unicorn can only reside in a fantasy land where rainbow always shines bright and there is happiness all around. Children will love coloring this unique animal and add it to his world of imagination.
17. Giraffe Looking at Rainbow:
Has your child yet been to zoo? If yes, then he will surely know how a giraffe looks like! A Giraffe is known for his very long neck and the spots on his body. The giraffe is the tallest of all animals but is of a gentle disposition, compared to its size. It is amusing to see a giraffe eating leaves from the tree without craning its neck and sometimes peeping at you from the boundary wall of his enclosure. Giraffes are mainly herbivorous.
Your child will be happy to see giraffes in the rainbow land with trees. Giraffes are found in plenty in the African Savannah. Show him encyclopedias of the African Savannah region and show how giraffes thrive there. You can also introduce him to different animals through channels that are dedicated to science and geography and animal life on television. Make learning fun through this coloring page.
18. Rainbow and Ostrich:
Ostrich are large featherless birds with long necks. They can run really fast and have powerful leg muscles with long talons. Ostrich is native to Africa and the only living member of the genus Struthio which is a ratite family. Other birds belonging to the genus struthio are kiwis, emus, rheas and cassowaries. Ostriches can run up to 70km/per hour, the fastest land speed of any bird. Ostrich lays the largest eggs of any living bird (extinct elephant birds of Madagascar and the Giant Moa of New Zealand laid larger eggs.)
An ostrich eats plant matter but it can also have invertebrates. They live in a nomadic group of 5-50 birds. When threatened they can either hide by lying flat on the ground or run away. If attacked they will defend themselves by kicking with their strong legs. However, this doesn't prevent poachers from killing ostrich for their feathers, meat and skin.
If your little one is not familiar with ostrich show him or her how an ostrich looks like. You can also find out more facts about Ostrich together. You can also tell him how poaching is bad and that it is very about to love animals also. Killing animals are a crime, through this picture you can inculcate love and respect for animals.
Your child will want to have strong legs like the ostrich and a good runner; the ostriches will definitely inspire him to become a star sports player! They will also be surprised at the mere size of this flightless bird and will love coloring them, other than the rainbow.
19. Rainbow Slide:
Your children must be enjoying a slide ride in the park and comes home with soiled dress. These are little joys of childhood that you can't complain. So this picture will instantly connect with your child.
Your little one will enjoy coloring this cute little creatures having fun on a rainbow slide. They are getting up on the rainbow and sliding down, some of them are peeping at you from the toadstools. These toadstools or mushrooms have polka dots on them and look interesting. Mushrooms don't have these designs in reality but in the world of dreams it can have any color. So let your kid have a great time coloring this picture with different shades according to his choice. Just notice whether he added the correct colors on the rainbow, sparkles or glitter can give a dreamy effect to this picture.
20. Rainbow and the Sun:
Here is a cute look sun protecting itself from rain using a tiny umbrella. The cloud is just above the sun and there is a huge rainbow beneath the sun. After the rains the grass is lush green and the weather is pleasant, neither hot nor cold. The smiling sun is mellow and is giving off less heat. Maybe the Sun is also relieved at the coming of rains; it is also welcoming the monsoon season.
Children will enjoy coloring the smiling sun that they don't usually see in the sky, and the rainbow which is also a rare sight. The minute details in the picture will improve your child's observation powers.
21. The Zig Zag Rainbow Road:
The rainbow becomes a road for these funny cartoon characters! We see a carrot shaped cars with tiny wheels, a truck and cars riding on the bumpy and zig zag rainbow road. The trucks are carrying a bunch of hearts and happiness, just for your little angel who will be coloring this page soon!
You can guide your child to make the road really colorful, unlike the roads he sees every day. Let him travel to his own world of imagination and express his thoughts with colors on this page. Your child will be excited to color all the cars, especially the carrot shaped car.
22. Baby Bears and the Rainbow:
The two cute baby bears are playing together as the smiling sun shines brightly and rainbow appears in the sky. There is love in the air as we can see some tiny hearts in the picture. The atmosphere is cheerful, just like the ambience your child desires always. Children are innocent and they create positive vibes around him, so he can instantly connect with this picture and will surely enjoy coloring this page.His creative touch will make the page look even more happy and bright.
23. The Airplane and Rainbow:
Have you ever see a rainbow while travelling by an airplane? This lucky pilot riding the airplane in this picturehas, we see this small plane riding by the rainbow.
Rainbows are very rare and it can be seen sometimes after heavy rain. You just have to be lucky to see a rainbow in the sky; it is one of the wonders of Nature that can really surprise you. If your child was lucky enough to spot a rainbow sometime, then he will recollect this fond memory while coloring this page.
24. The Brightest Rainbow:
After your child colors the rainbow make sure he spells out rainbow correctly too. Guide your child to color the rainbow accurately and add some sparkles or glitter tubes to make it the brightest rainbow. You can make a cut out of stars and other interesting cutouts to make this page look bright and beautiful.
The word rainbow can also be colored in different shades. As a parent you can study your child's creative mind as she colors this page, give her ample materials to make this page wonderful. Don't only depend on pastels and wax crayons. Your child will remember the word rainbow better and can associate it with the picture next time he glances at it. It is an interesting way to teach new words to your child and increase his vocabulary.
25. Riding on a Rainbow:
Here is a picture of two cute little children riding on a rainbow, in the cloud kingdom. They are wearing unusual attire and headbands with a star. These cherubs look really excited and are off to some adventure!
Children create an imaginary world of their own.  You must have seen them sitting on a toy horse with a plastic sword in their hands and makes battle cries. He thinks himself to be a warrior prince. This picture will spark your child's imagination and he will be surprised to see that it is possible to ride on a rainbow too!
Rainbows, butterflies and the tiny objects of Nature often inspire little kid's imagination. They love to spot the unusual and build dreams around them. There are dreams are vivid and is a reflection of their innocent mind. Let your child color the bright rainbow and make each page look magical with his creative touch.
We hope you like our collection of 25 amazing free printable rainbow coloring pages. Do share your views and tell us which one you downloaded for your munchkin.
DISCLAIMER: All images found here are believed to be in the "public domain". We do not intend to infringe any legitimate intellectual right, artistic rights or copyright. All of the images displayed are of unknown origin. If you are the rightful owner of any of the pictures/wallpapers posted here, and you do not want it to be displayed or if you require a suitable credit, then please contact us and we will immediately do whatever is needed either for the image to be removed or provide credit where it is due. All the content of this site are free of charge and therefore we do not gain any financial benefit from the display or downloads of any images/wallpaper.
The following two tabs change content below.