You can find lots of crafts projects to suit any age group. There are also many that are specifically created for different holidays. Making a house craft for a preschooler or school going kid is not a tough job!! You and your kids can also create different creative items to decorate your home or garden!
Take a look at the top ideas for making house crafts from everyday items for kids including the gingerbread house and fairy gardens and houses that will help them have loads of fun creating:
Top 13 House Craft Ideas For Kids:
You think your kid can make the gingerbread house on her own? Yes, she can, save yourself some grief with our easy recipes of making gingerbread house for kids.
1. Graham Cracker Gingerbread House
You Will Need:
Ten whole graham crackers (8 for the house, 2 for the roof)
Candies to decorate the house like M&M, gumdrops, red licorice, chocolate kisses, and hard candies
A can full of white frosting
1/4 teaspoon of cream of tartar
Spoon
A large plate or tray
A Small plastic bag
Butter knife
Scissors
How To Make:
First and foremost, tell your kid to prepare the frosting. To make the frosting, she has to add ¼ teaspoon of cream of tartar to 1 cup frosting. You can use either homemade or store bought frosting.
Transfer the frosting mixture in the plastic bag and cut a hole in the corner.
Using the frosting as glue, tell your kid to stick the four double crackers in the shape of a rectangle. Now have her glue two graham cracker halves to the sides to make a complete box.
It's your responsibility now to place the walls of the house up against something so that the house dries straight.
Tell your kid to put the frosting on the corners of two more graham crackers. Your kid has to place the crackers on either side of the corner to make a peak. It will be the roof of the house. Leave the house to dry for an hour or more.
Once the structure dries, tell your kid to coat each side of the frosting. Encourage your child to use her imagination for decorating the house. He can use gumdrops, candies, M&M's or anything she likes for decorating her gingerbread house.
This is the easy gingerbread house recipe for kids that you will ever find.
[ Read: French Toast For Kids ]
2. Simple Gingerbread House
You Will Need:
200 grams of butter, chopped
1 tablespoon of ground ginger
1 cup of brown sugar
2 teaspoons of ground cinnamon
1 cup plain flour
3 1/2 cups self-raising flour
1/2 cup golden syrup
Two eggs, lightly beaten
Confectionery for decorating
Two quantities of Royal Icing
Templates2 x 18cm by 10 cm (front and back)
2 x 15cm by 18cm (roof pieces)
2 x 13cm by 22cm templates (ends)
How To Make:
In a food processor, mix sugar and butter until combined. Now add ginger, cinnamon, and flours and give it a twirl on high until it combines.
Now tell your kid to mix the eggs with the golden syrup in a bowl or jug. Tell her to pour the mixture into the food processor and run it on high.
Transfer the mixture to a shallow dish and knead until smooth. Cut the dough into four shapes and tell your little one to roll the shapes into flat discs. Now wrap the dough in cling film and refrigerate for an hour.
After an hour, remove pieces from the cling film and have your little one roll the dough pieces 5mm thick. Tell her to cut out to the template shape. Bake the pieces for 20 minutes or until golden brown in color. Leave it overnight to cool on the wire racks.
Tell your kid to take a piece of brown paper and spread the royal icing on it. Ask her to stick it on the back of the roof pieces so that they stay together. Leave it to dry for an hour.
Now ask your kid to glue the walls together to the board using the royal icing. You will need some heavy objects to support the walls as they dry.
Lastly, tell your kid to put the roof and pipe the shingles and snow on it. Allow her to decorate the gingerbread house any way she likes.
3. Cool Fairy House And Garden
Here is a step-by-step guide on how to build a fairy house for kids easily:
You Will Need:
Grass, leaves, soil, and moss
Flowers, rocks, and oak nut
Big pieces of wood, natural containers, and baskets
Glue sticks, wood glue, and glue guns
Extension cords if you are developing the garden outdoors
Fabric scraps or fake fur
Any other decorative material that can enhance the appearance of your fairy house
[ Read: Cardboard Houses For Kids ]
How To:
Involve the kids in gathering all essential supplies that are necessary to create a fairy house. Take your kids to a natural environment to choose decorative objects for the fairy house and garden. You can go on a hiking trip to gather some leaves, moss, grass, and other natural materials. Also, you can visit a beach with kids to get seashells, stones, and other necessary items.
Set up your workplace along with kids in an accessible area of your house. Place all the collected objects on a big table, and let your kids pick up the items in turns.
Use the chosen huge basket or any other appropriate container to develop the fairy house.
Use a solid plastic tray for creating the base of the fairy house. Building the fairy house on a big plastic tray lets you move it to a quiet place easily.
Place grass or moss on the tray to give it an enchanting appearance similar to the fairy house.
When developing the outdoors, begin with the large outdoor details such as doors, paths, and windows and then work on and add finer outdoor details such as fairy swings, mailboxes, and shrubs.
Once the floor or ground is ready, then you can add adorable little furniture items using pieces of wood, rocks, shells, fabric scraps, paint, and buttons.
Use decorative craft items, such as grass, leaves, moss, flowers, seashells, and rocks to decorate interiors as well as outdoors of the fairy house exquisitely.
Sprinkle fairy dust or glitter to make the fairy house more adorable.
You can also create fairy's bed, place fake fur on the little bed, and ruffle it, so it looks like a little fairy had been sleeping there.
Use low-temperature wood glue to stick all necessary decorative items in the fairy garden. Keep the glue close-by so no one walks on it.
You can create a little swing for the fairy using the twine and tying twine to the twigs of wood.
Encourage your kid's imaginative spirit, critical thinking, and creativity to help him come up with new ideas while creating the fairy house.
Once you complete making the fairy house, then you can move it in a perfect spot. You can place it in the yard, beside a bush, under the porch, any other environment with which your creation can blend wonderfully.

[ Read: How To Make A Cardboard Box Car ]
Easy House Crafts For Kids
Creating crafts from household items with your little one will be a childhood memory that he will cherish forever. Moreover, creating and building a wonderful mystical fairy house stirs up your child's creativity and imagination.
4. Pasta Necklaces:
Get some pasta and paint as well as a ball of yarn. Get your kids to color the pasta, and thread them when they are dry. Once they are done, you and your family can wear them to dinner, looking uber-stylish!
[ Read: Paper Plate Crafts For Kids ]
5. Bracelets Made Of Buttons:
This is another great idea especially since the bracelets can be created as intricately as your kids want. All you need for this project is colorful buttons and an elastic cord to string the buttons.
6. Shoe box Containers:
Make use of old shoe boxes and get your kids to decorate them to be used for various purposes around the house. Your kids can use them to keep their diary or other knick-knacks and you can also find use for them in the kitchen or your bedroom. You do not need a lot of stuff – just shoe boxes and paint or other decorative items!
7. Luminaries Made Out Of Old Jars:
Recycle your old jars by creating luminaries to decorate the house with. All you need is a few jars, aluminum foil or colored paper, tape and tea-lights. Create designs on the foil by punching holes and then tape it on to the inside of the jar. Put a tea-light in each jar and light and watch how beautiful it looks in the evening!
[ Read: Paper Flower Making For Kids ]
8. Photo Collage:
This is a great idea as it involves collecting old photographs of the family. Take the photos and get your kids to create a collage that you can frame and hang in your home. You can tell wonderful stories to them about when and where the photos were taken as a bonus!
9. Vase Makeovers:
If you have old vases lying around your home, do not throw them away. Your kids can use their creativity to give them a new look by either painting them with glitter or other paints. Also they can use twigs or paint brushes to cover the entire vase and make it look like a brand new one!
10. Crowns For Everyone:
You and your kids can create crowns out of card paper or foam and decorate them with jewels, glitter, ribbons and a wide range of other decorative items. This is a crafts project that will keep your little ones busy for hours! As you can see, there is really no end to the types of house crafts that your kids can enjoy at home.
11. Painted Flower Pots:
This is a simple craft that kids of any age will enjoy. Your kids get to play with paint and have oodles of fun painting different designs on flower pots that you can use in your yard! All you need is organic paint, brushes and a couple of pots. You could even your use your fingers to paint. Your kids will love making a mess while creating something useful!
12. Tie-And-Dye T-Shirts:
All kids stain their T-shirts at one point or another. Instead of discarding them, get your kids to make new ones by tie-dyeing them! You do not need to create any fancy designs. Just get a few fabric dyes, rubber bands to tie the shirts with and a table to do the job on.
13. Cupcakes Made Of Mud:
This idea of house craft for kids is really simple that kids will love as it allows them to get their hands dirty! Create little cupcakes out of mud and let your kids decorate them with different things that they find around your yard. You can use these cupcakes to decorate the borders of your flowerbed in the garden!
So round up your little ones and start getting busy creating wonderful things with them! Have more interesting house craft ideas for kids? Share them with us.

Recommended Articles:
The following two tabs change content below.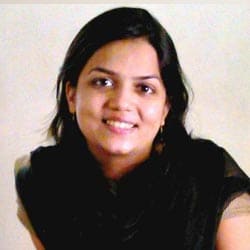 Manjiri Kochrekar
Manjiri is a freelance writer with experience in writing on a wide range of topics, including travel, education, yoga, and children's activities, fun and learning. She is passionate about creative writing and loves to put her thoughts into words. Manjiri excels in breaking down complex information, ideas and aspects of life into simpler elements for an easy read.