COVID-19 (coronavirus disease) caused by the SARS-CoV-2 virus can affect pregnant mothers in all trimesters if they contract the virus. Thankfully, COVID-19 while pregnant does not change the mode of delivery, and it is planned based on obstetric indications. It is advised to do routine prenatal visits, take prenatal vitamins and nutrients, and maintain physical activity as recommended by their doctor during COVID-19 in pregnancy.
Vaccination and practicing precautions such as frequently washing hands, maintaining social distancing, and wearing a face mask may protect expectant mothers from contracting the virus. Read on to know about preventive measures and outcomes of COVID-19 while pregnant.
Are Pregnant Women At Risk Of Developing Serious Illnesses From COVID-19?
According to the Centers for Disease Control and Prevention, the risk of contracting the illness is equal in pregnant women and the general population. However, bodily changes in pregnancy, such as immune system changes, may make pregnant and recently pregnant women more vulnerable to severe COVID-19 infection. Pregnant women with severe COVID-19 illness may need (1)
Hospitalization
Admission to intensive care
Special equipment or a ventilator for breathing support
The following factors can increase the risk of developing severe COVID-19 infection in pregnant women:
Advanced maternal age
Residing in areas with a high number of COVID-19 cases
Having underlying medical conditions, such as diabetes, chronic heart and lung conditions, liver problems, or obesity
Living in a community with low levels of

COVID-19 vaccination

Working in high-risk environments, such as healthcare facilities
Severe COVID-19 infection and lack of appropriate prenatal care and control of underlying medical conditions increase the risk of mortality and morbidity from severe illness. Hence, contact your doctor if any symptoms arise.
How Does COVID-19 Affect Pregnancy Outcomes?
COVID-19 in pregnancy can contribute to poor pregnancy outcomes, including the following (1) (2):
These outcomes are based on the available data. Due to limited information, these observations may change when more studies on pregnancy and COVID-19 infection are available.
Can COVID-19 Be Transmitted From The Mother To The Unborn Baby During Pregnancy?
There is a possibility of placental transmission (vertical or mother-to-child transmission) of the COVID-19 virus (3). At the beginning of the pandemic, the World Health Organization (WHO) declared that active viruses were not found in amniotic fluid or breast milk samples. Hence, the possibility of COVID-19 transmission from a mother to her baby during pregnancy or delivery is unclear (4).
The transmission of COVID-19 through the placenta has been proven and many babies have high levels of COVID19 antibodies, immediately after their birth in clinical practice. Future studies may offer more insight on the transmission of COVID-19 before birth or during delivery.
How Can COVID-19 In Pregnancy Affect A Fetus Or Newborn?
According to the American College of Obstetricians and Gynecologists, the following effects of COVID-19 during pregnancy are seen in babies after birth (2):
Increased need for admission to a neonatal intensive care unit (NICU)
Increased risk of exposure to COVID-19 infection
Alternatively, some studies suggest that a fetus may develop protective antibodies from mothers with COVID-19 when pregnant. However, more studies are required to understand the immune responses and transfer of antibodies through the placenta.
How Can You Avoid Passing COVID-19 To The Newborn?
Practicing the following measures at the birth center and home may help reduce the risk of spreading COVID-19 to the newborn (2):
Wear face masks: Use face masks when near the baby, including while breastfeeding. However, do not cover the baby's face or put face masks on them since they may find breathing harder due to their smaller airways.
Maintain hand hygiene: Wash your hands with soap and water or use hand sanitizers with more than 60% alcohol before touching the baby or their items. Also, wash your hands before touching breast pumps or the feeding bottles, and clean the pump or bottle after use. COVID-19 infection is less likely to be passed through breast milk. Hence, doctors recommend expressing and feeding breast milk since the benefits of breast milk outweigh the risks.
Seek assistance: Have someone healthy care for the newborn until the mother recovers from the COVID-19 infection. The caregiver can bottle-feed the baby using the pumped breastmilk.
Other family members, visitors, and caregivers should also practice the COVID-19 protocols. Additionally, limit the visitors allowed after delivery since some can be asymptomatic.
How Can You Avoid COVID-19 During Pregnancy?
Pregnant mothers should adhere to the COVID-19 precautions recommended by the local authorities. The following measures may help protect the pregnant mother from COVID-19 infection (4):
Get vaccinated as soon as possible. Ask your doctor if the COVID-19 vaccine is available for pregnant women in your country and get vaccinated during the pregnancy or, more preferably, before pregnancy. Get all the doses of the vaccine as recommended.
Wear face masks and face shields whenever you go outside the house
Wash hands with soap and water or sanitize hands frequently.
Avoid touching the face, eyes, nose, and mouth with unwashed hands.
Keep the room ventilated.
Avoid crowded areas or maintain social distancing.
Book appointments for prenatal visits to avoid waiting at the clinic or hospital.
Ask your doctor about the precautions and directions of the local health authority for prenatal visits.
Isolate yourself from any family members with COVID-19 symptoms or who have come in contact with an infected person until they complete their quarantine period and tests.
Contact your doctor if you develop cough, fever, or breathing problems anytime during the pregnancy. Pregnancy in a pandemic can also increase the risk of anxiety and stress in many women. Hence, the WHO recommends keeping an eye on mental health and seeking medical care. In addition, ensure adequate nutrition, rest, and regular indoor exercise during pregnancy in a pandemic.
Being pregnant with COVID-19 can increase the risk for poor pregnancy outcomes and severe illness. In addition, pregnant women with existing health issues may develop severe illnesses. Hence, get vaccinated as soon as possible and adhere to the COVID-19 precautions even after vaccination.

References:
MomJunction's articles are written after analyzing the research works of expert authors and institutions. Our references consist of resources established by authorities in their respective fields. You can learn more about the authenticity of the information we present in our
editorial policy
.
The following two tabs change content below.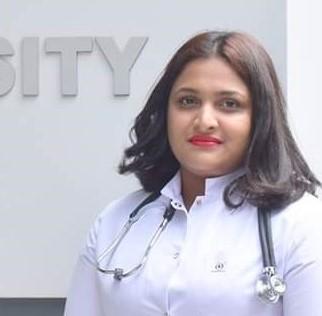 Dr Bisny T. Joseph
Dr. Bisny T. Joseph is a Georgian Board-certified physician. She has completed her professional graduate degree as a medical doctor from Tbilisi State Medical University, Georgia. She has 3+ years of experience in various sectors of medical affairs as a physician, medical reviewer, medical writer, health coach, and Q&A expert. Her interest in digital medical education and patient education made...
more