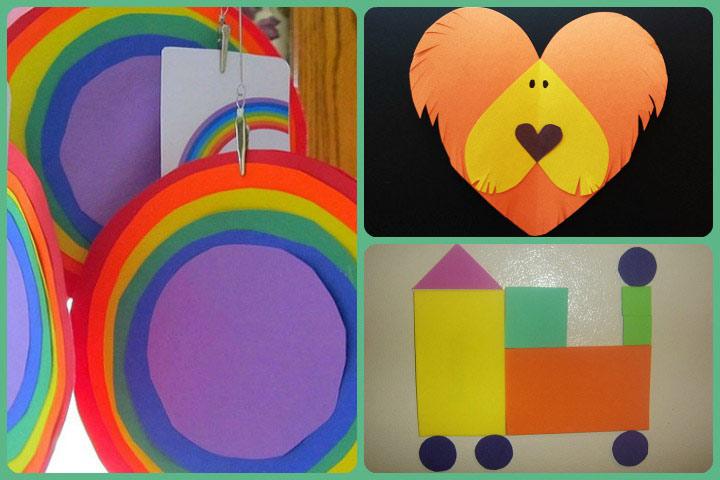 Does your toddler blow the top of your house with her pranks and playfulness? If yes, then that's how toddlers should be, isn't it! But you can easily engage her in a few fun and interesting activities that will enhance her development and cognitive abilities. Thinking how? This post will show you few interesting ways!
Childhood is a time when learning is fun and exciting, but your child's attention levels are extremely low. If you are trying to teach your toddler or preschooler about shapes, a good idea will be to introduce some creative and funny crafts.
Wondering what the crafts are? Relax and read on!
Shape Crafts For Toddlers Or Preschoolers:
Shapes form a big part in your little one's learning process. These are present everywhere, and as your preschooler gets familiar, she can soon start recognizing them in every object she comes across.
Here are some creative ideas for preschool shape crafts that will help you teach the shapes with some added fun!
1. Circle Rainbow:
These colorful circles will not only teach your toddler or preschooler about the shape, but will also brighten up the room!
What you will need:
Chart

papers in different colors of the rainbow
A pair of safety scissors
Glue
A cord to hang with
A clothes pin
How to:
Help your toddler draw different sizes of circles on the different chart papers.
These should be of a size that they overlap each

other but

can be seen.
Help your toddler cut these out using the safety scissors.
Help your toddler glue these circles together, starting from biggest circle to smallest.
This is also a great way to teach your child about

size

.
Once done, tie a cord to a

clothes pin

.
Pin it on the

circle

rainbow.
Hang it up as a cot mobile or in your preschooler's room.
[ Read: Craft Ideas For Toddlers ]
2. Heart Shaped Lion:
This cute heart shaped lion is sure to make your toddler smile.
What you will need:
Chart paper in three different colors
Glue
A pair of safety scissors
Black and purple sketch pens or any other color your toddler prefers
How to:
Help your toddler draw heart shapes on different chart papers.
Make sure these are in three different sizes – big, medium and small.
Now help your toddler cut them out using the safety scissors.
Let your toddler glue the medium shaped heart in the middle of the big heart. The medium shaped heart should be upside down.
Now help your toddler glue the small shaped heart in the middle of the medium

heart

.
Once done, help your toddler make a

grin using

the black sketch pen and eyes using the purple sketch pen.
This cute lion can be the perfect idea of making a special card for someone in the family.
[ Read: Learning Activities For Toddlers ]
3. Rectangle And Square Train:
This is one of the interesting square shape crafts for preschoolers that will help your toddler learn about the rectangle and square shapes.
What you will need:
Chart paper or card paper in different colors
A pair of safety scissors
Glue
How to:
Help your toddler draw a rectangle and a square on different colored chart papers.
Help her draw a few small squares and circles on a different colored chart paper.
Help cut out all the shapes using safety scissors.
Help her glue the rectangle and the bigger square on a chart paper to form the body and

engine

of a train.
Help glue the smaller squares above the rectangle to form little steam outlets.
Help glue the circles below the rectangle and square to create the wheels of the train.
[ Read: Sensory Activities For Kids ]
Hang up this beautiful train on your toddler's activity board!
With these interesting and easy crafts, we are sure your toddler will start recognizing shapes pretty soon. Use these crafts decorate a section of your home!
If you have any more interesting ideas for shape crafts for toddlers, do share them here with others!
Recommended Articles:
Comments are moderated by MomJunction editorial team to remove any personal, abusive, promotional, provocative or irrelevant observations. We may also remove the hyperlinks within comments.