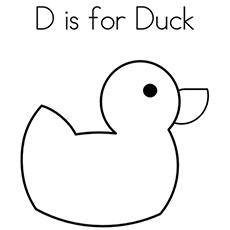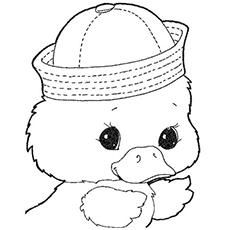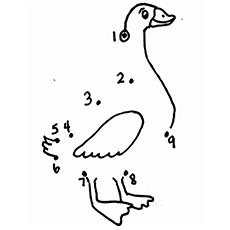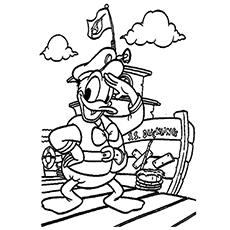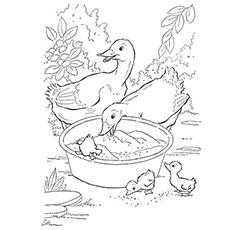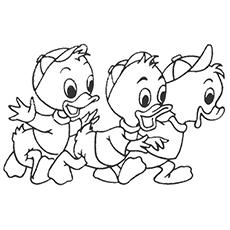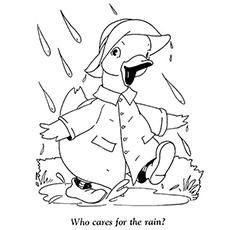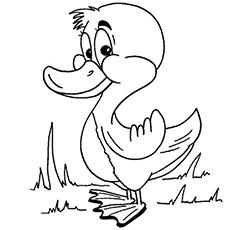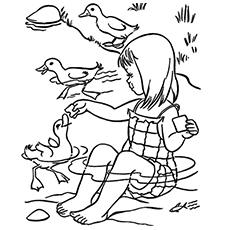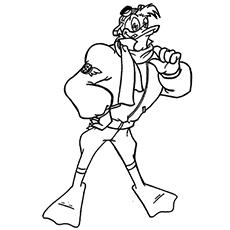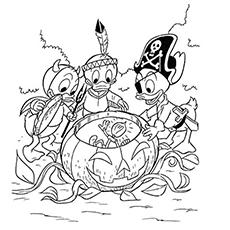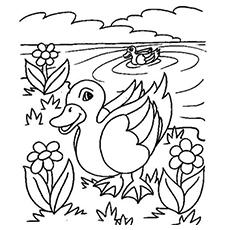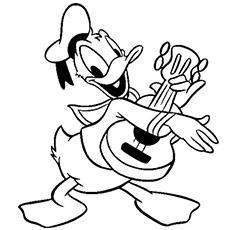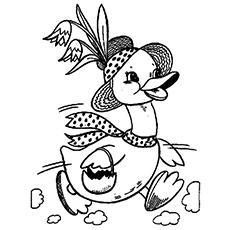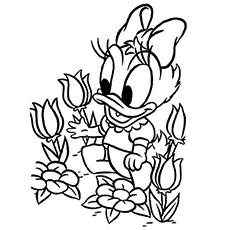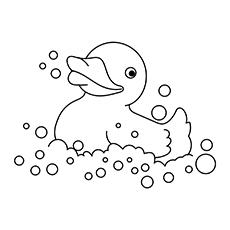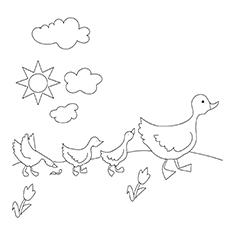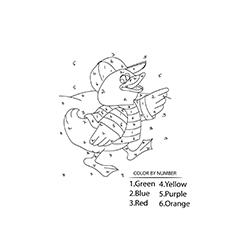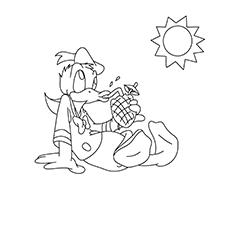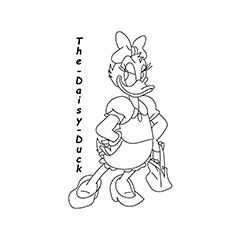 Recommended Articles:
Ducks are wild or domesticated birds, and are mostly a farm bird, although many are pets too! They are loved by kids for their dainty walk and amusing voice. Kids love to chase sucks around in meadows and ranches. Ducks have also featured in several animated films and cartoon series for their cute appearance.
Top 20 Duck Coloring Pages For Preschoolers
Ducks are one of the most popular subjects for coloring pages. Kids love filling the coloring sheets of ducks with vibrant colors. This article brings you a number of duck coloring pages, depicting them in both humorous and realistic ways. Check out our 20 amazing duck coloring pages to print for your little one:
1. Donald Duck The Sailor:
Here is a coloring image of Donald Duck dressed in his work attire- sailor shirt, cap and bow tie. You can color him in whichever shade you like to create your own version of this duck.
Donald Duck is a short-tempered character, but looks happy piloting his vessel in this coloring page.
He is the second most important character in the world of Disney. People love him for his short temper and other irrational habits.
[ Read: Donald Duck Coloring Pages ]
2. Trendy Duck:
This little duck is all set to rock the Easter party. This picture can be used to create Easter invitation card. Paint, print and present it to your near and dear ones.
This trendy duck is wearing a nice hat decorated with flowers. Her polka dotted hat is matching totally with her scarf. She is also carrying a cute purse made of eggshell.
Ask your child to color the scarf and hat in the same shade.
3. Daisy Duck:
Daisy Duck is oozing charm and glamour in this coloring picture of her. This white duck is dressed in a beautiful fur dress paired with matching bow, heeled shoes and bow hair band.
Daisy Duck is the beautiful girlfriend of Donald Duck. She is considered more dangerous than Donald Duck, but always manages to keep her temper in control.
Daisy Duck is glamorous, well bred and sophisticated. She loves to be surrounded by pretty things. Ask your child to color this sheet in the brightest shades possible.
[ Read: Chick Coloring Pages ]
4. Girl Feeding The Ducks:
This coloring page is for kids who love feeding ducks, fishes and other animal. The diagram shows a little feeding some friendly ducks by the pond.
Teach your child about the importance of preserving the world's fresh water ecosystem while coloring this soothing diagram.
Show that you are proud of them by posting this coloring page in your house or their classroom's soft board.
[ Read: Three Little Pigs Coloring Pages ]
5. Mama Duck With Her Duckling:
Give your kids this cue coloring image of mama duck with her baby ducklings.
The diagram has broad outlines, making it easier for your young kids to fill in the colors.
You can also take this coloring session as an opportunity to teach about the animals and their offspring.
6. Webby Duck:
This duck-coloring page is quacking with cuteness. The little ducking you see here by the flowers is Webby, Uncle Scrooge has adopted daughter.
Webby is an extremely affectionate, emotional and adorable ducking who has a great love for animals. She is capable of taming the most exotic creatures including dinosaur.
She is an expressive little duckling how does not think twice before speaking her mind.
[ Read: Looney Tunes Coloring Pages ]
7. Swimming Ducks:
This is a cheerful coloring page featuring a pond scene, ducks and a beautiful surrounding. One duck is taking a swim in the lake while the other duck is waiting for him on the shore. The coloring sheet also shows beautiful flowers and clouds.
Do not forget to teach your young children new words like "duck", "pond" and "flower".
This coloring sheet will surely brighten your child's day. You can also talk to him about the shapes and patterns you see in the picture.
8. Connect The Dots:
Teach your kindergarten kid about duck with this dot-to-dot coloring page featuring a duck. This coloring sheet is suitable for preschoolers and kindergarteners.
Ask your kids to color this diagram when they are done connecting the dots.
Connect the dots coloring pages improve the pre-writing skills, letter recognition, number order and problem solving capability in kids.
[ Read: Tropical Fish Coloring Pages ]
9. Launchpad:
The handsome duck you see here is Launchpad McQuack. Launchpad is Uncle Scrooge's pilot and trusted sidekick.
He is a skillful pilot, but is quite bad at landings. In fact, he takes a sort of pride in being able to crash an aircraft.
Launchpad is often depicted as a brave, kind hearted and an incredibly dimwitted duck. He always stands for his close friends.
[ Read: Seashell Coloring Pages ]
10. 'D' For Duck:
Introduce your young child to the alphabet with this D for Duck coloring page. Your little ones will definitely not mind practicing the alphabet with this coloring page.
This coloring sheet is perfect for preschoolers who are practicing holding crayons.
Teach your child more about ducks while he or she colors the sheet.
11. Baby Duck:
This cute little duck wearing a cap will surely make you say, 'aww so cute!' Children love to play with kittens and puppies; they will surely love this baby duck. This picture exudes innocence, a quality that is abundantly present in your little darling!
12. Flapping Wings:
We see this duck flapping wings, maybe he has just come out from the pond. Flapping wings help the ducks to shed the extra moisture from their body and keep themselves dry.
While your child colors this picture tell him or her some fun facts about ducks like, ducks have webbed feet that helps them to swim in the water. Show him pictures of ducks so that he gets a fair idea how a duck looks like. Your child will enjoy coloring this funny looking duck!
13. Ducks Eating Grain:
Ducks are omnivorous birds and they eat a wide variety of foods. This varied diet promotes healthy duckling growth, feather strength, muscle development and breeding success. Wild ducks eat:
Small fish and fish eggs
Snails, worms and mollusks
Small crustaceans
Grass and weeds
Algae and aquatic plants
Frogs, salamanders and other amphibians
Aquatic and land insects
Seeds and grain
Small berries, fruits and nuts.
Ducks also eat sand and gravel to provide grit which aids in their digestion.
In this picture, we see two big ducks and three duckling eating grains with their beaks. Ducks have strong beaks and they feel hungry always. The background of this picture is also beautiful. The minute details in the picture will keep your child engaged for hours and improve his concentration. Your child will have ample scope to use his or her imagination to color this picture.
14. Toy Duck:
Your little one must be enjoying playing with tiny toy animals while taking bath. We see this toy duck floating in a bubble bath. Your child will instantly connect with this picture and will definitely enjoy coloring it too.
15. Staying Cool:
We see Donald Duck sipping a mocktail to beat the heat. Perhaps it is very hot and humid, so Donald duck is cooling himself down with a fruit punch. Donald Duck is the best friend of Mickey Mouse and in the cartoon series you will always see them together. Donald Duck is a lovable character though he is short-tempered.
The background is kept plain for your child to fill in with beautiful scenery. This picture will make your little angel's imagination go wild!
16. Duck Tales:
Duck Tales is an American animated television series produced by Disney Television Animation. Duck Tales is based on Uncle Scrooge and other Duck Universe Comic Books created by Carl Barks. Though most stories are based on Bark's comic book series there are references to classical stories and legends. The series became popular for its several references to popular culture like Shakespeare, Jack the Ripper, Greek mythology, James Bond, Sherlock Holmes and Indiana Jones.
Huey, Dewey and Louie are triplets and these three are Donald Duck's nephew. The trio appears in animated cartoons and comic books published by Walt Disney Company. These three ducks were created by Ted Osborne and Al Taliaferro. Huey is dressed in red, Dewey in blue and Louie in green.
Make sure your child colors the trio correctly. The triplets appear in Uncle Scrooge's adventures as members of the Quack pack.
17. Ready for Halloween:
These three ducks are ready for Halloween costume party. See them dressed as a devil, a Red Indian and a pirate. They are looking at the little light bulb jumping up and down inside the pumpkin cut out. The pumpkin lanterns also known as Jack O' Lanterns are the symbolical representation of Halloween.
Halloween is a day where you remember those who have departed for the heavenly abode. Many light candles and place flowers on the graves of saints and departed souls.
Halloween has become a global festival popular for the lavish feasts, haunted house visits and fancy dress parties. It is a time for playing pranks and having fun too!
18. Time for Music:
Everyone loves music, especially children. Soft melodies appeal to them more. Your child will definitely enjoy coloring this picture of Donald Duck playing the guitar.
Try to find out whether your child can sing well. If he can then you can always teach him to sing or play a musical instrument. Your encouragement will make him a rock star someday. Pin up this picture in his or her room to inspire them to follow a hobby.
19. Enjoying the Rain:
Many love getting wet in the rain and jumping in a puddle of water. This duck in the picture is enjoying the rain, look how happy he is. He is wearing a raincoat, a hat and boots to protect himself. There is a message given below the picture, 'who cares for the rain', aptly describes what the duck is thinking. This coloring page has a cheerful note which your child will appreciate. While your child colors this page, teach him about the characteristics of the different seasons.
Don't forget to pin up this page in your kid's room. Your appreciation will instill confidence in your little one.
20. Color As It Says:
This coloring page will surely test your child's number skills and ability to identify colors. Ask your child to follow the number guide and color the picture accurately. Your child will be inquisitive to know what the end result will look like and will be really excited to color the picture. Make sure he follows the instructions correctly and make the page look neat and vibrant.
Take your child to a farmhouse or near a pond and show him or her how exactly a duck looks like. Children also love feeding ducks and running after them. Make learning fun with these duck coloring pages. Always appreciate their artwork since this will teach your child to take pride in their work. So let them have a great time filling in these pages with the brightest hues. Coloring pages is a great way to help your child to overcome the scribbling phase and do some constructive artwork.
These free printable duck coloring pages online will help the kids to increase their imaginative powers and develop their creative skills. Download these duck coloring pages free and make your kid to work on them.So happy coloring!
Hope you liked this article. Does your child love ducks and all kinds of activities related to them? Share your thoughts with us!
DISCLAIMER: All images found here are believed to be in the "public domain". We do not intend to infringe any legitimate intellectual right, artistic rights or copyright. All of the images displayed are of unknown origin. If you are the rightful owner of any of the pictures/wallpapers posted here, and you do not want it to be displayed or if you require a suitable credit, then please contact us and we will immediately do whatever is needed either for the image to be removed or provide credit where it is due. All the content of this site are free of charge and therefore we do not gain any financial benefit from the display or downloads of any images/wallpaper.
The following two tabs change content below.