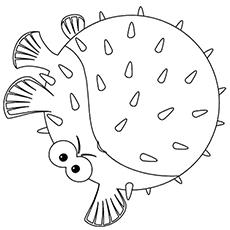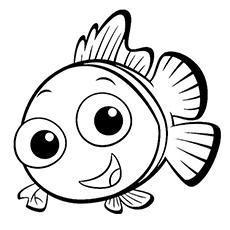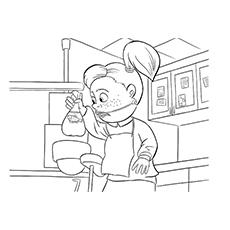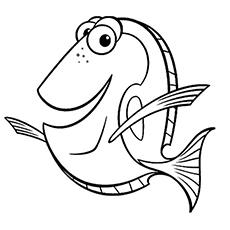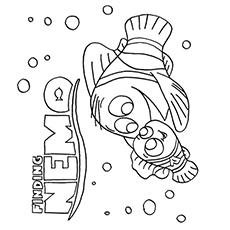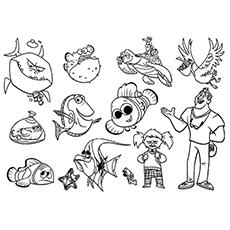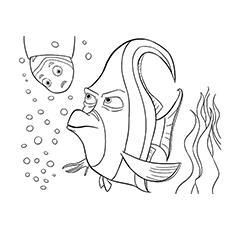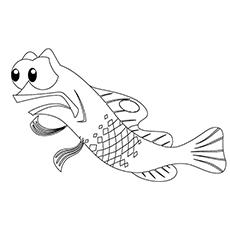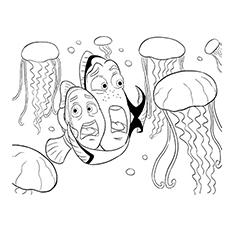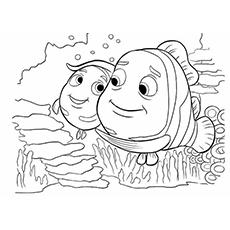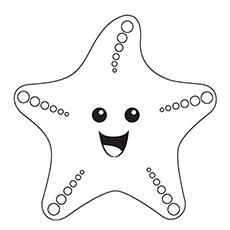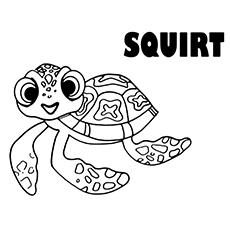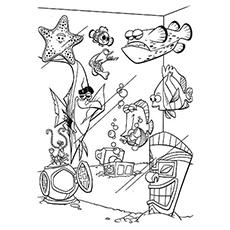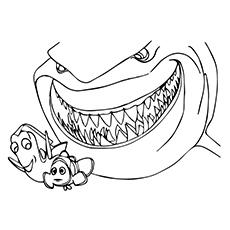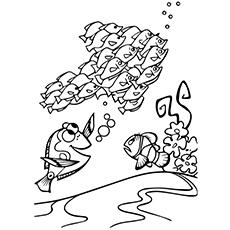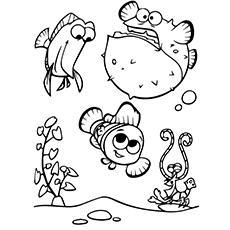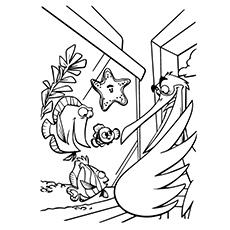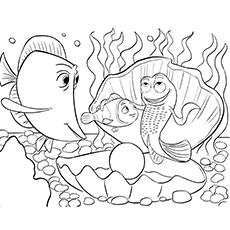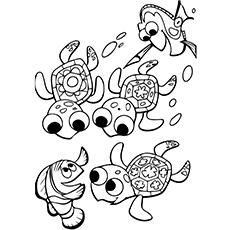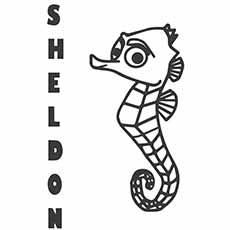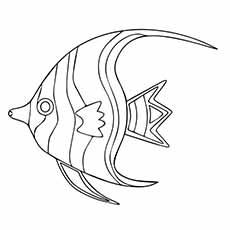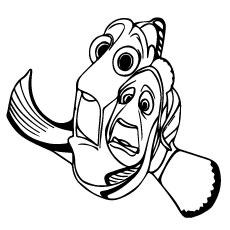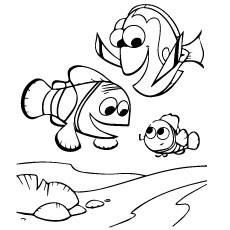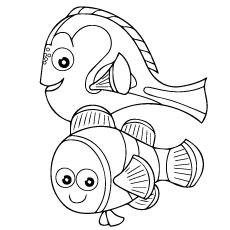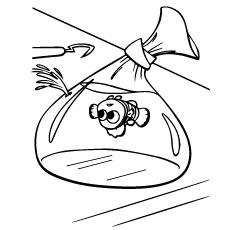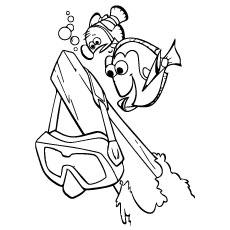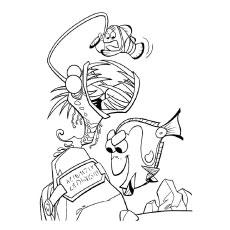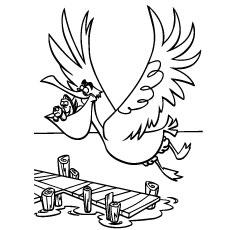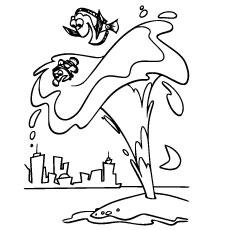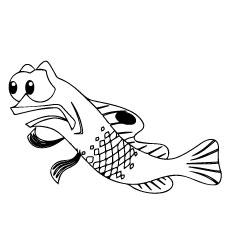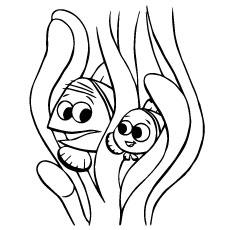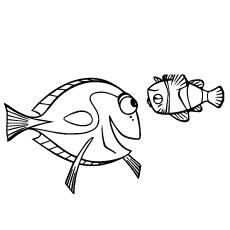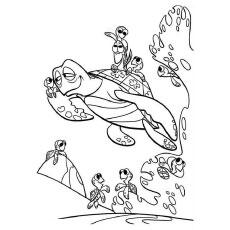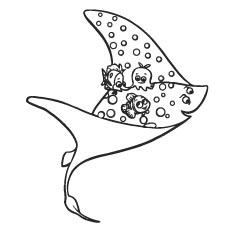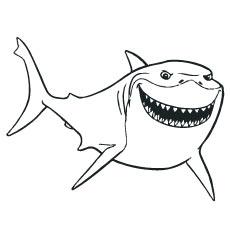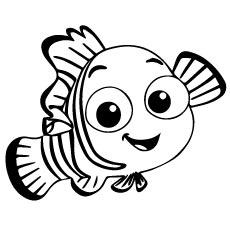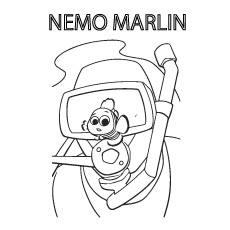 Recommended Articles:
"Finding Nemo" is an animated film revolving a clownfish named Marlin, who, along with Dory, searches for his abducted son named Nemo.
"Finding Nemo" is one of the highest grossing animated films of all time. The characters of this film have also appeared on various kids' merchandize like clothes, bags, lunch box and accessories.
Top 20Â Finding Nemo Coloring Pages For Kids
Accompany Nemo as he attempts to find his way home from a fish tank with these finding nemo coloring pages printable. The article features the coloring sheets of Nemo and other lead characters of the film like Dory, Coral, Bruce, Gill and Squirt.
1. Nemo:
Nemo is the protagonist and titular characters of this adventurous film. Here is a coloring page of this friendly fish taking a relaxing swim though sea.
Nemo is a curious six-year-old fish who lives a sheltered life with his father Marlin. He is a bright orange and white juvenile clownfish who strives hard to prove his mettle to his father.
Ask your child to use his imagination and draw some details around the fish.
[ Read: Little Mermaid Coloring Pages ]
2. Dory:
Give your child some happy time with Dory's coloring page. Let your child decide what color he would like to give to this fish.
Dory is a little fish who loves to talk about her life story all the time. She helps Marlin in his journey to find his son Nemo.
Dory is friendly and sociable, but suffers from short-term memory loss.
3. Tank Gang:
The Tank Gang is a group of fish living in a fish tank in Philip Sherman's office. Ask your child to spruce up the scene by coloring it the way he likes.
The gang is comprised of Gill, the leader, Jacques, Peach, and Gurgle, Deb, Bloat, Chuckles, Nemo and Bubbles.
None of the members of this group like to stay in the tank. At the end of the film, the gang escapes from the office in plastic bags, making their way into the ocean.
[ Read: Sea Animals Coloring Pages ]
4. Bruce:
Here is a coloring image of Bruce, a great white shark in this film. He is the leader of the Fish-Friendly Shark gang. While he is coloring, you can also share some fun facts about sharks with your children
Bruce is a kind and pleasant shark who does not go on mindlessly eating the other fishes. He believes that fishes are friends, not food.
He is mainly kind, jolly and laidback shark, but his personality changes when his instincts start kicking. This turns him into a mindless fish eating shark for some time.
[ Read: Tropical Fish Coloring Pages ]
5. Coral:
The coloring image features Coral happily swimming across the ocean. The only thing missing in this sheet is a splash of color. Make sure your child colors in the bubbles as well.
Coral is Marlin's wife and Nemo's mother. She is a kind hearted fish who loves her children more than anything else in the world.
Take this coloring session as an opportunity to introduce the topic of sea life to your child.
6. Gill:
Get tropical with this coloring image of Gill, the Moorish idol fish in this film. Choose some bright and vibrant shades to make this scene come alive.
Gill is the leader of the Tank Gang. His only dream is to escape the tank. He tries several times to escape, but ends up harming himself in the process.
Moorish Idols are very difficult to keep in captivity due to their diet and mannerisms. This is the reason of Gill's deep desire of escaping the aquarium.
[ Read: Beach Coloring Pages ]
7. Squirt:
Squirt is a playful sea turtle and a friend of Nemo. This green colored turtle has big, expressive eyes and Hawaiian shirt patterns on his shells. Your kindergarteners will enjoy coloring this cute little turtle. As your child colors this diagram, talk to him about turtles and their significance to the ecosystem.
Squirt has a spunky attitude and loves to frolic in the ocean current with his father. His high-spirited personality allows him to make friends easily.
Squirt idolizes his father. He also acts and talks just like his dad. He has also inherited his father's fearlessness and easygoing attitude.
8. Sheldon:
Sheldon is another friend of Nemo. He is described as a "H2O" intolerant seahorse. Add some bright and beautiful colors to this coloring image. This will help your child to build his fine motor skills.
Sheldon is a close friend of Nemo. He always offers a crying shoulder to Nemo whenever he feels sad or upset.
You can also use Sheldon's coloring page to teach your children about Mediterranean mythology and other creatures from folklore.
[ Read: Sea Turtle Coloring Page ]
9. Darla Sherman:
Here is the coloring image of Darla Sherman, the fierce niece of Philip Sherman. Give your child this coloring page and watch his inner artist pop out.
Darla Sherman is the main antagonist of this series. She is described as the fish killer by the Tank Gang members.
The last fish she received was killed by her because she would not stop shaking the bag that had the fish.
[ Read: Seashell Coloring Pages ]
10. Gang:
Take a dip in the deep blue sea with this fun coloring sheet. The coloring page features Nemo and his friends Dory, Gill, Nigel, Crush, Peach, Bubbles, Bruce and Marlin.
Teach your kid to color within the lines to produce a neat picture.
This coloring sheet will look amazing as a poster in your child's room.
11. Bruce:
Bruce is not angry and neither is he chasing Dory and Nemo. He is a gang leader of Friendly Sharks. Yes you read that right, he is a friendly shark! He has two sidekicks in the film named Chum and Anchor. In this picture, we see Bruce enjoying Nemo and Dory's company. He doesn't indiscriminately eat fish like other sharks do. He is a kind soul.
Your child will enjoy coloring this scene from the film. He will try to recollect the scene while coloring the page. The minute details will keep him busy for hours and he will try to think really hard while coloring this page. You can also encourage him by showing pictures of Nemo, Bruce and Dory, so that he colors the page appropriately.
12. 'Finding Nemo' Poster:
This picture reflects a strong father-son bond. We see Nemo with his overprotective father Marlin the Clownfish. The title of the film is also written in this page, making it a perfect 'Finding Nemo' poster for your kid's room. This poster can also serve as a cute 'Father's Day' greeting card. Your child can instantly associate with this picture and he will enjoy coloring it too!
This coloring page gives enough scope to use imagination and experiment with colors. Light and dark shading can also make the picture look larger than life.
13. Peach:

Peach is a pink-red starfish that was purchased by Philip Sherman on eBay. Peach sits in the corner of the tank and watches the dentist do his dental job on different patients. He observes everything closely. She is an active news reporter of the Tank Gang which plans to escape the fishtank and enter the ocean. This sea starfish is super cute and really flexible.
Children usually love bright colors. Just notice the joy in their face while they color this starfish in bright pink. Some glitter tubes will add bling and make Peach look like the star of the sea.
14. Riding on Mr. Ray:
All aboard Mr. Ray! In this picture we see Pearl, Nemo and Gill riding on the spotted Eagle Ray. They are enjoying a joyride as Dory looks upon. This picture has a cheerful note to it and your child will enjoy coloring it.
You can help your child find out about different creatures that inhabit the sea. Make the coloring session a fun learning activity. Inculcate in your child some research skills so he learns to find out facts independently. Give him different encyclopedias and reading material on creatures of the sea. Develop in him or her urge to learn more!
15. The Sweet One:
This is indeed a cute picture of Dory and Nemo together. They are best friends and value each other's company. Here Dory is referred to as the sweet one because of his amiable and generous nature. Dory helps Marlin, Nemo's father to search for Nemo after he is abducted by the dentist.
Through this coloring page you can inculcate in your child the virtue of loyalty. One has to be lucky to get a friend like Dory. There are minute details in the picture which will keep your child engaged for hours. Coloring this page will also improve his or her observation and motor skills.
16. Bloat:
Bloat is a Porcupine Puffer fish who lives in Philip's Sherman's office tank. When he gets agitated or frightened it bloats up, hence the name. Bloat was bought by the dentist from 'Bob's Fish Mart'. Bloat is brownish cream in color and has spikes on the body. He also escapes the fish tank with the gang as planned by Gill. There are many funny moments in the film where Bloat will be spiked by Gill and Gurgle after a brief dispute.
If your child has already watched this film he or she will definitely enjoy coloring this page.
17. Striped Gill:
Gill is a Moorish idol in 'Finding Nemo' and he is a leader of the Tank Gang. He has several stripes on his body, which is left blank in this picture for your child to fill in with colors. Let him use his favorite shades while coloring this picture, rather than sticking to black and yellow. This coloring page is perhaps the biggest test of your child's creative skills.
18. Gurgle:
Gurgle belongs to the species of Royal Gramma and appears in 'Finding Nemo'. Gurgle was bought by the dentist from 'Pet Palace.' Gurgle is germophobic and extremely pessimistic character. He doubts Gill's plan of escaping the fish tank till the very end, but he eventually escapes the fish tank into the ocean with the other fishes.
You should teach your child to develop a positive attitude towards life. Nobody likes a pessimistic person and everybody appreciates an optimistic person who cooperates with others. Through this picture you can teach your child the importance of working in a team and forging new relationships.
19. Underwater World:
There is ample scope to use imagination and experiment with different coloring mediums while coloring this picture. In the picture, we see Nemo and his best friend looking at a shoal of fishes swimming by merrily.
Guide your child to use different colors and patterns on the body of the fishes. Silver and blue glitter tubes can bring out the effect of the sparkling ocean. Your child's magic touch will make this picture even more realistic.
20. Jellyfish Attack:
This picture can make your child a little anxious for Nemo's safety because he is being attacked by Jellyfish. A sting of the jellyfish is poisonous and it is best to keep a safe distance from these creatures. Jellyfish have tentacles with which it catches its prey and pops it directly into its mouth. So both Nemo and Bubbles look scared and is trying to think how to escape the Jellyfish attack.
You can also share some interesting facts regarding Jellyfish with your little one while he or she colors the picture. This will make the coloring session an enriching learning experience.
A sequel to this popular film "The World Dory" is expected to release soon. Until then you and your kids can relive the adventures of Nemo with these coloring sheets. Hope you liked these free printable finding Nemo coloring pages online. Download these sheets and make your own finding Nemo coloring book and don't forget to share it with us!

DISCLAIMER: All images found here are believed to be in the "public domain". We do not intend to infringe any legitimate intellectual right, artistic rights or copyright. All of the images displayed are of unknown origin. If you are the rightful owner of any of the pictures/wallpapers posted here, and you do not want it to be displayed or if you require a suitable credit, then please contact us and we will immediately do whatever is needed either for the image to be removed or provide credit where it is due. All the content of this site are free of charge and therefore we do not gain any financial benefit from the display or downloads of any images/wallpaper.
The following two tabs change content below.