Tupperware, Ziploc, Yubo — we have come a long way from the classic metal lunchboxes. And this does not make choosing a lunchbox for kids any easier.
With several styles, designs and varieties available in the market, it may be confusing for you to pick the right one. Moreover, you need to consider many things such as the ease of use, appearance, quality, convenience, sustainability, and material.
MomJunction makes it easy for you as we feature the best lunchboxes you can select for your kids.
Top 15 Lunchboxes For Kids
Considering various criterion from size and durability to product sustainability, we have come up with a comprehensive list of lunchboxes. Check them out:
1. EasyLunchboxes Three-compartment Bento Lunchbox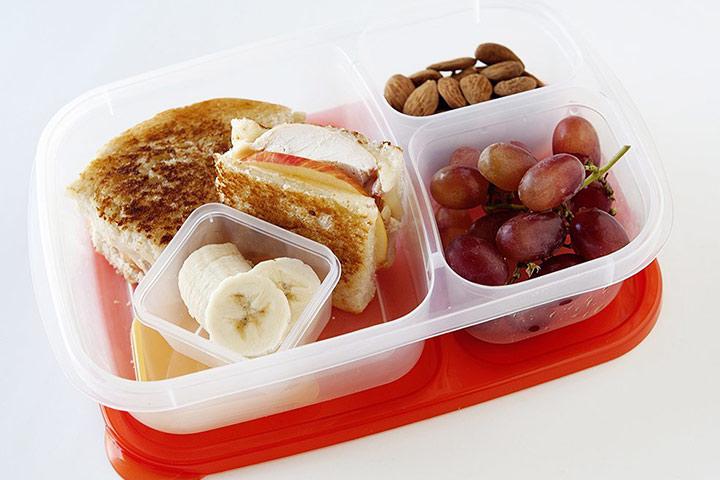 EasyLunchboxes are versatile and easy to use.
What you should know:
The container is completely PVC, lead or vinyl free.
It is BPA-free, and microwave, freezer, and dishwasher-safe.
You have several color choices.
The box has three compartments, and they do not leak.
You can pack something extra in the small sauce holders that come along with the lunch bag
The lid can be opened effortlessly, making it easier for the kids to use.
The lunch bag has extra space for other essentials such as a water bottle or snacks.

[ Read: Lunch Box Recipes For Kids ]
2. LunchBots Bento Trio Stainless Steel Food Container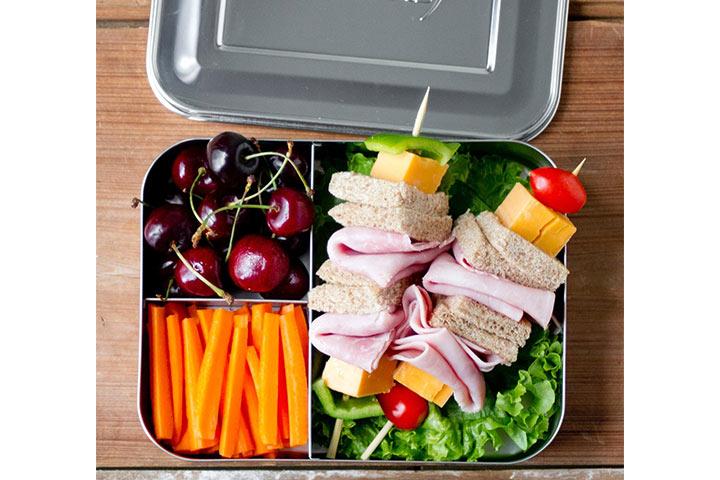 If you are keen on sustainable living, then Lunchbots is a great choice for you as it is one of the most eco-friendly designs.
What you should know:
It has only 18/8 stainless steel, making the box durable even if the kids play a little with it!
The box is insulated to keep the food warm.
The material has no plastic or toxic chemicals.
There are three food compartments divided for the main course and two sides.
The covers are colorful, and you can choose your child's favorite design.
It is BPA-free, dishwasher-safe.
The product is not leakproof, so the foods have to be dry and solid.

3. Go Green Lunchbox Set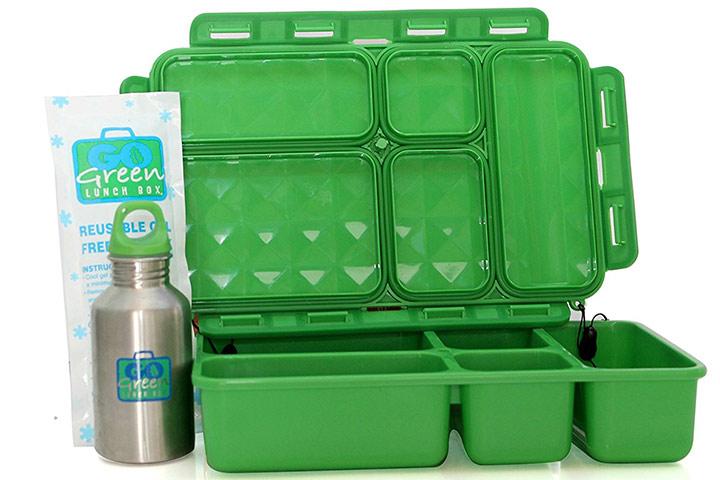 This lunchbox is designed to keep the food fresh for a long time.
What you should know:
The five-compartment lunchbox set is said to have an advanced turn and lock technology which retains the freshness of the food.
It comes with an 8oz capacity water bottle. So, besides a lunch, you can give your kid their favorite beverage too.
The reusable freezer gel packs keep the beverage cool.
The box is eco-friendly as is made of polypropylene and is lead-free. The water bottle is stainless steel.
It is BPA-free but not dishwasher safe.
The silicon bands ensure the box is leak-proof.
You can choose from a variety of colors.
The lunch bag is fully insulated and is made of durable material.

4. The Rubbermaid Lunchbox Sandwich Kit, Food Storage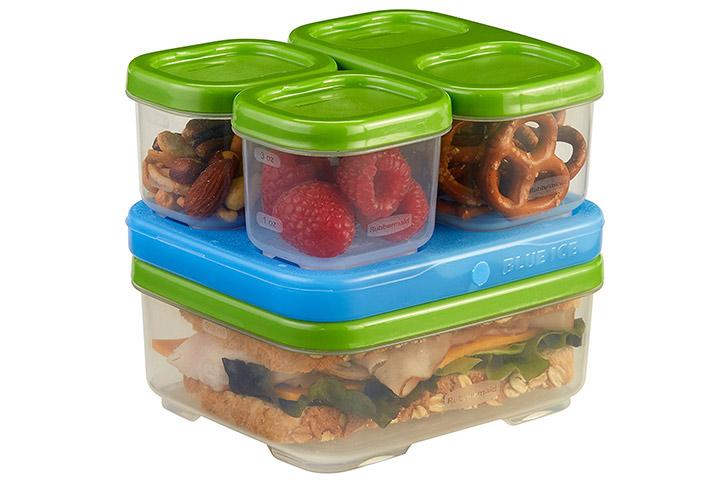 This lunchbox has an organized and convenient design. It has one sandwich container and two small sauce containers.
What you should know:
There is a blue ice block so all the containers snap together.
This prevents the containers from getting detached and bouncing inside the lunch bag.
The ice block also keeps your kid's meal cool.
The box has an interesting and unique appearance.
The material is leak-proof.
It is BPA-free, and microwave and dishwasher-safe.

[ Read: Healthy Breakfast Ideas For Kids ]
5. Yubo Lunchbox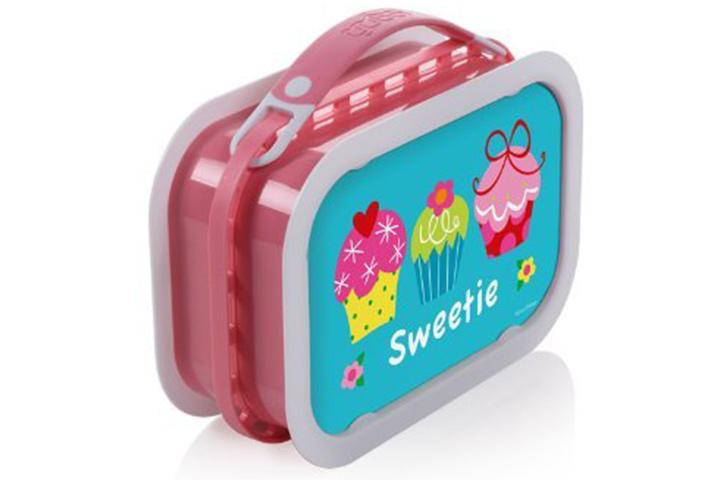 Yubo has an interesting and fun look for their lunchboxes. It features both style and functions.
What you should know:
The faceplates are changeable and come with two design choices giving your kids the exciting opportunity to update their lunchbox look frequently.
For more variation, you may get these faceplates separately from Yubo.
The lunchbox handle can be repositioned anywhere — you can hold it vertically or horizontally.
The product material makes it easy to clean as nothing gets stuck.
It is easy for kids to open.
The faceplates have good longevity.
The box is BPA-free and dishwasher-safe except the outer lid.

6. Grub2go Stainless Steel Lunchbox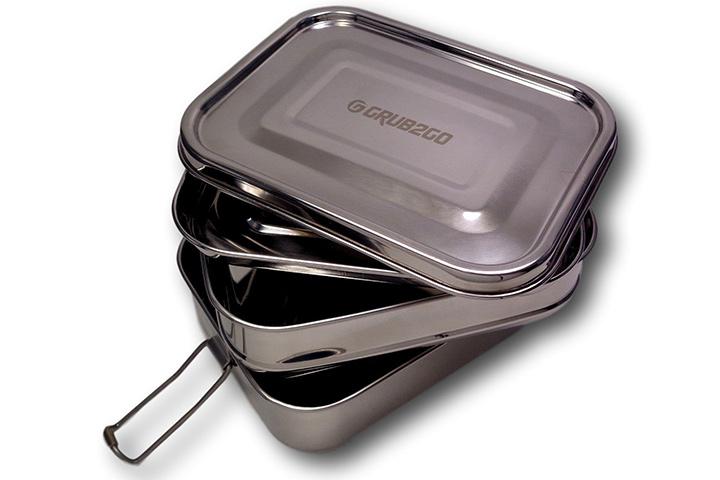 This beautifully made minimalist unit excels in terms of quality and eco-friendliness.
What you should know:
It is divided into three tiers and has a large capacity of 1600ml.
Made of stainless steel, it is non-toxic.
It is also non-leaching, vinyl, lead, and BPA-free.
The snug lid wraps over the top container for a tighter seal.
The locking clips are adjustable.
It is easy to clean and food odor doesn't linger.
The box is not leak-proof so you cannot put soups or curries, but you can carry moist foods.

7. Yumbox Panino Lunchbox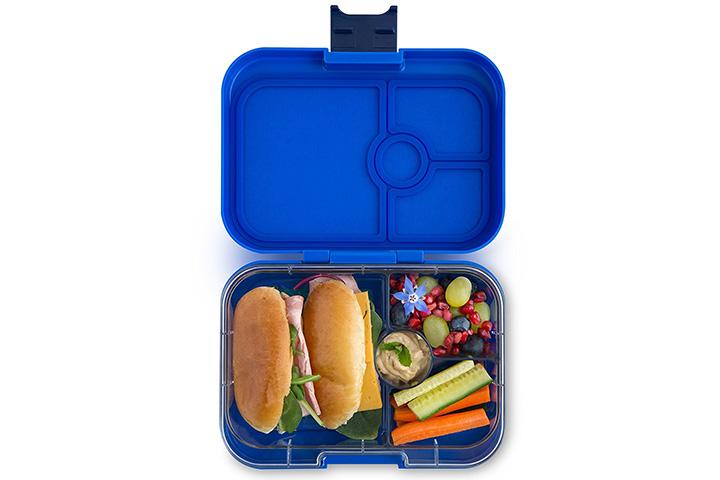 Yumbox Panino is leak-proof, compartment lunchbox.
What you should know:
It has enough space for packing a sandwich, salad, some snacks and even sides.
It has four compartments and is leak-proof. So, you can pack liquids like yogurt or soup.
This lunchbox has color variants and is free of plastic.
It is not microwave-safe nor can be used in the refrigerator.
It is light-weight making it convenient for your little one to carry.
The box comes with an illustrated planets tray.

8. Trudeau Bento Box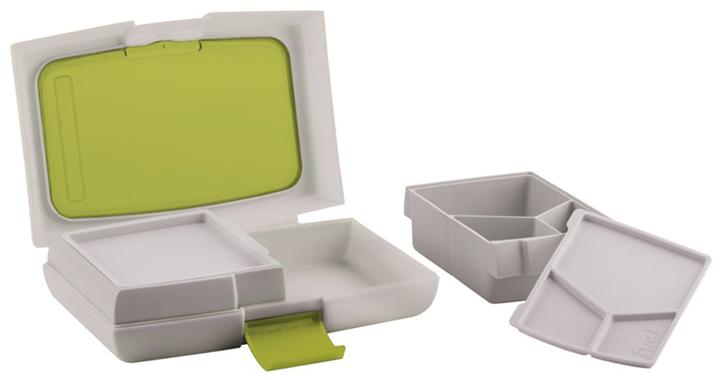 The stylishly designed lunchbox adds to the style quotient of your child.
What you should know:
The lunchbox has two inner containers that are removable.
The containers can also be used separately.
You can pack a diverse meal because the compartment sizes are different.
It prevents mixing and spilling of food.
The box has four compartments and has a total capacity of 1.3l volume.
It is leak-proof, so your kid can carry sauces and yogurts too.
Its turn-and-lock technology ensures the freshness of the contents.

[ Read: Bento Box Lunch Ideas For Kids ]
9. Omiebox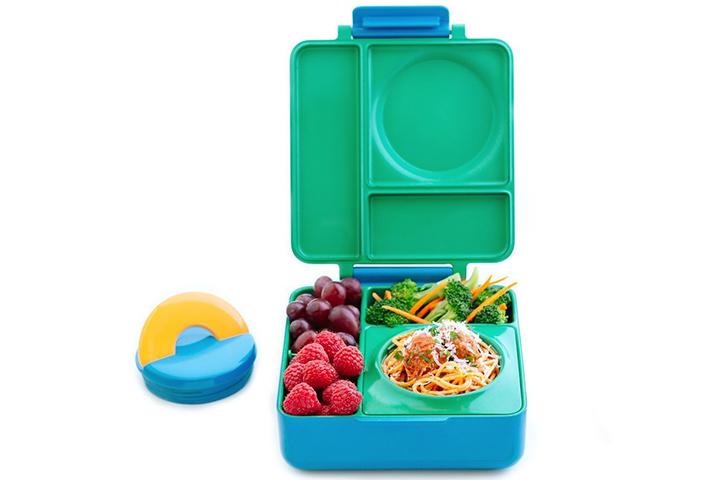 Omiebox is a unique option for you to try. The insulated hot and cold lunchbox features two separate temperature zones in the same box; so you can pack hot and cold food together.
What you should know:
It features an in-built food jar which keeps the entrees warm until your kid eats it.
It is double-walled, air-insulated and leak-proof.
There's a chunky handle on top of the thermos lid.
The bento lunchbox tray is shallow and has round edges making it more convenient for kids to scoop out food.
It has fun color options for your kids.
It is easy to maintain and can be washed using a dishwasher.

10. Coolbites Premium Bento Lunchbox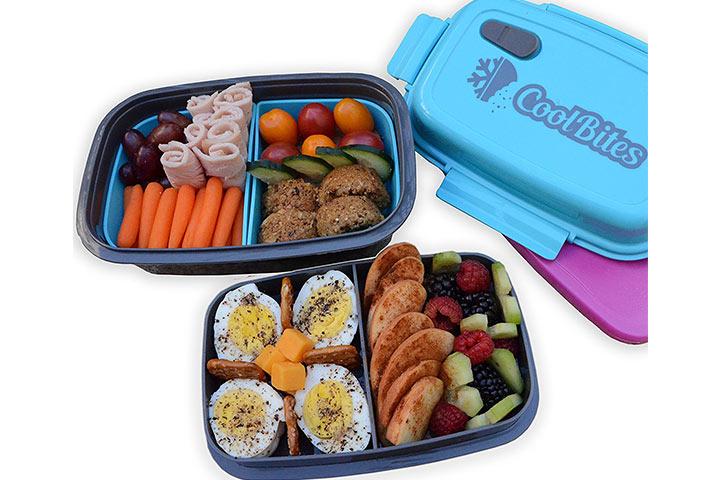 This product looks cute and allows for a variety to be added in lunch.
What you should know:
It has a built-in cooling gel pack to keep the food cold all day.
It has four compartments and a detachable vent hole. This feature ensures that moisture and condensation are removed when needed.
The vent cover is made of antibacterial silicone, making it a healthy and safe product for kids. It is FDA approved.
The four latches make the lunchbox sturdy and prevent spills.
The cooling gel pack is detachable. When you want the food to be hot, simply remove the cooling pack.

11. Bentology Leak Proof Bento Lunchbox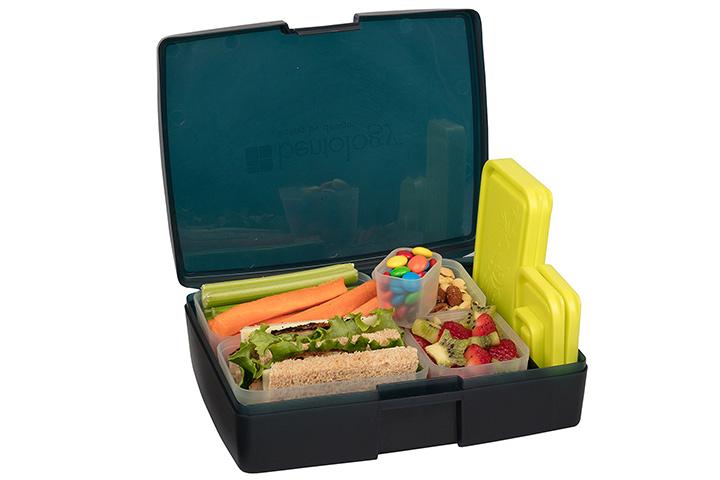 Bentology makes having a healthy on-the-go meal easy.
What you should know:
The Leak-proof bento lunchbox set comes with a translucent raspberry outer box.
It has five translucent inner lunch containers and three ice blue leak-proof lids.
Mix and match these containers to pack anything you want, from dry foods such as sandwiches and cookies to wet foods like yogurt and soup.
The leak-proof lids are perfect for wet foods — the Bento Box closes tightly over the containers without lids and keeps everything in its place.
The containers are versatile and compact; easy to carry around and store.
They are durable, reusable and easy to clean

[ Read: Gluten-Free Recipes For Kids ]
12. Pinnacle Thermoware Insulated Lunchbox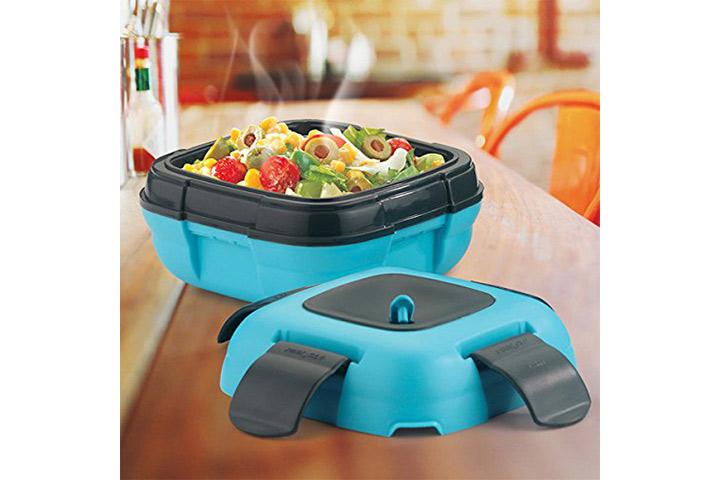 Pinnacle Thermoware insulated lunchboxes claim to stand apart from the traditional insulated thermal lunchboxes.
What you should know:
It is made of 18/8 stainless steel.
The set of two lunchboxes keeps your food warm for up to four hours.
It can also keep the food cold for up to six hours.
Cleaning it is easy.

13. Alphah Stainless Steel Bento Box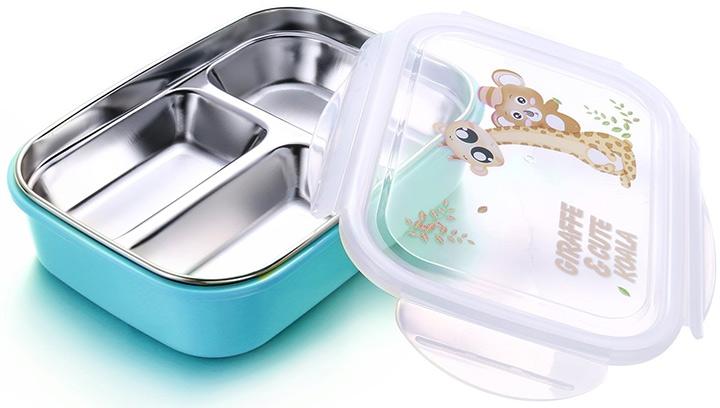 This bento metal lunchbox for kids allows you to pack various combinations of nutritious food.
What you should know:
The lunchbox has three compartments but the food may blend since the partition is low.
The container is made of 18/8 grade stainless steel and doesn't rust.
The easy-lock lid features four locking tabs and silicone gasket creates a secure seal.

14. PickMe Bento Stainless Steel Lunchbox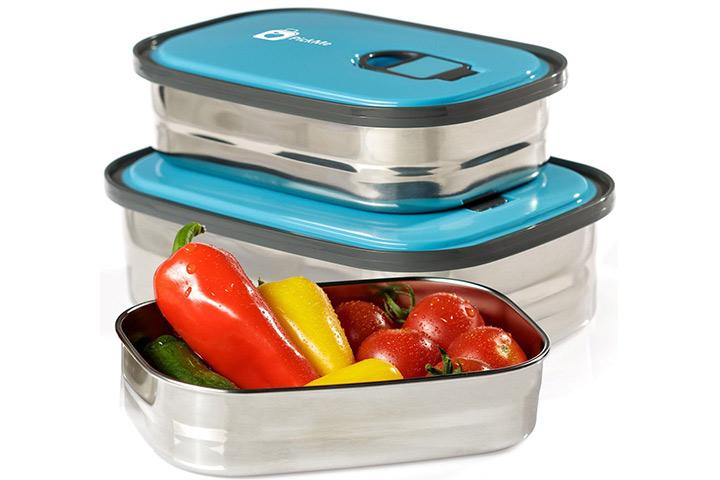 The three-in-one lunchbox can be used for multiple purposes.
What you should know:
The double sealing feature ensures that no liquids leak out of the box.
A smart airtight clip is used for efficient sealing.
PickMe has an elegant design. Your kid may use the decorated stickers to show off their favorites.
The lightweight box is easy to carry.

[ Read: Delicious Meals For Kids ]
15. Homespon Lunchbox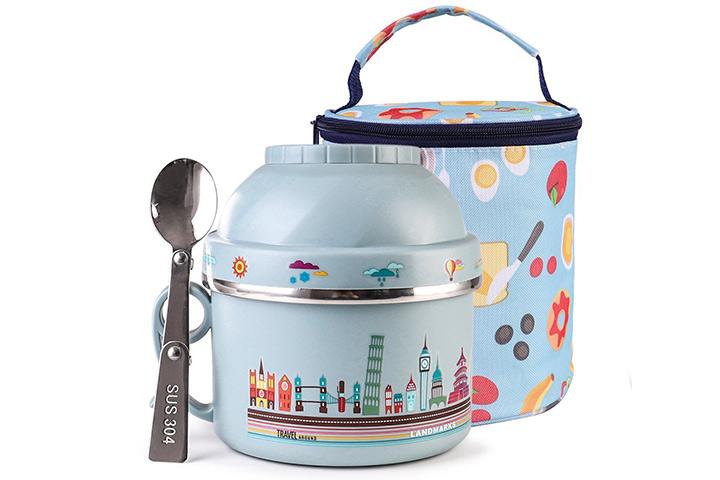 This is a minimalist model but with multiple uses.
What you should know:
The box comes with a folding spoon. The lid can be converted into a bowl for use in all the three compartments.
It keeps the food warm for at least two hours.
The box comes with a matching insulated lunch bag with attractive kid-friendly patterns on it.
It is leak–free, durable and made up of FDA approved materials.
It has a non-slip handle.

Disclaimer: MomJunction may earn commission when products are purchased through affiliate links given in the article. However, this partnership does not influence the editorial content featuring in our list.
Every child has different needs, and so are their food requirements and lunchboxes. However, the common points you can consider while buying a lunchbox are the food-safe material, ease of use for the kid and ease of washing it.
Which lunchbox is your favorite? Let us know in the comment section below.
Recommended Articles: