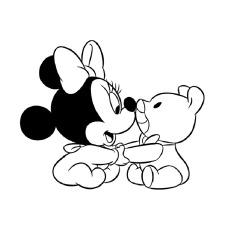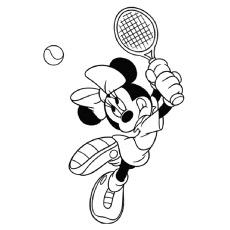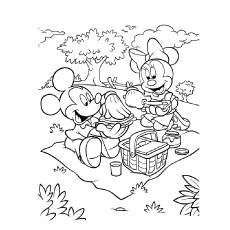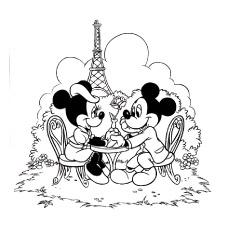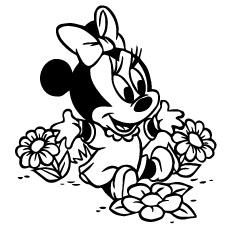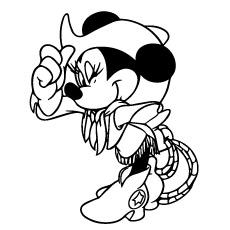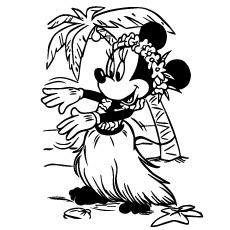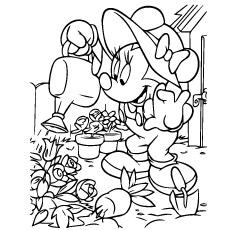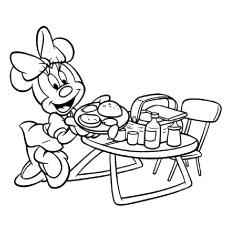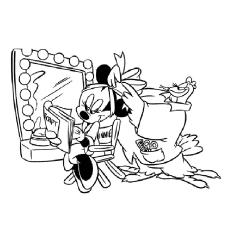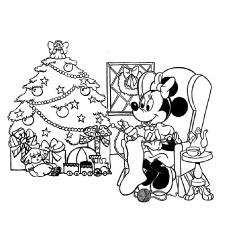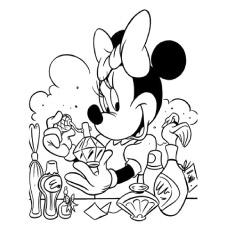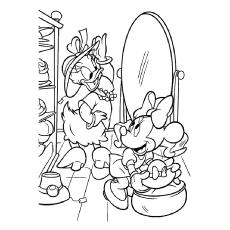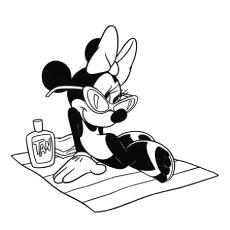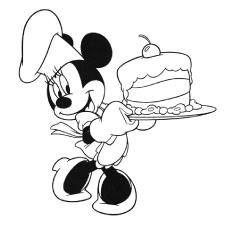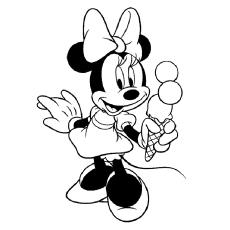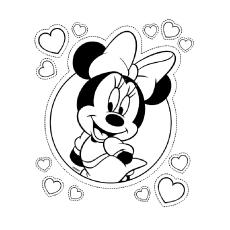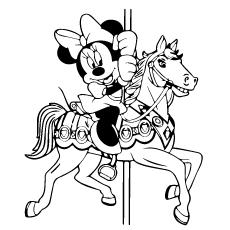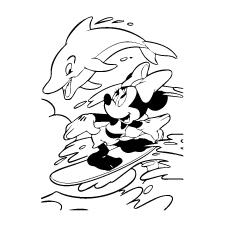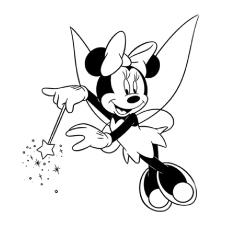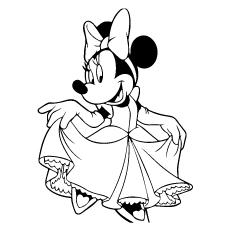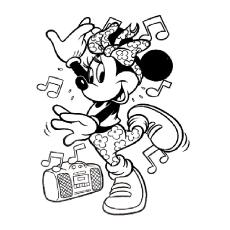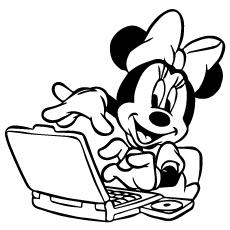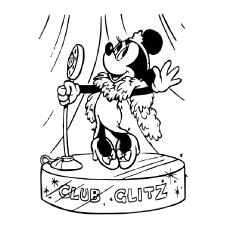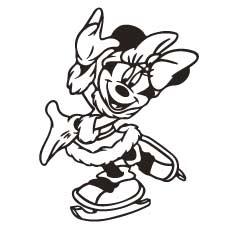 Recommended Articles:
This creation by Walt Disney has been a favorite of little girls all across the world. As the legendary Mickey Mouse's girlfriend and as a cute, bubbly character herself, Minnie has been winning little hearts for decades.
If your child is a big fan of this adorable mouse, you can give them a gift of these coloring pages. Let your child have a great time filling in the spaces and bringing Minnie to life with crayons on white paper.
Top 25 Minnie Mouse Coloring Pages:
Here is a bunch of cute coloring pages of Minnie mouse for your kid.
1. Minnie Mouse Smiling Portrait:
This shows the iconic pose of Minnie Mouse with an open, cheerful smile, surrounded by hearts. Minnie's iconic bow is in place and there is a lot of scope for coloring as your child wishes- the hearts, the bow and the dress. Every girl would love dressing up Minnie in their favorite colors.
2. Minnie As A Baby:
This image shows Minnie Mouse as a baby, playing gleefully with flowers. The picture has scope for different colors to brighten up the whole scene. There are three flowers which can be brightly colored, as is the grass floor and not to mention Minnie's cute frock. Of course, the iconic pink bow is right on her head.
[ Read: Hello Kitty Coloring Pages ]
 3. Minnie Mouse Baking:
This is another picture of Minnie Mouse exhibiting her typical, back arched and legs crossed pose. Only this time, she is holding a big cake- complete with frosting and a cherry on top- in her gloved hands. She is also wearing an apron, so there are lots of opportunity to fill in between the lines with different crayons.
4. Minnie Mouse Dancing To Music:
This is really fun picture- both to look at and to color. For one, it shows Minnie Mouse dancing happily to music coming from a boom box. There are notes drawn to signify music, which can be filled in with color. But most importantly, Minnie wears a bow and pants with flower prints that can be colored beautifully.
[ Read: Angry Birds Coloring Pages ]
5. Minnie Busy Watering Flowers:
This is a potentially colorful image of Minnie watering a bunch of roses, dressed up in gardening gear. There are flowerpots, a fence and an uprooted vegetable with a sliver of a shed visible on one side.
6. Minnie As A Hula Dancer:
Minnie Mouse is shown in her Hawaiian avatar, with hula skirt and garland round her neck and her head. There is a coconut tree in the background and a clam and starfish on the beach.
[ Read: Mickey Mouse Coloring Pages ]
7. Minnie Knitting For Christmas:
This is a very cozy picture of Minnie knitting in front of the generously decorated Christmas tree. Your child will love coloring the baubles, wreath on the window and dolls and gifts at the bottom of the tree.
[ Read: Dinosaur Coloring Pages ]
8. Minnie Mouse And Daisy Duck:
This image shows Minnie and Daisy are trying out hats in front of a mirror. So there are a lot of colorful elements in the picture with hats on the shelf and floor. Your child is bound to enjoy hours of endless fun coloring both the hats and their favorite characters.
[ Read: Tom And Jerry Coloring Pages ]
9. Minnie And Mickey On Picnic:
In a grassy meadow, Mickey and Minnie are seen slathering jam on their sandwiches. The tree in the background, the fluffy clouds will be nice to color in.
10. Minnie And Mickey's Date In Paris:
Mickey and Minnie appear to be on a dream date in front of the Eiffel Tower, holding hands and appearing love-struck. Minnie and Mickey's dress, the bush behind them, the flowers on it, the rose in the vase on the table- all of this makes a perfect picture for your child's coloring book.
[ Read: Tweety Bird Coloring Pages ]
11. Minnie Mouse having Ice cream:
Who doesn't like candies and ice creams? We all love, children love them the most. Little Minnie is looking so glad to hold on to the ice cream cone, with three scoops of ice cream.
Notice the colors she is adding to the scoops of ice cream, probably those are her favorite flavors she love to eat often.
12. Baby Minnie with Teddy:
This pint size baby Minnie is wearing a dress just like your little toddler wears when she crawls on the floor. She is playing with little teddy, which is as adorable as Minnie. Little girls love cuddling soft toys like teddy bears and often you see them hugging it in sleep. It looks so cute isn't it?
Your child will instantly connect with this picture and enjoy coloring it.  Light pastel shades will make this page look soft and even cuter. It will bring out the innocence of Minnie Mouse.
13. Minnie the Princess:
Stories of Disney Princess, like Snow White and Ariel must be your child's favorite bedtime story. She must be nagging you for reading the same princess story every day until you give in to her incessant demand. She loves how princess's dress and their kind nature that makes them so friendly and adorable.
In this picture cute little Minnie also dresses like a princess and admires herself, holding on to the skirt. She is just like your little girl!
14. Minnie Mouse at the Beach:
Minnie is looking stylish in her bathing suit, goggles and the bow on her head. She is peering coyly from above the goggles.
She is lazing on beach and getting a natural tan, while the bottle of tan cream sits in the corner. She wears flip flops too!! This is an ideal picture for your little daughter who will enjoy coloring Minnie in her beach accessories and bathing suit and also the striped mat. See how cute she makes Minnie look with her creativity.
15. Minnie Enjoying a Bar-be-Que:
We all love to eat delicious food; especially bar-be-queued meat is everyone's favorite. Minnie Mouse is no exception, we see adding some hot barbeque sauce to her plate of grilled meat.
Barbeque is a method of roasting meat on direct fire. It is a method of dry cooking which makes the meat taste even yummier. Minnie looks really happy while helps herself to the plate of tasty roasted meat.
16. Minnie Loves Singing:
Minnie Mouse is really talented. She can sing, dance and act. Here we see Minnie singing to the audience in club attire. She wearing a fashionable dress and carrying the faux fur stole and has a tiny crown on her head. She looks like a professional singer and carries herself with confidence.
There is a lot to learn from Minnie, it is important to have confidence like her and carry yourself gracefully. As a parent, try to know where your child's talent lies, singing or dancing and help her to nurture her talent. Your support will give her the confidence to face the world and show her skills.
17. Minnie on a Merry Go Round:
Children love visiting amusement parts and riding a merry go round. The pink candy floss also adds to their joy. Your child must have had a great time on a merry go round in the park, and will be recollect the cherished memory after seeing this picture.
Merry Go Round can be of different types, but this merry go round is mostly seen in amusement parks. Children usually love rocking on a toy horse, it gives them a thrill. The merry go round with toy horse seats catch their fancy easily and they love riding them over and over again. They often wave from the merry go round.
Just notice your child's delighted face at the mere look of Minnie on the Merry Go Round.
18. Minnie as a Cowgirl:
In this picture we see Minnie Mouse dressed as a cowgirl. She wears the cowgirl hat, like the ones worn by cowgirls in Texas. She also wears knee length boots with star logo on the side. Her skirt has the signature frayed edges with long tassels. Her leather jacket, gloves and scarf completes the cowgirl look. She looks smart and stylish.
She is winking playfully as she waits for horse with a lasso in her hand. Lasso is a rope by which you capture and tame animals like wild horses. Your little girl with enjoy coloring the cute Cowgirl Minnie from the ranch.
If your child watches cowboy films and cartoons then she will need no guidance while coloring this picture.
19. Minnie the Fairy Princess:
Children love to hear fairy tales and enjoy the fact that you can transform someone from rags to a ball gown just by the switch of the magic wand. They also love watch Mickey and Minnie Mouse cartoons and films.
Your child must have attended fancy dress parties by now and must have dressed as a pretty fairy at least once. She must have felt really happy to hold a magic and in her hand even though it didn't work in reality.
She will also like coloring Minnie dressed as a fairy with a magic wand in her hand. Look how she transforms this picture into a beautiful poster using different shades and glitters for the fairy dust. Her creativity will add a magic touch to this picture.
You can also ask your little angel what she wishes from a fairy, and if possible try to fulfill her one simple wish, to surprise and make her really happy.
20. Tech-Savvy Minnie:
Today's generations of children are much smarter and techs savvy, they can use the laptop like a pro. They are just like Minnie Mouse working on her laptop.
Many small sizes and colorful kid's laptop are available in the market; you can use it as a learning tool for little one. Guide him how to use the internet to gain new informationon different subjects, rather than just playing video games.
Your child will not love coloring Minnie but her laptop too. Just notice her favorite color!
21. Minnie enjoys Badminton:
Minnie Mouse loves sports, be it surfing, skiing or playing badminton. In this picture we see Minnie Mouse aiming at hitting the ball towards her opponent, who is not seen in the picture.
Minnie wears her signature bow and her tongue is out as she tries to concentrate on her game. She wears smart sports shoe to make running easier, since badminton calls for running and jumping to hit the ball correctly.
22. Minnie Getting ready for a Shoot:
Minnie Mouse is as popular as Mickey Mouse, not because she is Mickey's girlfriend, she is talented and pretty. She is not camera shy, and in this picture we see her preparing for a shoot. She is reading her script as the hairdresser ties the ribbon on her head, the ribbon is Minnie's signature style.
The hairdresser is a funny looking hen; he wears a shirt and has scissors and comb in her pocket.
This studio scene will look more realistic with your daughter's creative touch.
23. Minnie Loves Perfume:
Little girls love to dress up and smell good. Nowadays, you get skin friendly perfumes and body sprays for little children. The perfumes girls use have light floral or citrus smell. Without perfume a get up in not complete.
In the picture we see a pretty looking Minnie selecting her favorite perfume amongst attractive looking perfume bottles. Help your child select the right perfume bottle. Your little girl will certainly enjoy coloring this picture and make Minnie look beautiful.
24. Minnie Surfing:
Minnie Mouse is enjoying some surfing during her vacation. She also has a great company of a dolphin; the dolphin is springing out of the sea to greet Minnie. This is adorable picture.
Surfing is a surface water sport in which the surfer or wave rider rides forward or on the deep face of the moving wave that carries the surfer towards the shore. Waves can be found sea and ocean and sometimes in lake or rivers also known as tidal bore. He can also use man made waves created in wave pools. Surfing can be done with or without the board, there are different types of surfing like stand up surfing, paddle boarding and body surfing.
Everyone loves vacation at the beach and Minnie is not an exception. She enjoys sports and we see her taking the advantage of the huge waves of the sea. Your child will enjoy coloring Minnie in her surfing suit and the friendly dolphin.
25. Minnie goes Skiing:
Minnie Mouse enjoys skiing, we see her wearing faux fur winter dress and a cap and she goes skiing with style.
Skiing is a recreational activity and competitive sport where the participant uses skis to glide on snow. In mid 1800s skiing used as transport but later it was adopted as recreational sport. The word ski is derived from the Old Norse word "skíð" which means "split piece of wood or firewood". The first public skiing competition ("betting race") was held in Tromsø, Norway on March 19, 1843. It was also the first skiing competition reported in a newspaper.
Tell your child interesting trivia regarding skiing as she colors this picture, you can also show him pictures of people skiing on ice. You can stick this picture in her room, so that she remembers the word skiing and its meaning.
Little girls are sure to have a lot of fun coloring their best buddy and her dainty skirts in vibrant colors. You can also let your daughter choose her favorite from these free printable Minnie mouse coloring pages download and print them for her. Trust us when we say she is sure to love picking her print as much as she will enjoy coloring it.
DISCLAIMER: All images found here are believed to be in the "public domain". We do not intend to infringe any legitimate intellectual right, artistic rights or copyright. All of the images displayed are of unknown origin. If you are the rightful owner of any of the pictures/wallpapers posted here, and you do not want it to be displayed or if you require a suitable credit, then please contact us and we will immediately do whatever is needed either for the image to be removed or provide credit where it is due. All the content of this site are free of charge and therefore we do not gain any financial benefit from the display or downloads of any images/wallpaper.
The following two tabs change content below.